Updated June 2021
The rapid growth of economy and population in Phnom Penh is affecting the traffic situation, mobility, and infrastructure capacity of the capital city of Cambodia. Because of the exceptional developments in the city over the years, if not almost, Phnom Penh is close to reaching its peak.
Luckily, just about 5 hours away from Phnom Penh, is a rising alternative to the capital city, a rapidly developing area which is said to be The Next Economic Powerhouse of Cambodia – the city of Siem Reap.
WHY INVEST IN SIEM REAP?
Off to a prodigious economic rise, there lies a promising future in Siem Reap city. Numerous developments are being constructed today transforming the city into the next Economic and Investment Hub in Cambodia.
The Ministry of Tourism has developed the Siem Reap Tourism Development Master Plan 2020-2035, a strategic framework that aims to remodel the city and optimize the use of the province's key resources and communities.
Once completed and executed properly, Siem Reap will be the strongest counter magnet of Phnom Penh. It can leapfrog the population density of Phnom Penh. It can even become one of the best economic hubs in Asia—the likes of South Korea's Incheon, Thailand's Chiang Mia, Japan's Yokohama, and China's Shenzhen and Guangzhou.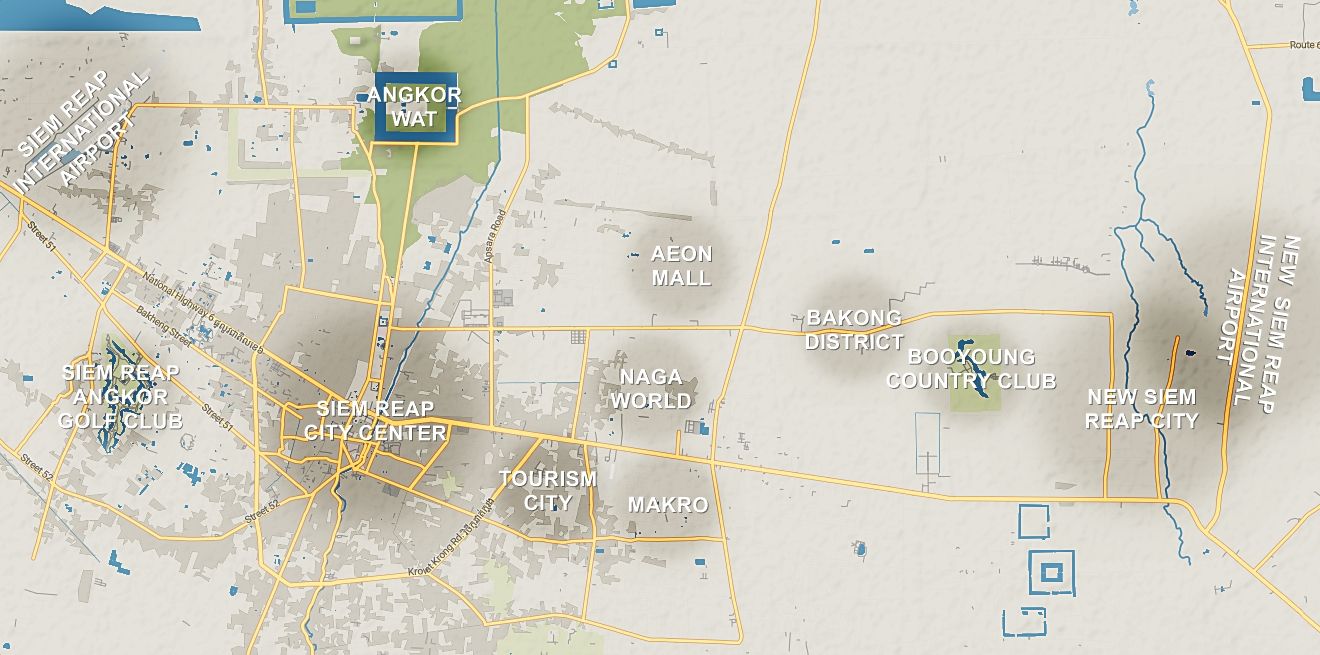 MASSIVE ROAD CONSTRUCTION
Traveling around Siem Reap city would be a lot easier, thanks to the on-going transportation works across the 12 districts. For regular and future commuters, expect that there will be a total of 38 new and improved roads (approximately 108.74 km) that will serve the city.
As this road project continues, more public transportation options connecting areas of Siem Reap are expected to be established. In addition, it is also expected to reduce travel time substantially, along with improved mobility and security through CCTVs, sidewalks and public spaces.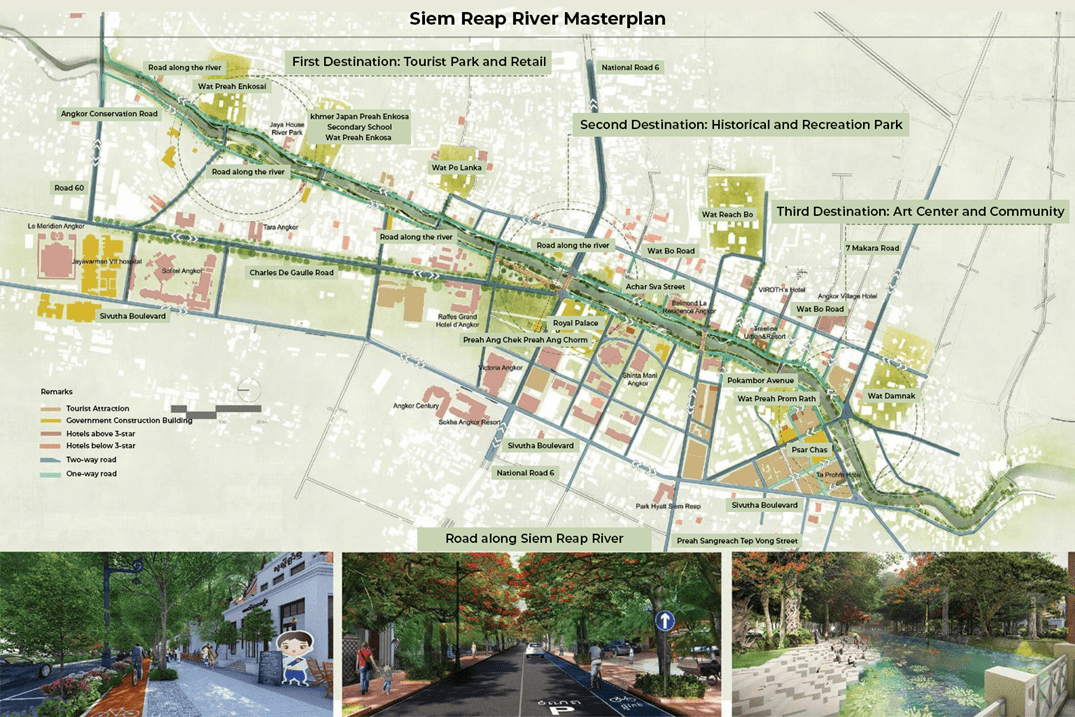 A move to commercialized the city even more, this project may seem to affect the environment but ACTUALLY, it will not. Part of the project's objective is also to bring back the natural beauty of the Siem Reap river by upgrading the sewage and drainage systems.
CONSTRUCTION OF NEW SIEM REAP INTERNATIONAL AIRPORT
Expected to rise in 2023, the new international airport in Siem Reap is currently being built on a 750 hectare plot in Ta Yek commune, Sotr Nikum district (approximately 46 km southeast of Siem Reap city) at a cost of $900 million.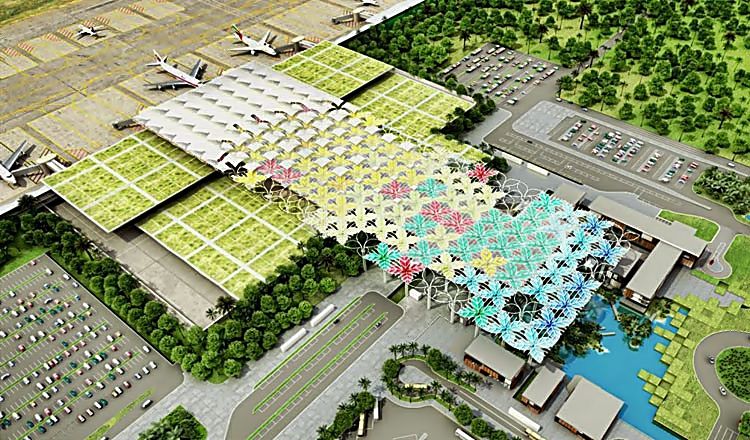 The project is being built into three phases which will include the construction of new 4E runways, airside stations, taxiways, new terminal buildings, airport ancillary projects and supporting facilities including municipal and special highways.
With two airports in the province, Siem Reap can become one of the best locations for logistics, shipping and business process outsourcing. A potentially logistics hub that can ship high value goods to international markets and host to companies servicing airlines, undertaking aircraft maintenance and repair.
Siem Reap will be more ideal for convention centers, recreation facilities and leisure establishments because of its convenient access to the international airports.
The new airport has the capacity of approximately 10 million passengers in 2030 and 20 million by 2050, offering a major decongestion in the Phnom Penh Airport, as well as other international airports in the country.
GROWING NUMBER OF INFRASTRUCTURES
Perhaps the most exciting infrastructure development in the area is the planned New Siem Reap city (also named as the Grand Siem Reap), closely situated to the under-construction new Siem Reap Airport, just about 60 km from Siem Reap downtown.
Although details of this project have not been revealed just yet, according to the Minister of Tourism, Thong Khon, the New Siem Reap city will be developed as a Smart City with traditional Khmer architectural style. Despite being located outside the protected areas of Apsara Authorities, the minister said it would still follow the existing policy of the old Siem Reap city which is to preserve the beauty of Angkor Wat by restricting high-rise developments.
The goal of this proposed project, as indicated in the Siem Reap Tourism Development Master Plan 2020-2035, is for it to become the country's new center for business, culture, and entertainment, with a hope to create hundreds of thousands of jobs and bring in 7 million international tourists annually by 2035.
Meanwhile, other exciting developments currently in the works are:
Angkor Lake of Wonder – Also known as Naga World Siem Reap, is a 75 hectare site which will comprise luxury hotels, bars, water attractions, shopping centers, indoor high-tech theme parks, and venues for meetings, incentives, conferences and exhibitions (MICE).

Update: UNESCO, APSARA agree to halt this $350M NagaCorp resort project.

Wildlife Park and Aquarium – Cambodia's first aquarium park on 100 hectares of land with an investment of US70M.
Aeon Mall Siem Reap – A speculated project with no concrete information, yet is said to have a high possibility to be developed in Siem Reap, considering there are very few number of shopping centers in the city.
Angkor Grace Residence & Wellness Resort – Siem Reap's first holiday home destination which occupies 2.2-hectare of land, offering 263 modern contemporary units and world-class amenities.
Rose Apple Square – A unique mixed-use community square combining co-working spaces, strata offices, co-living apartments, condos, and modern amenities.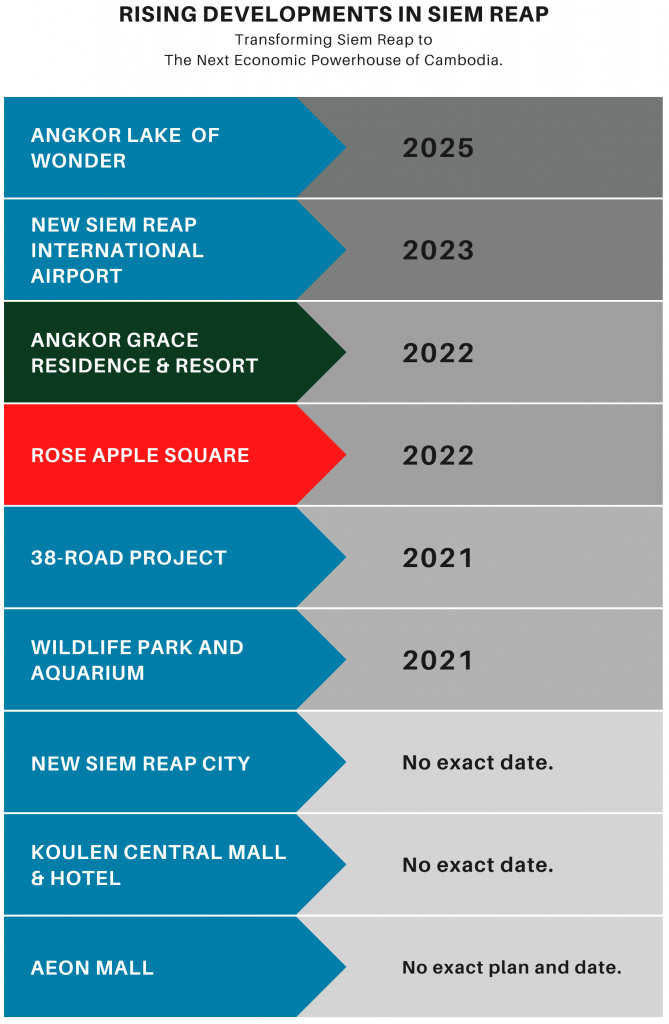 INCREASING CAREER AND BUSINESS OPPORTUNITIES
Think about how Phnom Penh city developed from a scratch, it is exactly how Siem Reap is envisioned to be in the next ten years. The Siem Reap Tourism Development Master Plan 2020-2035 will bring the same urge of looking for employment and investment opportunities in Phnom Penh to Siem Reap city.
The multiple infrastructure developments in Siem Reap will integrate housing, offices, commercial and retail centers and institutional sections. This will definitely overturn the lives of the people living in Siem Reap creating more job opportunities, and most importantly attracting more business and property investors.
As it opens new doors to the locals, it would give opportunities to thousands of potential pool of skilled Cambodians in the countryside, as well as those in the neighboring provinces. This only means that locals in Siem Reap do not need to look further to Phnom Penh to get a better job as it is already in or near their hometowns.
It is through these said "developments" that Siem Reap will become the next central business district that would definitely increase the living standards of the city, as well as its neighboring districts and provinces.
With the aggressive infrastructure developments in Siem Reap, this 2021 is definitely the right time to invest in real estate. A few years from now, Siem Reap will see further commercialization where the value of properties will become much higher.
Nevertheless, since the developments are not yet visible, the properties for sale in Siem Reap are definitely cheaper and more affordable compared to properties in Phnom Penh.
If you start investing as early as now, you will soon reap the seeds that you sow once Siem Reap city is completely developed.
Siem Reap city holds a lot of promising developments that would benefit its citizens and business investors, both locally and internationally. Because of this, the city will continue to experience unprecedented growth, especially in its real estate landscape.

As bright as the rise of the Sun in Angkor Wat, Siem Reap's future will shine brighter and brighter for many years to come.
So, if you still want to enjoy a suburban lifestyle while pursuing your passion in your dream career, then Siem Reap might be the place that you are looking for.
---
Have you been convinced of the many reasons why Siem Reap is the ideal location for your first or next investment? Perhaps you are now considering looking for a perfect property in Siem Reap, learn more in these articles: