Slated for 67% completion by the year-end, construction of the new international airport in Siem Reap is nearing the halfway mark towards the end of the first half of 2021.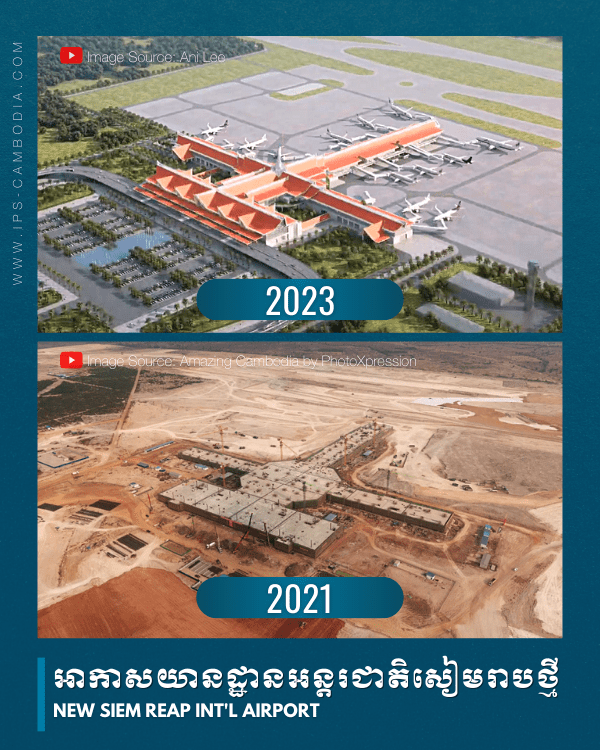 Construction began in March 2020, at the beginning of various restrictions and precautions brought by the Covid-19 pandemic. Despite the erratic situation in the Kingdom, a great deal of progress has been made.
Sin Chansereyvutha, secretary of state of the Secretariat of Civil Aviation of Cambodia, announced in mid-May that progress had already reached 42 percent.
Just 50 kilometers from the original Siem Reap airport, the new facility is hoped to bring in more tourists as well as contribute to the household economy of locals as well as the Kingdom's overall growth, said the Chinese-owned Angkor International Airport Investment (Cambodia) Co., Ltd. who is undertaking the project.
The new airport will span 700 hectares and is expected to be finished by 2023. However, completion has been planned with three phases, gradually raising passenger capacity from 5 million to 7 million per year for the first phase; 10 million for the second phase by 2030; and 20 million by 2050.
The AIAI has assured that the added flights will cause no disruptions or harm to Angkor Wat and the surrounding heritage architecture, and environmental factors are being taken into serious account throughout construction.
Possible negative impacts on the Angkor Archaeological Park were the cause of the cancelled $350M NagaCorp project along the Angkor Wat periphery.
Meanwhile, the Siem Reap airport is a $880 million project, and the AIAI will have exclusive rights to run and manage it for 55 years under a build-operate-transfer scheme.
Another new airport in Phnom Penh is also under construction and is expected to begin operations in 2025. Complementing it is an expressway-flyover project, also ongoing, between the Phnom Penh city center and the airport location in Kandal Province.
A new luxury airport in the coastal province of Koh Kong is also scheduled to be operational this year, which will open another gateway for high class tourists in Cambodia. It will cater primarily to high class tourists moving on to Dara Sakor Resort in Sihanoukville, and offer domestic flights to other sites like Siem Reap.
The Cambodian government has been forging ahead with various infrastructure projects amid the pandemic, anticipating an upturn in tourism and investment when the Covid-19 situation becomes more favorable for travel.