Tranquility, a diverse community, and brimming career opportunities may be difficult to imagine in a single place, but these comprise just a few perks of living in Siem Reap City, the renowned tourist hotspot of Cambodia.
There are numerous cities nowadays championed as ideal for expatriation, but the Kingdom of Wonder holds a unique treasure trove of secure comforts and rich experiences. Read on to know more! 
The Green City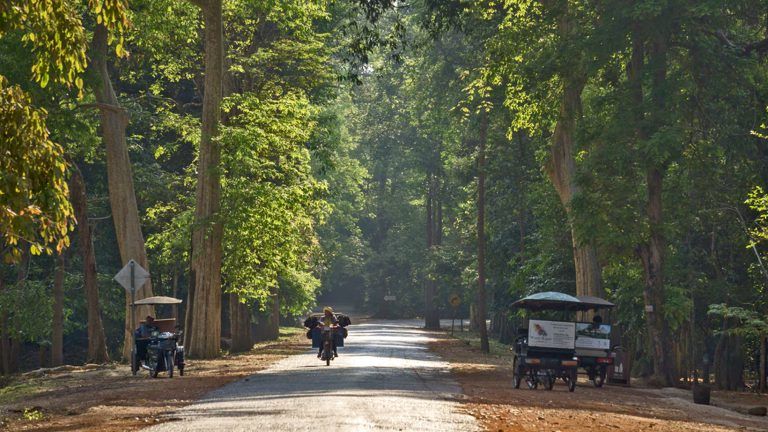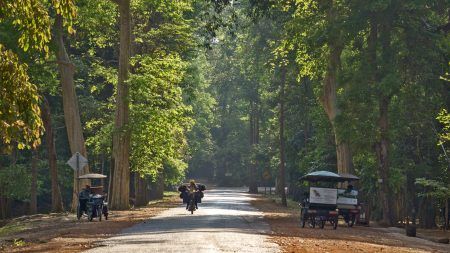 Though "Pub Street" may conjure up images of late-night partying on the streets, this is just a small part of the Siem Reap experience. In the daytime, Pub Street and its connected roads take on the liking of cobblestone streets in a vintage village. The scenery makes for pleasant strolling at any hour, and the city center is easy to navigate, which makes walking to any destination a viable choice over driving a car or taking any other vehicle.
Scenery highlights include the riverside, which winds all throughout the city center and serves as a landmark to the Old Market and Royal Residence. From flowering bushes to shady trees, the riverbank is teeming with botanical life. This is reinforced by places like the Royal Independence Gardens and Public Play Center, full-scale parks in the middle of a bustling metro. Yet again highlighting this convergence between greenery and urbanization is the Heritage Walk, which is an open-air commercial complex riddled with fountains and mini gardens all in the same spot as a Starbucks, Domino's Pizza, Tous les Jours, Lucky Supermarket, and even Legend Cinemas.
Despite the rate of commercial development in the past decade, Siem Reap is a true "green city" where idyllic surroundings and clean air are not sacrificed for modern city life.
Moreover, these are not a mere trend: a deep appreciation for nature is rooted in the local culture, dominated by Buddhist teachings which emphasize the importance of coexisting with the earth, meditation in natural surroundings, and reverence for trees. This factor makes it fairly easy to reinforce love and concern for the environment in your family, as well as demonstrate strategies to protect the planet through small steps like tending to vegetation or choosing to walk or bike to destinations.  
An Expat Community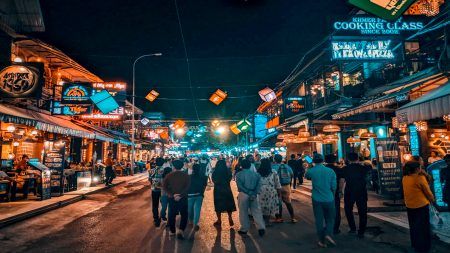 Anyone who has visited Siem Reap will say that they are tempted to stay longer, and many have made the move to settle here. This caused a boom in not only global-standard retail stores and housing complexes, but also in expat-owned businesses which thrive to this day.
Within and outside the central city area, you will find big and small coffeeshops, spas, art studios, and fitness centers owned and managed by foreigners. Together with workers or volunteers coming from diplomatic agencies, non-government organizations (NGOs), and as well as mixed-culture families, they make up a diverse community whose shared experiences are sure to help any newcomer expat family feel right at home.
This also makes the city a melting pot of cuisines and cultures, which will enrich the upbringing of any child. If ever there was a way to receive, as a family, a myriad of first-hand lessons on cultural sensitivity, awareness, and open-mindedness, then living in Siem Reap would be it. There are plenty of international schools as well as specialized schools catered to mixed-culture and third-culture kids (children who accompany their parents into a culture and country different from what their passport says), which will help them cope and assimilate in the unique experience of growing up in a different country. Examples of these are the Singapore Helm Institute of Education (SHINE), which offers a broad English-Chinese curriculum, Bambujaya Bilingual School, and the International School of Siem Reap (ISSR)'s integrated Khmer-English program.   
Living in Siem Reap will open anyone's eyes to the beauty of intercultural cooperation. Whether through genuine friendships within the diverse community or joint business partnerships, the experience will give a clearer picture of what is possible when cultures converge, and individuals work together in a multifaceted environment. 
A Thriving Career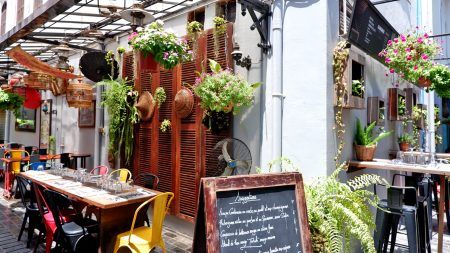 As stated above, there is a host of expat-owned businesses here. They continue to thrive through well-maintained reputations, strong networks, and continuous flow of locals, expats, and tourists. This varying demography makes almost any venture feasible, whether it's selling artisan products, digital media, entering the restaurant industry, or even offering live performances. Furthermore, international schools and training centers are always on the lookout for energetic teachers, and NGOs could always use an extra hand.
If none of these is your niche, remote work is a very viable option. Co-working spaces are easy to find; otherwise, the quality of telecommunications in Cambodia and accessible equipment will make setting up a home office easy and affordable. From here, you can work on managing any overseas business, or concentrate on a fully online job.
To top it off, the city has a generally low cost of living compared to other global cities, which means you get to save more to invest in other aspects of the family's well-being, lifestyle, and your personal projects.
Siem Reap is simply one of those places where it seems like anything you are passionate about is going to flourish. Comfortable residences, luxury villas, great apartments, are plentiful in this nature-centric city; a welcoming expat community awaits; and you'd be able to pursue any vocation or occupation in a sea of possibilities. If this sounds like your ideal home to raise a family in Siem Reap with global opportunities at your fingertips, then perhaps it's time to turn that curiosity into genuine wonder.