Phnom Penh is the main hub of commerce, business, and tourism in Cambodia. After all, it is the capital of the country with numerous opportunities for growth, activities and attraction. Due to all of this, it means that compared to other places in Cambodia, the rent in Phnom Penh can be relatively higher. However, there are more facilities, amenities, and other factors that are guaranteed to make your life better and more convenient.
In order to properly prepare for the rent to ensure you have a greater living experience here, continue reading to know the range of rent in Phnom Penh for various properties. Check the comprehensive research conducted by IPS Cambodia below to be a smarter and wiser renter.
Villas and Townhouses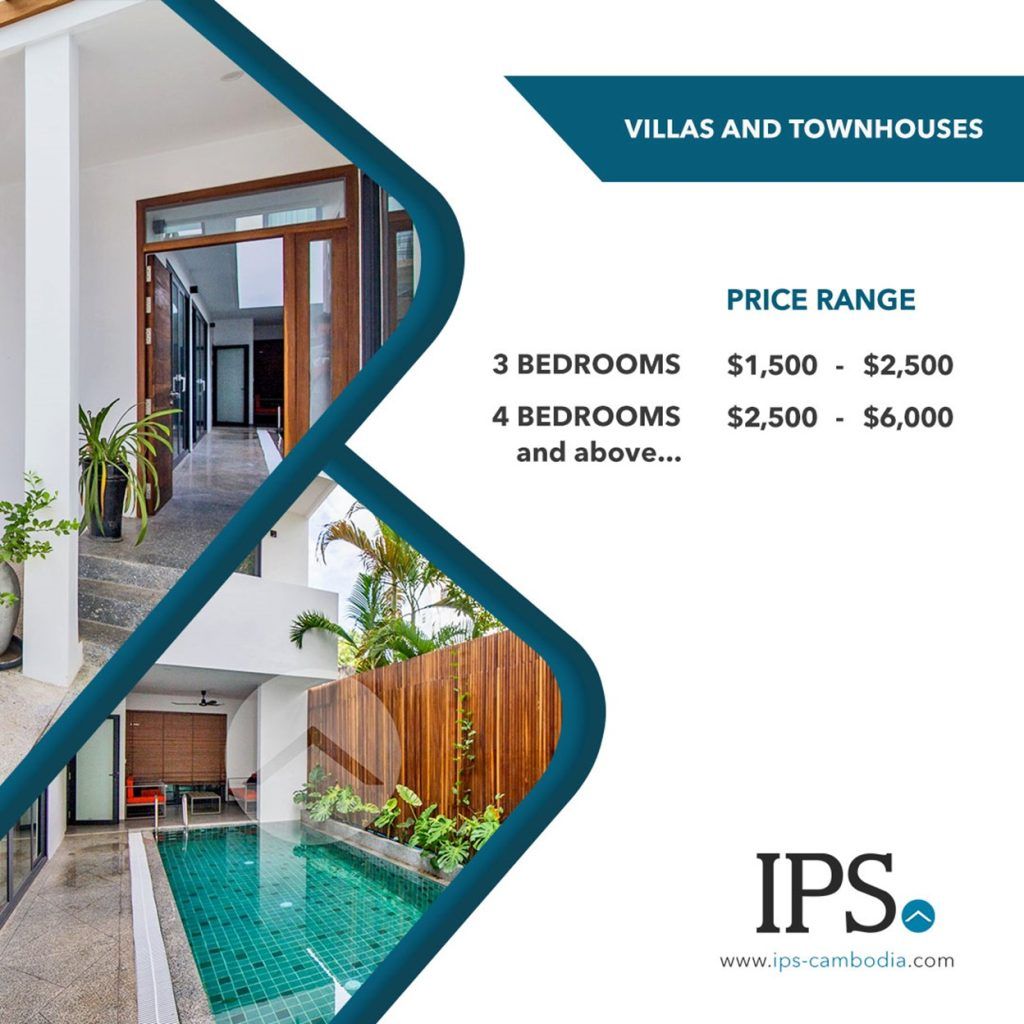 Commonly, a townhouse is what you rent if you want to live in a house where your privacy is guaranteed. It normally has three bedrooms and more within it and a small yard. On the other hand, a villa is more luxurious with more than three bedrooms and it offers higher quality of living.
If you want to rent a townhouse or a villa, the rent range depends on the number of bedrooms you're thinking of renting as you can see below:
3 bedrooms → $1,500 to $2,500
4 bedrooms and more → $2,500 to $6,000
Renovated Apartments & Flats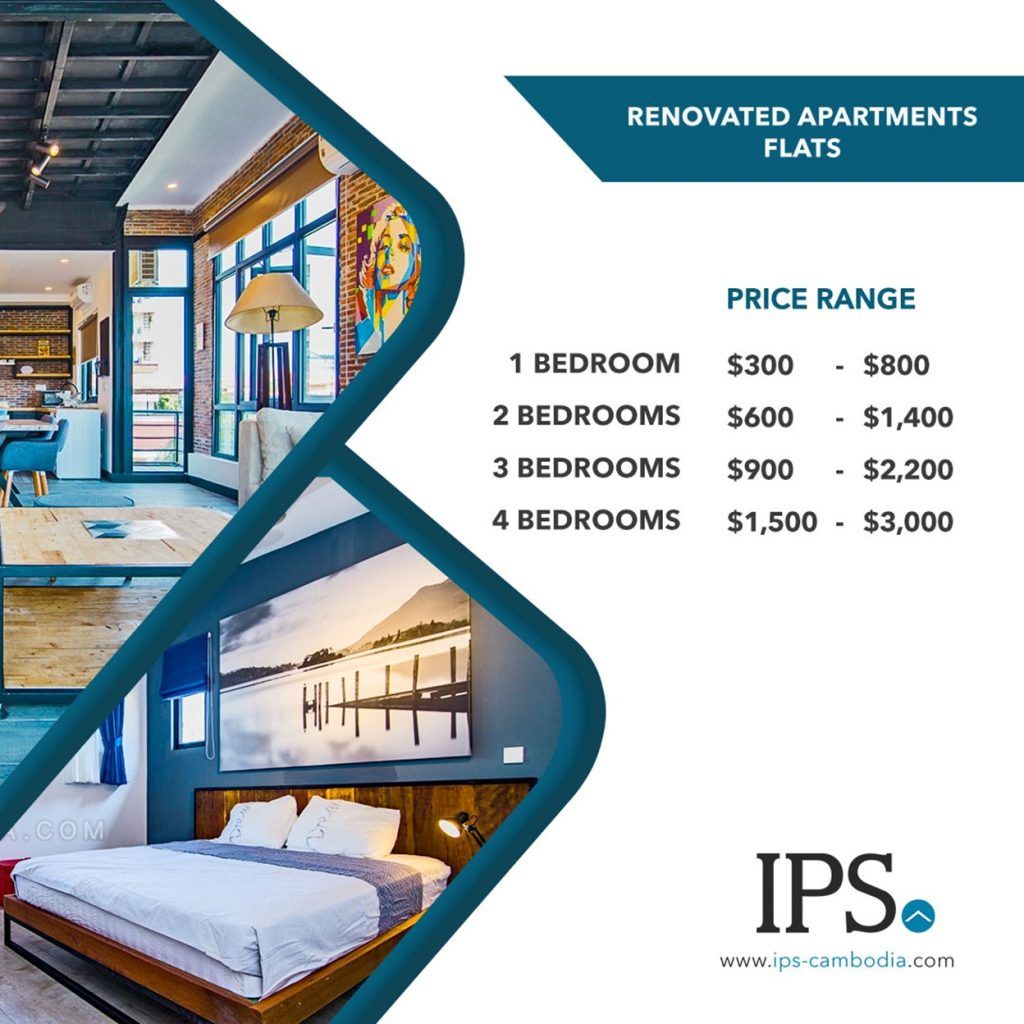 Renting a renovated apartment means you're getting a more modern unit with updated appliances and fixtures to make your living experience better. Meanwhile, a flat is often a bigger and wider unit complete with all the essentials you need to live in it.
If you want to rent a renovated apartment or a flat, check the rent range below to know how much it would cost to lease depending on the number of bedrooms:
1 bedroom → $300 to $800
2 bedrooms → $600 to $1,400
3 bedrooms → $900 to $2,200
4 bedrooms → $1,500 to $3,000
Serviced Apartment & Condos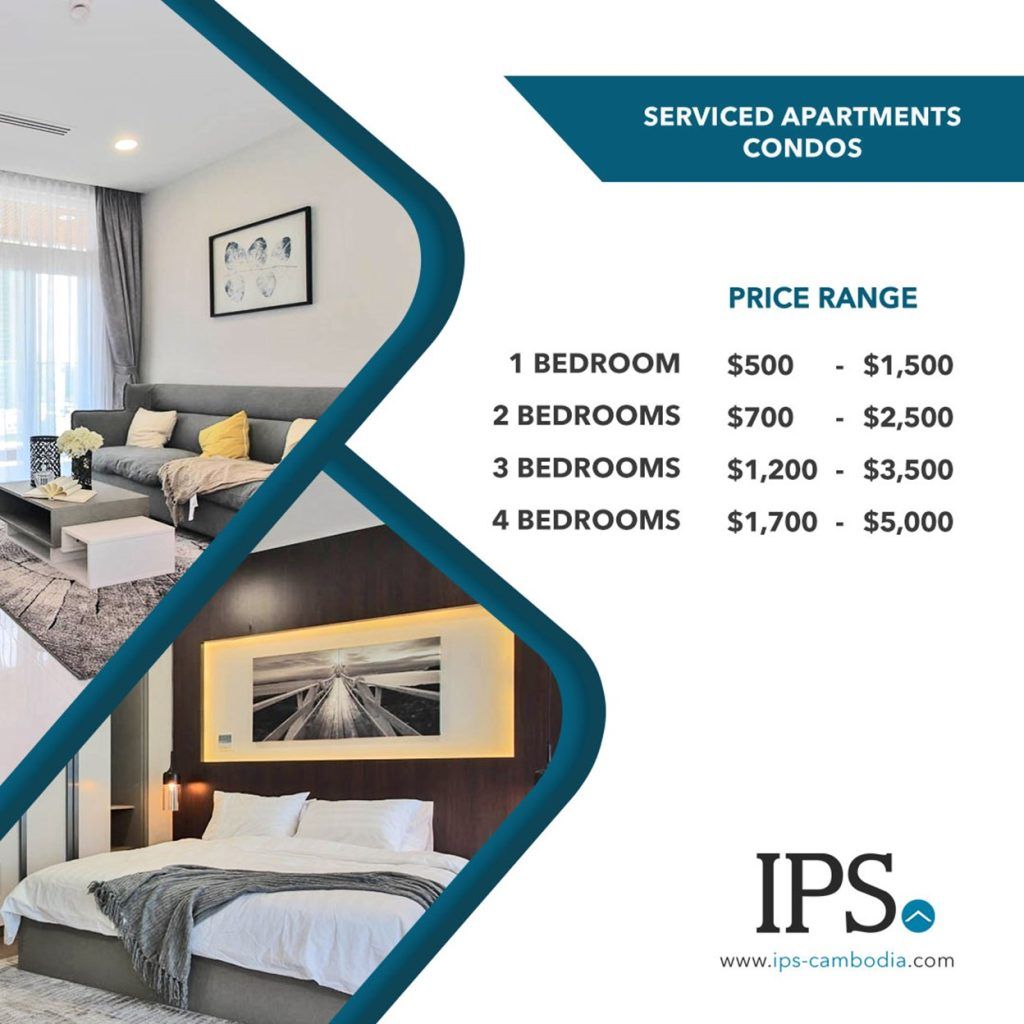 Renting a condo means you can get one that is unfurnished up to fully furnished, with a variety of amenities provided by the building. Additionally, you are free to decorate it any way you want. A condominium is what you need to rent if you are planning on staying for a length of time in Phnom Penh since you can fully make the place your own, with all the things you need to relax.
On the other hand, a serviced apartment contains the basic necessities of living in it similar to a hotel, but with its own kitchen. You can get services like room service, mini bar and enjoy the convenience of amenities like gym, sauna, and more.
If you want to rent a serviced apartment or a condo, see below the normal range of the rent depending on how many bedrooms the unit has:
1 bedroom → $500 to $1,500
2 bedrooms → $700 to to $2,500
3 bedrooms → $1,200 to $3,500
4 bedrooms → $1,700 to $5,000
You might like: How Much Does it Cost to Rent in Siem Reap?
Looking to rent your new home in Phnom Penh? Our team is happy to help!