Two major bridge projects connected to Phnom Penh's upcoming satellite city Koh Norea have been making steady progress since groundbreaking in October 2020, with more on the way as the year-end draws near.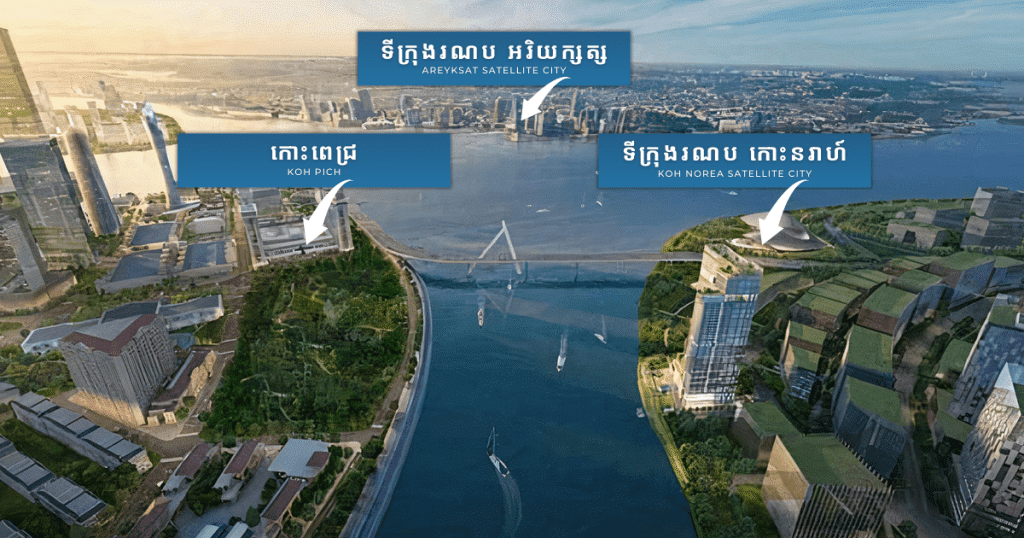 The first will be a 16m-long bridge connecting Koh Norea to National Road 1, and was 2.5% complete in September.
Meanwhile, the other had reached 27% completion. It will be 824m long and 24.5 meters wide, serving as the bridgeway to Koh Pich City. Aside from its size and scale, this bridge is distinguished by high cable-stayed pillars with traditional Khmer engraving. It will also have four (4) main lanes as well as two (2) motorbike lanes.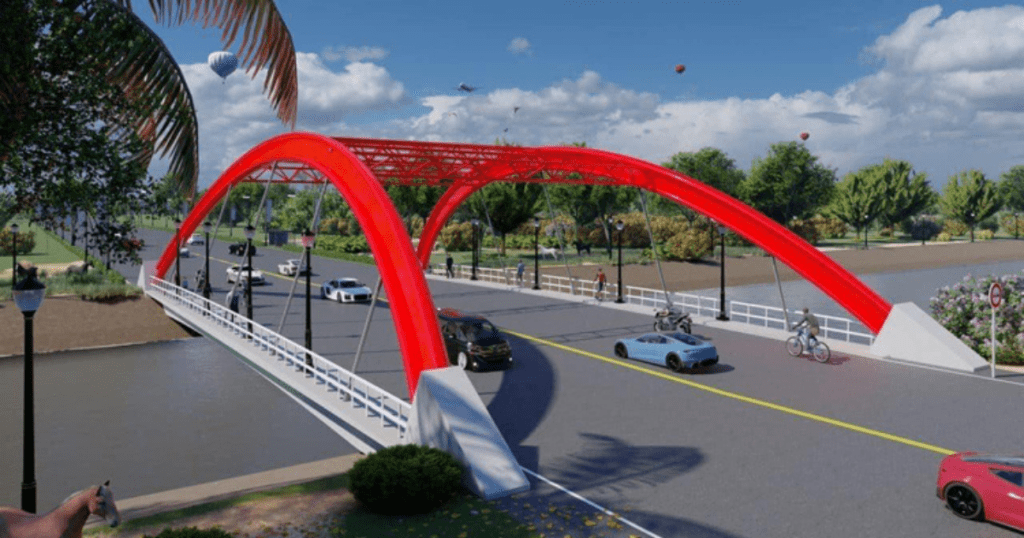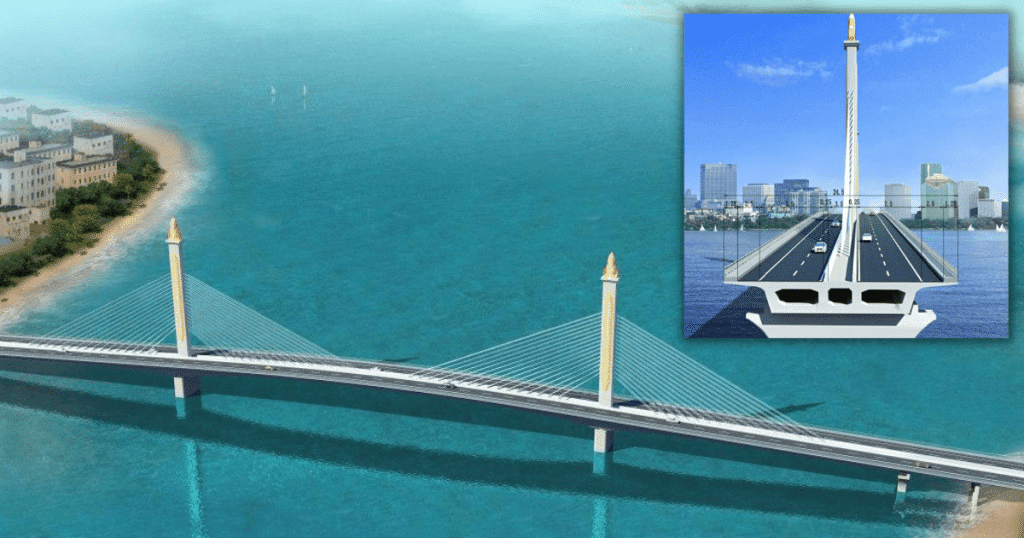 Both projects are under Overseas Cambodia Investment Corporation (OCIC), a private finance and infrastructure company in Cambodia.
Overall construction within the 125-hectare Noh Korea development project, which is costing an estimated USD2.5-billion, has also reached an average 48% completion despite the pandemic.
This includes the two bridges, two riverbanks, and landfilling. According to Project General Manager Men Poly, the first of five phases in overall infrastructure is expected to be complete in mid-2023.
Long-term, commercial areas, recreational parks and facilities, residential properties, financial institutions, universities, and quality hospitals are expected to rise the multi-billion-dollar satellite city project.
Already providing employment to hundreds of people, the figure could potentially rise to 7,000 at the peak of construction activity, said OCIC CEO Pung Kheav Se. He added that upon completion, Koh Norea could bring an additional 10,000 job opportunities.
Korea-funded Chroy Changvar bridge construction may begin next year
Further north in Phnom Penh, another bridge project in Chroy Changvar is set to commence construction in 2022 according to the 2022 draft law on financial management by the Kingdom's Ministry of Economy and Finance.
It will connect the city district to Svay Chrum Commune in Kandal Province.
The project had already been announced a year prior, with funding to be provided by the Republic of Korea. By mid-2021, South Korean experts had been assessing locations while formulating the possible designs for the bridge.
Officially, it will be known as the Cambodia-South Korea Friendship Bridge. The President of the Republic of Korean, Moon Jae-in, also announced it himself in November 2020.
The said 2022 draft law also includes a budget for continuing preparedness against the covid-19 pandemic's impact, including a program to support Category 1 and 2 poor families and vulnerable people; vocational training, assistance, and reskilling of workers; and digital technology and related infrastructure.
From these Phnom Penh bridges to Siem Reap's 38-Road and Sihanoukville's 34-Road projects, steady improvements in infrastructure spell a positive outlook for the property market growth, lighter traffic, and quality transport overall—all welcome as Cambodia maneuvers the global pandemic landscape.