Investing in a real estate property in a developing country is scary and can pose a lot of risks. Cambodia is the 2nd fastest growing economy in Southeast Asia. But while it a wise choice, it is still important for a prospective client to understand the risks. The key to getting a good return on investment in any real estate investment in Cambodia is simple. Understand Rental Yield and Capital Growth.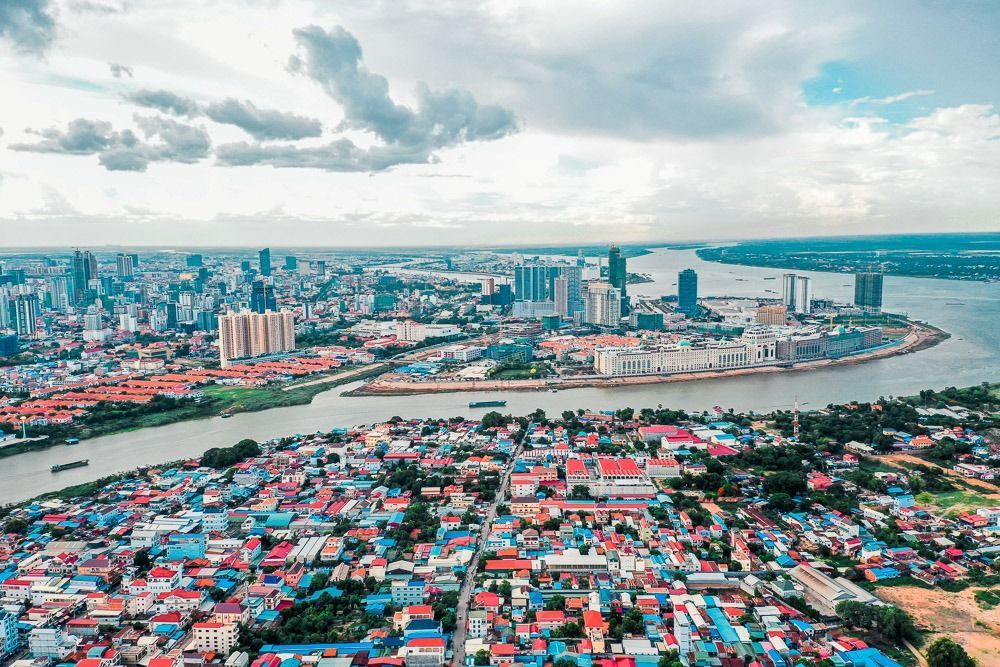 Buying a home or buying a property as an investment is completely different. According to Country Manager Grant Fitzgerald, buying a home is an emotional decision. It favors comfort and happiness rather than any monetary consideration.
Real estate investment is a conscious decision to buy a property. It looks into getting a return on investment as fastest and as hassle-free, as possible.
Advantages of Real Estate Investment in Cambodia
Cambodia grew from a 3rd world country to a frontier market in the last 20 years. It is currently the 6th fastest growing country in the world. Foreign investments are seen all around the country. That is the major reason why it had sustained an average of 7% economic growth in the last 10 years.
There are many reasons why businessmen choose to place their money in Cambodia. One of the reasons is that you don't need citizenship to invest or buy property in the country. There are many types of property ownership in Cambodia available to foreigners. Freehold ownership is available for condominium buildings. A soft title is available using a nominee structure for housing and business spaces. Land may also be leased for 50 years or more.
Capital Needed for Real Estate Investment
In Cambodia, any foreigner can invest in a basic studio apartment. Prices range for as little as $3,000 and as high as $10M for modern villas. Land prices in Phnom Penh range from $20 to $7,000 per sq.m. and from $10 to $2,000 in Siem Reap. Prices for land, housing, and commercial structures are even cheaper in other provinces. Sihanoukville's property prices are 200% higher than the current prices in Phnom Penh.
Rental Yield vs Capital Growth
Rental yield is the annual return on investment on rental properties. Capital Growth is the annual increase in the value of a property.
You can compute rental yield based on annual income vs the initial investment value. The average annual rental yield in Cambodia is 6-8%. This already assumes that your property is vacant for 1 month per year.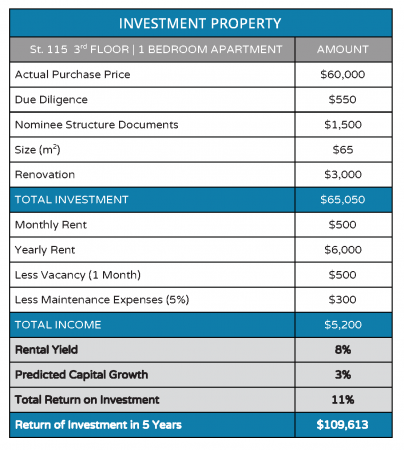 Capital Growth, on the other hand, is more vulnerable to market conditions. There is no defined capital growth value. It differs from the area and the conditions of the sale.
Capital growth is higher in developing districts than in already populated areas. Some places see a growth increase due to infrastructure developments. A new ring road or a newly constructed bridge access can affect the value of nearby properties.
While different, capital growth and rental yield are also interrelated. A rented apartment has rental yield and capital growth. An owner-occupied townhouse only received capital growth. If the property is for personal use, the value will increase but you will not receive any rental yield.
Rental Yield calculation on a real estate investment
Assuming that a foreigner bought a property for $60,000. Add the expenses for the due diligence, renovations, and documents. The total investment for a one-bedroom property comes up to $65,050. If they rent the property, they earn a rental yield of roughly 8%, depending on occupancy rates.
Some foreigners use a real estate agency like IPS-Cambodia to manage their investments. This is perfect for investors living overseas. The return on investment is almost double the initial investment value in 5 years. That is the combined income from rental and the appreciation value of the property.
Calculating Capital Growth on a Real Estate Investment
If the investor decides to use his property for personal use, it will still increase in value. However, the yearly increase will depend on current market conditions.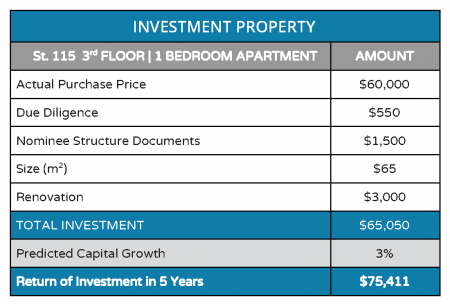 Investor Perspective
A few years ago, IPS-Cambodia interviewed the couple, Simon and Natalie. While apprehensive, they bought two residential properties that they rented out. These properties are managed by IPS which charges a very minimal 10% of the rental income yearly.
The excitement of investing in Southeast Asia is real. The potential of these investments is limitless. The couple bought the property after learning the specifics. They understood the risks and considering all aspects of the investment. Since then, the couple has consistently enjoyed high rental yields. It is 2x more compared to mature property markets in Asia. You can read the case study on how IPS Cambodia was able to help them. The best part of the story is that they got it with much lower capital investment required.
"Ensure you understand the risks associated with Cambodian property investment. Invest in properties that are unique and can drive long-term capital appreciation. Ultimately, do not try to figure out Cambodia yourself. Rely instead on an expert partner you can trust. Our experience is that having IPS as our business partner has been a great move for us. We are experiencing very strong returns on our investments with minimal risks."
A Clear Path Ahead on Real Estate Investments in Cambodia
The interest in real estate investments in Cambodia is expected to continue. All economic signals this year point to the property market in an upward trend. Investors who decided to buy a property are now enjoying a continuous inflow of income. It had been like this in the last decade. It continues to do so for many more years to come. Yes, investing in the Kingdom is understandably scary and pose risks. But the expected return on investment makes the risks all worth it.