Cambodia has been receiving major foreign investments in recent years. It had also enjoyed stable economic growth for the last 20 years. This Cambodia investment guide will look into the factors of its financial growth and will go you a reason to invest in the country.
Cambodia 101
ទីតាំង
The Kingdom of Cambodia in Southeast Asia. It borders Thailand, Vietnam, and Laos. It has 181,035 sq.m. km. land area, divided into 25 provinces. The business areas are Phnom Penh, Siem Reap, and Sihanoukville. Other good provinces to invest are Ta Khmau, Kampong Cham, Kep, Battambang, and Kampot.
រាជធានីភ្នំពេញ
Phnom Penh is the capital of Cambodia. It is in the south central region, surrounded by Kandal Province. It has only 679 sq. km. land, but it holds the same status as any province in the country.
ខេត្តសៀមរាប
Siem Reap has 10,299 sq. km land area. It is the tourism center and receives about 1/3 of the yearly tourist arrivals. It is also the home of the famous Angkor Wat Archaeological Park.
ខេត្តព្រះសីហនុ
Sihanoukville experienced a boom because of Chinese investors in the last few years. The province is part of the One Belt, One Road project initiated by China. This led to the development of infrastructure, roads, bridges, and ports.
Demographics
The country has more than 16 million population. 90% are Khmers, and 5% are Chinese, Vietnamese and Cham Muslims.
Language and Religion
The main languages in Cambodia are Khmer, English, and Chinese. English is used for most business transactions. This made Cambodia a step ahead from neighboring countries like Laos and Vietnam. Theravada Buddhism is the official religion, practiced by 95% of the population. Other religions are Islam, Christianity, and minor folk religions.
Foreigner Population
Cambodia is one of the Best Countries to retire in SEA, according to Global Retirement Index. Around 150,000 foreigners are now living in the country. Most of the foreigners are from Western and Asian countries. It is increasing because of the low cost of living. Getting a work visa is easy. Opening a business requires little effort. There are also many job opportunities for foreigners.
Why Does Cambodia Attract Foreign Investors?
Among the Asian countries, Cambodia is the best place to invest. It has a welcoming attitude to foreigners. The government made it easy for any nationality to stay long term.
Visa Requirements
These are the 2 types of Visa in Cambodia, divided into two types. Tourist Visa (T Class) – The tourist visa is a single entry pass you can use for a 30-day period. You can buy this for $35 in airports or land borders. For ASEAN members, a tourist visa is free from 14-30 days, depending on the nationality. Working Visa (E Class) – the ordinary or E class visa has 4 types.
EG Visa – This visa is for job seekers. It is renewable for 1, 3, and 6 months.
EB Visa – covers all foreigner workers and their dependents. It requires proof of employment and can renewable for 3, 6, and 12 months.
ER Visa – Retirees from other countries that can provide proof of income can apply for this visa. It also has a 6 or 12-month duration.
ES Visa – Students enrolled in Cambodian schools are eligible for this visa. The visa is for 3, 6, or 12 months period.
Dollar Economy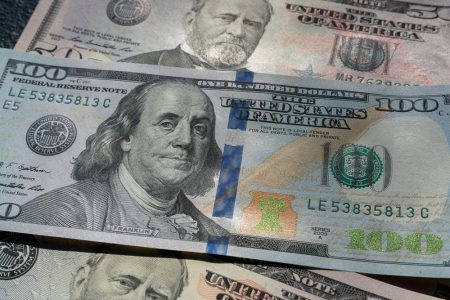 Khmer Riel is the official money in Cambodia, but the US Dollar is used for 80% of all business transactions. Cash is the usual method of payment, with the credit card and online payment options on the rise.
What are the promoted sectors for investment in Cambodia?
What Type of Economy Does Cambodia Have?
The economy in Cambodia is an open market system. Economic decisions on investment, production, and distribution depend on supply and demand. An open market is a system that allows free market activity. It gives investors special privileges on tax duties.
Gross Domestic Product, Inflation Rate, and Per Capita Income
The increased exports and the growing local demand drives a country's GDP. According to the World Bank, GDP growth in Cambodia experienced a 4-year high of 7.5% in 2018. Cambodia's GDP is $23.82 Billion. Per Capita income is $1,628.05. Inflation rate dropped to 1.6%. The decrease in the price of oil products caused a drop in the inflation rate.
Foreign Direct Investment (FDI)
The country's economic growth is a result of strong Foreign Direct Investment. FDI increased by 800% in the last 10 years, the highest of which is US$3.0 billion in 2018. The biggest investments are in real estate and construction. Manufactured goods like garments and footwear contribute 1/3 of the exported goods. It rose to 17.6% in 2018 compared to 8.4% in 2017. Retail trade increased by 5.3%. The difference between export and import is at 10.4%, higher than 9.7% in 2017. The income from foreign direct investment (FDI) bridged that gap. FDI is at an all-time high at $3 Billion. It contributed 13.4% of the 2018 GDP. $10.1 Billion foreign investments went to the Gross International Reserves. This budget can finance import costs for six months. About 3/4 of the foreign budget came from China. The investments are for infrastructure, commercial and housing, tourism, manufacturing, and agriculture.
Incentives for Foreign Investment in Cambodia
Investments continue to increase because of favorable investment laws. Among others, these are the reasons why Cambodia is attractive to foreign investors.
The government allows foreigners to own businesses. There is no trade restrictions, price controls, and foreign exchange regulations.
US Dollar makes it easy for financial transactions because it is stable. Khmer Riel also retains a $1=4,000 exchange rate.
Foreigners can lease land for 50 years or more.
Foreigners don't need to change citizenship. They can also send income and any profit back to their home country.
QIPs have Special Tax Rates and exemptions.
Qualified Investment Projects Law
The government gives special treatment to all qualified industries. To apply, companies need to get a Final Registration Certificate. They also need to register with the CDC or PMIS. This law allows investors to choose profit tax exemption or special tax depreciation. The tax exemption is 2 parts, the tax holiday and the priority period. The tax holiday is 3 years from the time Final Registration Certificate is given. The priority period is another 3 years tax-exempt, based on the type of project and value of capital. Another option is the Special Depreciation rate of 40% on production materials.
Types of QIP
Domestic QIPs are companies that don't get income from exports. They don't pay tax on imported equipment and construction materials.
Export QIPs are companies that sell or transfer some of their products overseas. Equipment and construction materials are duty-free.
Supporting QIPs are companies that supply 100% of their products to export QIPs. They can import equipment and construction materials tax-free.
Industries qualified for tax exemption
Duty-free is given to the following:
Construction of a modern market or trade center
Training and Educational Institutions
International trade exhibition and convention centers
Companies that produce the following:
animal feeds
leather and metal products
electrical and electronic appliances
office materials, toys, and sporting goods
motor vehicles, parts, and accessories
ceramic products; food products and beverages
textile, garments, footwear, and hats
wood furniture and fixtures
paper, rubber, and plastic products
water supplies
traditional and modern medicines
freezing and processing of aquatic products
cereal and crop products
chemicals, cement, fertilizer, and petrochemicals
Special Economic Zones
SEZs are locations in Cambodia that have favorable trade and business setting. They have special laws and budget for roads, bridges, backup water, and power sources. Government officials, stationed onsite, also give the companies immediate help when needed. Special Economic Zones are ideal for manufacturing and industrial companies. It gets an income boost from FDI, and give more job opportunities to locals.
Status of Cambodia's Major Industries in 2018
Opening a business in Cambodia is easy because of its Investment laws. According to the World Bank Economic report, it takes 99 days to open a business in Cambodia, at the most. The main industries are manufacturing, agriculture, real estate, and tourism
Manufacturing and Trade
Garment and footwear contribute to 80% of the yearly export goods. In 2018, exports increased by 7.17%, compared to 8.3% in 2017. North America and Europe are the biggest clients. The expanded GSP guideline allows duty-free export of travel goods. This resulted in $120 million approved FDI projects in the first 2 months of the year.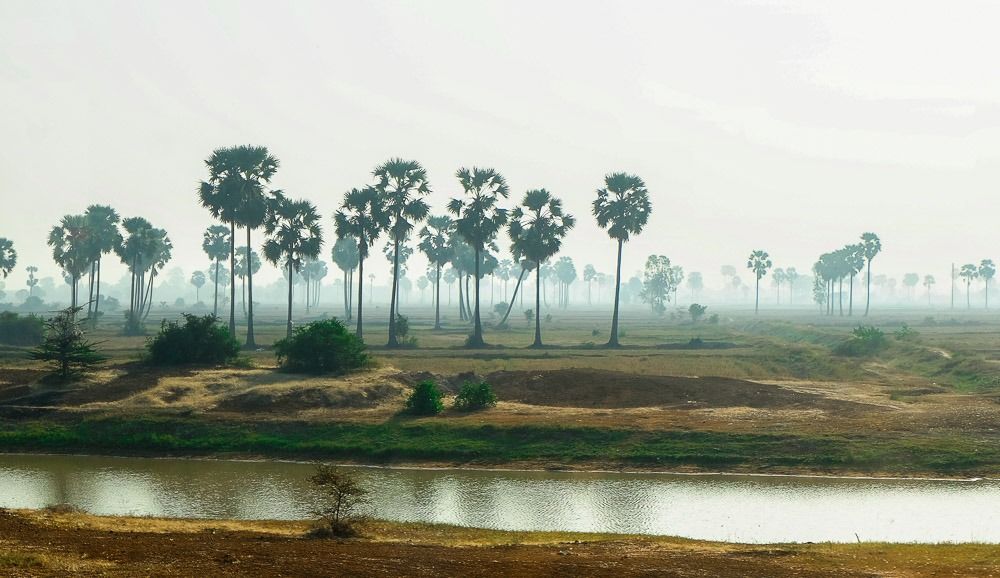 Agricultural Sector
The agricultural industry contributed 22% of the GDP in 2018. Despite bad weather, it increased by 4.4% from last year. Agriculture products added $5.47 Billion to the country's income in 2018. Rice production is at 10.8 million metric tons in 2018, 5.7% lower than in 2017. It contributed to half of the total agricultural products. Aside from rice, other profitable crops are cassava, vegetables, seasoning crops, and corn.
Tourism Industry
Tourism is a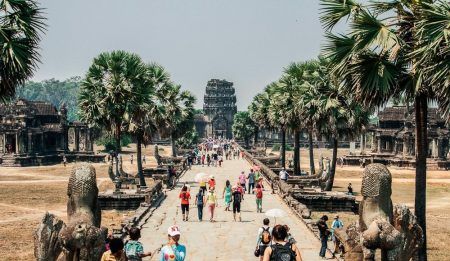 big part of economic growth. It gives 13% of the country's GDP. A big part of that comes from hotels, travel agencies, and tourist-targeted activities. Tourism also brings business to passenger transport companies like airlines and marine transport. About 6 Million foreigners arrived in 2017, with an average stay of 7 days. 54% are arrivals by air and 46% by land borders. 77% of tourists are from Asia and the Pacific. Other visitors Europe, Americas, Africa, and the Middle East. International arrivals in 2018 increased by 10.7%, lower by 1.8% from 2017. Almost 33% of total visitor arrivals, or 2 Million visitors, are Chinese businessmen.
Real Estate and Construction Sector
The booming construction industry in Cambodia is evident in the past 5 years. There are developments in all areas of the country. More than $6B, 3,500 projects, went into construction. Out of all the construction projects, 90% came from Asian investors. 82% are housing projects like apartments, condominiums, and boreys. 8% are commercial spaces such as office buildings, hotels, and factories. Other projects developments like roads, bridges, and ports. According to reports, this trend will continue into 2020. More housing projects, like gated communities, will be built. This is a long term answer to the overcrowded urban areas.
Is it Safe to Invest in Cambodia?
Cambodia has attractive laws and a young working population. However, there are still some risks to consider when planning to invest.
Lower export goods due to the possible suspension of the EBA (Everything but Arms) scheme.
European countries receive 1/3 of all export goods. Losing duty-free and quota-free access can result in lower export volume.
The Finance sector is heavily invested in construction. It is a direct result of the One Belt, One Road Initiative.
A downward trend in the tourism sector can mean a decrease in real estate projects. This, in turn, can lower the value of the investments of the finance sector. A slight slowdown in the Chinese economy will cause a big impact on Cambodia's own growth.
What is next for Cambodia?
Despite the risks, Cambodia still remains a very attractive place to invest. It attracts foreign workers and provides a cheap option for retirees. The country's economic growth is expected to continue until the next decade. The Cambodian government is adding new laws to make it easier for foreigners to invest. Next step is to develop the skills and education of the young population to sustain this growth.