If you want to live your best life, you need to prioritize two things: luxury and convenience. The optimal way you can achieve this is by living the high life in a penthouse suite, allowing you to have the finest lifestyle along with numerous amenities you won't get in other accommodations.
Besides this, there are more reasons why living in a penthouse guarantees an elevated and opulent lifestyle, read below.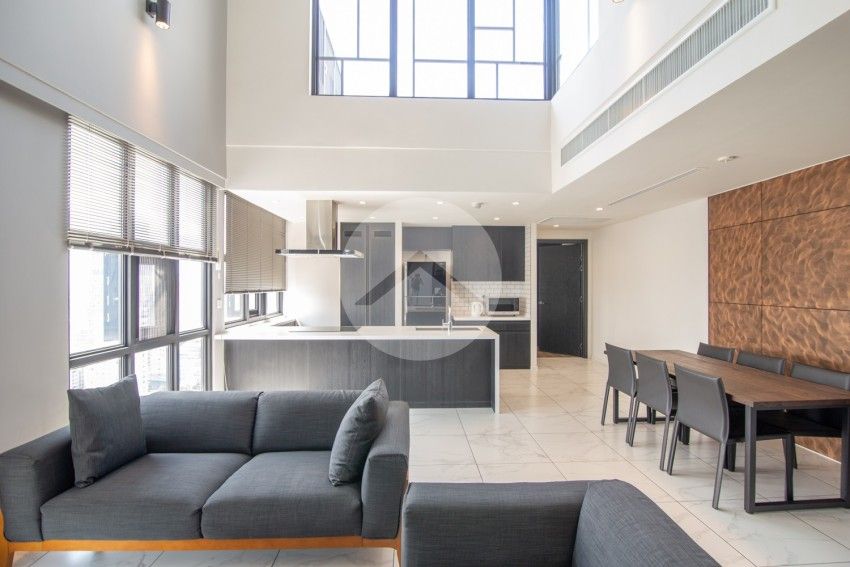 2 Bedroom Duplex Penthouse For Rent – BKK1, Phnom Penh
1. Tranquil environment
Amid the nonstop city noise, a penthouse can be your sanctuary any time. Considering penthouses are located at top floors of condominium buildings, you are as far away from the hustle and bustle of the city, guaranteeing you with peaceful surroundings. Moreover, if you live in a penthouse, you have little to no neighbors, making it unlikely that noises will disturb your serenity.
2. All the space you need
There is no need to feel cramped when you live in a penthouse since you have all the space you need! In most condominium buildings, penthouses offer more area in square meters since it's the premium unit. This includes bigger floor plans that can range from two to more storeys and to more than 4,000 square feet, all depending on the penthouse you choose. Moreover, this means you can turn your extra rooms into a library, gym, or into whatever you want!
Penthouses can also come with an expansive outdoor space so you can amp up your luxury living by taking advantage of this space. It can be a balcony, deck, or even patio that you can design as an outdoor living room you can relax in and more!
3. Beautiful landscape
Living in a penthouse has numerous advantages but at the top of it all is the beautiful landscape you can see from your windows. Nothing beats the view from a penthouse, allowing you to marvel at the twinkling city and revel in the heights of seeing as far as you can see of the urban landscape.
4. Special privileges
Whether you rent or buy a penthouse, it automatically grants you numerous special privileges guaranteed to make your life better. These privileges depend on the amenities and more that the condominium offers but it can range from a special elevator to directly lead to your penthouse, an exclusive floor plan, and even direct access to private lounges and parking. Moreover, an all-around concierge service can be included that will help water your plants, assist you in groceries, deliveries, and even walk your pets!
Make sure you inquire what additional benefits of living in a penthouse you can enjoy once you start looking for the right penthouse to buy or rent in Cambodia.
Suggested read: How Much Do You Need to Rent Penthouse in Phnom Penh?
5. Terrific location
Condominium buildings with penthouse suites are in premium locations in a city. You'll have direct and convenient access to malls, parks, recreational activities and more! Enjoy high-end services that the city can offer since you can access them anytime you want.
6. Cheaper utilities
Despite all the luxuries and conveniences that penthouses offer, your utility bills don't automatically equate to higher expenses. Considering you're on one of the highest floors, you don't have to worry about proper ventilation and cooling your home since simply opening a window will help. This will help lower your utility bill and ensure you have the best quality of living.
7. Better security
Besides optimal location and a variety of privileges in penthouse living, you are also guaranteed better security! Since the unit is on the highest floor, it will be more difficult for thieves or those with bad motives to reach your unit. Additionally, some buildings offer a separate and private elevator for penthouses where only those with approved access can use, making it easier to have a safer home!
8. Optimal resale value
Penthouses offer a variety of privileges but it's not for everyone for the long run. If your idea of an idyllic life with family is a big home and expansive outdoor area, then you would need to sell your penthouse. No need to worry though since penthouses are premium units, whether they've already been occupied or not. Finding quality buyers quickly is possible at a higher value as well, especially if you decide to decorate the unit the best you can before presenting it to a potential buyer.
9. Luxurious lifestyle
If you want to encapsulate the highest quality of living from your style to your home, then living in a penthouse is the right move for you! This is because a penthouse screams a luxurious lifestyle more than any other property in a condominium building due to its amenities and location. Moreover, furnishing your penthouse will require you to be as creative and homely as you can be so you can fully decorate the spacious unit as your own.
Besides that, you get special privileges, a terrific landscape view of the city below, and a home where you can be the posh and stylish you any time!
Additionally, finding the right penthouse to buy or rent is easy with the help of our agents, one of the best real estate agents in Cambodia. Live in the penthouse you want as soon as possible when you contact us!
IPS Cambodia Real Estate
Average rating:
0 reviews