Living on the highest floor of a building means you can indulge in breathtaking views of the Phnom Penh skyline, anytime you want. Besides the picturesque scenery, living in a penthouse allows you numerous benefits. At the top of it all is that you can relax in your own private sanctuary, far from the street noise common in the bustling capital city of Cambodia.
However, enjoying all these advantages comes at a higher cost than other units, especially if you want to look for your own penthouse within Phnom Penh. There are numerous areas within Phnom Penh where you can rent or invest in your own high-rise unit, but in general these areas are Daun Penh, BKK1, Tonle Bassac, and Toul Kork.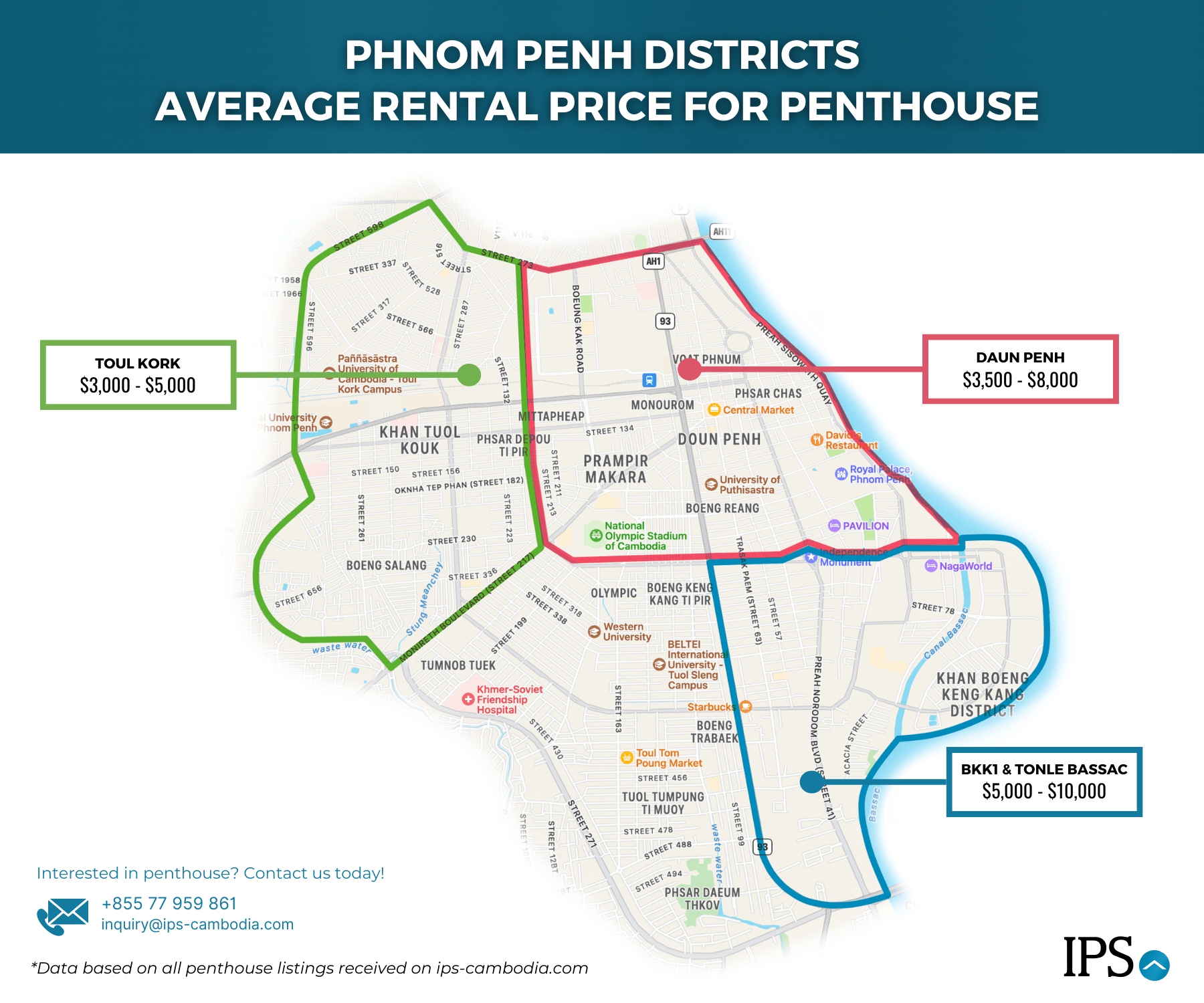 To make sure you're choosing your penthouse unit wisely, you need to know the rental average in these areas in Phnom Penh. Based on our penthouse listings, these are the popular locations you can find penthouse for rent with their average rental prices, continue reading below.
BKK1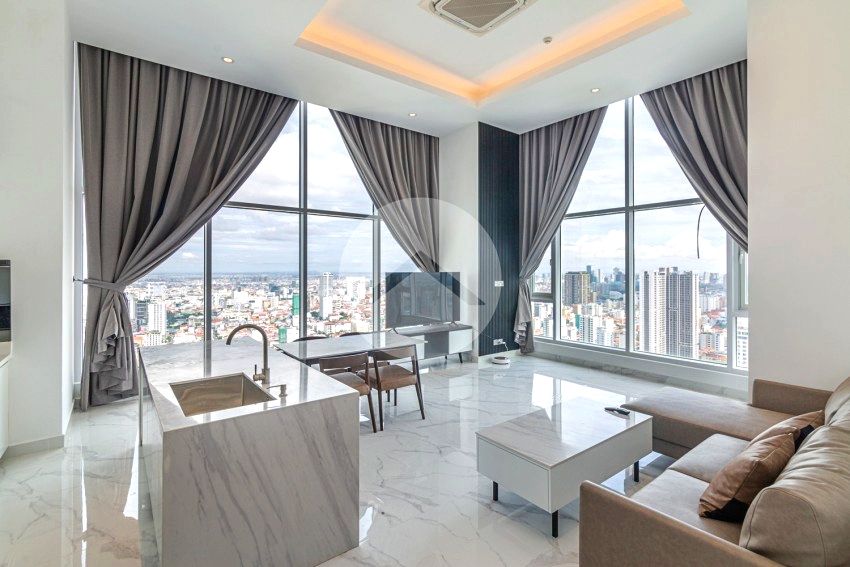 Amid other areas in Phnom Penh, one of the leading places where you have numerous choices to rent your own penthouse is in the expat haven, which is BKK1. While this area caters to local residents and foreigners alike, numerous businesses here offer a wide variety of international products. In short, many high-end residential projects are located here, whether it's a three bedroom penthouse you're looking for or a four bedroom unit.
Considering the numerous luxurious properties in BKK1, the average monthly rent of a penthouse here is between $5,000 to $10,000, depending on the number of bedrooms you want to rent.
Tonle Bassac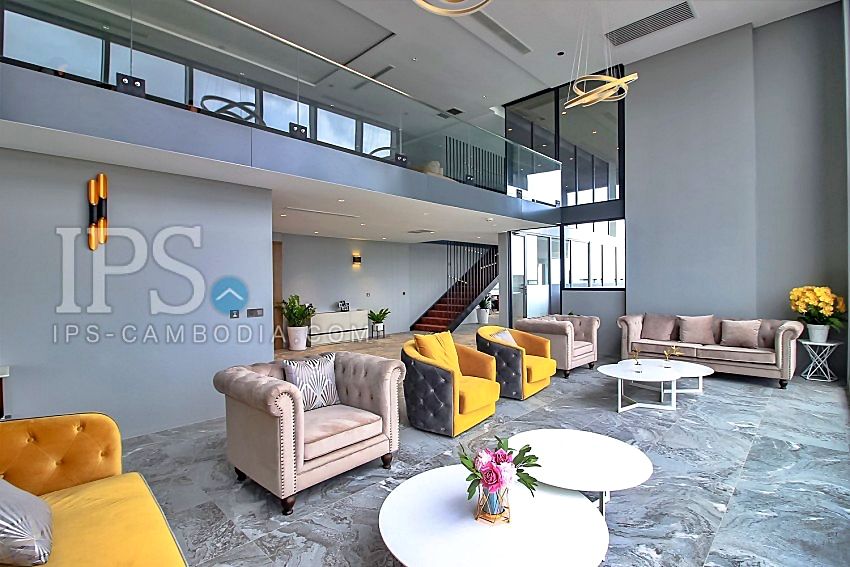 If you're looking to rent your own private sanctuary close to different embassies within Phnom Penh, then you need to find a place in Tonle Bassac. It's an area close to the Bassac River where you can find AEON mall and more here, as well as eight embassies. Besides that, numerous government agencies are here, making it the ideal area for you to live in due to its conveniences.
Due to this, there are numerous penthouse units you can choose from to rent where prices generally range an average of $5,000 up to $10,000 per month.
Toul Kork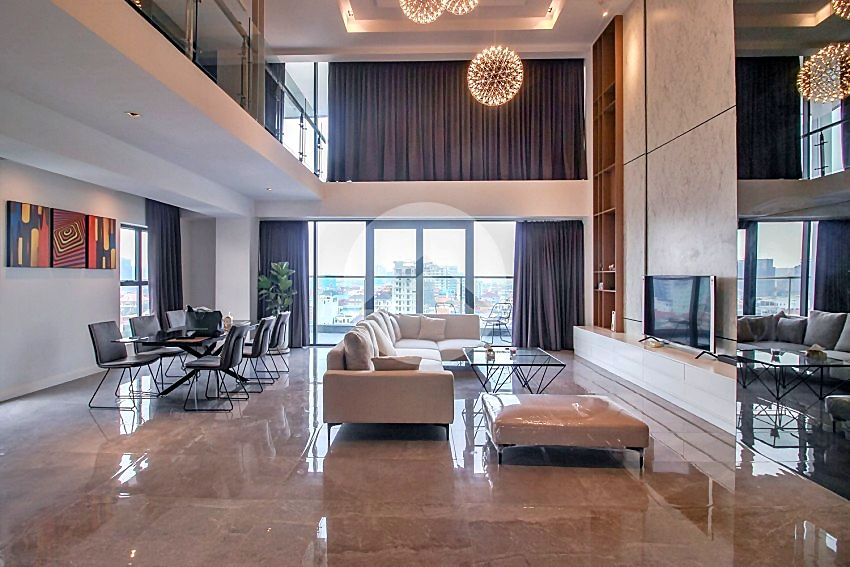 One of the most popular residential areas in Phnom Penh is Toul Kork, especially since you can find large supermarkets here alongside different food and beverage outlets. Considering it's known to be the main shopping area of the city since international and local retail stores are located here, it's an ideal place for you to rent a penthouse unit.
You have anywhere between two bedroom penthouse up to four bedroom units available here for you to rent in Toul Kork. These spacious units in this area are cheaper as well considering in more commercialized places, wherein the average monthly rent for a penthouse in Toul Kork ranges between $3,000 to $5,000.
Daun Penh
While Phnom Penh is the economic hub of Cambodia, there are areas particularly teeming with commercial real estate like Daun Penh. It's the center of the city, where you can find historic places to visit like The Royal Palace, making rent higher than other areas.
However, living in a penthouse in Daun Penh is still relatively cheap considering that average monthly rent is between $3,500 to $8,000, depending on the number of bedrooms you want. Most of these penthouses are in low-rise apartment buildings but the scenic views, expansive units, and other benefits of living in a penthouse remain the same.
Types of Penthouses in Cambodia
Generally, penthouses are known to be the uppermost units in high-rise buildings, where you have more than enough room to decorate the place as you want. However, within Cambodia, penthouses are three to five bedroom units in the uppermost floor of any building, whether it's a low-rise building or not. Moreover, most buildings within Cambodia have one to two penthouse units on their top floor.
Besides that, there are two types of penthouse units you can choose from, as you can see below.
Single floor penthouse
A single floor penthouse means you have a luxurious and expansive space for your three to four bedroom unit, all one just one floor like this three bedroom penthouse for sale in J Tower. Considering that there are some buildings that offer an entire floor for their penthouses, this means you still have all the privacy you can get!
Duplex penthouse
A duplex penthouse means that your unit has two levels, making it possible for you to appreciate the scenic view on a higher floor. Moreover, depending on the building's developer, you can get your bedrooms in a duplex penthouse to be on the second level alone or on both floors.
Great examples are these 5 bedroom duplex penthouse for rent in Tonle Bassac and 2 bedroom duplex penthouse for rent in Toul Kork.
IPS Cambodia Real Estate
Average rating:
0 reviews