When you're looking for your dream home, one of the first things to prioritize is the location. Considering convenience and proximity to opportunities as well as numerous amenities, living in gated communities or Boreys are the best option for you.
Borey refers to a gated housing community in Cambodia locally. A wide range of boreys is available in Phnom Penh, ranging from luxury to affordable, which caters to the pricing scales. In Cambodia, Phnom Penh has the maximum number of boreys, considering the city's growing infrastructure developments and increasing expat population. 
Some popular types of boreys in Cambodia include villas, flat houses, shophouses, and more. It may also include facilities like swimming pools, clubhouses, and on-site retail options. Living in boreys in Cambodia provides the convenience of easy and stress-free living. You will not have to worry about maintenance because the facility is always available.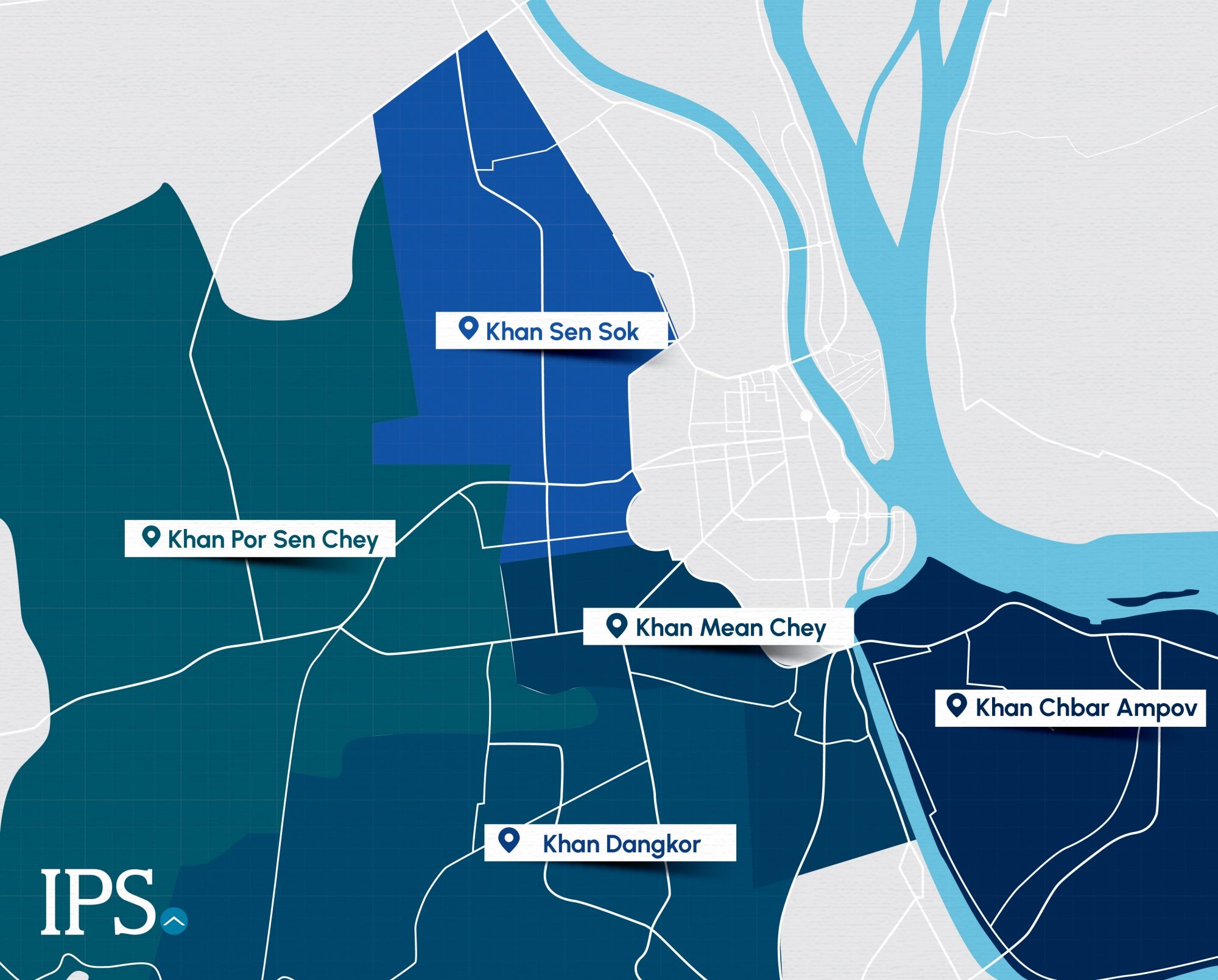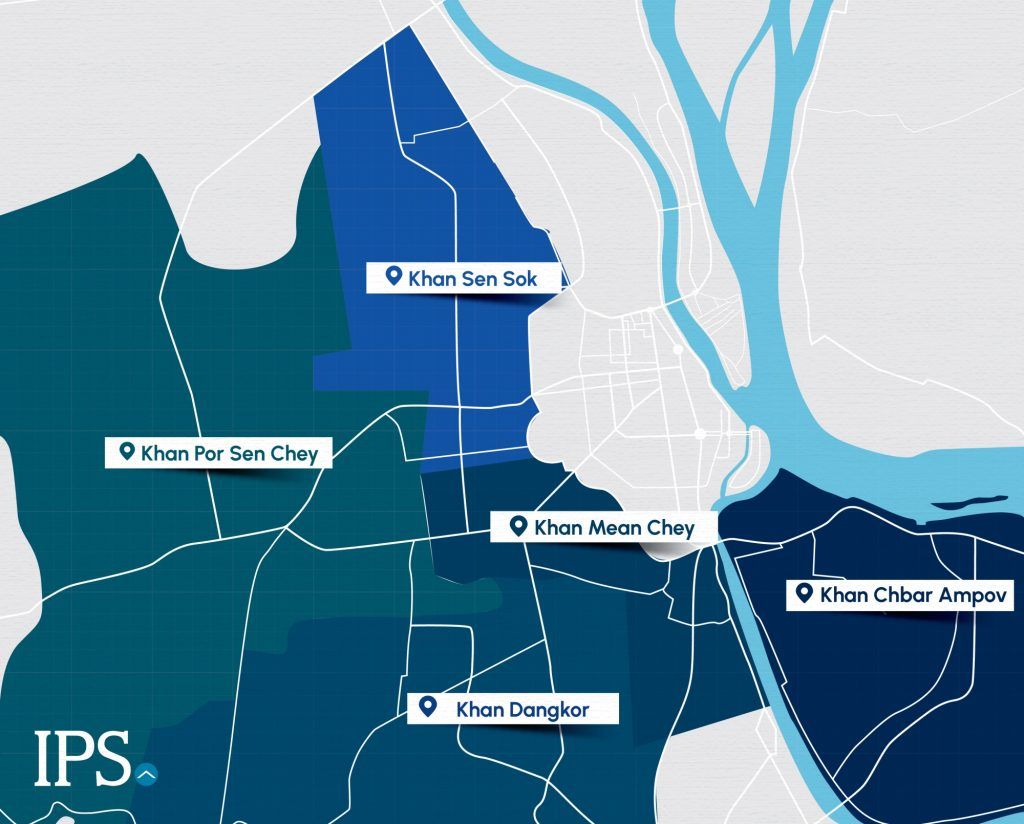 Additionally, while Boreys prioritize security and a sense of community, it doesn't mean that you would be far from the city center. In fact, a number of Boreys are located within cities like Phnom Penh! It's confirmed by real estate firm CBRE in 2019 that there are already 170 Boreys there and more are added yearly. This makes it easier for you to be close to various conveniences that the heart of the city can offer—all the while living the idyllic gated community lifestyle.
If you are looking for the right home for you in a Borey in Phnom Penh, then here are the best areas in the city to live in that you need to know:
Sen Sok
One of the districts in Phnom Penh where Boreys are increasing in number due to its popularity is Khan Sen Sok. While it's a relatively new district since it was only established in 2009, it's already home to more than 40 gated communities.
This is due to the fact that the district has a wide range of flat lands, making it perfect for real estate projects. Not only that but a number of infrastructures are being developed here including schools, malls, and other commercial properties. Moreover, a big landmark that locals and expats alike go to in Sen Sok is the biggest mall in Phnom Penh which is AEON Mall 2.
Sen Sok has various flatlands that ensure faster construction of boreys. Being home to over 40 borey projects, a lot of people settle in this region because it is the home to Makro Supermarket and AEON Mall 2. The average cost of buying a borey in this district would range from $159,810 to $504,666, depending on the facilities you opt for.
Russey Keo
One of the busiest districts in Phnom Penh is Russey Keo, where it's close to the city center since it's just in the Northeast of it. According to real estate firm CBRE in their 2019 third quarter report, this district currently makes up 18% out of 170 Boreys developed in Phnom Penh. It's a popular area for those who want to live in a Borey, be in the city, as well as have quick access to the Tonle Sap River since it's close.
Moreover, realestate.com.kh reports that buying properties in Russey Keo is cheaper than other districts since it ranges from $128,000 up to $4 million. Renting is also inexpensive since it only costs $425 up to $4,000 monthly.
While there are also flatlands in Russey Keo, the extension is restricted towards the east because of the presence of the Tonle Sap River. Nonetheless, the good thing is you can enjoy events across the riverside while also enjoying the touch of the city because of its proximity to AEON Mall 2. Moreover, this district has various tourist spots and it also shares proximity with Daun Penh, which is Phnom Penh's central business district. If you're planning to get a borey in Russey Keo, the price would range from $130,000 to $463,000.
Meanchey
If you're looking for a district that has seen a big improvement in its community in recent years, then Meanchey is the district for you! Meanchey is the industrial hub of Phnom Penh, with the presence of numerous factories. Apart from these, many boreys and markets have grown in this area because of its population. Considering the region's demographic, the boreys in Meanchey are slightly affordable, with prices starting from $67,000.
It's a district that currently makes up 13.5% of Borey developments in the capital, allowing for projects to be more cost effective than other khans. Realestate.com.kh reports that buying real estate properties here range from $109,000 to $1 million while renting them monthly ranges from $500 to $5,000.
Generally, it's cheaper in Meanchey since it used to be an underdeveloped area until recent years wherein more infrastructures like schools, malls, Boreys, and the like have been developed. Moreover, other big constructions will take place in the district that will upscale the area like the construction of the third AEON mall which is set to be completed in 2023.
Meanchey is the industrial hub of Phnom Penh due to the presence of numerous factories and warehouses. Apart from these, many boreys and supermarkets have grown in this area because of its increasing population. Considering the region's demographic, the boreys in Meanchey are slightly affordable, with prices starting from $67,000.
Chbar Ampov
A previously rural district, Chbar Ampov has seen a large-scale improvement in recent years but it has retained the beauty of nature in the area. This means that despite the recent infrastructures currently and already developed in the district, you can still see a breathtaking and relaxing landscape!
Chbar Ampov is nearby AEON Mall 1 and the currently being developed third AEON Mall that will be the largest mall in Phnom Penh. Moreover, you can enjoy numerous marinas, recreational activities and riverfront activities in this district, guaranteeing an adventurous lifestyle.
There are a little more than 20 boreys in Chbar Ampov, but it is predicted that in the coming few years, Chbar Ampov will become home to over 30 boreys. The district has already started providing some of the best amenities and facilities, with prices starting from around $140,000.
Currently, Chbar Ampov makes up 12% of Borey developments or 20 gated communities in Phnom Penh. This is set to increase up to 30 in the following years. Buying a real estate property in this district currently has a price ranging from $114,000 up to $858,000. Meanwhile, renting per month costs $690 up to $3,000.
There are approximately more than 20 boreys in Chbar Ampov, but it is predicted to rise over 30 boreys in Chbar Ampov in the coming few years. The district has already started providing some of the best amenities and facilities, with prices starting from around $140,000.
Por Sen Chey
The district in Phnom Penh with the least amount of Boreys is Por Sen Chey since it currently only makes up 9% of projects. The exact number of gated communities as reported by CBRE in their Q3 report in 2019 is 16 projects which is expected to double in number in the following years. If you're looking to buy a home in Borey, this is a great area since the costs are relatively inexpensive compared to other districts. According to realestate.com.kh, buying a house ranges from $70,000 up to $1 million while renting a property monthly ranges from $680 up to $51,000.
Por Sen Chey has around 9% of the boreys of Phnom Penh, which is around 16% of the totality. Therefore the demand for these boreys will be slightly higher for people planning to settle here. The price of boreys in Por Sen Chey also starts from $80,000.
Moreover, you can enjoy a number of recreational activities in Por Sen Chey as well as head to a great bar, pub, or club with your friends!
Types of Properties Available in Boreys in Phnom Penh
There are various types of boreys available in the market. Here are some of the popular types of boreys available in Phnom Penh:
Flat Houses: These flat houses usually have three or more stories with more than two bedrooms and washrooms. They are usually available in smaller housing developments and gated communities.
Condos: Although this is a rare type of property in borey, you can still find a condo in a gated community with added facilities like security that help to foster a sense of community. 
Shop Houses: Shop houses refer to the properties where the ground floor has commercial real estate usage, whereas the upper floors are used for residential purposes. The shop house usually has a single owner.
Villas: Villas are prestigious real estate properties. They have small or semi-attached properties for a more affordable rate.
Things to Consider When Buying a Borey in Phnom Penh
When you're planning to purchase a borey in Phnom Penh, there are certain factors that you will need to consider. These include:
Location: You should carefully consider the location of the boreys. For example, you must check the district where you'll buy the Borey.
Amenities: It is advisable to check the facilities available in Phnom Penh, like shopping malls, markets, and international markets.
Requirements: When living as a single or with your family, you will need to understand your requirements. You should check the facilities like security, shopping mall and more.
Budget: If you have a fixed budget for buying the Borey in Phnom Penh, you need to visit around. The price is usually determined per square meter so you can choose accordingly.
Ownership title: If you are a foreigner, you must be familiar with the title. You can't purchase a landed property like borey in Phnom Penh as a foreigner.
Tax Law for Borey in Phnom Penh
You must be aware of the transfer tax if you're getting a freehold/hard title in Cambodia. The transfer tax for purchasing a property in Cambodia is usually around 4 percent of the total property value. 
The property tax will be collected at a 0.1% annual rate of the property value. The tax will be calculated based on houses, buildings, and other construction projects built on the land. However, it will have a deduction of 100000 riels for the particular property.
The Property Evaluation Committee, which was established by Prakas of the Minister of Economy and Finance as per the General Department of Taxation, determines the values of the property built on a particular property.
How Can IPS Cambodia Help to Buy a Borey in Phnom Penh?
Some of the prominent ways through which IPS Cambodia can help in buying borey in Phnom Penh include the following:
We have a wide range of borey properties in Phnom Penh listed with us, so you can browse them and choose accordingly.
Our team will provide a personalized consultation based on the listings to help you.
As experts in the local market, we ensure you receive the best properties. Our local expertise will help you determine which property to choose.
Once you've made a basic decision, we will help you with property negotiations and viewing.
If you've liked the particular borey, we will prepare the lease agreement or purchase agreement for you.
After you've bought the property, we will assist you in the entire process. We will focus on helping you get post-purchase support where you can get solutions for any problem you face so that you can get the best living experience in Phnom Penh.
Step-by-step Guide on Buying a Borey in Phnom Penh
You can easily buy a borey in Phnom Penh with the help of IPS Cambodia. Here are all the steps to follow to buy the borey:
Step 1: Call a Property Expert
You can contact our property experts at IPS Cambodia and discuss your requirements in a borey. You need to provide us with details related to the budget, location, and facilities that you prefer.
Step 2: Discuss Your Requirements
To help you find the perfect borey, we will need the details. You need to discuss your requirements, especially regarding facilities, the number of bedrooms, the floor or any other information that is important for your comfortable living. 
Step 3: Finding the Best Borey
We have various boreys listed with us, so we will help you go through the specifications before scheduling the visit. This helps save time while providing you with an overview of the properties. 
Step 4: Property Visit and Inspection
We will schedule visits and inspections for you once you've picked the properties you like. You can inspect the property thoroughly to understand if it fits your requirements and what maintenance it needs.
Step 5: Negotiations and Offer
We help you negotiate and make offers for the boreys you like. You will need to go through the terms and conditions for buying the property there. 
Step 6: Signing the Purchase Agreement
You will need to review the purchase agreement before you make the purchase. As an expat, you can't buy the property, so you can take the help of a local counterpart to buy. Make sure to pay the property transfer tax of 4% of the property value.
DEEP DIVE: The Legal Roadmap to Owning Property in Cambodia
Step 7: Payment Process
You must check the payment process once you have signed the purchase agreement. Make sure to review the terms and conditions and check the preferred accepted payment methods. If you need a mortgage or finance, our experts will guide you.
Step 8: Moving and Settling In
After buying the property, our experts will help you move and settle in your new house. We will also provide you with community integration to familiarize you with the local norms and culture.
Step 9: Property Management Services Post Purchase
Once you move into the property, you must opt for property management services. Your management team will take care of your entire property and ensure you receive the best.
Step 10: Maintenance and Repair
If you need any maintenance and repairs on your property, you can connect with your property management team. They will assist you in the process.
At IPS Cambodia, we have the most convenient solutions for buying the boreys. Visit us to check out some of the most popular boreys available in Cambodia.
For any queries, contact us or fill out the inquiry form. We will get back to you in 2-3 business days or at the earliest.
Customer Stories and Testimonials
Over the years, we have helped numerous clients. You can find what our clients have to say about us over here.
FAQs
What is a Borey, and how does it differ from other types of housing in Phnom Penh?
Boreys are safe and gated communities in Cambodia.
Are Borey communities suitable for families?
Yes, Boreys are a great choice for families since they are designed with size, security, and safety in mind.
Can expats buy properties in Borey developments?
No, expats or foreigners are not allowed to buy boreys in Cambodia due to the foreign ownership law of May 24, 2010. This is because boreys are considered as landed properties.
How do I inquire about Borey properties listed on ips-cambodia?
We have numerous borey properties available on our website, you can directly contact us at our given addresses to purchase IPS Cambodia.
Are there any financial incentives or benefits for investing in Borey properties?
Yes, you will receive tax benefits when you invest in Borey properties. 
What are the security measures in place within Borey developments?
Boreys have security staff to ensure the safety of residents in the gated community.
Can I rent a Borey property in Phnom Penh, or are they only available for purchase?
You find Boreys for rent and for sale in Phnom Penh.
How do I know if a particular Borey property is a good investment?
When deciding to invest in a Borey, it's important to consider the developer's background, the quality of the property, and its location as it is a residential property.
What are the legal considerations when buying a Borey property in Cambodia?
You will have to follow certain legal considerations when buying a borey in Cambodia, such as hard title, development company registration, master plan approval, construction license, and borey license. 
Are Borey communities governed by homeowners' associations, and what are their roles?
No, boreys usually have a single owner. 
Can IPS assist with property management and rental services for Borey owners?
Yes, at IPS Cambodia, we provide post-purchase support so if you need any help with property management or rental, we can help. 
What are the advantages of living in a Borey community compared to standalone properties?
Choosing a borey over a standalone property offers the advantages of added security and a greater sense of community. Additionally, boreys are known to be more affordable in terms of purchase price.
How does IPS handle disputes or issues that may arise with Borey property transactions?
If we encounter any disputes or issues during property transactions, our property experts will assist throughout the process to ensure that you receive the best outcome. We will identify the problem and provide the necessary guidance to help you resolve it.
What type of ownership titles are available for a Borey in Phnom Penh?
The different types of ownership titles available for boreys include LMAP title, hard title, and soft title.