When you have a family with children to think about and you're looking for a place to call home, then gated communities are one of the best places to find one. They are otherwise known as Boreys and allow a safer way of living without much of the risks of living in high traffic areas like in city centres. Not only that, it has a lot of other advantages that you need to start considering now.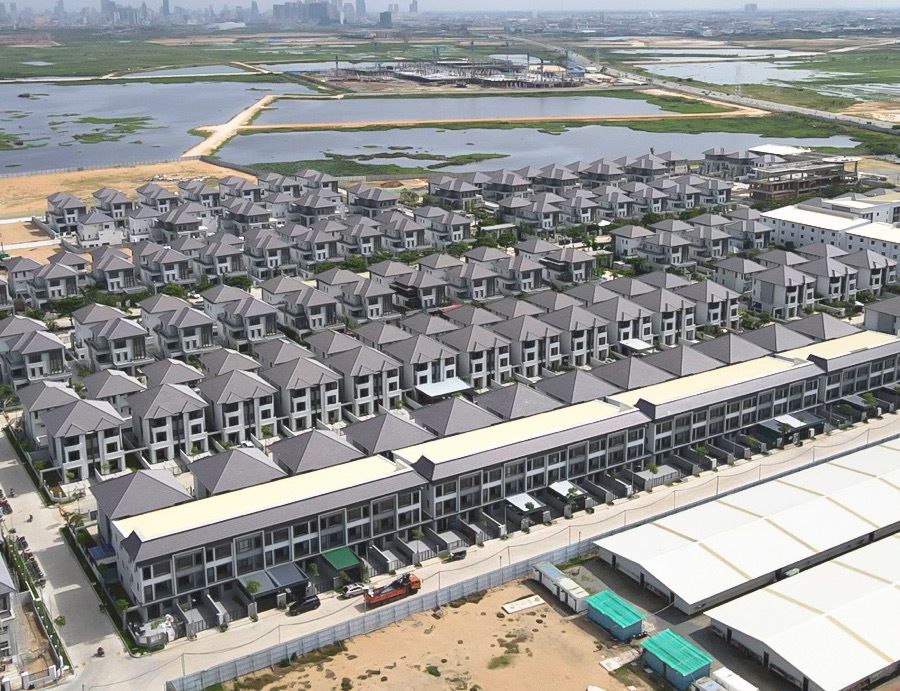 We've curated a list of the perks of living in Boreys and why you can safely raise your children in these gated communities. Continue reading below:
1. Everything is close by
Real estate developers strategically place their Borey projects near most, if not all, conveniences you would need in your everyday life. This includes grocery stores, gyms, parks, pharmacies and more to make it easier and more convenient for residents to access everything.
High-quality educational facilities are also close by, making it possible to send your child to school without it taking a long time. This will allow you to spend quality time with them by sending them to school and picking them up, and at the same time get to work or do other chores with enough time to spare for the day.
Related article: Premium Boreys and Where to Find Them
2. Safe and secure community
Gated communities have tight security, allowing parents and residents to feel safe and secure within it. It's possible due to the 24 hours security guards posted in and around the community and security cameras at the gates. Since there are fixed entry and exit points, anyone who isn't a resident or an approved guest cannot enter freely. This lessens the possibility of thieves and other crimes to occur, allowing you to rest easy that your family is safe within the community.
3. Flexible payment plans
In gated communities, no matter what type of house you intend to buy, there are flexible payment plans that fit your budget and lifestyle. Whether it's a shophouse, townhouse, villa or more, you can check with the developer and see what payment plans are available. Most of these plans allow you to pay within 2 to 30 years so just check which one you need.
Additionally, there are a lot of loans available if you want to buy a house within a Borey. This makes it easier for you to get the home you need for you and your family, with all the amenities and secure facilities, without taking a huge cut off from your lifestyle.
4. Promotes a closer-knit family
With multiple facilities and amenities within and surrounding Borey projects, there are numerous activities you and your family can do to spend more time together. This means your family will grow closer which ultimately, is one of the reasons why you should choose a home within a gated community.
5. No traffic
Since gated communities only allow residents and guests in, there's little to no traffic within the Borey. This minimizes the risks of traffic or vehicular accidents so it's safer for your family. Not only that but it makes it easier for you to go anywhere you need to in little time.
6. Green living
Borey communities promote and emphasize healthy and green living. Solar panels, recycling, and durable materials that are eco-friendly and can withstand heavy weather are used most of the time in the houses built within this community. Due to this, you are helping the environment get back on its feet but at the same time, you and your family will be living in a place with less pollution—whether that's noise or air pollution, it's guaranteed in Boreys.
7. Privacy
Rather than living in places where you have no choice but to hear your neighbor through thin walls separating your units, why not get a home where your privacy is guaranteed? The houses in gated communities ensure this since they are spaced apart properly and everyone minds their own business.
8. Wide-range of amenities & facilities
Besides developing gated communities close to everything you would need, these projects also have numerous amenities and facilities added in to make living there more convenient. Parks, playgrounds, gyms, saunas, and more can be found, making it possible for you to live your life the best way possible. Your children can also grow up in a place where they have access to these daily facilities, promoting a healthier and active lifestyle for them.
9. Fewer solicitors
Solicitors can be annoying, especially if they knock on your door numerous times within a day to promote their product or brand. When living in gated communities, you and your family will experience fewer solicitors selling and pestering you to buy into their brand. While it is better if there are no solicitors, sometimes it is unavoidable because some of them could be residents of these gated communities or a guest.
Looking to buy your first Borey home? Check out our Borey for Sale listings