Cambodia does not only pride itself of its temples, beaches, architectures, and mountains; its cuisine is also one reason why tourists enjoy this Kingdom of Wonder. Anyone who walks past a restaurant would expect to experience the aromatic smell of Cambodia food, for which they would definitely have a craving.
Cambodian food looks quite light and simple despite the long preparation it takes—the noodles and the broth especially. The Khmer cuisine would usually be based on rice, pork, chicken, seafood, even frogs and snails, and it almost always has coconut cream.
Popular Cambodian Food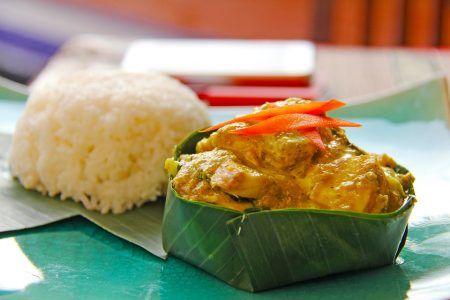 Fish Amok
Amok is freshwater fish fillet covered in a thick coconut sauce with eggs, palm sugar, and fish sauce. It is seasoned with kroeung, a curry paste made of freshly pounded spices. Kroeung is a mixture of lemongrass, turmeric, galangal, kaffir lime zest, garlic, shallots, and chili. A traditional Fish Amok is steamed and served in a banana leaf basket for a souffle-like texture and prepared in a wok. It could be eaten with rice on the side and is considered as the most popular Cambodian dish.
Bai Sach Chrouk
Barbeque is perhaps the favorite in so many countries, that every country has a different version of it. Cambodia's take on pork barbecue one that is marinated in coconut milk. An order of it often comes with rice already, and it is usually served during breakfast. Still, Cambodian every chef has his own their own rendition of this dish coming from their diverse inspirations. Hence, the taste would vary depending on where you buy it.
Nom Banh Chok
Another traditional Cambodian breakfast staple is Nom Banh Chok. It is basically a noodle soup, with a very tasty broth. It looks like the Cambodian version of the Japanese ramen but only lighter in taste. The fascinating fact about this noodle soup is that every morning, a local vendor would roam around an area and sells Nom Banh Chok in a plastic bag at room temperature. It's like breakfast on the go just around the corner.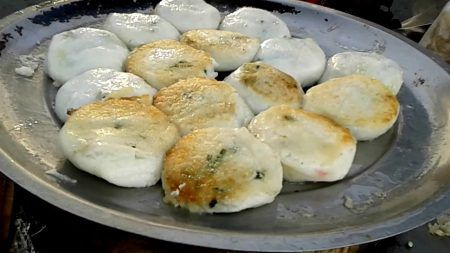 Kaw Sach Crouk
Braised pork with caramelized broth, the caramelized sugar completely complements the saltiness of the sauce. Indeed, some may say it is not on a healthier side, but it's pork belly, and it's just hard to say no to it. Its burst of flavor makes it somewhat of comfort food for many.
Kuy Teav
Kuy Teav is vermicelli noodles in a rich broth made from dried squid and flavored with tons of herbs. Others would serve it with prawns. The broth is often intended to be subtle rather than spicy. This is also considered as one of the popular breakfast dishes, usually sold during mornings and sold out by vendors in popular Cambodian markets during mid-day.
Lok Lak
Usually marketed as street food, Lok Lak also appears on the menu of most restaurants. This is a dish that is very familiar to everyone and is perhaps the one dish most Westerners truly like. It is made of beef that is stir-fried and topped with sweet tomato, crispy lettuce, cucumber, and onion and then seasoned with lime juice and pepper. It's like a salad with a lot of beef in it.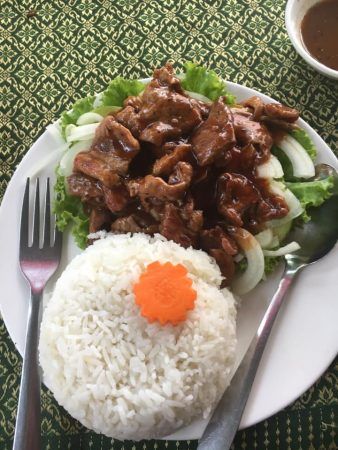 Nom Ka Chai
Nom Ka Chai is a chive cake and is Cambodia's answer to turnip cake. Originating from China, this dish is just made accessible to the locals as it is sold as street food. It is made from chopped chives, herbs, and rice flour and then pan-fried. Its outside would be crispy while the inside would be chewy—just the right blend of texture. It is also dipped in sweet and spicy fish sauce. Some would prefer a hint of lime juice in it though.
Num Pang
Num Pang is a traditional Cambodian sandwich. Pretty similar to Vietnam's Banh Mi. This is a baguette packed with meat, pate, and salad. It is popular with Cambodian workers, so it is frequently found among Num Pang vendors in the market or near office buildings.
Khmer Red Curry
Khmer Red Curry is Cambodia's version of Thai's spicy curry. A curry-based dish that is not too spicy. The curry is coconut milk based, and there would be a choice among chicken, beef, or fish—the more health conscious ones often go for the fish. It is cooked with vegetables like potatoes, green beans, eggplants, and some lemongrass to cut the richness of the broth and kroeung, a Cambodian spice that is typically added to most Cambodian dishes.
Cambodian dish, unlike many of its Asian counterpart, is not too spicy—the spice is tolerable, so the food is easy to enjoy.
Indeed, Cambodian cuisine is intriguing since it is seldom found in other countries unlike Chinese, Japanese, and now the very popular Korean dishes. Nevertheless, it is the kind of food worth tasting because of its distinct and wonderful combination of palatable flavors. It would be a waste coming to Cambodia without trying any, if not all, of these amazing dishes.