AISPP – Leading the way for 21st Century Learners in the Kingdom
Australian International School of Phnom Penh
(AISPP) was built in 2016 with impressive facilities on a lovely campus and opened its doors to their first batch of students in 2017. The school is located northwest of Russey Keo and spread across 6 hectares of spacious grounds. AISPP is proud to be leading the way for 21st Century Learners in the Kingdom with its standards through world-class instruction, effective curriculum use, professional training, and specific learning environments. These are designed to develop learners who are principled, thinkers, communicators, creative, collaborative, competent in the use of technology advancements and confident in themselves as world citizens. They use the Australian curriculum within the IB framework.
Global Leaders in Education
The school is a member of the Australian International Schools Association (AISA) network globally and recognized as a global partner of the Australian Independent Schools (
AISNSW
). The school aims to be a four-program International Baccalaureate (IB) school and the leading educational provider in Southeast Asia. They currently hold IB PYP authorization status and candidacy for MYP and DP. They also offer modern education within traditional values which includes a well-rounded education in and out of the classroom. AISPP's international curriculum is modeled on Australian private and independent education standards with a balanced focus on academics, pastoral care, co-curricular options, sporting activities, the arts, and character development. We aspire to be an accredited school with the Council of International Schools soon.
To undertake the enormous responsibility of providing high-quality education, AISPP focuses their efforts on the following areas: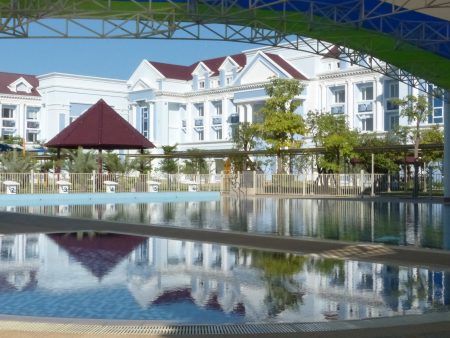 The Student
AISPP strives to understand the nature of every child and provide growth-centered, student-focused learning. Each day spent at school provides precious time to learn and to be challenged. The school is committed to moving beyond the traditional approach of teaching all children the same way and with the same curriculum. Addressing individual learning needs and ensuring individual learning styles and multiple intelligences are a part of all programs. This ensures a stimulating, targeted, personalized approach.
The Teacher
AISPP believes that the quality of their teachers is paramount. They recruit outstanding, internationally – qualified teachers to offer the best programs possible. Teachers are enthusiastic learners who are inquirers themselves and who develop, nurture, and grow inquiry within their students. They are passionate about providing engaging and motivational learning activities and rich assessment tasks.
Values, Responsibility and Global Mindset
AISPP believes that 21st-century education recognizes the importance of social values and social responsibility. Emotional intelligence, values, social and emotional programs, 'doing good for society' through action and service programs, and developing an international-mindedness feature in all of their day-to-day program.
The Learning Environment
School leadership strongly believes that the environment is the third teacher and prides itself on offering a beautiful setting, creative, 21st-century learning spaces and a learning environment that focuses on local and global aspects of the shared planet and common humanity. The AISPP brand stands for growth and development. It provides an international framework for 21st-century learning, preparing children for success in a changing world.
AISPP's World Class Facilities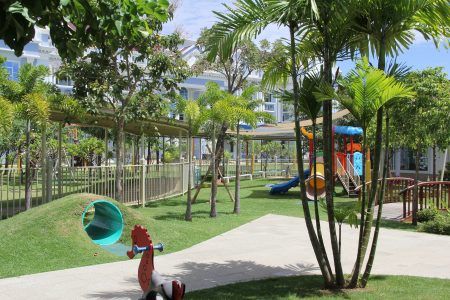 AISPP aims to be a world-class, innovative and accredited Early Years to Grade 12 international school located on a single campus. The purpose-built school campus is situated on 6 hectares of land (16 acres) in the new Russey Keo region of Phnom Penh. The campus has an impressive array of first-class facilities, including a purpose-built Early Learning Centre, primary school and secondary school buildings containing a variety of learning spaces and creativity centres, a large gymnasium, library, swimming pool, toddlers' pool, café, technology centres, maker spaces, science labs, sustainability project area, orchard, free range-farm and many more amenities to foster learning and recreational pursuits.
FACILITIES INCLUDE:
More than 60 classrooms
Learning Commons (Library)
Learning hubs and collaboration spaces
Science and Design labs.
MYP recreation zone
Dedicated Early Learning Centre with outdoor play areas for children ages 2 to 4.
Café
25-meter outdoor swimming pool
Toddlers' Pool
Air-conditioned 1,080 sq.m. Gymnasium
Full-sized football pitch (with plans for a designated athletic track)
Organic Garden and Orchard
Sustainability Project Area
Butterfly garden
New buildings will include a Secondary Building and Performing Art Centre.
The Faculty
AISPP awakens the potential in every child to have a positive impact on their world. The world-class school and outstanding teachers are committed to ensuring children are ready for the challenges and opportunities presented by the increasingly interdependent world. AISPP learners are developed into culturally aware, open-minded and inspired young people, ready and able to competently take on any task or role, however big or small.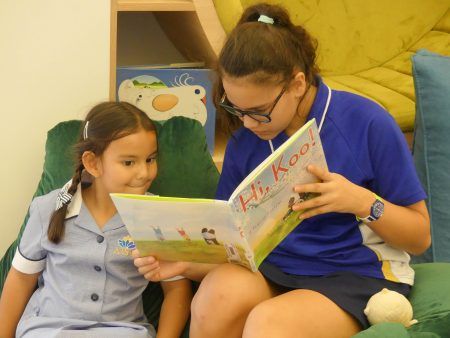 To fulfill this daunting task, the curriculum is taught by qualified teachers mainly from Australia, New Zealand, and the UK who utilize the Australian National Curriculum concepts, skills and knowledge through the IB framework to teach students in a modern way, in enhanced learning environments, and suited to 21st- century learning. The staff is the school's greatest asset. The internationally qualified staff and leaders are globally minded and experienced. They use units of inquiry that are designed using the Australian National Curriculum (ACARA) and the International Baccalaureate framework. This framework provides an engaging and relevant focus on real-world issues to successfully prepare students for universities around the world. Teachers focus on providing students with an outstanding, well-rounded education and ensure that they learn beyond the traditional academics to acquire the skills, habits, and dispositions required to thrive and be successful in the future.
Continuous Learning for AISPP Mentors
The school invests in its staff by providing training and professional development opportunities internally through weekly workshops and coaching, and externally through international conferences, IB training, and further study. Teachers are the core focus along with the students because they believe that great schools have great teachers to develop outstanding student learning. Additionally, the leadership and management of AISPP are highly experienced, having led and developed schools and IB programs globally. They are members of global educational organizations and undergo professional development annually as well. The school is ably supported by a governance structure keeping its focus directed at education standards and programme development.
Educating the Future
The school educates students considering their future. They believe that high-achieving people are frequently choosing to opt out of the traditional job market and create their own jobs, live anywhere in the world, travel and work, collaborate seamlessly and choose their own hours. 21st-century education is about giving students the skills they need to succeed in this new world and helping them grow the confidence to practice those skills. With so much information readily available to them, 21st- century skills focus more on making sense of that information, sharing and using it in smart ways. Research has identified four 'Skills for Today' as Creativity, Critical thinking, Communication, and Collaboration. These four themes are not to be understood as units or even subjects, but as themes that should be overlaid across all curriculum mapping and strategic planning. They should be part of every lesson in the same way as literacy and numeracy. At AISPP, future is highly taken into consideration and how to meet the needs of the next generation. The school aims to empower students to be 21st- century learners through quality curriculum teaching and learning experiences. The students at AISPP are encouraged to be intelligent, independent and extremely capable individuals. They became skilled in technology and comfortable with global and intercultural communication through world-class learning.
With AISPP leading the way for a 21st-century education, it's a strong road ahead for the future of not only the Kingdom but also of the world.
For further details please contact: Admissions: admissions@aispp.edu.kh