Markets are integral to every community. Popular Markets in Cambodia called Phsar ('market' in the Khmer language) is in every corner of Phnom Penh and Siem Reap. For a fraction of the prices in stores, you can buy fresh fruits, vegetables, meat, and seafood—some still alive—in the markets of Cambodia. Not only that, markets offer beauty salons and jewelry stores, among other things.
If you also want a glimpse of the Cambodian culture, going to a Phsar is ideal. There you can find hagglers early in the morning when the vendors have just opened. Also, in these markets, you can easily encounter the famed Cambodian hospitality among vendors who are willing to help you find the freshest of their goods.
When visiting Cambodia, here are the best markets to drop by specifically in Phnom Penh and Siem Reap.
Starting off with Phnom Penh: markets here offer the freshest and tastiest foods. There are also some items or souvenirs that you could find in some corners. More impressively, there are places where you can actually join watch performances or volunteer in activities.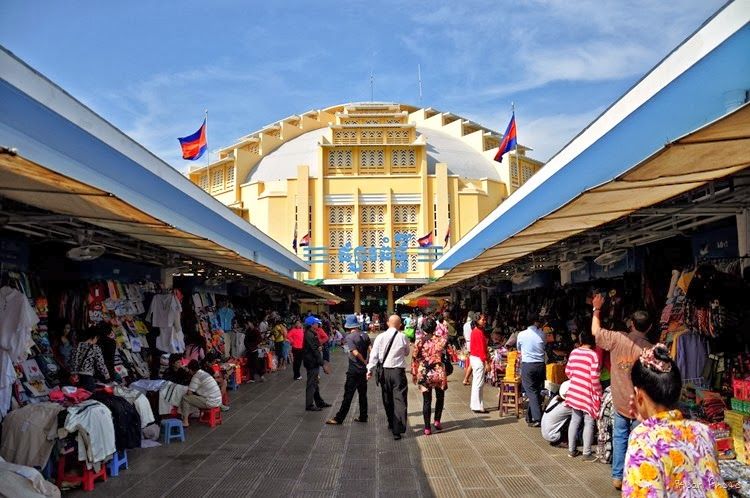 Central Market
Established in 1937 and designed by Jean Desbois, Central Market is locally known as Phsar Thmey. It features a huge yellow-painted central dome with four wings extending to huge hallways, each of which full of various shopping stalls.
Central Market offers a wide assortment of goods ranging from souvenirs and food to jewelry and even electronics. Name and it's all there for you to get at reasonable prices.
The Central Market is easily accessible to the public. From the Independent Monument, just about a 10-minute ride on a tuk-tuk would cost around $4.
Night Market
Phsar Reatrey, or Night Market, is a hit for young kids. It hosts live performances that easily draw in a crowd of both locals and tourists alike and is quite lively during the weekends.
The Night Market is worth a visit because of its unique performances. If you want to just observe the locals and learn a little more about Cambodian culture, this is a good place to start. Here you can eat local street food with the locals and their families.
Old Market
The Old Market, or Phsar Chas, is the oldest market still operating in Phsar Penh. Established around the French colonial times, the Old Market is a true locals' market.
In this market, you can find various tropical fruits and vegetables (even the kinds that are quite difficult to name), fresh meat and fish and almost everything you need if you plan on cooking at home. You will also be able to find some clothes, handicrafts, and even motorcycle parts. The market usually closes around sunset, though every weekend evening, the vendors will set up mats and start the Evening Market.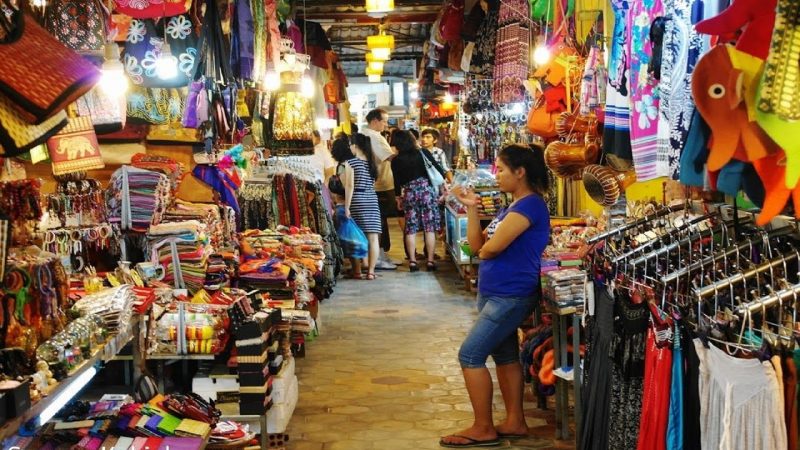 ផ្សាររុស្ស៊ី
Known to the locals as Phsar Toul Tom Poung, the Russian Market got its name in the 1980s when it was widely popular among the Russian tourists. Nowadays, you can easily find locals and tourists roaming around here.
Here you can find a wide array of items; clothing, antiques, paintings, lamps among other things. If you want to grab some lunch, the food area is also available. The night is also quite alive in this place, as there are also places where you could go for a drink. It has a variety of foods, western and eastern alike.
From the Independent Monument, the Russian Market is a 15-minute ride on a tuk-tuk for around $5.
Street 178
Street 178 is known as Art Street where you can buy various paintings, sculpture, statues, and other handmade things.
Walking around the area, you'll see small boutiques selling designer clothes and bags. Some of these are charity partner stores, and the money goes to support the local Cambodian artists. Walking down the street, you will come across art galleries selling local Cambodian painting and sculptures.
Additionally, you can see local sculptors and artists doing their work on the spot, right in front of their own stores. You'll also see an impressive collection of giant stone Buddha statues displayed at the pavement. Private galleries, such as Reyum and Sa Sa Bassac, regularly host exhibitions of the artworks they keep.
If you get hungry, there are also some restaurants, cafes, and food vendors where you can take a quick break or maybe grab some lunch in.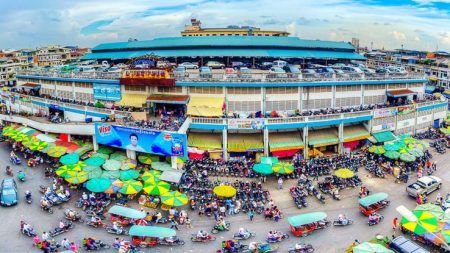 O'Russey Market
O'Russey Market, or Phsar Orussey, is the largest old-style market in Phnom Penh with three floors of various vendors selling goods. This is quite a cramped and crowded place, full of locals looking to buy some cheap clothes and fabric.
In the first two floors, you can find anything from household items to jewelry and fabric. Most stores on the third floor sell signature products manufactured locally for a ton cheaper prices than you would find in regular stores. Most of the clothes are of a smaller size to suit the Cambodian shopper, so if you're western, you might have to check what your UK or US size is equivalent to in the Cambodian size; better yet, try on the clothes first.
The O'Russey Market is a quick, 5-minute ride from the Central Market.
Street 240
Street 240 is located behind the Royal Palace in Phnom Penh City Centre. It is full of various retail outlets and eateries. Here you can find an assortment of clothes and fabrics.
You can find retail outlets such as Mekong Quilts and Cambodian Craft Cooperation that offer lots of different kinds of colors made by local women living in the Svay Rieng and Takeo provinces. Wanderlust, Bliss, and Subtly are wonderful places for casual but unique attire and homeware, all of which are made locally using high-quality fabric from Cambodia, India, and South Korea.
There is also a library called Open Book where you can volunteer. It is filled with puzzles, blocks, and educational books for children, among other things. There is a cozy reading room for those who want to read by themselves.
After a lot of shopping, it would be best to grab a snack or two, right? Well, think no more because Street 240 also has a wide array of cafes, bars, and even vegan-friendly cafes.
Now, with Siem Reap, markets also offer various goods and items, not to mention cultural experiences.
Old Market
Constructed in the 1920s, the Old Market, or Phsar Chas, is at the center of Siem Reap. It mainly caters to tourists with nearly all vendors selling souvenirs, slogan shirts, among others. Additionally, some vendors sell paintings, sculptures, and books for cheap. This is a place that you must not miss since you can perhaps capture a little bit of history with the structure in this market.
Angkor Night Market
Despite all the others that copied it since it opened, Angkor Night Market is still Siem Reap's top night market. This is the home of Island Bar, which goes on from late in the night to early in the morning. There is also a spot where you can get a massage when stress overtakes you. Indeed, this is not only a place to enjoy local goods but a place to relax a bit as well.
Noon Night Market
Noon Night Market, not quite like Angkor Night Market, but not unlike it either, is just down the road of Angkor Night Market. It's got over a hundred stalls selling a vast variety of items ranging from ornaments to food. There are also movies and even a tattoo parlor. From noon to night is perhaps not enough to enjoy everything in this place.
Phsar Leu Thom Thmey
Siem Reap's largest and its most authentic market is Phsar Leu Thom They. Locally known as Phsar Leu, this is located slightly out of town on National Road 6. You can find the best bargains and expect a large crowd in this market. It is a maze of stalls selling raw meats, seafood, phones, clothes, and various other items. It is a bit hard to find an English-speaking vendor in this market. However, prices are cheaper than the others. Be prepared with your haggling skills in this market; you will surely get great deals.
Made in Cambodia Market
As the name suggests, this market only sells items locally made or made by the country's people. There you can meet the ones responsible for the handicrafts being sold. There are also plenty of bars, cafes, and restaurants if you need a break.
This market is located at the King's Road Angkor complex on Siem Reap River, so if you want a taste of authentic Cambodian culture, this is the place to be.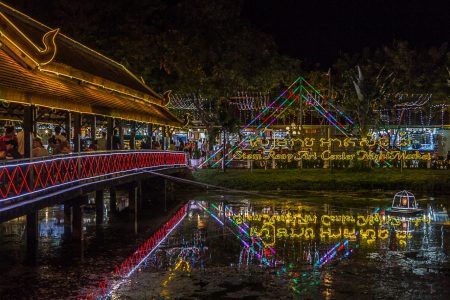 Siem Reap Art Center Market
SAC opened back in 2011 and is considered a "must-visit" market in Siem Reap. Located in the east of the Siem Reap River and right across Phsar Chas, Art Center Market is 5 minutes away from Pub Street and offers a wide variety of art goods ranging from locally made canvas paintings to sculptures and hand-made trinkets.
Like any market, make sure to bargain as much as you can but take the quality of the item into consideration. There are a lot of things you can find in this market that you cannot find elsewhere, you'll miss out a lot if you decide not to visit.
Indeed, markets are perhaps the sole of every community. It is important not only a source of food and other goods for the locals but also as spots for tourists to visit when they want to buy something to remind them of their visit to this Kingdom of Wonders.