UPDATED – Sept. 2, 2022: The Cambodian Government made its plan to implement the 'Free Angkor Pass' to Angkor Wat for all 2-year residing foreigners in Cambodia in order to boost Siem Reap's domestic tourism official today through the Angkor Enterprise announcement released yesterday, Sept. 1, 2022.
Announcement on the implementation of 'free ticket' to Angkor and Koh Keh temples, applicable once a year, for foreigners & investors residing in Cambodia for 2 years to date.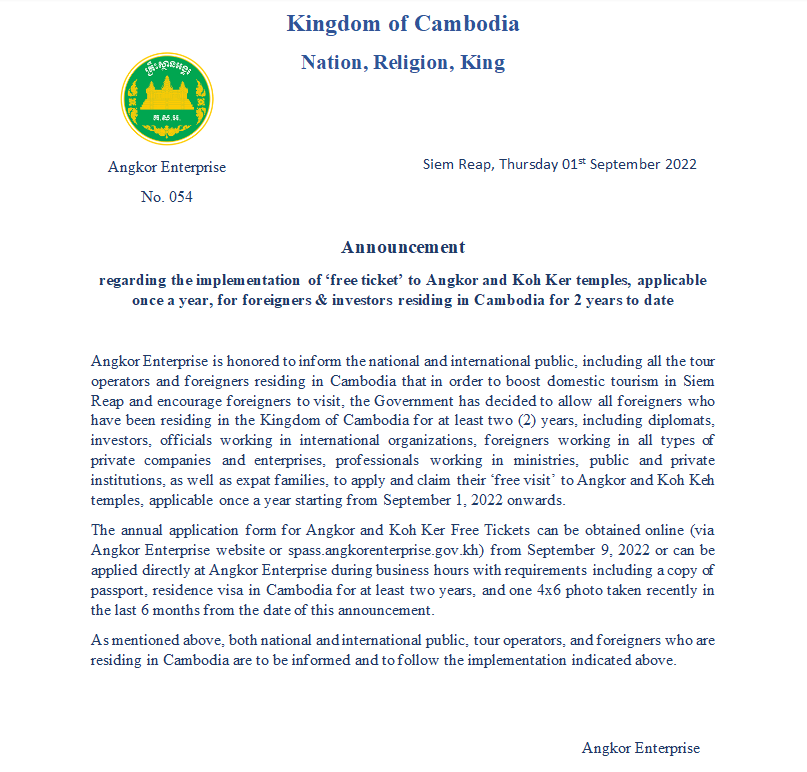 Frequently Asked Questions (FAQS):
Who can apply for 'Free Angkor Pass'?
All foreigners who have been residing in Cambodia for 2 years to date.
What are the requirements to obtain the 'Free Angkor Pass'?
(1) passport copy, (1) proof of residence (Cambodian visa), and (1) 4×6 photo taken recently in the last 6 months from the date of the announcement
When can I start applying for the 'Free Angkor Pass'?
Processing of application starts from September 9, 2022
Where can apply for the 'Free Angkor Pass'?
At Angkor Enterprise office, during business hours from 5AM – 5:30PM, located in Apsara Rd., Krong Siem Reap or online via Angkor Enterprise website
When & Where can I use the 'Free Angkor Pass'?
Upon completing the requirements and obtaining the free ticket, foreigners can use it anytime – one time for the entire year at Angkor Wat & Koh Keh temples. Application for 'free pass' is to be reset annually so all foreigners qualified for the free ticket may apply once a year.
For further updates & information, please visit www.angkorenterprise.gov.kh
UNDER DISCUSSION – Aug. 4, 2022: In the Dissemination Ceremony of Composition & Implementation Mechanism for Siem Reap-Angkor Tourism Management & Development Commission, the Minister of Tourism, Mr. Thong Khon, said that PM Hun Sen ordered to implement "Free Angkor Pass" to foreigners who have been residing in Cambodia for at least 2 years.
To explain further, Tourism Minister Khon said that as Covid-19 situation still persists today, Siem Reap needs to do something to increase the flow of tourists, and PM Hun Sen believes it is to allow foreigners (who have been working and living in Cambodia for more than 2 years) to visit Angkor Wat for free.

He added that upon implementation, the government will have an incentive program for the purchase of Angkor ticket by increasing the number of days to visit, which is as follows:
1-day entrance ticket: Up to 2 days visit, valid for 5 days
3-day entrance ticket: Up to 5 days visit, valid for 10 days
7-day entrance ticket: Up to 10 days visit, valid for 1 month
In the first half of 2022, Siem Reap received about 60,000 international tourists, which is a big jump of about 1,025 percent growth rate compared to the same period in 2021. In addition, 387 flights to Siem Reap and more than 1 million domestic tourists were recorded at approx. 798 percent growth over the same period.
This year (2022), Siem Reap is expected to welcome over 100,000 international tourists alongside 2 million local tourists, and attract a quarter more in 2023 — around 500,000 international tourists and 4 million local tourists.
IPS Cambodia Real Estate
Average rating:
0 reviews