Cambodia's architectural landscape is a fascinating blend of ancient and modern influences, reflecting the rich history and cultural diversity of the country.
From the iconic Angkor Wat temple complex to the French colonial buildings of Phnom Penh, Cambodia's architecture tells a captivating story of its past and present.These residences cater to various tastes and preferences, showcasing a wide range of architectural styles and designs.
As Cambodia continues to develop and attract international interest, the demand for one-of-a-kind homes is on the rise, making them a popular choice for both locals and expats seeking a truly exceptional living space.
MANOR HOUSE – KAMPOT, CAMBODIA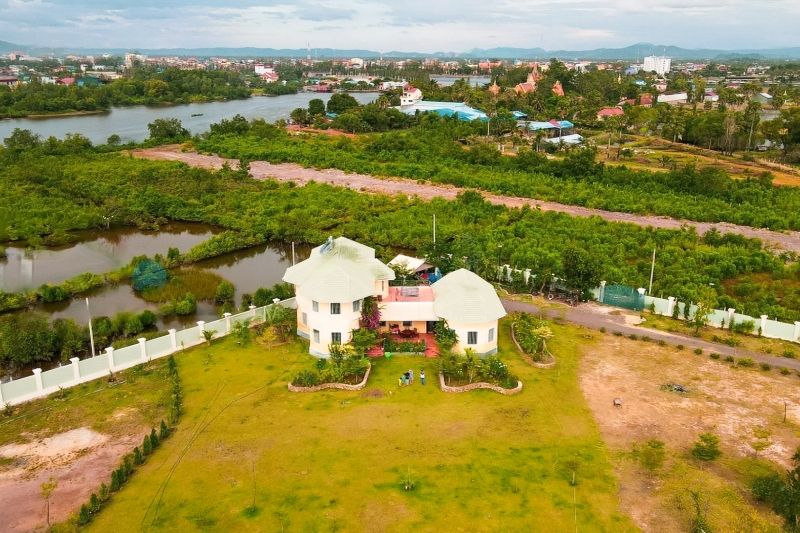 Located in Kampot city, near a new bridge connecting Troeuy Koh and Andong Khmer, a stunning manor house offers a luxurious lifestyle with convenient access to Durian Roundabout. The property boasts a hundred meters of river frontage, facing the west side of the Kampot River and providing clear views of Mount Bokor. This manor house combines traditional Khmer and European architectural styles, featuring spacious interiors, tall ceilings, and detailed designs. 
Special features of this manor house include:
2 cold water storage tanks (2750 L each)
2 hot water solar panel units (each 600 L capacity)
A large separate water tank for garden watering system
Fully pumped water systems (including from city to internal storage units)
64 AMP electrical supply cable attached to 15 concrete posts from EDC meter point
2 electrical consumer units in the house (1 at entry point + AC protector and 1 on the 1st floor)
All appliances are earthed
INDUSTRIAL LUXURY HOME – SIEM REAP, CAMBODIA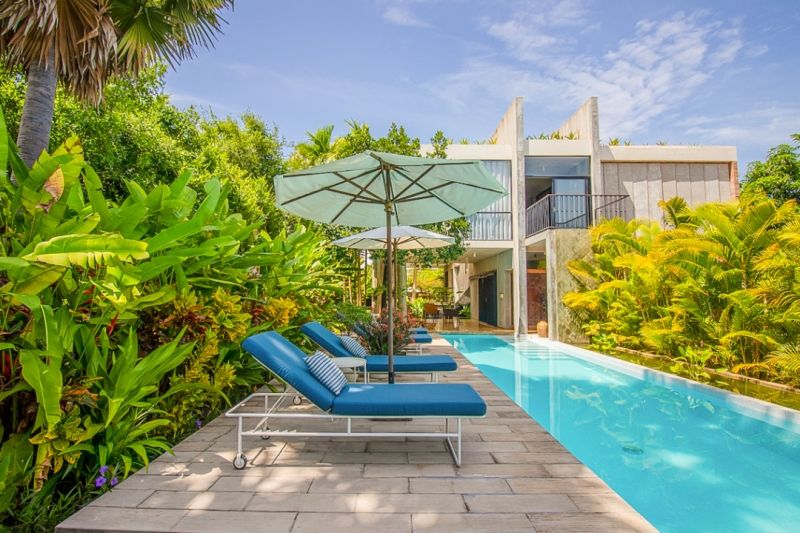 A luxurious 1,109 sqm property in Siem Reap exemplifies the industrial home style in Cambodia. This residence features a three-bedroom villa, a lush green yard, and a private pool. Now offered for sale with a hard title, the property includes basic furnishings, fixtures, and appliances. This industrial home combines modern design with distinctive character, appealing to those seeking a unique and contemporary living space in Cambodia.
ICONIC HISTORICAL ESTATE – PHNOM PENH, CAMBODIA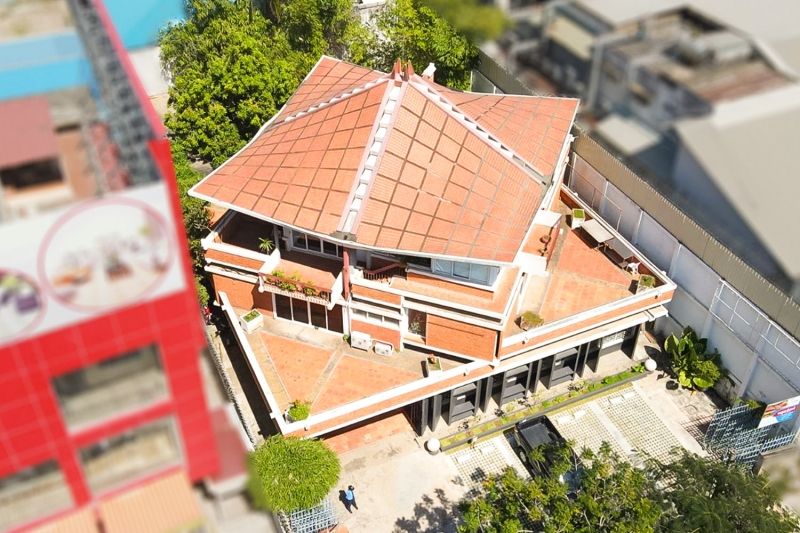 A two-level residence located in Toul Svay Prey 1 in Phnom Penh, near Russian market, showcases modern Cambodian architecture; one of the legacies of Vann Molyvann, popularly known as "the man who built Cambodia".  With a total floor area of 768 sq m, the house features 4 bedrooms, 5 bathrooms, a paved covered lawn, a backyard garden, and a balcony on the upper floor. Vann Molyvann's residence reflects the influence of ancient Khmer design principles and is characterized by its elevated structure, which provides protection from floods and offers better ventilation in the tropical climate.
The property serves as a historical estate that embodies Cambodia's vibrant cultural past and offers a glimpse into the enduring traditional lifestyle that still flourishes in many parts of the country.
TROPICAL AIRY VILLA, SIEM REAP, CAMBODIA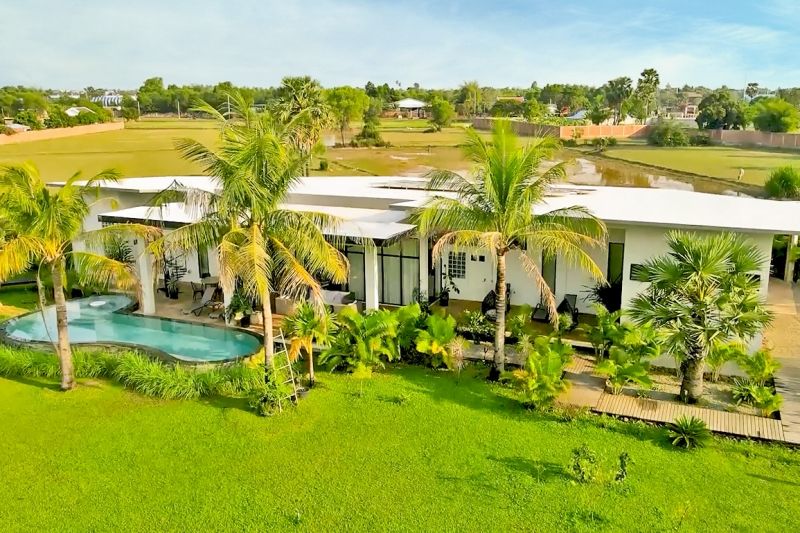 A luxurious half-hectare estate in Siem Reap epitomizes the tropical home style in Cambodia, embracing the warm climate and lush surroundings. The property features seven bedrooms, two villas, a parking lot, a private pool, a vegetable patch, and a landscaped garden with a small lake.
The main villa includes a solar energy system, advanced water filtration from two wells, and high-speed WiFi with smart home appliances. This tropical estate highlights the integration of indoor-outdoor living and sustainable design, making it perfect for enjoying Cambodia's picturesque landscapes and warm climate.
CONTEMPORARY LUXURY HOME – PHNOM PENH, CAMBODIA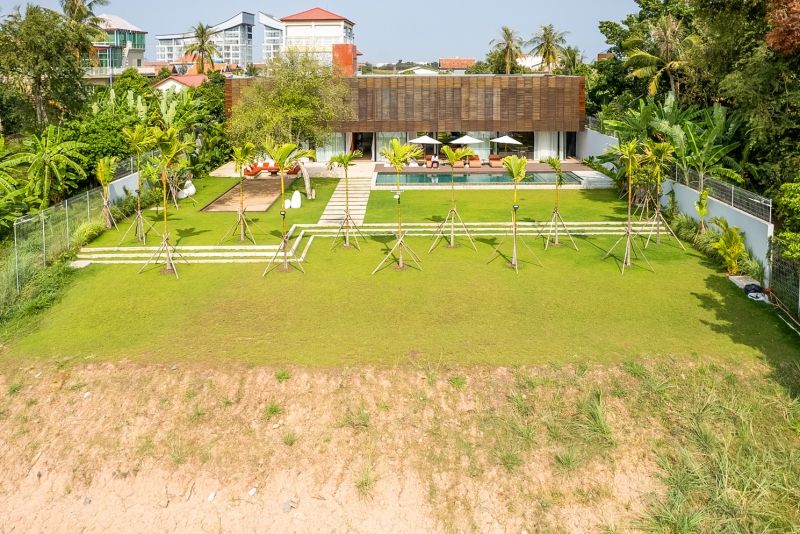 A brand-new, professionally-decorated contemporary home completed in September 2022 exemplifies contemporary design in Cambodia. Situated on an open and unobstructed 2,500 square-meter land plot, this move-in-ready property comes with thoughtfully handpicked furniture, creating a one-of-a-kind oasis far away from the city buzz. This contemporary home showcases a modern and minimalist approach to design, combining functionality with aesthetic appeal. It features open floor plans, large windows, and clean lines, allowing for an abundance of natural light and a sense of spaciousness.
VAST RETREAT SITE – KEP, CAMBODIA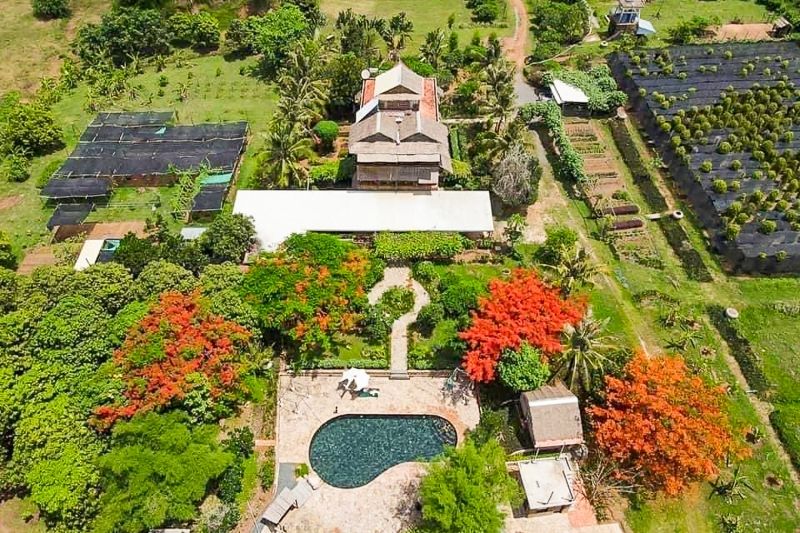 This expansive eight-hectare retreat site is now available for purchase. The property covers a total of 81,342 sq m, with approximately 45,000 sq m developed into resort-like structures, while the remaining area consists of open green space, perfect for additional landscaping or development. The site boasts fields of high-yield organic crops and a sizable asparagus plantation. These areas are fully irrigated and adorned with numerous flowers, creating a delightful atmosphere. 
CLASSIC MANSION – SIEM REAP, CAMBODIA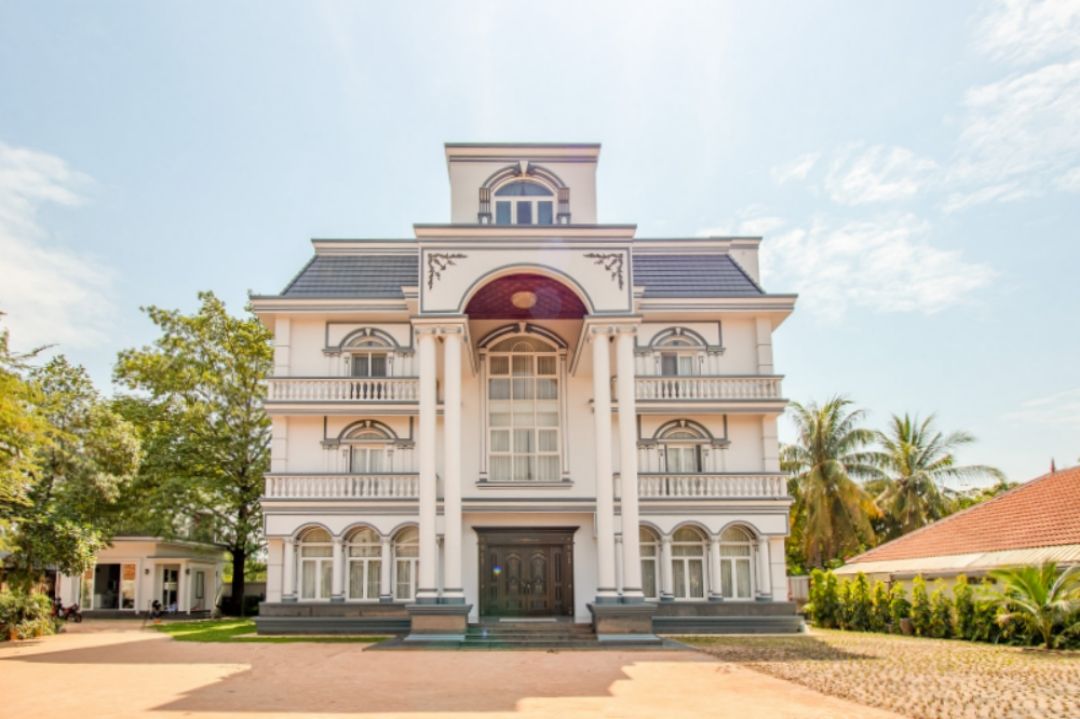 An impressive villa for sale with a hard title exemplifies the elegance and grandeur of classic Cambodian architecture. This four-story mansion occupies 315 sq m within a vast 2,094 sq m property and includes 11 bedrooms. The residence features spacious interiors, high ceilings, and intricate detailing, often blending traditional Khmer and European architectural influences. 
A unique aspect of this mansion is its two kitchens: one outside the main villa for entertaining and another on the third floor for private use. This property showcases the opulence of the country's past and the charm of classic Cambodian architecture.
FRENCH-BUILT ESTATE – SIEM REAP, CAMBODIA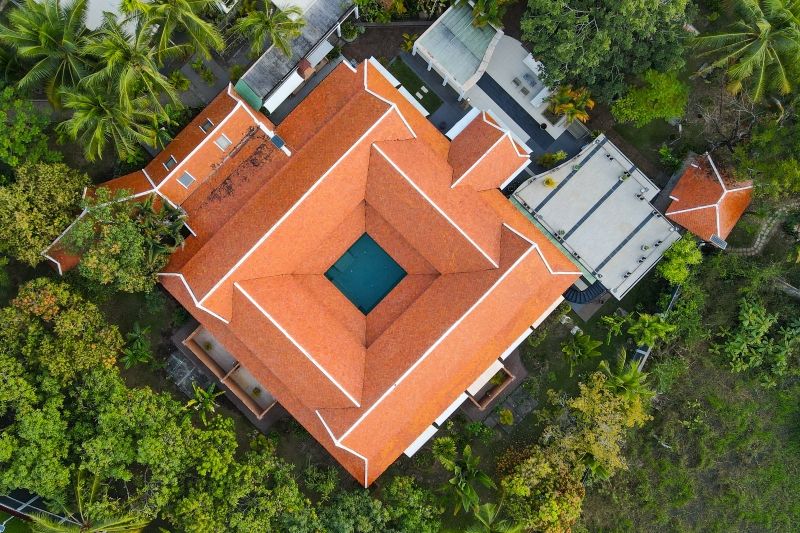 A luxurious estate for sale in Cambodia exemplifies the elegance of French colonial architecture, showcasing a fusion of French and Cambodian design elements. Measuring 10,528 square meters, the property features three houses with a total of seven bedrooms, reflecting the grandeur and sophistication of the colonial era.
The estate includes high-end amenities such as an outdoor atrium pool, fitness and office rooms, and covered parking spaces. The 400 sqm main villa offers a pool area and covered decking, perfect for enjoying the outdoors in comfort.
This French colonial-inspired property provides a unique and luxurious living experience in Cambodia, appealing to those who appreciate the blend of historical and cultural influences in architectural design.
Conclusion
From traditional Khmer homes and classic mansions to French-built estates, industrial homes, and tropical residences, each style offers distinct features and characteristics that cater to different tastes and preferences.
As Cambodia continues to develop and modernize, there is an increasing demand for properties that showcase the country's architectural legacy and embrace its natural environment. This interest in unique Cambodian homes not only drives the preservation of traditional styles but also encourages the development of innovative, eco-friendly designs that cater to modern living needs.
Browse through more beautiful home listings in Cambodia or Get the best options delivered to your email when you contact us.