UPDATED on May 3, 2023
BKK1 has undoubtedly earned its reputation as Phnom Penh's top expat haven. With its diverse array of vertical homes, thriving social scene, walkable living and welcoming atmosphere, it's an ideal location for those seeking a comfortable and engaging lifestyle in the city.
Location in the city of Phnom Penh
What BKK1 is Known For
The district is known as the "foreign capital" since the early '80s. It is located at the north end of Sihanouk Blvd and southeast of Independence Monument. It borders the Norodom Blvd., Mao Tse Tung Blvd., and Monivong Blvd.
BKK1, a popular district in Phnom Penh, has become a welcoming home for many expats seeking a friendly community and local experiences. BKK1 is also home to international food and beverage options as well as clothing and shoe brands like Gatoni and 361 Degree.
FOOD
COFFEE
-Namaste India
-Genki Sushi
-Bijin Nabe
-Burger King
-Carl's Jr.
-Bon Chon
-Pizza Hut
-Domino's
-Crystal Jade
-Starbucks
-Doi Chhang
-Coffee Bean & Tea Leaf
-Gloria Jeans
-Paris Baguette
If on a budget, the local street food and coffee offer options for half the price of the international brands. With the plethora of familiar choices available, it's like you never left home.
Where to Go
Besides the international brands, BKK1 is also known for the most iconic landmark in Phnom Penh, the Independence Monument.
The monument was designed by the Father of Modern Khmer Architecture, Vann Molyvann and was constructed between 1958 and 1960. It is a huge concrete, which also serves as a roundabout connecting BKK1, Tonle Bassac and Daun Penh.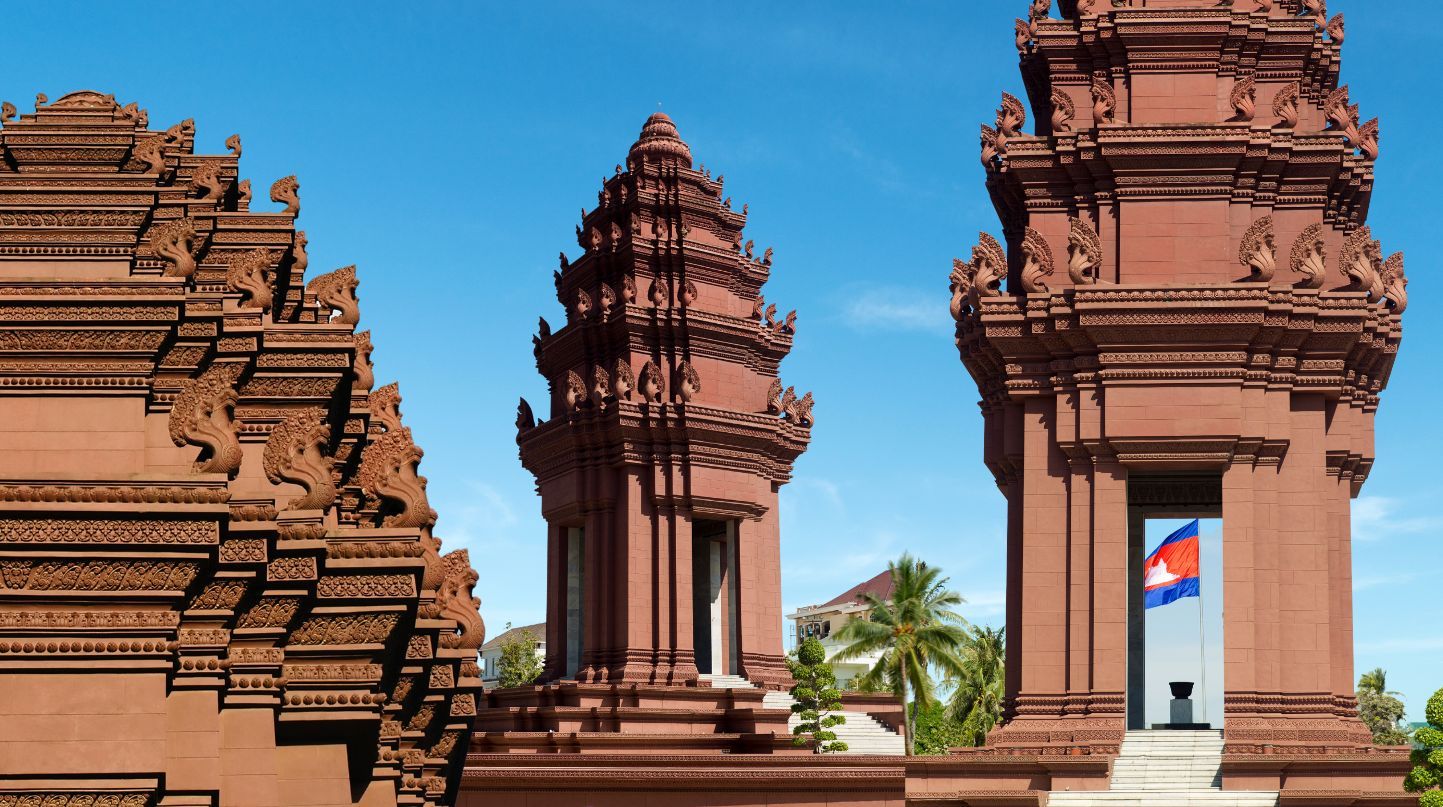 It is in the form of a lotus-shaped stupa, of the style seen at the great Khmer temple at Angkor Wat and other Khmer historical sites. Independence Monument was built to commemorate Cambodia's independence from France in 1953, which was colonized for almost 100 years. It is also known to have stand the test of time since most of Vann Molyvann buildings survived Pol Pot's brutal regime.
As a symbol of Cambodia's freedom from France and survival from Pol Pot's regime, this monument is considered the most important landmark in Phnom Penh. The national celebrations in Cambodia is also mostly held in the Independence Monument particularly Cambodia's Independence day every 9th of November.
You can take a tuktuk there from anywhere downtown for about $2 USD per person (there are plenty of cabs or taxis too).
What Homes Be Like
Over the past few years, the average price of properties in BKK1 has significantly increased due to growing demand and limited supply. Nonetheless, there are still some reasonably priced options available for those who know where to look.
According to Khmer24, the cost to rent apartments and condominiums in BKK1 varies from $500 to $5000 per month, depending on the size and location of the unit. 
| | |
| --- | --- |
| Studio | US$550 – $750 |
| 1 Bedroom | US$600 – $1,500 |
| 2 Bedroom | US$900 – $2,500 |
| 3 Bedroom | US$1,500 – $5,500 |
*Note that rental prices may vary depending on the property type, quality, size, and location. Browse listings on residential for rent in BKK1.
Long-lasting, quality residential buildings include De Castle Royal, J-City, Lyzone, and Time Square Serviced Apartments. New developments gaining interest are J-Tower 2, Time Square 306, and Embassy Central.
Meanwhile, in terms of commercial properties, BKK1 covers more retail spaces than offices. Presently, AMASS Tower is the highest-quality Grade B office available and only a few Grade C options.
How Nights are Spent
The nightlife in BKK1, Phnom Penh, offers an exciting mix of entertainment options for both locals and tourists.
Some popular bars in BKK1 include Eclipse Sky Bar, which boasts stunning city views, and Le Moon Rooftop Bar, known for its stylish atmosphere and creative cocktails. For those looking to dance the night away, clubs like Pontoon and Heart of Darkness are popular hotspots that feature local and international DJs.
If you prefer a more relaxed evening, BKK1 also has a variety of restaurants and pubs where you can enjoy live music, good food, and a wide selection of drinks.
Why Should You Live in BKK1
Since the early 2000s, Downtown LA has been undergoing a rapid revitalization when an adaptive reuse ordinance was passed and made it easier for developers to convert and build new spaces. In 2007, further growth-spurring changes were made to the area's zoning rules. Today, downtown represents one of LA's fastest-growing neighborhoods.
BKK1 has undergone a rapid development since the early 2000s. From a commune to district, BKK1 today represents Phnom Penh's fastest growing neighborhood and the most desirable place to live.
Upscale living is what BKK1 offers. You can find numerous high-quality stays from luxury condominiums to spacious apartments and posh hotels, with fine dining everywhere within and close to the district. It is truly unlike any other areas in Phnom Penh.
Comprising diverse races, the community life here is a vibrant mix of cultures and lifestyles. As a popular destination for expats and working locals alike, the area fosters a sense of camaraderie and connection among its residents.
Many of the condo buildings offer communal spaces where residents can relax, catch up with friends, or work remotely. Most buildings also boasts various recreational facilities such as gardens and fitness centers, which contribute to the overall well-being of the community.
The coffee shops are popular spots for digital working and meetings since BKK1 mostly accommodates workforces.
Whether you're a long-term resident or a newcomer to Phnom Penh, BKK1 offers something for everyone, making it a true gem within the bustling Cambodian capital.
Looking to stay or live in BKK1, Phnom Penh? Contact us via Telegram or Live Webchat at the bottom left-hand corner or drop us a message through our contact page.