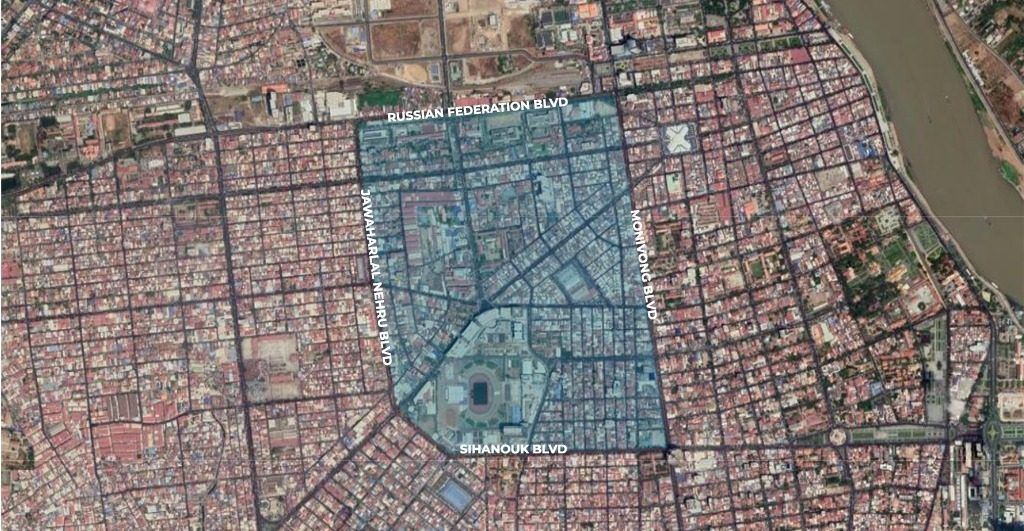 7 Makara is part of Prampir Meakkakra District, the smallest district. When viewed on a map, it right in the center – making it the geographical heart of the city.
The district is home to Olympic Stadium, O'Russey Market and the Borei Keila gated community. It is also the location of Cuba Embassy and the German Embassy. International and local F&B outlets, retail stores, and coffee shops are available.
7 Makara Residential Community
Khan 7 Makara has ongoing development, with new construction seen on most streets. Varied type of housing spaces is also available for any type of budget. Shop-front style housing covers the northern area close to O'Russey Market.
There are small busy streets with vendors selling goods. The central and southern areas contain villas and shophouses. This area also has cheaper hotels and guesthouses compared to Riverside.
The real benefit of Khan 7 Makara is the lower housing rents compared to Daun Penh and BKK1. Prices are lower, even if it is close to all the same restaurants and entertainment areas.
Riverside and BKK1 are very accessible, it is just 5 minutes away by tuk-tuk. Shopfront apartments range from US$500-$900. These are one or two-bedroom properties with a business space on the ground floor.
Villas can range from US$1,500-$3,00. Increasing numbers of apartment blocks are being constructed regularly. It will vary in quality and size, but a single bedroom can range from US$450-$1,200.
Olympic Stadium
The most famous landmark in 7 Makara is the Olympic Stadium or known as the National Sports Complex. This multi-purpose facility has a capacity of 50,000. It was designed by Vann Molyvann, Cambodia's best architect.
Molyvann is a French architect who also constructed the Independence Monument. The Olympic Stadium was built in the '60s with New Khmer movement architecture. The design takes the Cambodian culture in mind, using international modern ideals.
Olympic Stadium has a large sports arena. There are also facilities for volleyball, boxing, gymnastics, aerobics, football, and other sports. 7 Makara also has many International Schools that cater to the expat community.
Among others, there are Limkokwing, Beltei, ICS, NPO Hikari, Chhong Cheng Chinese School, New York International, New Gateway, and Phnom Penh University.
O'Russey Market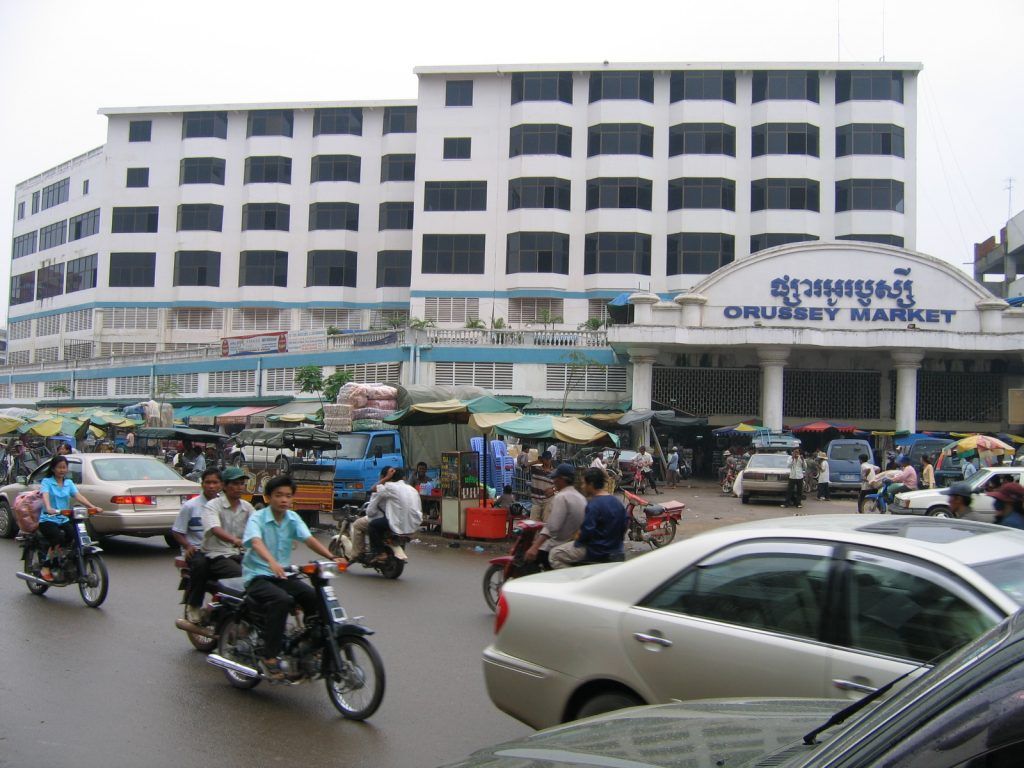 The O'Russey Market caters to locals more than expat and tourist shoppers. It offers local items instead of souvenirs that you can find in Central or Russian Markets. It's in a building painted red and blue, and located one block away from Monivong Blvd.
Orussey market vendors with the same goods generally stay together in one area. St 113 and the first floor of the market building has huge clothing, fabrics and textile shops. Some of them offer custom-made clothes or basic tailoring services. The first floor, on the other hand, has food items, kitchenware, housewares, and electronic goods.
Night and Entertainment Places
Unlike Daun Penh and BKK, 7 Makara enjoys a quieter lifestyle. Previously, there are not many choices except for local bars and restaurants. Now, Eclipse Skybar opened a few months ago, and this opened a whole new opportunity for the district.
Eclipse Skybar is on the 23rd floor of Phnom Penh Tower. It provides a 360 degrees view of the city at night. If that is not enough, you can take a short tuk-tuk ride to Riverside or Street 51, for more entertainment choices.
Why Choose 7 Makara?
BKK provides a more westernized way of life. Khan 7 Makara gives a more "localized" experience. It retains the culture and traditions of Cambodia.
This is evident in the shophouses and villas that are still inside the district. Even the markets cater to locals more than foreigners. Foreigners are welcome, but the locals still own most of the properties in this district
7 Makara is a great option for anyone looking for a place to settle in Phnom Penh. There are modern housing choices like condo and apartment buildings available. International Schools for your kids are within reach. There's the new Olympia Mall that recently opened. And yes, there's the Eclipse Sandbar for your night entertainment as well.
The district offers good value for real estate properties. It is now also developing into a commercial location. Restaurants and entertainment venues appear in greater numbers every day. 7 Makara is the choice for people who want a convenient location, without the cost of inner-city living.