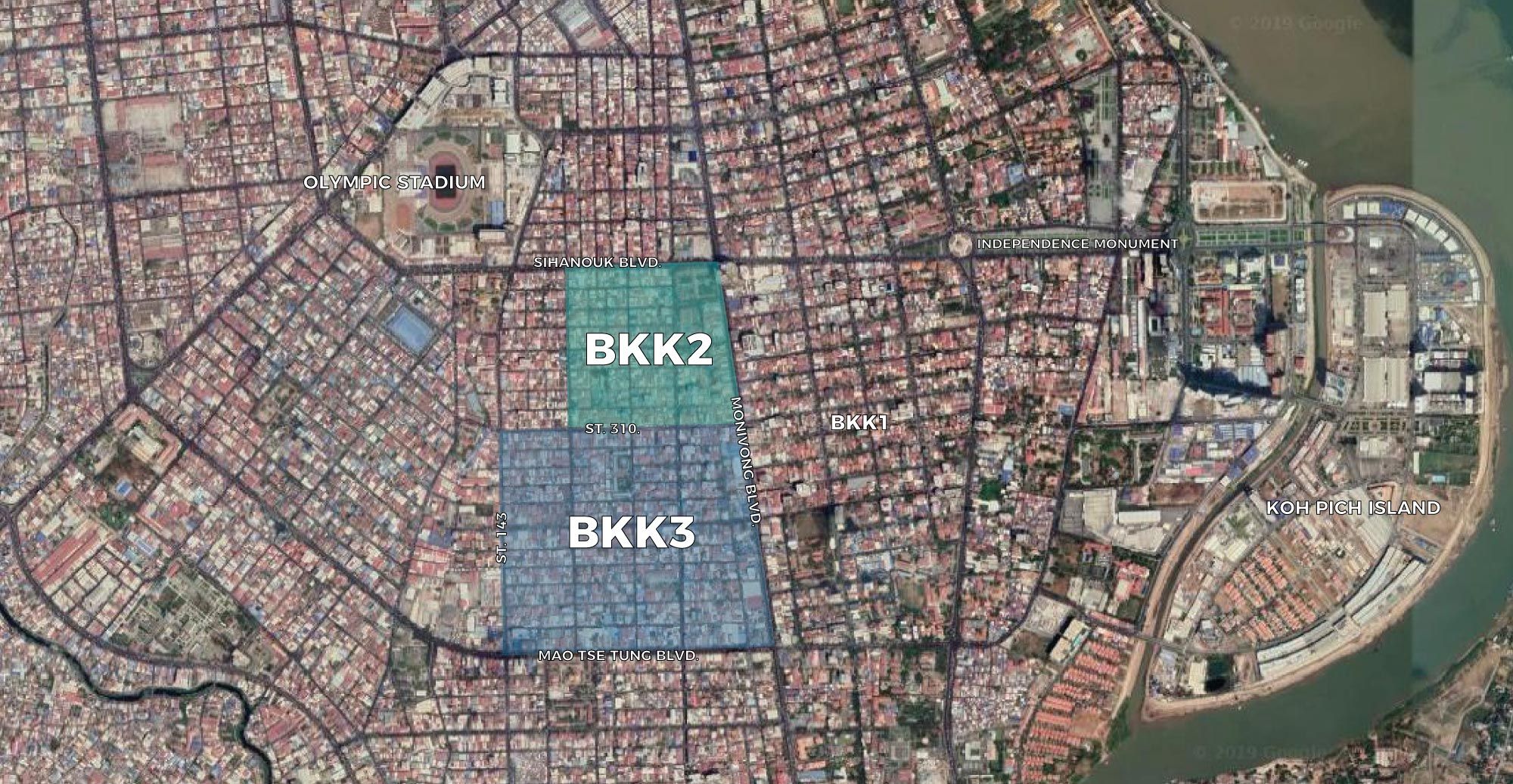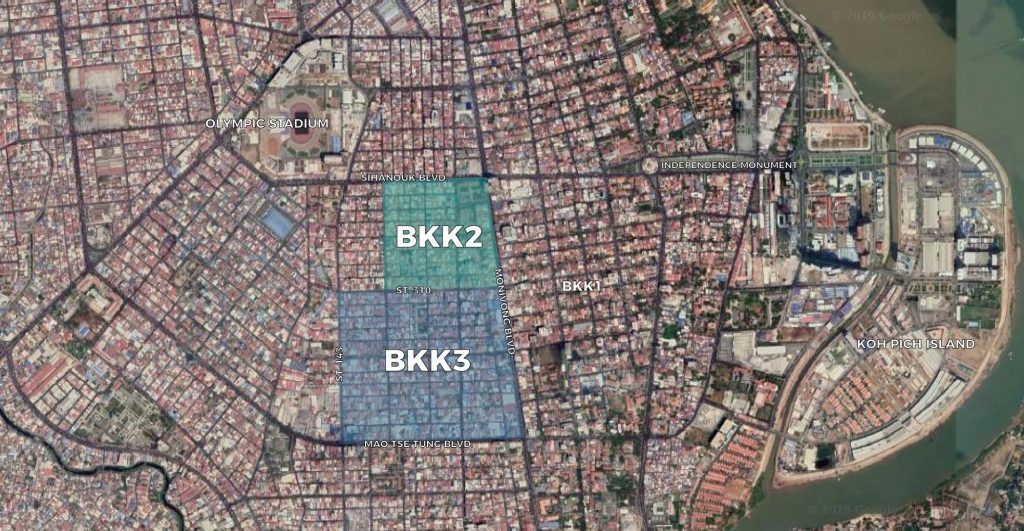 BKK2 and BKK3 are small areas of Chamkarmon. Both inside the major roads of Sihanouk Blvd and Monivong Blvd. BKK2 is in the south of the Olympic Market. BKK3 lies west of BKK1 and the north of the Russian Market.
Real Estate at a Glance
BKK2 and BKK3 are cheaper options of housing spaces. BKK1 offers expats a home that is close to the major establishments. the nearby BKK2 and BKK3 districts are within a 5-min tuk-tuk ride to the same conveniences at ~30% lesser the cost.
The last few years saw the rapid development of BKK2 and BKK3. 3-4 years ago, these areas have very few modern and western conveniences. Eventually, local residents, landowners and property investors realized the potential of housing needs. This demand caters to the expat population overflowing from BKK1.
The demand resulted in the renovation of townhouses and construction of new apartment complexes. Most of the new developments meet western tastes and standards. There is still quite a mix in the properties available here. It varies from the most basic apartments to brand new ones that have modern amenities.
Available Housing Options
This range in property types also translates into pricing. You will find a good range of low cost, mid-range, and high-end options. Prices depend on size, amenities, and number of rooms.
Apartment rentals range from $350++ to $500 and $700 above for serviced apartments. These types offer amenities like 24/7 security, swimming pool, and gym. Villas and Townhouses for rent are also available with a considerable price drop. They offer the exact same amenities as their BKK1 counterparts.
Residences like PPA, Vriya, and Modern City are western-style condominiums and apartments. Rentals range from $800 to $2,000 depending on the number of rooms. They remain relatively full all year round, with an average occupancy of 90%.
BKK2 and BKK3 have the same price range of residential choices. The slight difference is that BKK2 has more local Khmer townhouses and villas. BKK3 has developed at a faster pace and offers a wider range of newer condominium buildings.
Culture Mix in BKK2 and BKK3
With affordable residential options in BKK2 and BKK3, these areas a diverse set of clients. The residents are a mixed group. They are foreign exchange students, interns, NGO employees, young professionals, and local residents.
Cheap shared apartments are abundant. In this setting, 2-5 people can share the same apartment and split the costs. Villas for rent attract expats with families that need a bigger space. The growing foreign population resulted in the growth of commercial spaces.
International F&B brands such as Sakura Buffet and BBQ shop are available. There are stores like D&K Men Fashion Outlet, Swag Collection, ONE shop, ZIP Outlet, and Fragrance House. There is a wide array of local and foreign-owned coffee shops and banks. The GRAB Driver Centre and Two Wheels Only motor rentals are also located here.
International Schools and Government Offices
International schools provide the educational needs of residents in this area. Among them are:
Modern International School
Ocarina French Music and Art School
East-West International School
Home of English
Mahasastra International School
Beltei International University
Edniche English School
Aside from the schools, BKK2 and BKK3 are also home to these offices:
Cambodian Handicraft Association for Landmine and Polio Disabled office
National Center for Tuberculosis and Leprosy Control
Media One Development for Education and Development in Action (MEDIA) center.
Where to go to BKK2 and 3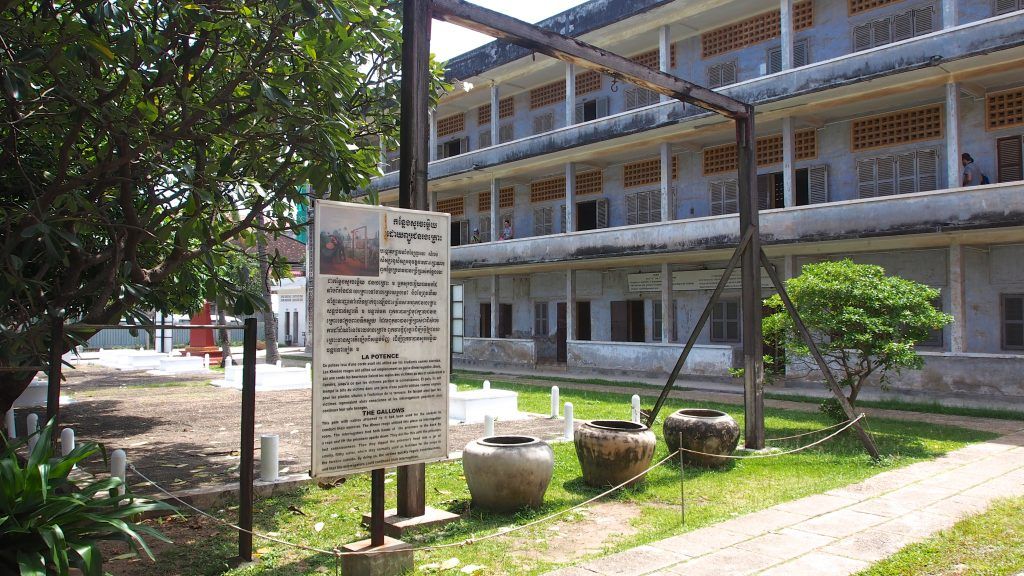 The Toul Sleng Genocide Museum is a popular tourist destination located in BKK3. It is formerly known as the Toul Sleng High School. This building was once Security Prison 21 (S-21) during the Khmer Rouge regime. Khmer Rouge rose to power in 1975 until 1979. Approximately 20,000 people were imprisoned at Toul Sleng.
A few feet away in St. 95 is the Flicks Community Movie Theater. It is an art-house and air-conditioned movie theater. They are known for their independent film releases. Behind Toul Sleng, you will also find "Beautiful Shoes". It's a popular retail store where expats can get shoes.
BKK2 boasts of the Khmer Artisanry and Handicraft Museum. This museum aims to preserve the art of Khmer natural dyeing. It aims to preserve the legacy of Khmer ancestors and give jobs to survivors of the Khmer Rouge era.
Entertainment and Nightlife
Nightlife is not as popular here compared to other areas of the city, however, local KTVs and buffet restaurants more than makeup for the lack of nightlife venues.
Access to the Riverside and the Russian Market bar scene is but a short tuk-tuk away. The rest of the residential areas offer a nice, quiet respite at the end of a long day.
Indeed, BKK 2 and 3 are wise choices when looking to rent or buy a property. The prices are cheaper, and the amenities are a high standard. The businesses are near residential areas. The schools and medical facilities are within reach. The quality of life is a combination of expat living and local Khmer lifestyle. You get the best of both worlds in BKK2 and BKK3.