Sala Kamreuk is an urban commune east of Siem Reap's Pub Street area across the river. Its northwestern landmark is the end of the bridge crossing Achar Sva Street, coming from the Apsara Statue Circle, extending around three (3) kilometers through National Road 6. It neighbors Chreav Commune on the southeastern boundary and includes portions of the west side of the river starting from Crow's Nest Road and Road 63, moving southward about two (2) kilometers.
In total, the commune spans 8.41 km² and holds a total population of 22,452 (based on the 2019 census). Fairly close to inner-city hotspots yet still providing an idyllic countryside ambience, it's the ideal area for those looking for a balance between modern hotels and homestays, tourist spots and rice paddies, fusion cuisine and local restaurants, and karaoke bars and traditional dance shows.
There's also a wide variety of residential compounds in the area, from simple and premium apartments to larger villa properties, making it an in-demand neighborhood for locals and foreign settlers alike.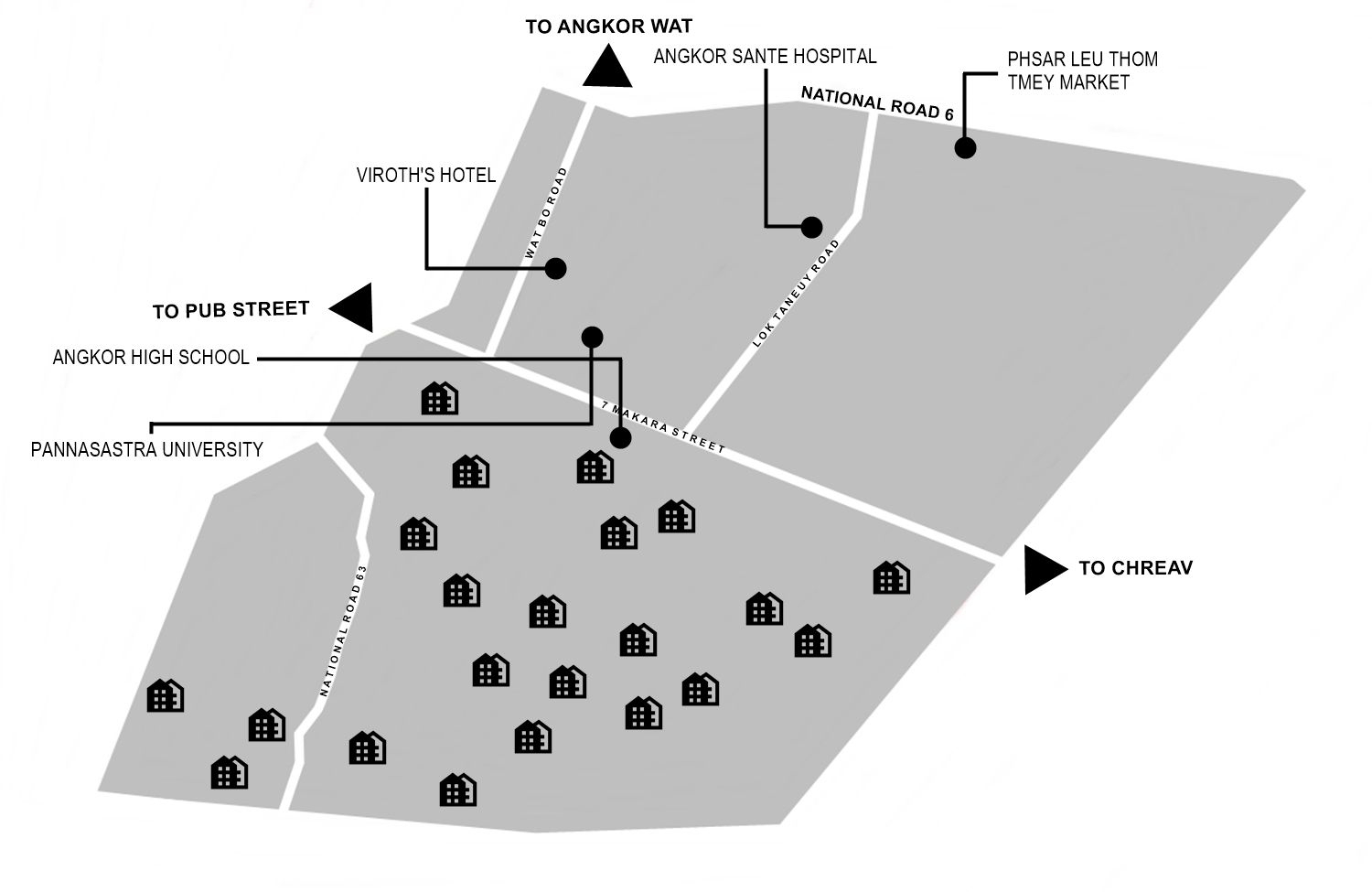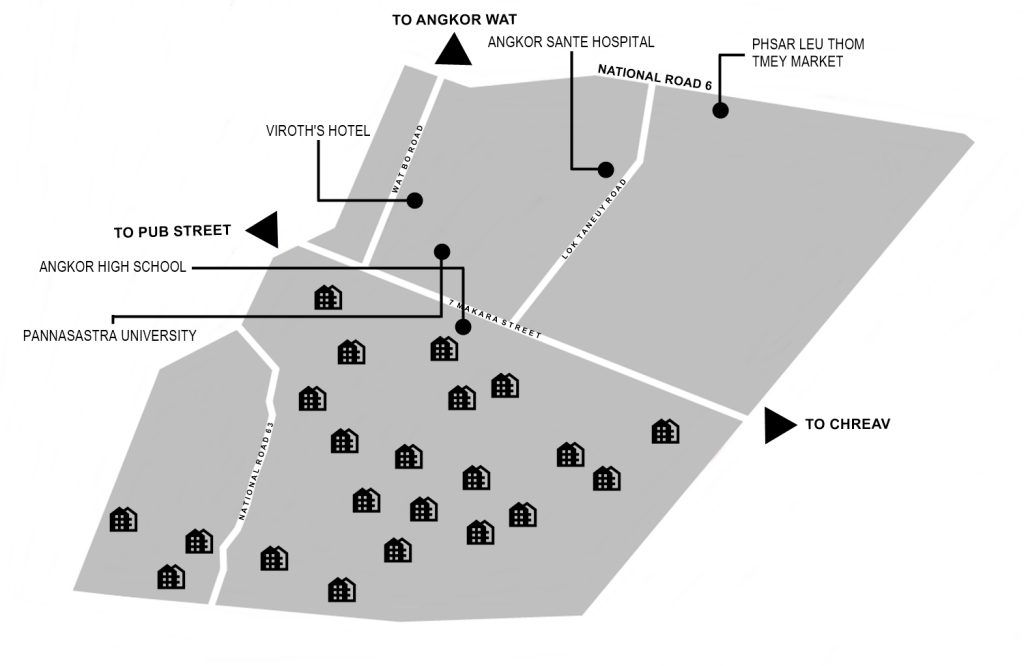 Housing and accommodation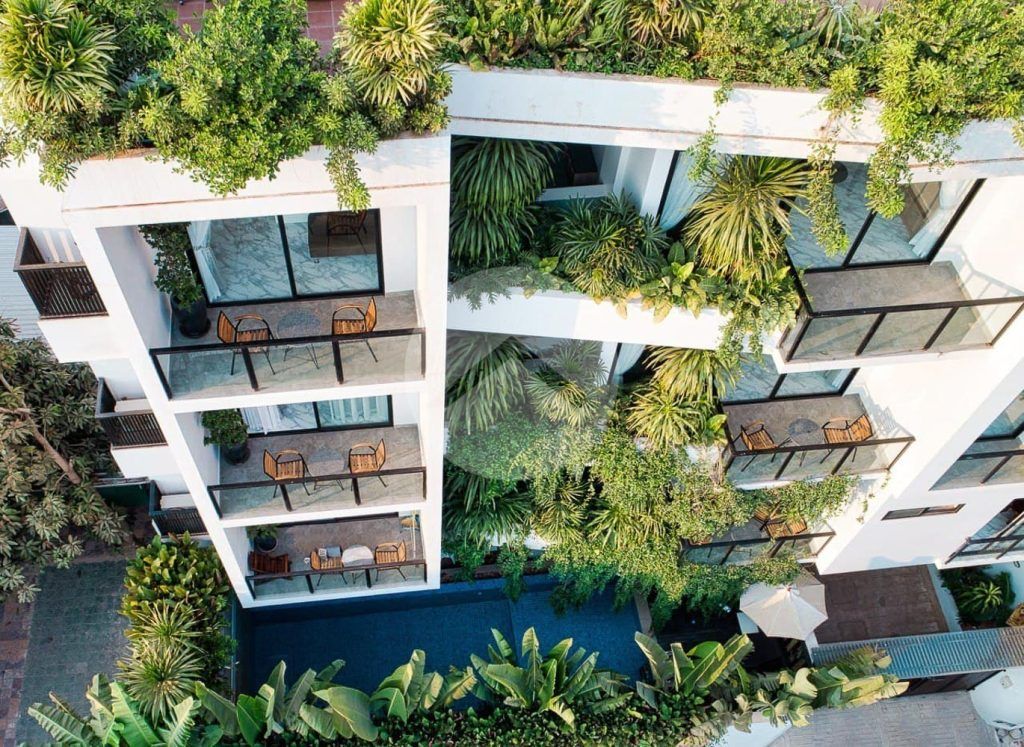 These include Borey Brilliant City, a development targeting mainly middle-class Cambodians with modern link villas; SAO Apartment, an affordable homestay known among tenants as a safe and peaceful place to stay with very hospitable owners; and Vatanak Apartment Services, known as the most family-friendly apartment complex in the city built with expatriate needs in mind.
Also prominent in Sala Kamreuk is the famed Athakon House, an impressive villa that blends traditional Khmer design and idyllic scenery with modern luxuries and contemporary artisan elements.
Nevertheless, there are numerous other accommodations geared towards tourists or short-term visitors: the Don Bosco and Vary Guesthouse is a laidback homestay great for families on a budget, featuring comfortable, well-equipped rooms surrounded by clear space where you can enjoy relaxing walks as well as generous parking. Meanwhile, Lub D Hotel is perfect for adventurers—those who are in Siem Reap to meet a diverse community, experience new sensations, and create vivid memories.
Balancing a family-friendly atmosphere with simple luxuries, the Siem Reap Palace Hotel & Spa is situated along a quiet street within Sala Kamreuk, serving as a peaceful place to retreat to after enjoying the city's hotspots. If you're after a more opulent hideaway, Le Jardin d'Angkor Hotel is designed with French colonial style buildings and a fusion of European and tropical Asian styles.
Conveniences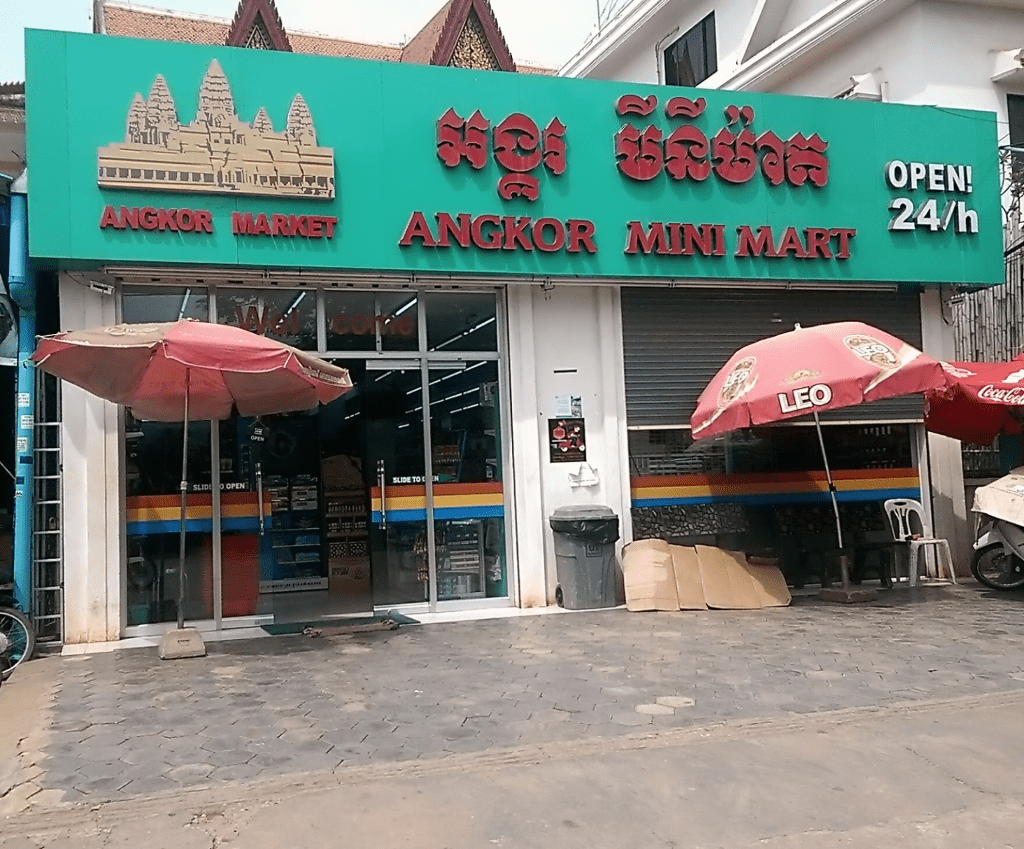 Sala Kamreuk is also where you will find the Angkor Market along 7 Makara Street, a medium-sized convenience and grocery store with plenty of options for locals and expats alike, including deli meats and fresh vegetables; imported food ingredients, cosmetics, and home care products; and pastries and wines.
For a closer glimpse of local life, the Made in Cambodia Market is another popular destination in the commune. Visitors can enjoy live music and traditional dancing at times, while shopping for high-quality products made by local artisans. Meanwhile, you'll also find quick stops like Smile Mart and Bonjour if you need just a few items on your shopping list.
Several pharmacies are available to service medical needs, such as the Mohasal Pharmacy along Wat Bo Road and CT Care Pharmacy along Thmor Meas Road.
Moreover, there are two large health centers in the area: the Angkor Santé Hospital, which is geared more towards local patients, and the Neak Tep Hospital, which prides itself on partnerships with expat groups, offering corporate health packages and assistance with medical clearances, as well as the availability of 24-hour ambulance transport to other cities as well as neighboring countries like Thailand and Vietnam.
Unique to Sala Kamreuk are the EastWest Hair Salon, an expat–operated salon that uses only imported products and guarantees Western-standard results, making it a favorite within the expat community in Siem Reap. It's located along Wat Bo Road, with the SoundsKool branch right across it, obviously an ideal stop for the music veterans and enthusiasts alike.
Leisure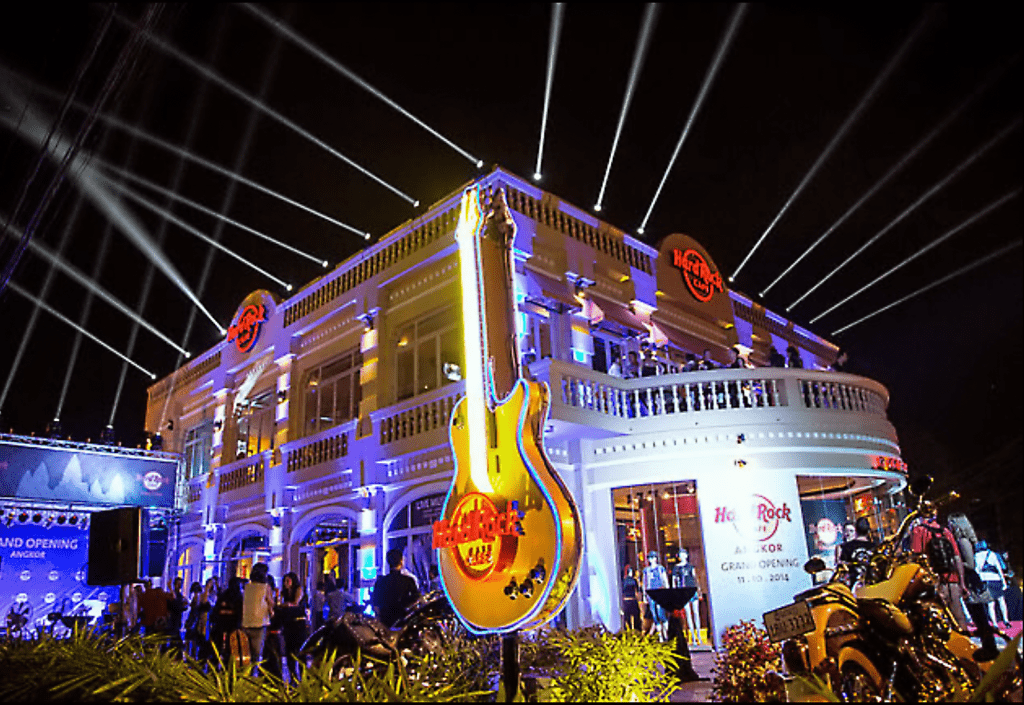 Not to be outdone by the main Pub Street area, Sala Kamreuk comes with its own wide array of cuisines and leisure destinations that will leave you wondering what else you may find in the neighborhood.
PARIS Bakery and Pommé are easygoing spots owned and managed by members of the expat community. The bakery-café is always stocked with freshly baked pastries and specialty breads, with plenty of Western classics on the menu like scrumptious salads, handmade pastas, and beefy burritos. Meanwhile, the pandemic-tested Pommé lists Thai favorites like pad gra pao and red panang curry on its menu, generously providing vegan options.
Other places you might want to try are the iconic Hard Rock Café, where you can enjoy a live band, a dazzling range of food and drinks, and the Rock Shop. There's also Tell Steakhouse, one of the most popular restos in the entire city with a Swiss chalet style dining room serving steaks, German sausages, schnitzels, and imported beers.
When you're done perusing the café, bar, and restaurant options in Sala Kamreuk, you can then plan your itinerary through bike tours courtesy of Grasshopper Adventures, check out wellness retreats and activities at the Navutu Dreams Resort, and even undergo a Khmer cooking class at the Reveal Angkor Hotel.
You can also get a taste of ancient martial arts at the Kingdom Fight Gym in Sombai Road. More than a fitness facility, the gym aims to create opportunities for underprivileged youth by promoting emotional well-being and holistic welfare through sports. It is associated with the Youth Matters foundation, registered in The Netherlands.
Meanwhile, outdoor sports can be enjoyed at the Wat Bo Football Center, the biggest sports club in Siem Reap with facilities for futsal, volleyball, and snooker in addition to football. The 7 Siem Reap Sport Club is a similar facility, but smaller in scale.
Developments and investment potential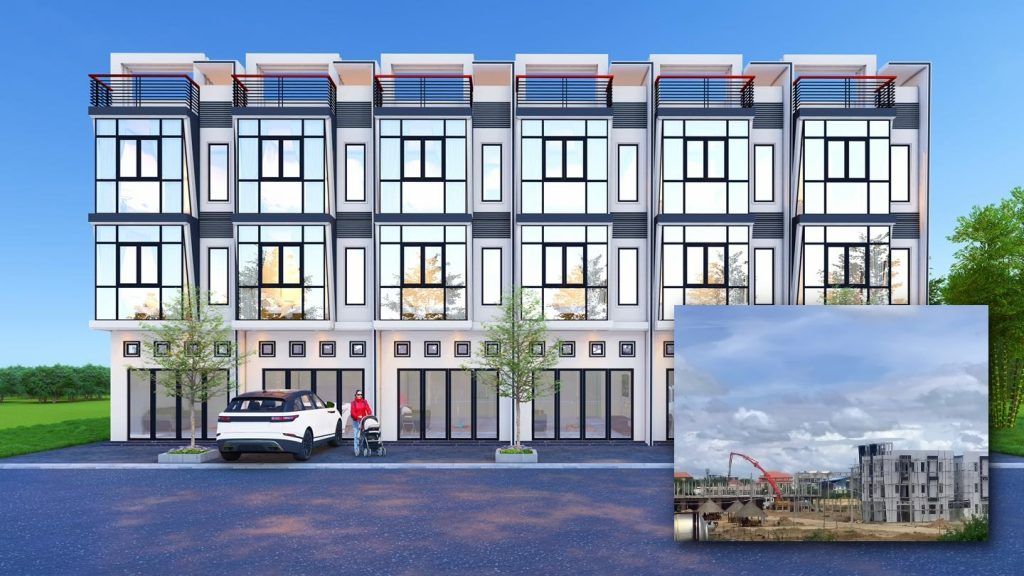 While, as mentioned above, there are plenty of apartment buildings and tourist accommodations in the area, larger-scale developments like Borey Brilliant City have also been on the rise.
It is a gated residential compound geared towards middle-class Cambodians, offering link villas with modern design combined with an eco-friendly environment. In addition, the entire development is structured to provide streamlined routes for residents to access commercial establishments and essential institutions right within the Borey.
With a well-experienced developer behind the compound, competitive sales prices, and high potential return, this Borey project is already poised to be a promising investment opportunity.
Would-be residents or investors can anticipate further growth with its close vicinity to markets such as the Khnar Chas Market, Chreav Market, and Kraom Market, whether for residential development or commercial expansion.
Like Svay Dangkum, Sala Kamreuk is a top-of-mind option for property buyers seeking commercial properties outside of the city center. The 38 Road Project has shed plenty of progress in infrastructure and accessibility. More than a comfortable expat and tourist neighborhood, it is also brimming with investment potential for long-term ventures.
The perfect blend
In this commune alone, you can satisfy your taste for local cuisine alongside Western-style dining and take your pick between quiet homestays and luxury accommodations. Create vivid memories indulging in the nightlife spots, then experience a new level of wellness and relaxation at different recreational venues.
Sala Kamreuk encapsulates all the best characteristics of Siem Reap living, bringing you the best of both worlds and promising only more of the best to come.