Time Out, a global media brand, asked 20,000 respondents of city-dwellers and local experts to rank the best places for fun, food, culture and community.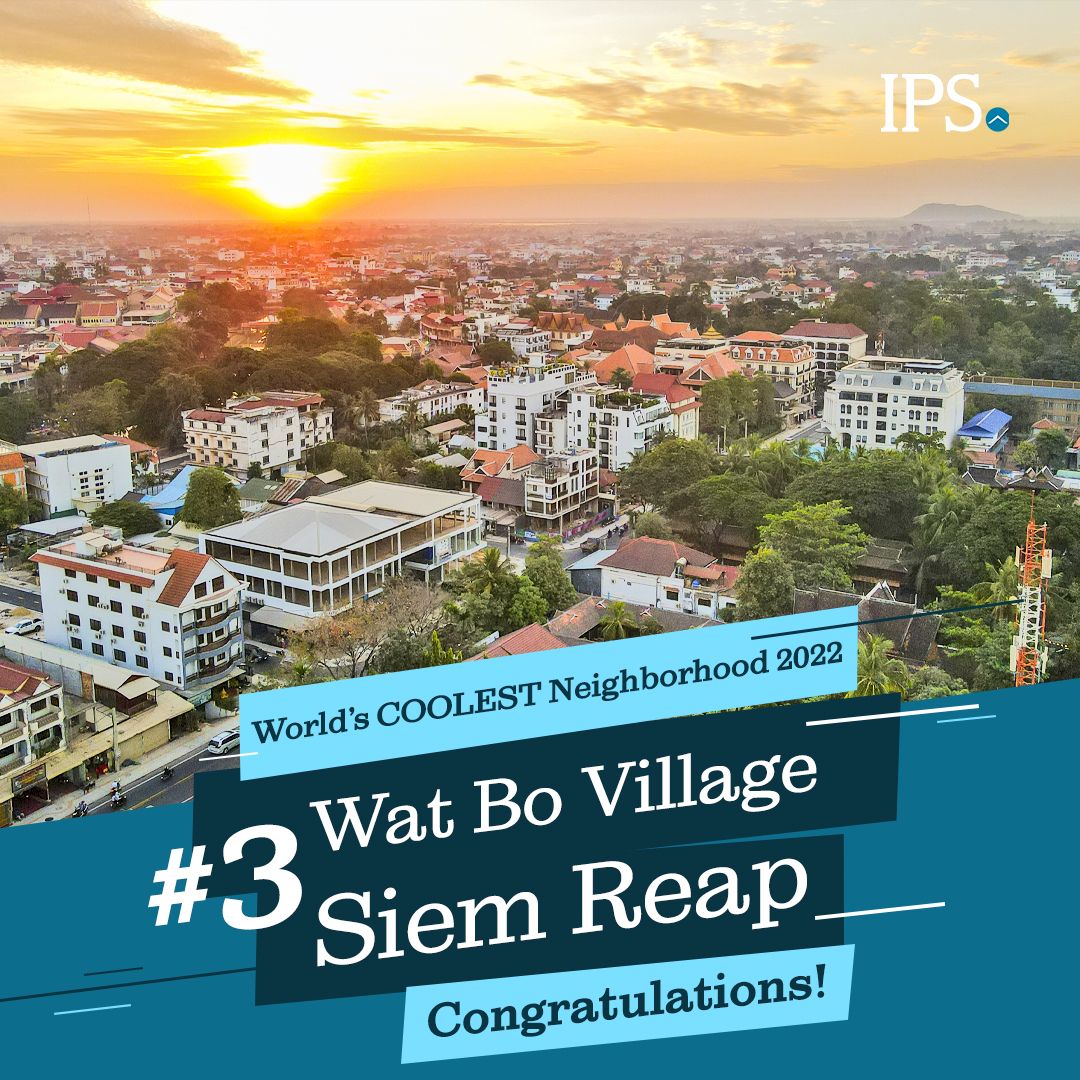 Wat Bo, Siem Reap | This little area within one of the most sought-after neighborhood to live in Siem Reap is making waves across the globe! From a sleepy "Temple Town" in the 90's, Siem Reap has evolved into one of the most renowned cities for lifestyle and adventure tourism.  
The city took a leap further as the area surrounding its Wat Bo Pagoda underwent a "serious glow-up" in 2021, as cited by Time Out, making it to the third spot in their "51 Coolest Neighborhoods in the World" for year 2022.  
Across the river from the bustling Pub Street area, Wat Bo offers more idyllic scenery, quieter roads, and a more laidback ambience that actually won't make you feel like you're at the center of a global tourism hub.
While it still features nightlife with bar spots like the chinoiserie-themed Miss Wong Cocktail Bar and café-bar medley Dialogue, this neighborhood also offers a more "insider" take on Siem Reap.
Choices in accommodation champion iconic boutiques like Viroth's Hotel and Treeline Urban Resort. Wat Bo is also a popular choice for long-term residents and expats, being in close proximity to the Siem Reap campus of the Pannasastra University of Cambodia, and a Sovannaphumi School.
It's clear that this neighborhood was not just made for visiting, but also for settling and enjoying slow living alongside a diverse community.
Paris Bakery will take you on a trip through French and other Western cuisine, being a boulangerie, patisserie, café, and deli in one. At Tevy's Place, you can enjoy the most sumptuous and organically-made local dishes while supporting a social enterprise empowering local women. Oko Gallery and Footprint Café will satiate any art connoisseur, while remote workers or business owner can troop to BIOLAB for a chic and well-supplied digital workspace.
Wat Bo offers scenery and sensations parallel to others on Time Out's list, such as Colonia Americana in Guadalajara, Mexico, which topped the 51-neighborhood ranking with its mass of art and music venues, co-working cafés, and even street performers.
On the second spot is Cais do Sodré in Lisbon, Portugal, known for being the heart of the city's nightlife with the most promising young chefs and start-ups are coming to life. Minimalist fashion is another strong element here.
Following Wat Bo in the Top 10 of Time Out's list are Ridgewood in New York, USA; Mile End in Montreal, Canada; Barrio Logan in San Diego; Shimokitazawa in Tokyo, Japan; Cliftonville in Margate, United Kingdom; Barrio Yungay in Santiago, Chile; and Cours Julien in Marseille, France.
A mere 15-minute walk from one end to the other, Wat Bo itself is also a great launching pad for visiting other places in Siem Reap, such as the Angkor Archeological Park, where you'll find the UNESCO World Heritage Site Angkor Wat, or the Angkor Golf Resort, far west of this local neighborhood.
Whether it's a homey Asia destination you're seeking, or a place to call home in Cambodia, Wat Bo is indeed your coolest choice. It's that perfect "hole-in-the-wall," only as big as your hometown neighborhood.
Looking to move into the neighborhood? Check out our Wat Bo listings here.