As Cambodia's response to the Covid-19 pandemic began to take shape, the transport and infrastructure constructions resumed work on huge projects – albeit with certain limitations.
One of those in line is Phnom Penh – Sihanoukville expressway, the first-ever expressway in Cambodia linking two major cities in the country, Phnom Penh and Sihanoukville.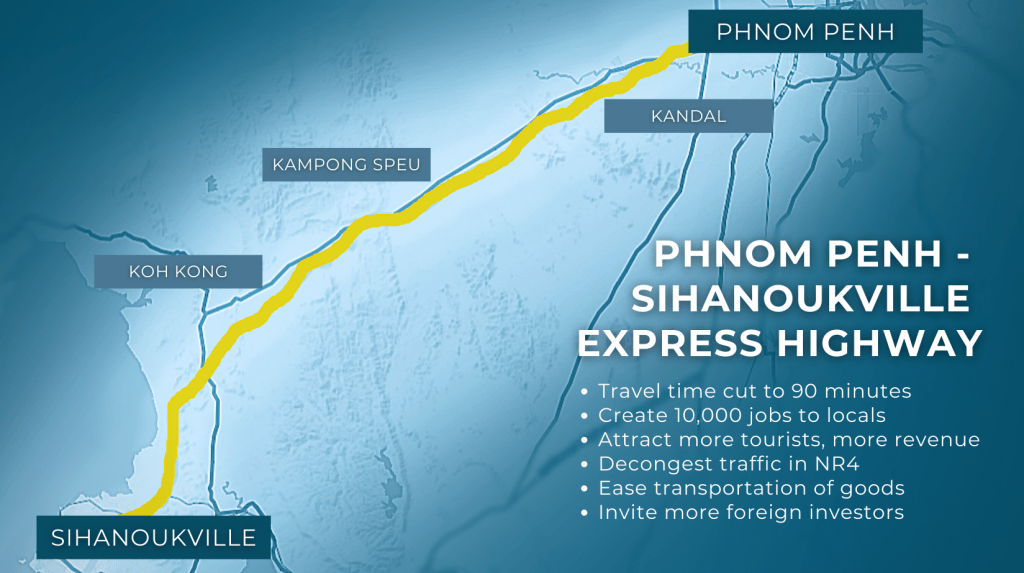 All About Phnom Penh – Sihanoukville Expressway
To be named as Road E4, the total length of the expressway is 190.6 kilometers—from Village I, Samrong Krom, Porsenchey, Phnom Penh to Village I, Sangkat III, Sihanoukville.
The expressway would pass through the following cities/provinces (in consecutive order):
| | |
| --- | --- |
| CITY/PROVINCE | LENGTH (km) |
| Phnom Penh | 8.3 km |
| Kandal | 9.1 km |
| Kampong Speu | 80.8 km |
| Koh Kong | 1.9 km |
| Sihanoukville | 89.9 km |
Built in asphalt concrete with 4 lanes, each in 3.75 meters, the total width of the expressway is 24.5 meters including the garden in between the opposite lanes. All kinds of vehicles can use this expressway at a speed of 100km to 120km per hour.
The stretch of this road is composed of 263 pipes, 85 bridges, 6 traffic intersections (linked to National Road 4), another 28 intersections, 20 flyovers, and 237 underground places. Drivers can refill and do stop-overs in between their trips for there will be 4 commercial areas with rest stops, 3 gas stations, and a large parking lot.
Other road facilities included are road barriers to ensure the safety of drivers and animals, 4 road maintenance departments, 8 toll gates, and multiple traffic lights and signages.
$2 BILLION INVESTED ON PP – SHV EXPRESSWAY PROJECT
Cambodia PPSHV Expressway Co LTD. and its subsidiary, China Road and Bridge Corp., (CRBC), joint venture to make this project possible after 13 years of planning.
The project had an investment value of about US$2 billion, of which US$600 million is CRBC's own funds, the US$1.4 billion is a loan of CRBC from China Bank, and the project will use the remaining US$150 million in grant aid from the People's Republic of China.
CRBC has been studying this huge project since 2006. Through the "build-to-operate-transfer (BOT)" scheme, CRBC was given the right to use the land for a 50-year period, as stated in a signed agreement between Cambodian government and the said company.
TO CUT TRAVEL TO LESS THAN 2 HOURS
In full operation in March 2023, commuters and drivers can travel between two destinations in 90 minutes, compared to 5 hours without the expressway. All vehicles can use this route free of charge for 1 month.
After that, toll gates will actively collect fees, 20% off for the first year. The exact fee for the expressway has yet to be confirmed but is expected to be the lowest among other ASEAN expressway fees. Generally, the price set for Phnom Penh – Sihanoukville expressway is based on kilometres on different vehicles ranging between USD$0.10 per km and USD$0.13 per km.
TO CREATE MORE JOBS FOR LOCAL CITIZENS
Since the beginning of construction, this project has already provided around 6,000 direct employments, plus around 10,000 jobs after completion, and over 2,000 job hiring annually. The CRBC would also provide training for all staff on all skills within construction and infrastructure sectors.
TO ATTRACT MORE TOURISTS, MORE REVENUE TO BUSINESSES
With shortened travel time from Phnom Penh to Sihanoukville from 5 hours to just 90 minutes, more people would be encouraged to visit Sihanoukville islands and some nearby provinces namely Koh Kong, Kandal, and Kampong Speu.
This would also enable rural people to easily access Phnom Penh city and grab better opportunities and better quality of education. More visitors would mean more customers or clients for businesses, thereby generating more revenue.
TO DECONGEST TRAFFIC & EASE TRANSPORT SYSTEM
National Road 4 is the busiest highway in Cambodia as it links the capital city to Sihanoukville's deep seaport, the main gateway for imports and exports.
Through Phnom Penh – Sihanoukville expressway, the traffic situation would be eased in National Road 4, as well as National Road 3, by offering additional transportation service for more efficient and faster routes.
These aspects are also vital in serving the logistics and industrial sectors by providing more transport networks to freight vehicles distributing goods and products across the city.
TO INVITE MORE FOREIGN INVESTORS
In a nutshell, faster trips, additional network for logistics, increase in number of visitors, rise in property value will help boost Cambodia's economic growth. New development would also lead to a significant rise in rents and property value, placing real estate at the forefront of investment.
Project Status (as of February 2022)
Officially began construction on March 22, 2019, the initial expected completion date of PP – SHV expressway is in March 2023, but was later changed to July 2022 due to its rapid construction progress, announced on February 9, 2022 by Senior Minister of Public Works and Transport H.E. Sun Chanthol.