Everything you need to know to apply for a visa to Cambodia.
The legality of the length of stay in a foreign country is essential for travelers. Thus, it is important to understand the legal policies of visa application in Cambodia.

Aside from its popular tourist destinations, Cambodia has also become one of the world's best countries for retirement and relocation. One of the main reasons behind this is the easy visa application process compared to other South-east Asian countries.
Read also: Relocation Guide: 10 Things to Consider When Moving to the Kingdom of Wonder
Do I need a Cambodian visa?
To enter the Kingdom of Cambodia, a passport which has a validity of no less than six (6) months is required as well as a valid visa (except for certain nationalities), including for children.

Visa exemption is given if you hold a passport from countries that are members of ASEAN. These countries are Brunei, Laos, Myanmar, Singapore, Vietnam, Indonesia, Malaysia, Philippines, and Thailand. You will be allowed to enter Cambodia visa free for a period of 14-30 days. However, if you plan to stay longer, you will be required to exit the country and seek an appropriate visa.

Passport holders from Afghanistan, Algeria, Bangladesh, Iraq, Pakistan, Sudan, Saudi Arabia, Iran, Nigeria, or Sri Lanka are not eligible to acquire neither a visa online nor visa-on-arrival in Cambodia. Thus, applying for a Cambodian visa in advance can only be done through the nearest Cambodian Embassy. It is important to first contact the Embassy for the requirements as they are more exigent to African and Middle-east countries.

Other countries have a convenient option to apply for a Cambodian tourist visa online. Some of those are U.S.A, Australia, Germany, France, Spain, Denmark, Canada, U.K, Italy, and Sweden. The complete list of countries eligible for a Cambodian visa online is indicated in the visa application websites.

Types of Visas in Cambodia
Tourist or T-class Visa – This is a type of visa that allows foreigners to stay for at least 30 days. It is a single-entry visa which means leaving the country will forfeit its validity. The tourist visa can only be renewed once for an extension of additional 30 days. Beyond that, tourist visa holders must leave the country and re-enter with a new visa.
Business or E-class Visa – This type of visa allows foreigners to stay for 30 days for business / work purposes. Business visas can be renewed for unlimited times unlike tourist visas. It can be extended for 1 month, 3 months, 6 months or 12 months.
K-class Visa – This type of visa is only issued to Cambodian Nationals entering the country with a foreign passport. It is a lifetime visa that allows multiple entries. The K-class visa requires proof of Khmer parentage, Khmer surname, and facilitation fee.
B-class Visa – It is a type of visa that is only issued to employees of international NGOs with a memorandum of understanding with the Ministry of Foreign Affairs of Cambodia. The B-class visa is valid for three months and is renewable for up to twelve months. The length of stay depends on the length of the contract with the Ministry of Foreign Affairs.
Transit or D-class Visa – This is a type of visa that is valid for just 3 days. Transit visa is issued upon arrival with a requirement of proof of intention for the short visit or stay.
What type of visa should I get?
Staying in Cambodia for short-term – The Tourist or T-class Visa is best applicable for foreigners who intend to stay for less than 2 months. It has a maximum validity of 90 days. Beyond that, tourist visa holders must leave the country otherwise their stay is considered illegal.
Staying in Cambodia for long-term – Business or E-class visa is pertinent to those who have found a reason to stay longer in Cambodia, for instance employment or education. It can be renewed multiple times for one month, three months, six months, or one year.
How to Apply for a Cambodian Visa
Upon arrival at Phnom Penh, Siem Reap, and Sihanoukville airport, you can immediately apply and obtain a tourist or business visa. With complete documents or requirements, the process can only take 20 to 30 minutes. It can also be applied in all major land borders or seaports in between countries.
Visa-On-Arrival Requirements

Passport (At least 6 months valid with at least one full page for the visa stamp)
Two recent passport-sized photos (USD $2 charge if you don't have)
USD $30 (Tourist visa) $35 (Business visa) in cash
Filled visa application form (available upon arrival)
Visa-On-Arrival Procedures and Processing Time

Application form is available on the Visa counter.
Fill up the visa application form.
Submit the accomplished form with your passport and photos.
Pay the visa application fee.
Processing time may take about 20 to 30 minutes. It may take longer at land border crossings and seaports.
To avoid spending time applying for a visa on arrival, you can arrange it before traveling. In your home country, a tourist visa can be obtained at the Embassy or Consulate of Cambodia.

Visa from a Cambodian Embassy Requirements

Passport (At least 6 months valid with at least one full page for the visa stamp)
Two recent passport-sized photos
Filled visa application form (available upon arrival)
Visa application fee (visa fees may vary for each country)
The procedures and processing time may vary for each country. Some countries do not have an Embassy of Cambodia. The Embassy Worldwide has a complete list of all the Cambodian Embassies in the world.
Another option of processing the visa ahead of time is through an e-Visa application. This is an online visa processing service for tourist visas only. It can be applied through the websites of Cambodia Immigration, Ministry of Foreign Affairs, Cambodia Online eVisa, and eVisa Cambodia.
Business visas do not have an online processing service. It can only be applied upon arrival at Cambodia's international airports, land borders, or seaports. A Cambodian embassy in your home country can also process business visas.
Online e-Visa Application Requirements

Soft copy of a recent passport photo in JPG/PNG format
Soft copy of the passport photo page (passport must be valid for at least 6 months)
Filled online application form
Debit or Credit Card for paying $35 fee
Online e-Visa Procedures and Processing Time

Fill out the online application form.
Pay and fill the necessary card information.
Submit the application form and wait for the confirmation via email.
Normal processing duration can take 3 business days. After 3 days, the e-Visa will be sent via email.
Print out the e-Visa and present it upon arrival in Cambodia. The Ministry of Foreign Affairs has a list of the port of entries in Cambodia that supports e-Visa.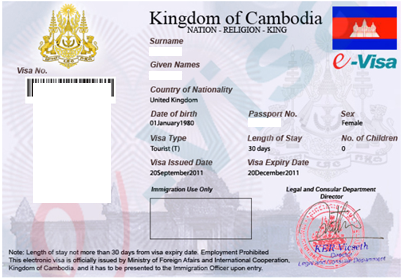 The online process of tourist visa comes with fast processing services with a corresponding additional fee. It has an "Urgent Service" that takes 24 hours for $79 USD. The "Super Urgent Service" is guaranteed within 5 business hours for $99 USD.

How do I apply for a visa extension?
Once you have acquired either a tourist or business visa, you already have a legal stay of 30 days in Cambodia. After that, a renewal and extension of visa should be applied.
Renewing a tourist visa can only be done once for an extended stay of 30 days. It is also a single-entry type of visa extension. Business visas, on the other hand, can be renewed indefinitely for up to 12 months.

The renewal of business visas includes an extension of 1 month, 3 months, 6 months, or 12 months. Extending it for 1 or 3 months will give you a single-entry type visa. Meanwhile, the extension of 6 and 12 months are multiple-entry visas.
There are Four types of Business or E-class Visa Extensions to which you can choose from: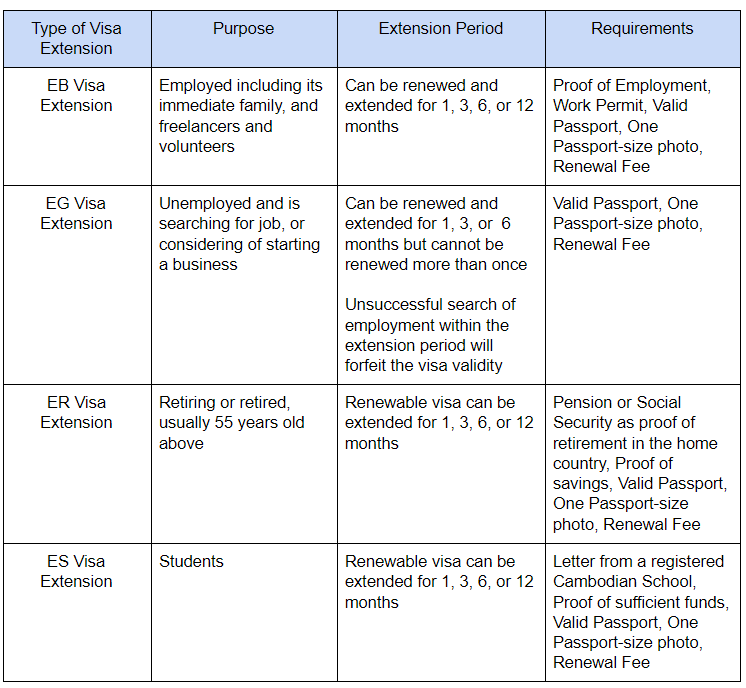 It is advisable to renew a Cambodian visa ahead of the visa expiration date. The renewal process may take approximately 3 to 5 business days. So, the extension of visa must be done 5 days before it expires.

There are two ways to which you can extend a Cambodian visa:

1. Extending Visa at the Department of Immigration

Before going to the Department of Immigration, it is important to know everything about the office. From where it is to what time and days are they operational. In getting there, you can take different modes of public transportation like tuk-tuk, taxi, or bus.

Department of Immigration
Office Days: Monday to Friday (closed on Holidays)
Office Hours: 7:30-11:30 AM, 2:30-5:30 PM
Address: 332 Russian Federation Blvd. (110), Phnom Penh, Cambodia [map]
Telephone: + 855 (0) 23 890 380
The paperwork and release of passport and visa extension usually occur in the afternoon.
In extending a visa, you will only need to present the requirements and pay for the extension fee to the consular officers. Once collected, you will be given a receipt and a temporary ID which contains the pick-up date.

2. Using a Licensed Travel Agency
Extending a visa through a travel agency is the most convenient method. The only thing that you need to do is to provide them the requirements needed. After that, they will do all the work to extend your stay.

The extension of stay can only be processed at the Cambodian Immigration in Phnom Penh. So, this option also suits those who are staying in other cities and provinces in Cambodia. However, this method may take longer as it requires sending your passport to Phnom Penh.

Travel agencies also require a more expensive service charge than doing it yourself. In general, these are the approximate fees charged by a travel agency or the Cambodian Immigration.


Failing to extend a visa and staying beyond the validity of stay is considered illegal in Cambodia. But, it will be legal once you declare it at the Cambodian Immigration and pay $10 USD for each day that you plan to stay.

Overstaying legally is possible for a maximum of 30 days. After that, paying a $10 cost may still be applicable, however, with an impending risk of deportation or a future ban of entering Cambodia. On the other hand, illegal overstaying is subject to paying a higher fee or imprisonment.

 Next step: Finding your new address in Cambodia