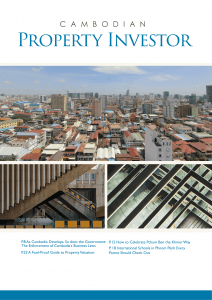 Cambodian Property Investor – The 2nd Issue
On a typical day, we encounter different property investors walking into the IPS office. Inquiries often lead to technical issues that the average property investor in Cambodia is ill-informed on, whether it be confusion regarding legal foreign ownership structures, leasing agreements, valuation processes, or rental and property taxes. At IPS, we want to inform our clients and the greater public the right way to do property transactions in Cambodia. We take spreading quality property information very seriously.
When you read Grant Fitzgerald's article on the Cambodian Government's continued push for taxation compliance and enforcement, you will become a little more prepared for the changing business environment as Cambodia continues to integrate within the ASEAN business community.
In a related piece, Head of Valuations, Sovannaroth Khan, discusses how to do property valuations – the right way. We have included area maps with our own price guidance highlighting current land square metre rates in this fast-moving market. We hope this helps you make a more informed decision when making your next property purchase.
This issue of Cambodian Property Investor includes a list of International Schools, carefully handpicked by our Phnom Penh Branch Manager, Lachlan Lee. The article is a great starting point for parents searching for the best school for their children. Also in this issue is a variety of interesting topics, including an explanation of the Pchum Ben holiday, casting light on the little-known neighbourhood gems in Siem Reap, and we, of course, take a look at the current state of the Cambodian Real Estate market.
We invite you to read, be enlightened and integrate our tips into your own plans, whether you are buying or selling your property through IPS-Cambodia.com.
You can read the online version of the second issue here.