UPDATED – Nov. 22, 2021: No quarantine required for fully vaccinated travelers, Prime Minister Hun Sen announced on Nov. 14 through an audio message on his Facebook page.
What are the New Changes?
Starting November 15, 2021, fully vaccinated travelers, regardless of travel history, can travel across Cambodia without quarantine, with Rapid test to be done at the entry gate of the airport.
Meanwhile, all types of travelers who are not fully vaccinated or non-vaccinated, regardless of travel history, must undergo a mandatory 14-day quarantine, with RT-PCR (swab) test to be done at the entry gate of the airport.
How will it work?
Before Entering Cambodia
In response to Covid-19 pandemic, the Cambodian Ministry of Health requires travelers to prepare the following documents to be presented upon arrival in Cambodia: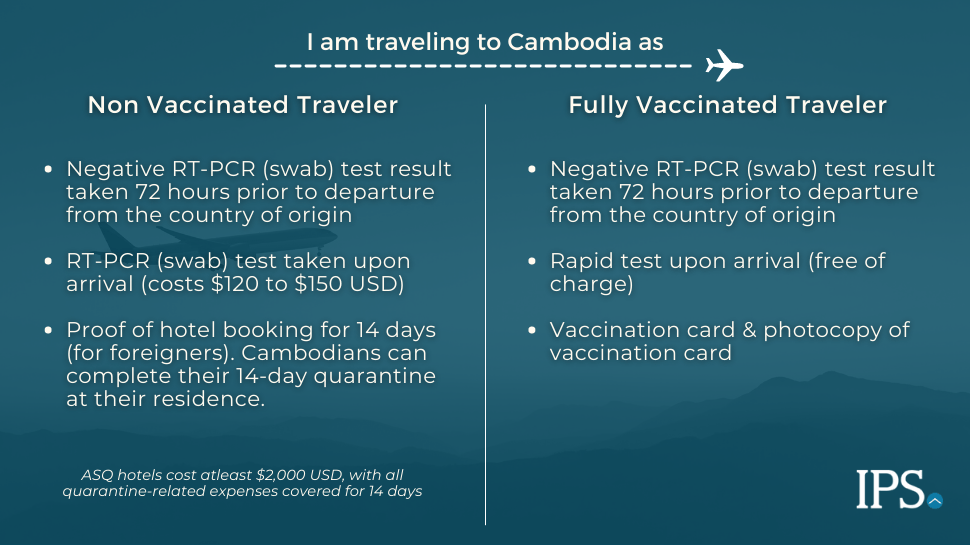 All foreigners must possess a health certificate in their home country which must be issued within 72 hours prior to the departure date. The certificate must state that the traveler is not infected by SARS-CoV-2 or Covid-19. In addition, the traveler must also present a proof of hotel booking at any of the ASQ hotels accredited by the Cambodian Ministry of Health.
Note that the ASQ hotels charge atleast $2,000 USD for 14-day accommodation, with all quarantine-related expenses covered such as the following:
(ASQ) Hotel room
Full board meal (breakfast, lunch dinner)
Airport pick-up
RT-PCR (swab) test
Medical service by MoH
Security by MoH
These new entry requirements are to be presented upon arrival in Cambodian airports and borders, alongside other necessary requirements whichever applies, such as valid Cambodian visa, work permit, and guarantee or invitation permit.
Issuance of tourist (T) Visa has recently been reintroduced via eVisa website, while upon arrival visas are still not permitted. [Here's how to apply]
Note: RT-PCR test must be shouldered by the traveler him/herself, or the guarantor. It may or may not be covered by your hotel booking expenses.
Upon Arriving Cambodia
Under the new scheme, travelers entering the country will have to undergo the following safety and preventive measures: 
HEATH MEASURES UPON ARRIVAL

1. Upon arrival, the airport staff or officials will check the required documents (stated above). 

2. Passengers will then be tested for Covid-19

– Fully vaccinated passengers will undergo Rapid testing (free of charge) at the entry point.
– Non-vaccinated passengers will undergo RT-PCR (swab) test at the entry point.
3. Fully vaccinated passengers will need to stay at the waiting center for approximately 10 to 15 minutes until the release of test results.

Non-vaccinated foreigners will need to wait for their lab results at their designated ASQ hotel for 14 days, while non vaccinated Cambodians can wait at their own home or residence.

IF TESTED POSITIVE (+)

4. All Covid-19 positive travelers will be transferred to a government designated Cambodian hospital to undergo medical treatment.

IF TESTED NEGATIVE (-)

4. All travelers with negative results can freely travel across Cambodia, regardless of region or province.
Note: Travelers under quarantine will not be allowed to leave their rooms or quarantine facilities, and must strictly adhere to the health measures and quarantine period issued by the Ministry of Health.
Notification on No Quarantine Requirement for Covid-19 Fully Vaccinated Travelers Coming to Cambodia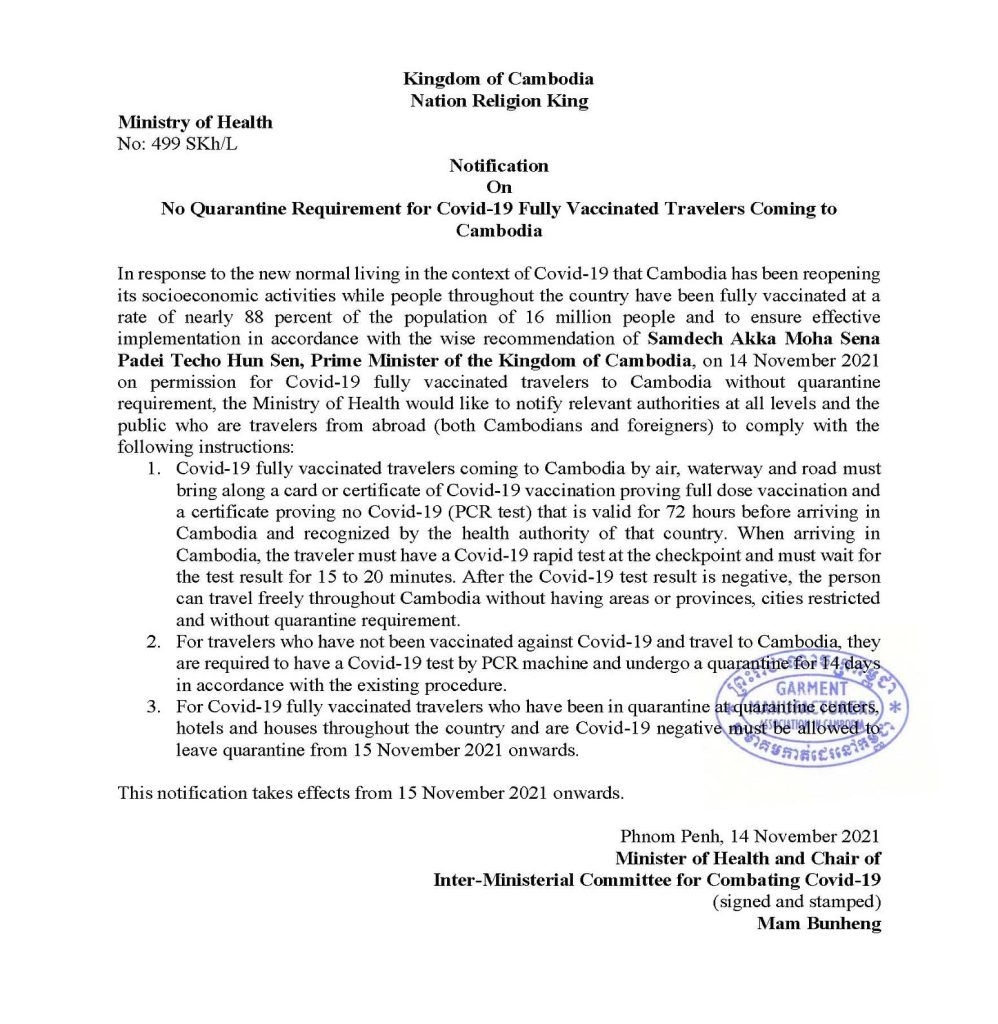 Is Cambodia a safe country to visit/stay during Covid-19 Pandemic?
The struggle in grappling to curb the sheer number of infected cases and death rate is not as critical as it is in other Southeast Asian countries compared to Cambodia. 
Among Southeast Asian countries with Covid-19, Cambodia has one of the lowest number of virus infections, alongside a high percentage of recovery rate. Cambodia is also the second most vaccinated country in Southeast Asia, next to Singapore, with Phnom Penh hailed as the most vaccinated capital in the world. Additionally, Cambodia ranked ninth out of the eleven ASEAN countries on the assessment of health security and capacity and has been labeled "more prepared" for epidemics or pandemics. 
The Cambodian lifestyle played a vital role in preventing the spread of Covid-19. The modes of transportation are mostly open-air, religious activities are not held in enclosed churches, and the climate is extremely warm—it's an open-air society. The government administration has also implemented strict health protocols for businesses within the country particularly retail, food & beverage, and hotel and tourism industry, as well as equipped the major international airports and borders with thermal scanners and quarantine teams.
Is my country restricted/not restricted from entering Cambodia?
The Cambodian government has already reopened Cambodia making it possible for all travelers to enter the country again, following the new healthcare and quarantine scheme. In line with this, the government progressively eased some the following restrictions/suspensions:
Cambodia has lifted its suspension on visa exemption policy for all ASEAN nationals
Cambodian Embassies abroad can now accept and process visa applications
Cambodia reintroduced online tourist (T) visa application
Moreover, the Cambodian government has announced that it'll soon implement the reopening of tourist attractions and all types of businesses including hotels, casinos, KTV bars, movie theaters, food & beverage outlets, and other entertainment venues on the condition that they abide by the health and safety standards.
Acquiring Covid-19 in Cambodia
Foreigners who may have been experiencing Covid-19 symptoms or have been infected by the virus during their stay in Cambodia should take the immediate precautionary measures:
Isolate yourself and call 115
Proceed to the government-designated hospitals or provincial referral hospitals (below) to get tested and treated. 

If tested positive, following the government protocol, you will be admitted to a Cambodian hospital for isolation and treatment. If you're staying in Phnom Penh or Siem Reap, you'll most likely be admitted to Soviet Friendship Hospital or Siem Reap Referral Hospital, respectively. 

In the event that a patient does not survive the Covid-19 disease, the cremation service charge is approximately $1,500 USD. 
City/Province

Hospital




Phnom Penh

Khmer-Soviet Friendship Hospital

National Pediatric Hospital

Kunthabopha Hospital

Phnom Penh Referral Hospital

Kandal 

Ang Snoul Referral Hospital

Prey Veng

Prek Changkran Referral Hospital

Battambang

Battambang Provincial Referral Hospital

Krong Siem Reap

Siem Reap Provincial Hospital

Sihanoukville

Preah Sihanouk Province Referral Hospital

Krong Pailin

Pailin Referral Hospital

Beong Khna

Bakan Referral Hospital

Krong Poipet

Poipet Referral Hospital

Krong Anlong Veng

Anlong Veng Referral Hospital

Krong Kampot

Kampot Referral Hospital

Krong Chbar Mon,Kampong Speu

Kampong Speu Referral Hospital

Samraong, Oddar Meanchey

Referral Hospital of Udomeanchey Province

Krong Preah Vihear

16 Makara Provicial Referral Hospital

Krong Prey Chhor, Kampong Cham Province

Prey Chhor Referral Hospital
Here's a Covid-19 Cambodia Map to know the current number and locations with infected patients:
Disclaimer:
This article is for information purposes only. Process and requirements may change at anytime. Please visit https://www.evisa.gov.kh/news for the latest visa-related news.