The vast majority of properties purchased by foreigners in Cambodia uses what's known as a "nominee structure". At IPS Cambodia, approximately 95% of all our foreign clients choose this structure, as it's cheap, secure

and fast, especially when compared to alternative options such as a Land Holding Company (LHC).
Often we have clients who have a Khmer partner or colleague who they put forward as a nominee, however, if they don't, there are a range of options available to source a nominee for the property for the duration of your ownership.
Having a nominee by itself definitely carries some risk which is why we highly recommend using "nominee security agreements" in order to mitigate the risk of having your property held in a third party's name. These security agreements are directly between the foreign buyer and the nominee and normally encompass a total of four securitization documents: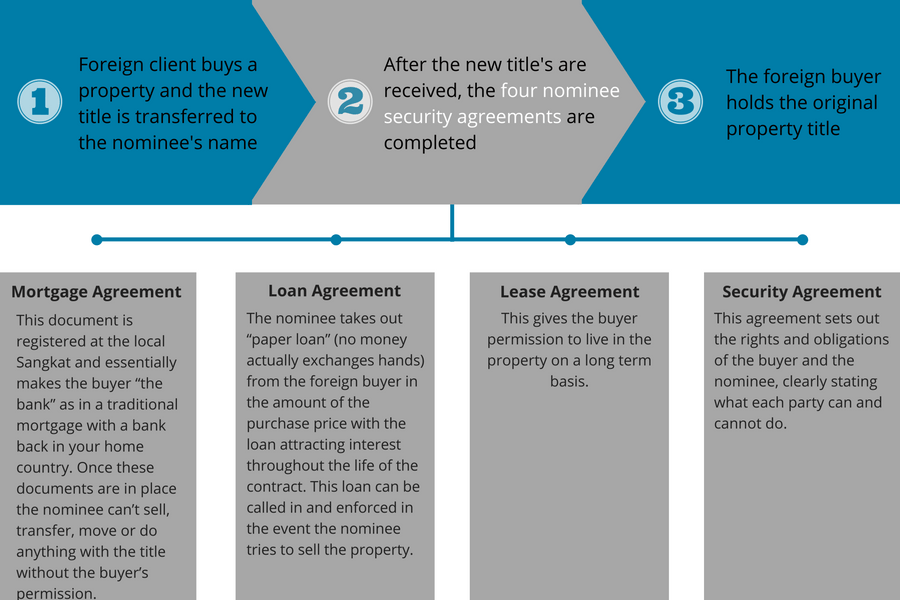 When purchasing a property using a nominee structure, the process works as follows:
1. A property is purchased by the foreign client and the property title is transferred into the Nominees name.
2. When the new titles are received a mortgage and or lease is registered at the Sangkat office. The remaining nominee security documents are also signed in Khmer and English.
3. The foreign buyer holds the original property title.
When set up and completed properly, this structure is a very strong and an inexpensive form of property security for foreign owners. The method allows Foreigners to purchase Soft or Hard Titled property with a binding assurance and a significantly lowered risk.
Buying a property in Cambodia? Our team will be happy to help you!
Learn more about our Foreign Nominee Service, contact us today!