Connection. Regardless of where you came from and where you're going, it's the one thing we all crave. With the ongoing pandemic, this is something that converges ever so strongly with online connectivity.
Across the world, powerful Internet has established itself as a need. Everything from media and consultancy services, marketing, and the boom of remote work now points to the digital. It is a way to bridge geographical as well as cultural gaps, allowing for data exchanges and conversations among users.
Cambodia is already a safe and thriving hub for expats and global nomads. Suffice it to say that telecommunications providers leave little to be desired.
While there are five (5) telco firms in the country, three (3) of these already account for 90% of Internet users: Metfone, Cellcard, and Smart. The others are Seatel and Cootel.
Metfone, a brand name of Viettel (Cambodia) Pte. Ltd., is known as the most extensive, with their umbrella group ranked by GSMA Wireless Intelligence among the top 15 worldwide in terms of quantity of cellular connections.
Cellcard, formerly Mobitel, is under CamGSM Co. Ltd., which is the country's longest-serving telco and a three-million-strong customer base. It is Cambodia's only 100% locally-owned operator, and just last year they rolled out a 5G telemedicine service across four facilities in Phnom Penh in response to Covid-19.
Smart currently serves eight million subscribers. It is a part of Axiata Group Berhad, a leading telco in Asia. Locally, they boast a digital lifestyle brand with various international partnerships with Facebook, Universal Music, and Apple.
As these companies offer virtually the same quality across urbanized zones, your choice of mobile/Internet provider will depend on what is used by your local social network. It would be wise to consult future co-workers, teachers, and the like to find out which will suit you best.
For those living in the province, make it a point to ask locals or long-term expat residents to recommend the best provider as there is still variation of signal strength in rural spots.
Meanwhile, mobile apps that connects locals and expats to certain conveniences are the following: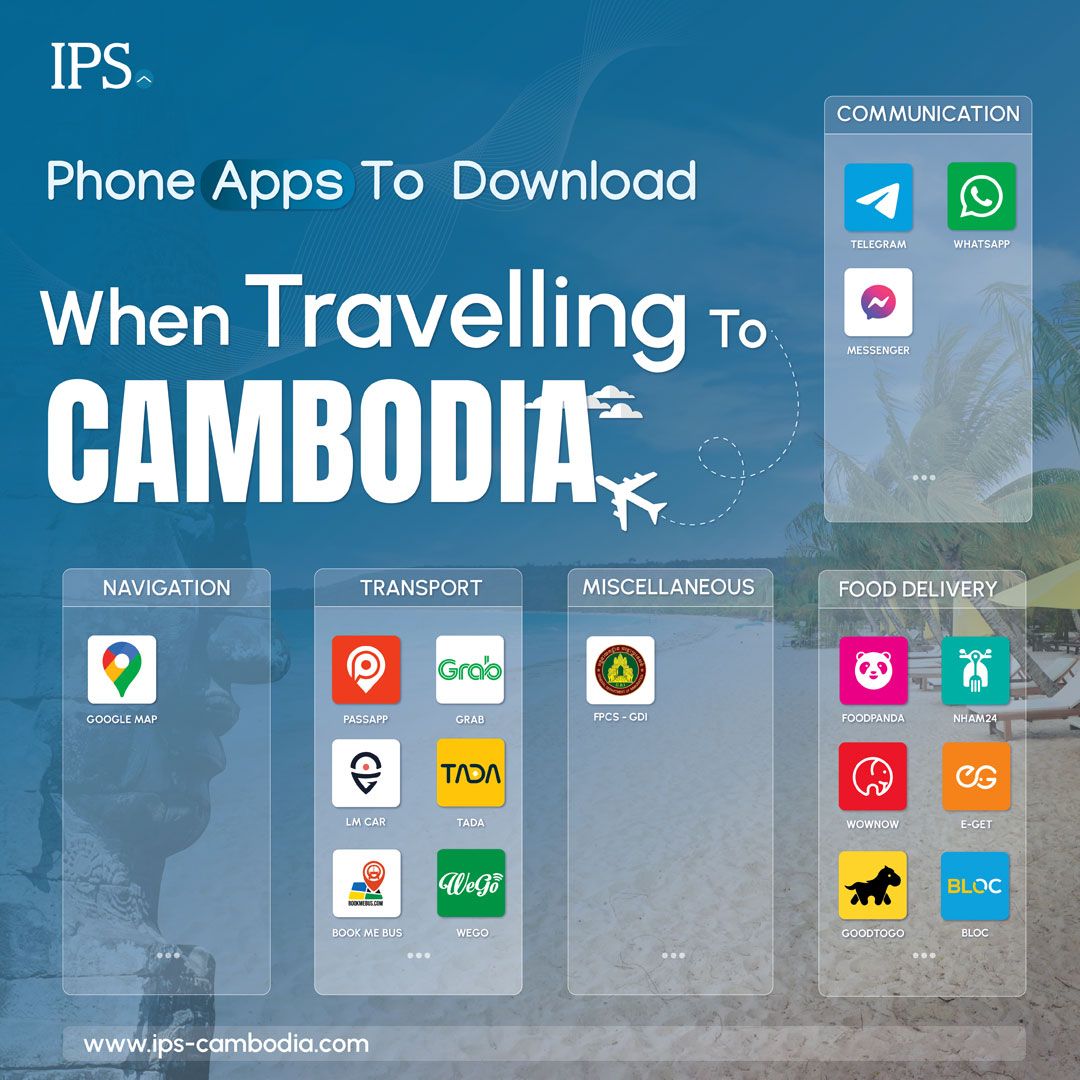 Pocket-Friendly Lines
Cambodia is one of the countries where quality connectivity won't take a huge chunk out of your budget. For setting up your private WiFi, you can get a decent work-from-home plan starting at $12/monthly from either Cellcard or Smart, for example, while Metfone's family packages range from $30 to $40, offering up to 21Mbps. They also offer a basic $15 plan at 10Mbps, and business connections starting at $55 for 35Mbps.
Otherwise, there are plenty of mobile data promos to select from based on your smartphone usage.
Staying connected with loved ones overseas is usually done through social networking sites (SNS) and for this, Smart's SocialPack Unlimited offers unlimited data for Facebook. LINE, WhatsApp, and WeChat, at 5c/daily or $1/monthly. Metfone's equivalent covers only Facebook and LINE at the same rate.
If mobile gaming is more your forté, Cellcard has got four membership packages to choose from, with their monthly plan at $5 inclusive of 3GB for Facebook, 5GB extra data, and no data cap for playing Mobile Legends: Bang Bang (MLBB) and PlayerUnknown's Battlegrounds (PUBG).
Meanwhile, for those who need a high-stability connection for Zoom or Skype conferences and keeping lines open for dealing with co-workers, clients, and the like, Smart offers the Corporate Data+ package as the one with the most benefits ($10 for 10GB, valid for 30 days), inclusive of a Huwaei tablet.
Similar and much larger-scale offers are available with Cellcard's Executive Plan (postpaid), ranging from $5 for 2GB to $100 for 50GB a month including an allowance for calling other networks, while Metfone's Corporate Sim Call Package Services include unlimited Internet and calls for $50 to $200/monthly —the price also reflecting the balance for all-net calls.
And when going online just won't cut it, each of these companies offers international calls as well: after a daily registration fee of 1c, Smart charges 3c/minute for calls to the United States, Canada, France, Germany, China, Hong Kong, India, Laos, Brunei, Malaysia, New Zealand, Singapore, South Korea, Thailand, and Vietnam.
Cellcard has the same rate for the same countries excluding New Zealand, Germany, and Brunei.
Metfone offers international calls in different zones, which include all of the above as well as Australia, Japan, Indonesia, Macau, Nigeria, Pakistan, the Philippines, Russia, Spain, Sweden, Taiwan, the United Kingdom, Bangladesh, Bhutan, Brazil, Colombia, Costaria, the Czech Republic, Denmark, Greece, Haitiy, Hungary, Mexico, Mongolia, Myanmar, Namibia, Peru, Paraguay, Slovakua, and Uzbekistan. Depending on the zone, charges are 7c to 25c per minute; calling elsewhere in the world will incur $1.25/minute. They even allow satellite calls to 32 locations at $10/minute.
Dedicated ISPs
If the aforementioned simcard-based home WiFi packages are not your preference, Cambodia also has several dedicated Internet Service Providers:
Sinet is a registered trademark of S.I. Group Co. Ltd., a Cambodia-based group involved in trading, property, travel, and other fields. They boast nationwide fiber optics, with over 200 active networks in not only the main cities, but also in remote districts and villages.
OPENNET is under King Technologies LTD. and offers copper cable (e.g. ADSL, Broadband) and fiber cable for premium services. They focus on high customer focus, and social responsibility such as their affiliation with The Goodwill Centre.
Digi is also a long-running company, under Cambodian SingMeng Telemedia Co., Ltd. They are mainly focused on catering to families in Phnom Penh, with services focused on entertainment as well as educational purposes in ICT.
Both of Sinet's home packages offer 40Mbps and unlimited usage. The main difference is the inclusion of an IP camera in one package, which costs $660 for 12 months ($55/month). The other comes to $36/monthly. Meanwhile, their most expensive offering is the Fiber One package for large enterprises. It features a very rapid 800Mbps, unlimited usage, and costs over $500/monthly.
With OPENNET, you get more options between their ADSL and FTTH offerings. The former, focused on more economical deals, comes in four home WiFi packages ranging from 6Mbps for $12/month to 12Mbps for $30/month. The latter, recommended for heavy home users and those with small businesses, starts at 10Mbps for $16/month, and peaks at 60Mbps for $118/month. They also offer different package offerings for Sihanoukville.
Digi likewise offers two broad options between only home Internet (Digi Internet), and Internet service plus cable television (Digi Plus). Their most affordable package is $15.99/month, offering 9Mbps, while their most expensive is $35.99/month with 15Mbps and TV.
As you weigh speeds and rates, also consider installation fees and device costs. It may also be a good idea to call customer service and put in an inquiry for specific concerns, or even get a feel of their customer service.
Co-Working Spaces and Internet Hotspots
Lastly, if all else fails and your Internet provider of choice goes through some downtime – or you simply prefer a more straightforward office environment for your work – there are also co-working spaces around the city.
Examples include. Workspace 1 in Chak Angrae and SmallWorld in Daun Penh, Phnom Penh, and BioLAB Café and Footprint Cafés along Wat Bo, Siem Reap. Rates start at $35/monthly already inclusive of a desk, high-speed WiFi, and free coffee.
Otherwise, the 85C Bakery Café along Monivong Boulevard offers free WiFi and an excellent area upstairs for work or study. The Coffee Club inside AEON Mall, though not as quiet, also has a top-quality connection. Of course, you'll have plenty of other choices with popular coffeeshops like Starbucks and the CBTL having multiple locations across the city.
The same can be said for Siem Reap, with the single Starbucks at Heritage Walk a go-to for many professionals, and Biolab or Footprints Cafe in Wat Bo a good spot for casual lounging as you surf online. 
Whatever your connectivity needs, the telco and ISP quality and offerings in Cambodia have got your back. You can look forward to smooth sailing with regards to staying in touch with friends and family back home, going on gaming marathons, setting up home WiFi, or even managing your business or working online all day.
IPS Cambodia Real Estate
Average rating:
0 reviews