Top International Schools in Phnom Penh
International Schools were originally set up to cater to students of expat families who needed access to a curriculum and a learning environment similar to the one they would receive in their home country. Parents want an education that is portable so that they can relocate back to their home or another country, and their children's education will not have suffered as a result of their move. It is also very important for many parents that their children's' high school education is recognized by a range of Universities around the world.In a developing nation like Cambodia, International Schools have become hugely popular with the Cambodian elite and burgeoning middle class, and have also become big business. The explosion of schools promoting themselves as an International School in Phnom Penh is a direct result of the success of the large, well-known institutions. It is also emblematic of the growing demand from Cambodian families wanting to provide their children with an education that opens up global opportunities. More and more Cambodians now have the ability to afford an international education, and more and more schools are set up to tap into this surge in demand. Read also: Phnom Penh Sports Scene, A Healthy and Thriving LifestyleMost of the parents that walk through our doors at IPS send their children to Singapore (Cambodia) International Academy, International School of Phnom Penh (ISPP), Northbridge, iCAN British International School, The Canadian International School (CIS), or Lycee Descartes (The French School). This does not mean that these are the only reputable schools in Phnom Penh, but is a decent starting point if you are looking for an internationally recognized school that teaches a curriculum that is transferable, and provides a learning environment and peers from a diverse set of nations; preparing your children to adapt to a multicultural world. Read also: IPS School Review: Northbridge International Cambodia; IPS School Review: iCAN British International School; IPS School Review: ISPP International School of Phnom Penh; and IPS School Review: Australian International School of Phnom Penh (AISPP)
Australian International School Phnom Penh
Grades:ELC 2 – Year 10School fees: $4,000 – $18,000 Location: 76 Angkor Boulevard, Sangkat Toul Sangke, Khan Russey Keo, Phnom Penh Australian International School Phnom Penh (AISPP) offers a modern education within traditional values with a well-rounded education in and out of the classroom. It is modeled on Australian private and independent education standards with a balanced focus on academics, pastoral care, co-curricular options, sporting activities, the arts and character development, in an international context. Website: https://www.aispp.edu.kh/en/
Singapore (Cambodia) International Academy
Grades: Nursery – Year 12
School fees: Please contact the school for information
Location: One Park, Phnom Penh City
Singapore (Cambodia) International Academy (SCIA) endeavors to be the center of excellence in education and lifelong learning. SCIA is a member of the Singapore Institute of Management (SIM) Group, the leading provider of a diverse range of education pathways and professional training in Singapore.
Website: https://www.scia.com.kh/
Northbridge International School Cambodia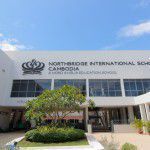 Grades: Nursery – Year 12
School fees: $14050 (k, 1)- $19,650 (11, 12)
Location: St. 2004, Sen Sok
Owned by Nord Anglia Education, Northbridge distinguishes itself from the other international schools being a part of a Global Campus of schools, with 43 other Nord Anglia Schools around the world. The grounds are expansive and green and the facilities are modern.
Website: www.nordangliaeducation.com/our-schools/cambodia
ICAN British International School
Grades: Nursery – Year 9School fees: $8,190 (K1 – K4) – $10,920 (Year 7-9)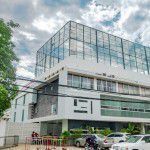 Location: Tonle Bassac
Centrally located opposite Aeon Mall, ICAN is primary school and middle school focused. ICAN teaches the International Primary Education Curriculum (IPC) and International Middle Year Curriculum (IMYC). ICAN offers a high-quality education with a central location and with slightly lower fees than their larger counterparts.Website: www.ican.edu.kh
Canadian International School (CIS)
Grades: Nursery – Year 12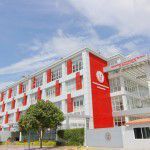 School fees are: $7,000 (Kindergarten) – $14,000 (Year 7-9) Location: Bassac Garden city & Diamond IslandThe Canadian International School teaches the Alberta curriculum, and in partnership with the New French International School, it will teach a bilingual French/English curriculum. The new facilities will cater for up to 1200 students.Website: www.cisp.edu.kh
International School of Phnom Penh (ISPP)
Grades: Pre-Kindergarten – Grade 12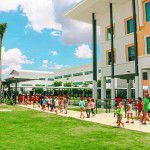 School fees: are $7,120 (pre-KG) – $22,210 in the high school yearsLocation: Hun Neang Boulevard, Chak AngreOpening in 1989, ISPP is Cambodia's first international school. With state of the art facilities and offering the IB curriculum, ISPP holds an enviable reputation amongst the International Schools for teachers and parents alike.Website: http://www.ispp.edu.kh/
Lycee Francais Rene Descartes (The French School)
Grades: Nursery – Year 12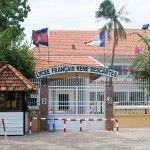 Location: Wat Phnom Whilst Lycee Descartes offers a Franco-centric education, it is certainly not limited to French expats or French speakers. With 70% (40% bi-lingual) of the students French-speaking and offering an education accredited by the French Ministry of education, it has long been favored by parents considering relocation to France.Website: www.descartes-cambodge.com