Latest reports from the National Bank of Cambodia (NBC) posts the residential property price index (RPPI) for Phnom Penh at 115.4 points, indicating a price increase of 15.4 percent compared to two (2) years ago.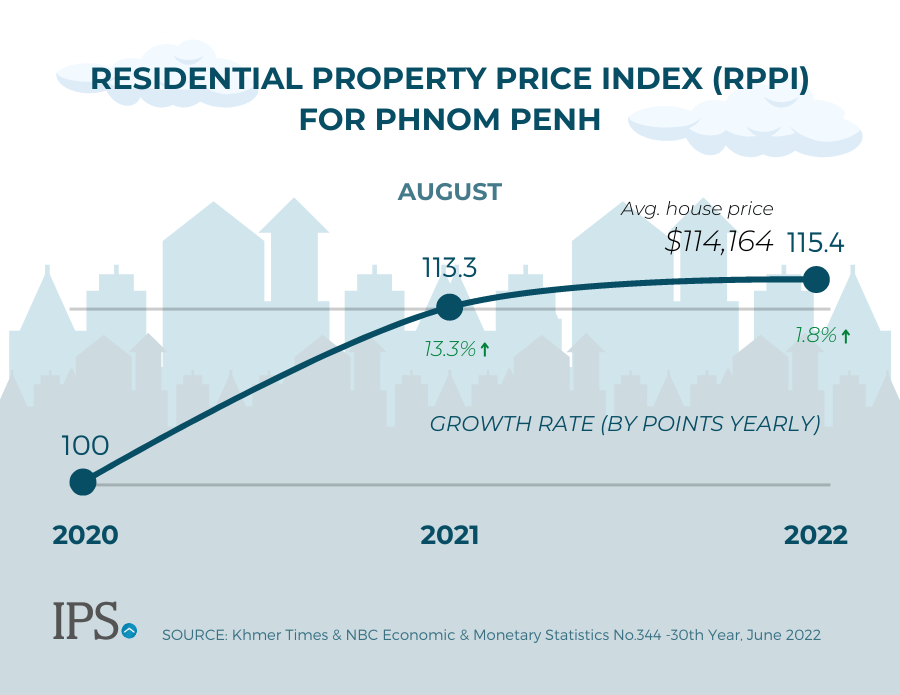 This equates to a current average house price of $114,164 (468.4 million riels).
Over the past year, Phnom Penh's RPPI has been steadily rising: from 109.8 points in May to 110.4 points in June, and then the current figure by August.
Meanwhile, the index for provinces from May to June decreased slightly from 100.4 to 100.3 points.
However, in comparing the annual changes on a year-by-year basis, there remained a negative change even for the capital: compared to the same period in 2021, the main index fell by 3.7%. The same trend was observed among the provinces, with the main index falling by 3.9%.
It was only in June this year that the NBC and the National Institute of Statistics (NIS) officially launched the RPPI.
According to NBC Director General Chea Serey, it is valuable in calculating the worth and price of real estate assets. It is particularly important within the banking sector, as it plays a role in providing loans to customers.
There is a risk when clients submit their house and land as collateral, but the bank is unable to evaluate them accurately at the time of providing a loan. With the house price index in place, the institutions and constituents alike are better able to provide and receive better service.
Especially for those in real estate and construction, this is "another stop and achievement in compiling economic and financial statistics to serve the analysis and evaluation of economic processes," said Chea.
IPS Cambodia Real Estate
Average rating:
0 reviews