Choosing the right residence for you in Phnom Penh can be difficult, especially if you want all the conveniences that the city offers, all the while being affordable. No need to look any further though since a new residential development will be constructed in the middle of the Central Business District, named Time Square 306. It will be within the expat heaven of the capital, BKK1, making it the perfect area for you to invest in a unit, whether for yourself or to lease it to get additional income.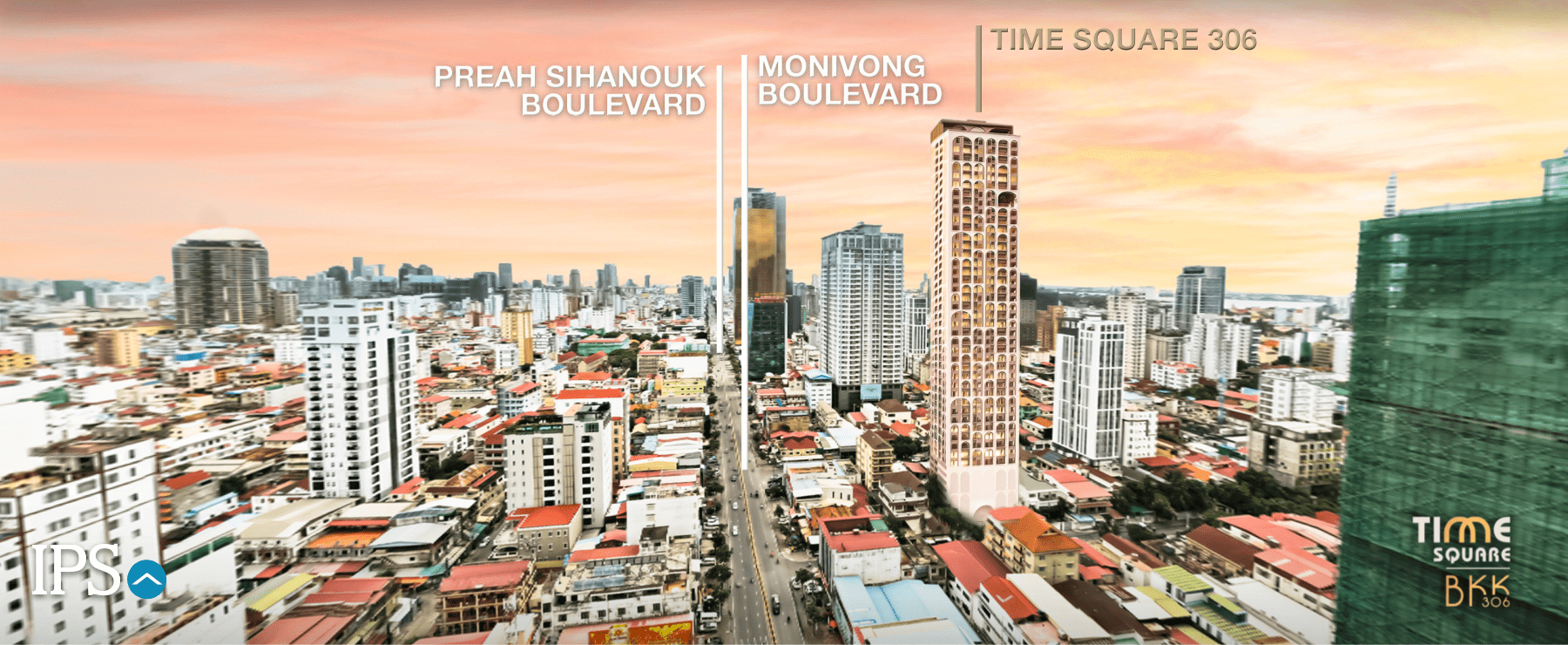 High-end exclusivity at an affordable price that offers numerous amenities, Time Square 306 is a dream residential project you need to know! It's spearheaded by renowned developer Megakim World Corp, who already developed three premier projects in the heart of the city prior to this!
Time Square 306 will be located close to the Monivong Blvd, on St. 306 in BKK1. To learn more about this project, continue reading the following details below.
Time Square 306: Types of units to invest in
Depending on how much space you need and what you want to invest in, you have numerous unit types to choose from in Time Square 306. One to two bedroom units are located on floors 8 to 37, while three bedroom units are on floors 38 to 43, as you can see below:
Type A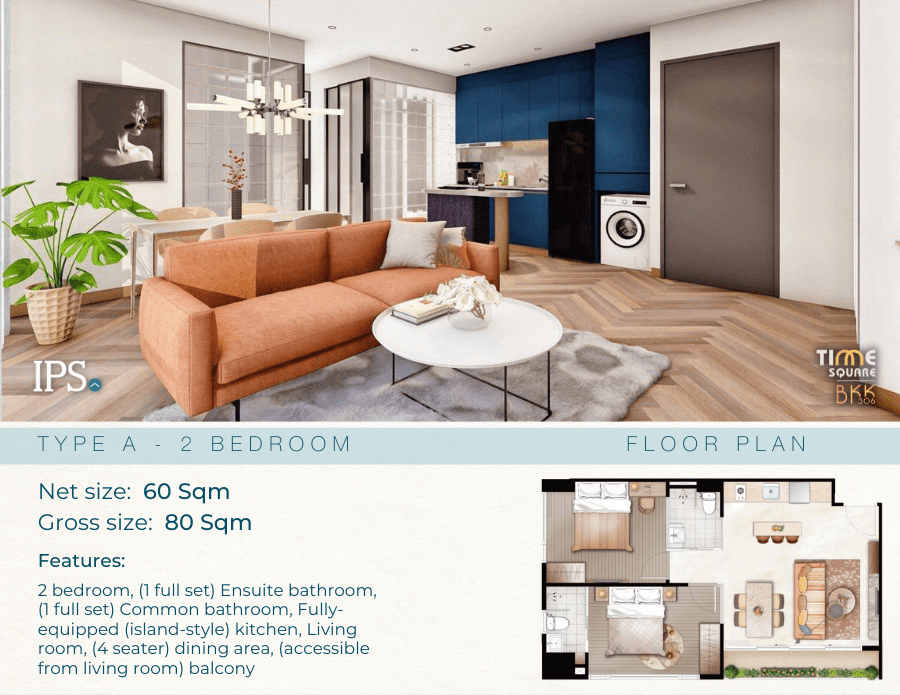 If you want a two bedroom unit with a gross of 80 square meters and net of 60 square meters, then Type A is the one for you. It's spacious for both bedrooms with individual bathrooms and an expansive living room you can decorate as much as you want!
Type B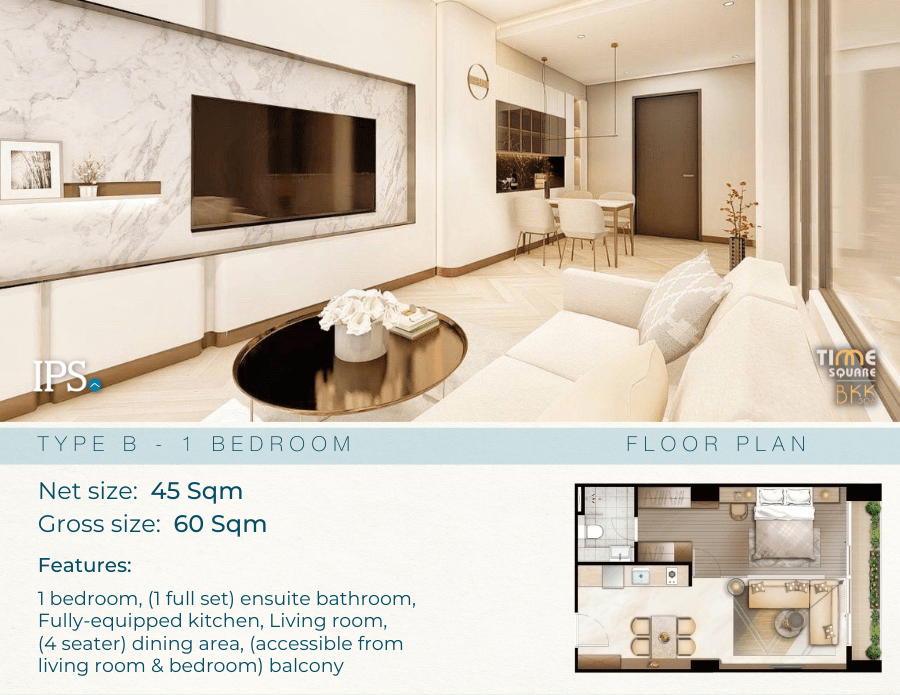 Looking for a spacious one bedroom unit with a large kitchen area, living room, and bathroom then Time Square 306's Type B is for you! It's 60 square meters gross and 45 square meters net, perfect for couples or those who want to live alone.
Type C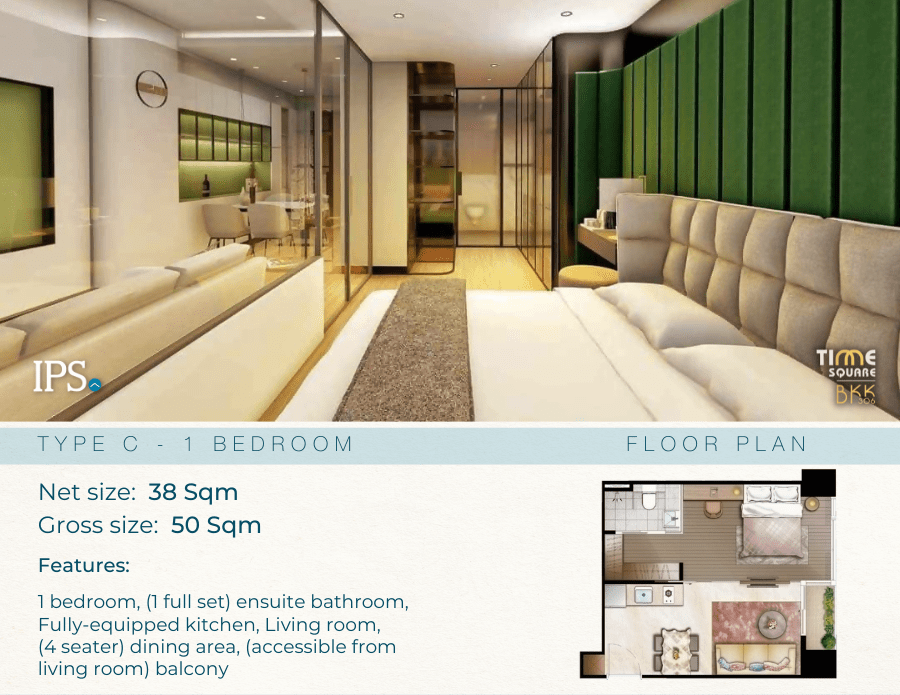 Luxury at its finest packed in 38 square meters net of space—it's a one bedroom unit you can conveniently relax in at the heart of the city so make sure to inquire about the Type C unit!
Type X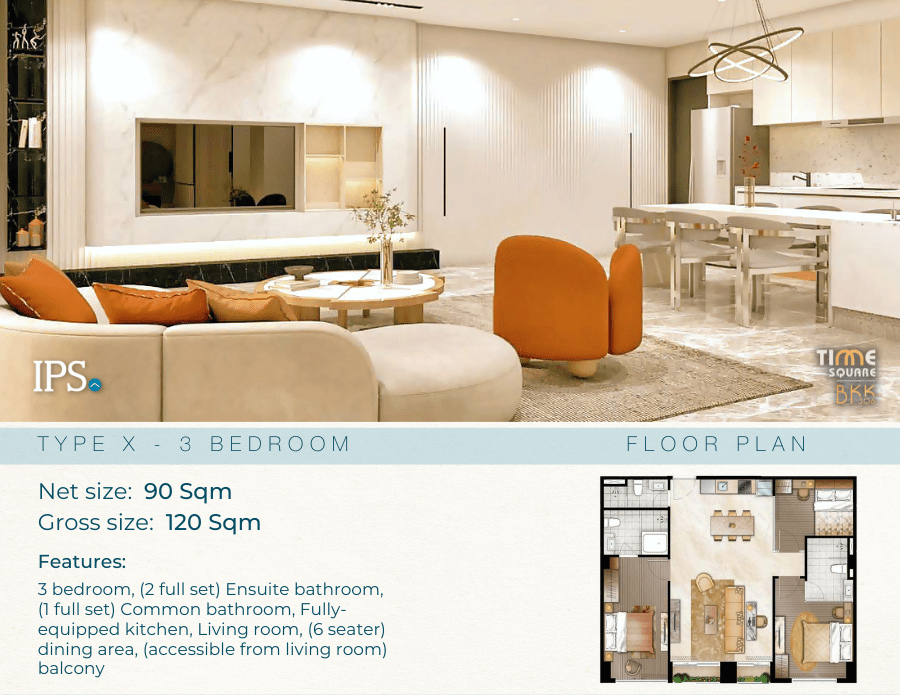 Looking to live in a space entirely for you with more than enough space to dedicate for your lifestyle or family? Then the three bedroom Type X unit at Time Square 306 is for you since it's 120 square meters gross, and 90 square meters net!
Type S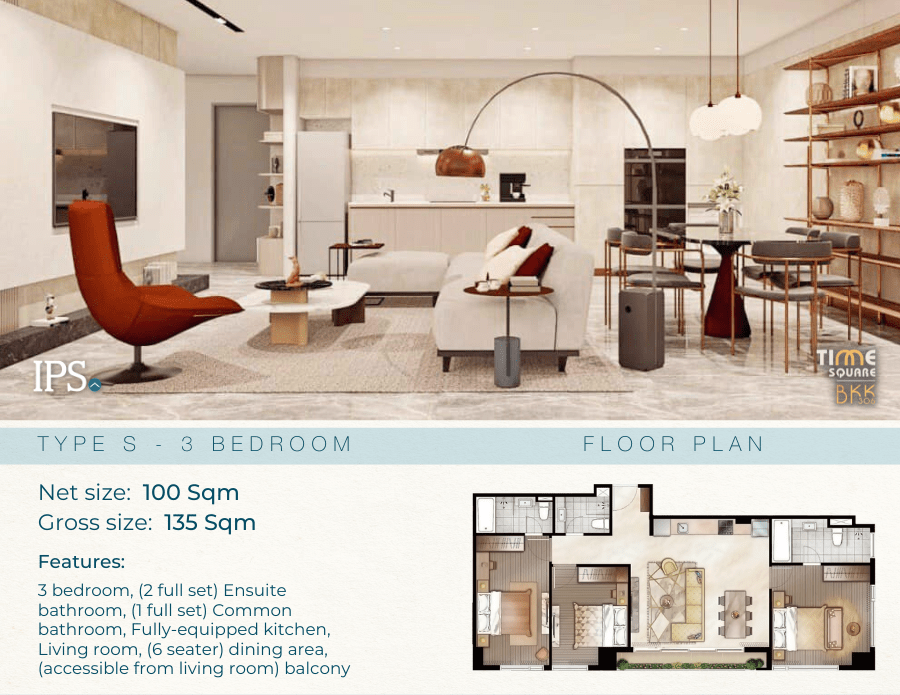 Showcase your elegant and lavish lifestyle in an upscale three bedroom unit with 100 square meters net of space now when you invest in the Type S unit. More than just three bedrooms, you also get three bathrooms, an expansive living room and kitchen area here!
Interior design: What you can expect in each unit
High-quality convenience perfect for your lavish lifestyle will be prioritized in Time Square 306, including what you can get for the unit/s you invest in as you can see below:
High-grade kitchen → All units come with high-grade range hood, kitchen cabinet, sink and even a branded induction cooker.
Lighting system → Expect quality lighting systems that include wall and down lights, placed in key areas of each unit.
High-quality flooring → Each unit will have quality ceramic tiles installed, the perfect flooring to represent your posh lifestyle.
Power system → Numerous quality sockets will be installed within each unit.
Compartment → All units will come with a compartment built using brick wall and glass.
Excellent ceiling → Expect each unit to have been built using aluminum alloy and steel keel.
Walls → Each unit's walls will have branded coating, showcasing the place's opulent charm.
Bathroom → Each bathroom will have excellent wash bins, sprinkler, and TOTO brand for the toilet.
Water heater → All units will have the high-end Ariston electricity water heater installed.
Facilities and amenities: Splendid magnificence
Countless extravagant facilities and amenities await in Time Square 306 that will prioritize your convenience and elevate your lifestyle. Here are what you can expect:
Five elevators
Motorcycle and car parking
Kid's playroom
Infinity sky pool
Lobby / Cafe
Creative play lounge
Ping pong room
Entertainment Garden Roof Deck
Fitness gym
Time Square 306: Luxurious convenience at your grasp
Nothing else is better than investing in stately but affordable units, right at the heart of BKK1 in Phnom Penh. Considering there are 350 units you can own with a strata title, you have a lot of options on which unit wil be the perfect investment for you.
Moreover, there are flexible payment plans offered where you can pay for a term between 3 years up to 10 years, plus huge discounts! Units here cost $2,100 up to $2,400 per square meter, making it the most affordable property investment within the area, considering that the average price here per square meter is close to $3,000 per square-meter.
VIP DISCOUNT

Construction for Time Square 306 will begin at the end of 2022 and will be completed within 3.5 years. However, it's best to invest early so if you want to inquire now on this 45-storey condominium building, then contact us now to reserve your unit now!
IPS Cambodia Real Estate
Average rating:
0 reviews