Phnom Penh nightlife refers to the entertainment options available after dark in Cambodia's capital city. It encompasses many activities, including bars, nightclubs, and live music venues. Understanding the nightlife scene in Phnom Penh is important for those who live in or plan to move to the city, as it can provide valuable insight into the local culture and social scene.
With its affordable prices, welcoming locals, and delicious food options, it's no wonder that more and more people are calling Phnom Penh home. If you're considering a move to Phnom Penh, IPS Cambodia can help you find the perfect property to suit your needs.
With a wide range of residential real estate និង commercial real estate rental and sales options, IPS Cambodia (អាភីអេសខេមបូឌា) can help you navigate the local real estate market and find the perfect home in this vibrant city.
Phnom Penh Nightlife Overview
Phnom Penh, the capital city of Cambodia, has a rich history and culture, and its nightlife scene is no exception. While the city's nightlife suffered during the Khmer Rouge regime, it has since remarkably recovered. Today, Phnom Penh is one of Southeast Asia's most vibrant and exciting cities after dark.
The Riverside area is the heart of Phnom Penh's nightlife scene, packed with various bars, nightclubs, and restaurants. The area is particularly popular with tourists, offering a mix of modern and traditional Cambodian entertainment options. Visitors can enjoy live music and traditional dance performances or relax and take in the stunning views of the Tonle Sap River.
For those seeking a more upscale experience, Tonle Bassac is the place to be. This district is home to a range of pubs, bars and restaurants which cater to the city's more affluent residents and expat community. Meanwhile, the nightlife scene in BKK1 is more sophisticated and laid-back than the bustling Riverside and Tonle Bassac, making it an excellent option for those who prefer a more relaxed night out.
Phnom Penh has something to offer, no matter what kind of nightlife experience you want. The city's nightlife scene is diverse and exciting, from budget-friendly street food stalls to upscale cocktail bars. With its traditional Cambodian culture and modern entertainment options, Phnom Penh is an excellent destination for anyone looking to experience the best Southeast Asian nightlife.
Nightlife Activities in Phnom Penh
Phnom Penh, the bustling capital of Cambodia, offers a wide range of nightlife activities for visitors to enjoy. From traditional cultural shows to modern bars and clubs, there is something for everyone in this vibrant city after dark.
Bars and Pubs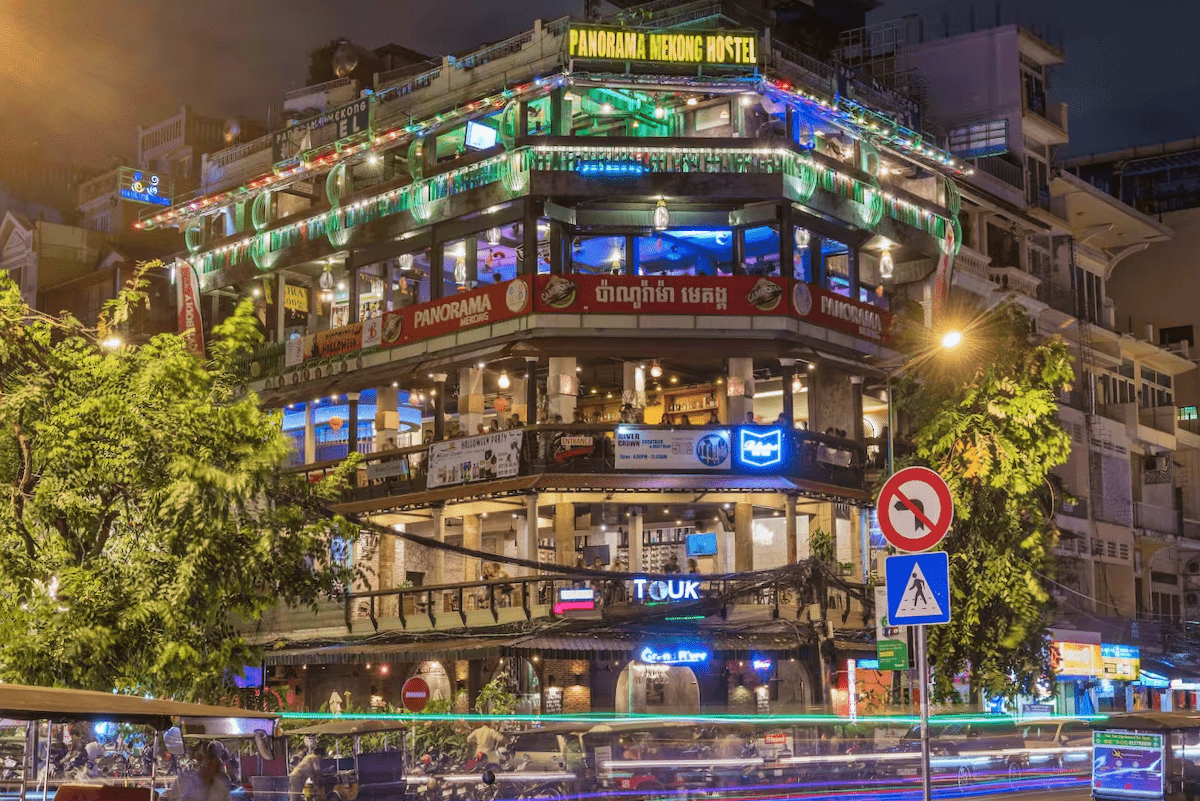 One of the most popular nightlife activities in Phnom Penh is visiting one of the many bars and pubs that can be found throughout the city. These range from local watering holes to trendy rooftop bars and everything in between. One popular bar in Phnom Penh known as "Panorama" is a corner building along Sisowath Quay with five floors comprising different bars and clubs.
Clubs and Lounges
For those looking for a more lively night out, Phnom Penh offers a range of clubs and lounges. These are typically open late into the night and offer a mix of local and international music. Some popular clubs in Phnom Penh include the Pontoon Nightclub, which has been a fixture of the city's nightlife scene since 2004, and the Duplex Club and the Heart of Darkness nightclub.
Karaoke
Karaoke is a popular activity in Phnom Penh, with many bars and clubs offering private karaoke rooms for groups of friends to enjoy. These rooms typically include a large TV screen, a microphone, and a selection of songs. Some popular karaoke bars in Phnom Penh include the Coloso KTV and Club 888.
Night Markets
Phnom Penh's night markets are a popular destination for locals and tourists. These markets typically open in the late afternoon, stay open until late at night, and offer a wide range of street food, souvenirs, and other goods for sale. Some popular night markets in Phnom Penh include the Phnom Penh Night Market, the Russian Market, and the Central Market.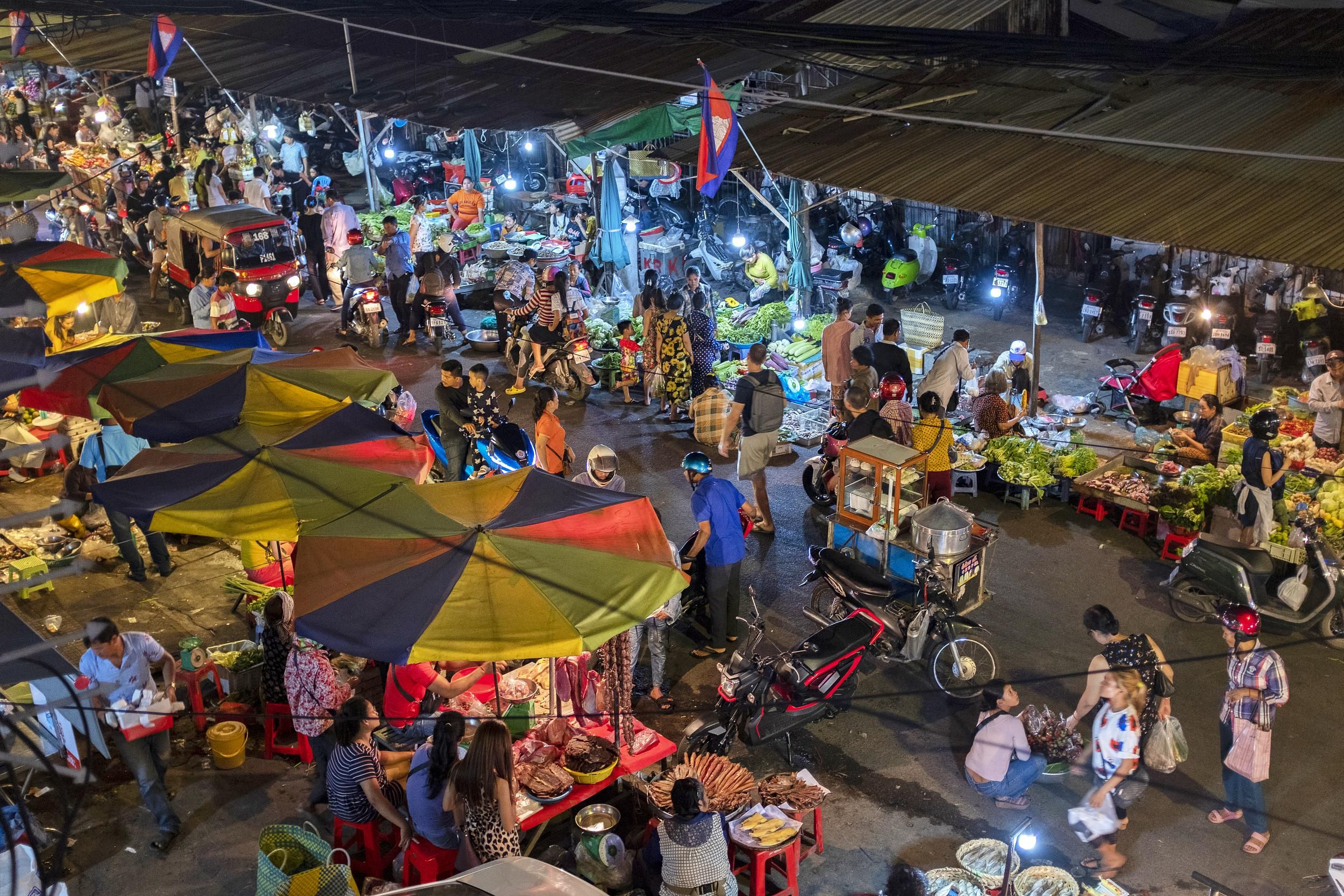 Cultural Shows
For those interested in experiencing traditional Cambodian culture, Phnom Penh offers a range of cultural shows that showcase the country's unique heritage. These shows typically include traditional dance performances, music, and costumes and are a great way to experience Cambodian culture firsthand. Some popular cultural shows in Phnom Penh include the Apsara Dance Show, which takes place at the National Museum, and the Cambodian Living Arts performances at the National Institute of Music.
Safety Concerns in Phnom Penh Nightlife
While Phnom Penh's nightlife is generally considered safe, visitors should be aware of potential risks and take steps to protect themselves. As with any major city, exercising caution and being aware of your surroundings are important.
Some tips for staying safe in Phnom Penh's nightlife scene include staying with friends, avoiding unlit or isolated areas, and being cautious when accepting drinks from strangers. It is also important to keep an eye on your belongings and avoid carrying large amounts of cash.
Common scams and crimes to avoid in Phnom Penh include pickpocketing, theft, and scams involving tuk-tuk drivers. Visitors should also be cautious when using ATMs and avoid using ones that appear to have been tampered with.
One common scam involves tuk-tuk drivers offering to take visitors to a particular destination but then taking them to a different location where they are pressured into buying something or paying an inflated price. To avoid this, it is recommended to agree on a price beforehand and ensure that the driver knows the destination.
Local Perspectives
We interviewed several city residents to gain local perspectives on Phnom Penh's nightlife scene.
One of our interviewees, a local resident, a middle-aged man, recommended the Bassac Lane as one of her favorite nightlife spots in the city. Bassac Lane is a vibrant spot in Tonle Bassac, a residential lane that has become a hotspot for local professionals and expats in the area to hang out at night. The lane is also home to several restaurants and bars that serve great food and drinks at reasonable prices. Our interviewee also recommended the Hops Brewery and Craft Beer Garden for its selection of locally brewed beers and relaxed vibe.
When asked about tips for experiencing Phnom Penh's nightlife, our interviewees had several recommendations. One tip was always to be aware of your surroundings and avoid venturing into unfamiliar or isolated areas. They also suggested staying with a group of friends and being cautious when accepting drinks from strangers.
Our interviewees also recommended trying local cuisines at night markets and street vendors, such as the popular "num pang" sandwich and "kuy teav" noodle soup. They also suggested checking out some of the cultural shows and performances in the city, such as the traditional Apsara dance show.
Conclusion
Phnom Penh's nightlife scene offers diverse options, from lively bars and nightclubs to more laid-back venues such as rooftop bars and jazz clubs. With its affordable prices, friendly locals, and vibrant atmosphere, it's no wonder that Phnom Penh is becoming an increasingly popular destination for travelers looking to experience Southeast Asia's nightlife.
Frequently Asked Questions
Is Phnom Penh's nightlife safe for tourists? – Yes, as long as basic safety precautions are taken.
What time do bars and clubs close in Phnom Penh? – Most bars and clubs close around 2:00 AM, but some may stay open later.
Are drugs readily available in Phnom Penh's nightlife scene? – No. The use of drugs is banned in Cambodia. If you are in Cambodia, you must refrain from using any drugs. It is illegal and if you are found using any of these, it can eventually be a problem for you. 
Can you wear casual clothes to nightclubs in Phnom Penh? – Most nightclubs in Phnom Penh do not have a strict dress code.
What types of music can be heard in Phnom Penh's nightlife scene? – The music played in Phnom Penh's nightlife scene varies but typically includes a mix of popular Western and Asian music. Some venues also have live music or DJs playing electronic dance music.
If you're interested in moving to Cambodia's capital, our professional agents can help you look for property to rent, buy, or sell in Phnom Penh. ទាក់ទងមកកាន់យើង to get started!