In the past, breakfast had not been a traditionally heavy meal for the Khmer people—many rural residents would begin days of farm work on an empty stomach, only settling down for brunch at the start of the mid-day heat.
However, for urban residents, it's a different story: frantic mornings in a bustling city mean just enough time to grab a quick meal from food stalls lining the busy streets. With choices from noodle soups to stir-fried meals, these popular breakfasts are a far cry from the countryside's second-thought perspective towards the first meal of the day.
Bai sa chrouk (char-grilled pork rice)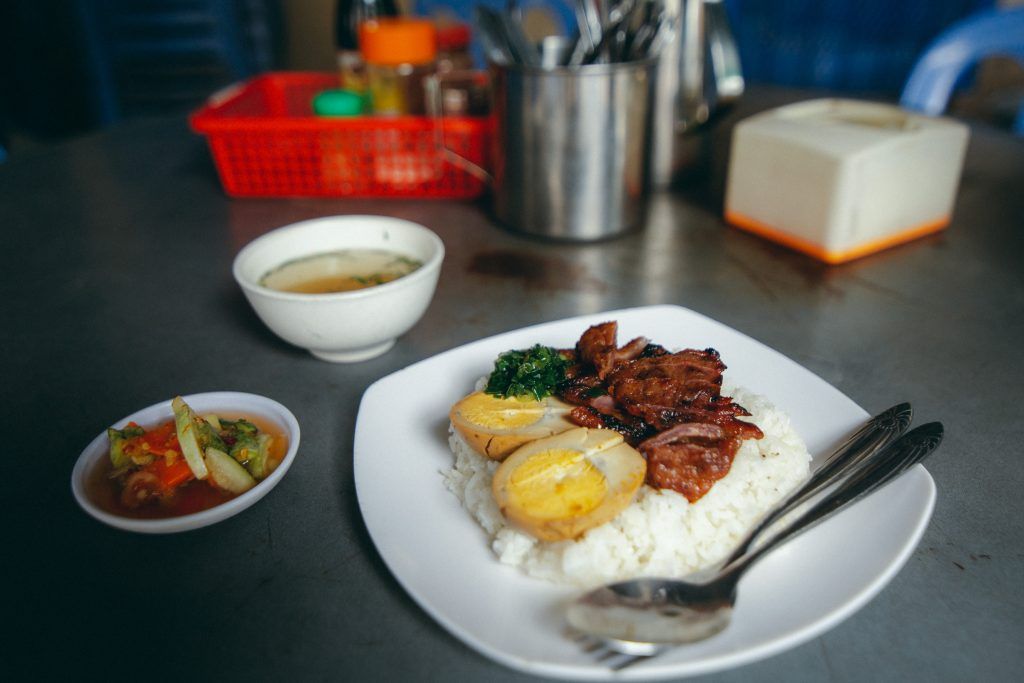 Perhaps the most savory and one of the most satiating on this list, bai sa chrouk literally translates to "pork rice" and is a complete and balanced meal made up of soft, steamed rice, char-grilled marinated pork, and a side of pickled vegetables.
Infused with that much flavor, the grilled pork cutlets are enough to make anyone dig in and ask for extra cups of rice early in the day. The pickled vegetables keep one's taste buds stimulated with contrasting flavors. The meal is also often served with a clear soup made by simmering a mix of carrots, radish, and onions in chicken broth flavored with fish sauce, and garnishing with green onion and cilantro.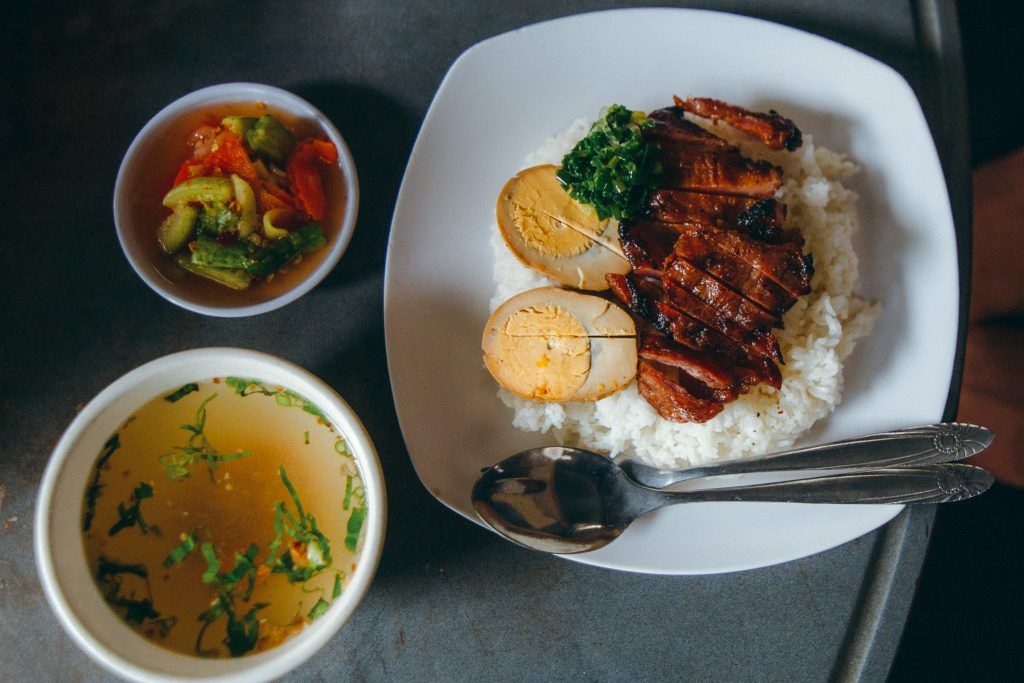 Bai sa chrouk is a must-try to kick-start a busy day in Cambodia. To get the authentic taste first, it's very easy to find along street corners close to schools and office buildings. Not only will it give you a look into the Khmer palate; it's also a very affordable dish (you can get a plate for as low as $1.00!) that'll keep you focused and energized for hours on end. For extra protein, just ask for it to be topped with an egg!
Aside from local eateries, mainstream restaurants and cafés also include this staple in their menu. Check out your nearest Noir Café, or visit Harvest Restaurant in Siem Reap for a high-class take on this sumptuous dish!
Kuy teav (clear, hearty noodle soup)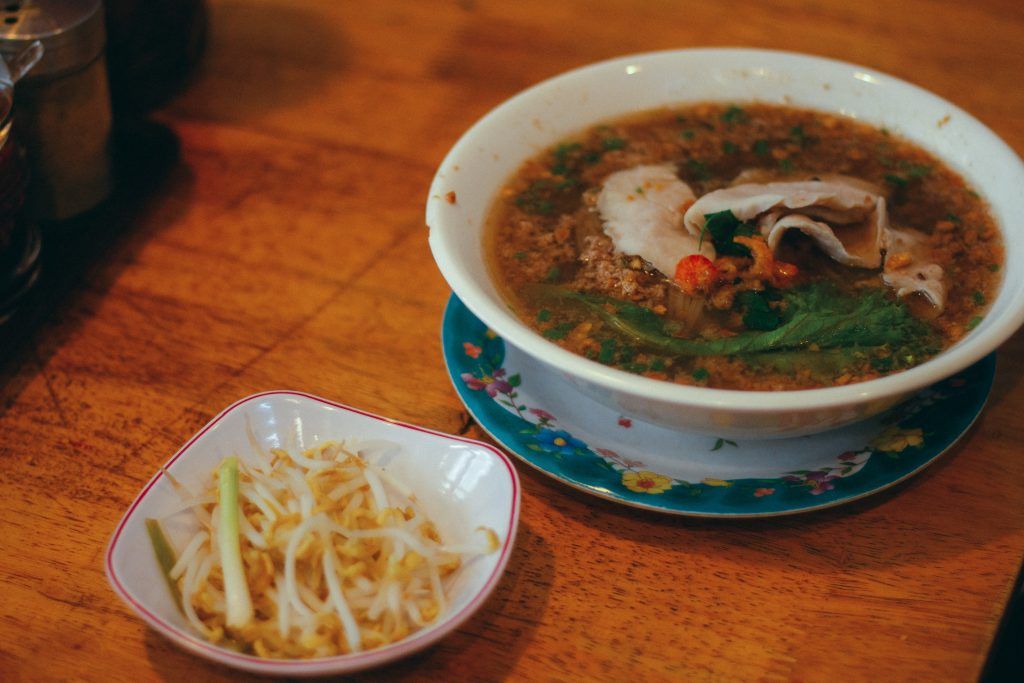 If noodles are more your thing, Cambodia's breakfast cuisine won't disappoint: kuy teav is a nutritious noodle soup distinguished by a clear base enhanced by a zesty combination of greens and herbs. While it is often offered with shredded beef, you can opt for chicken, pork, duck, or even seafood—they can even be combined, with one's appetite the only limit for this hearty dish!
This is prepared with liters of chicken stock as a soup base, lightly seasoned with salt and Kampot pepper. While the stock is simmering, it's time to tackle the noodles, vegetables, and your choice of meat.
Kuy teav uses rice vermicelli noodles, alongside bean sprouts, sliced carrots, Asian greens or bokchoy, spring onions, and finely sliced pork.
The chilis, limes, fragrant herbs (e.g. mint, basil, coriander), and additional bean sprouts are to be served on separate dishes on the table, for diners to garnish their bowls as they wish.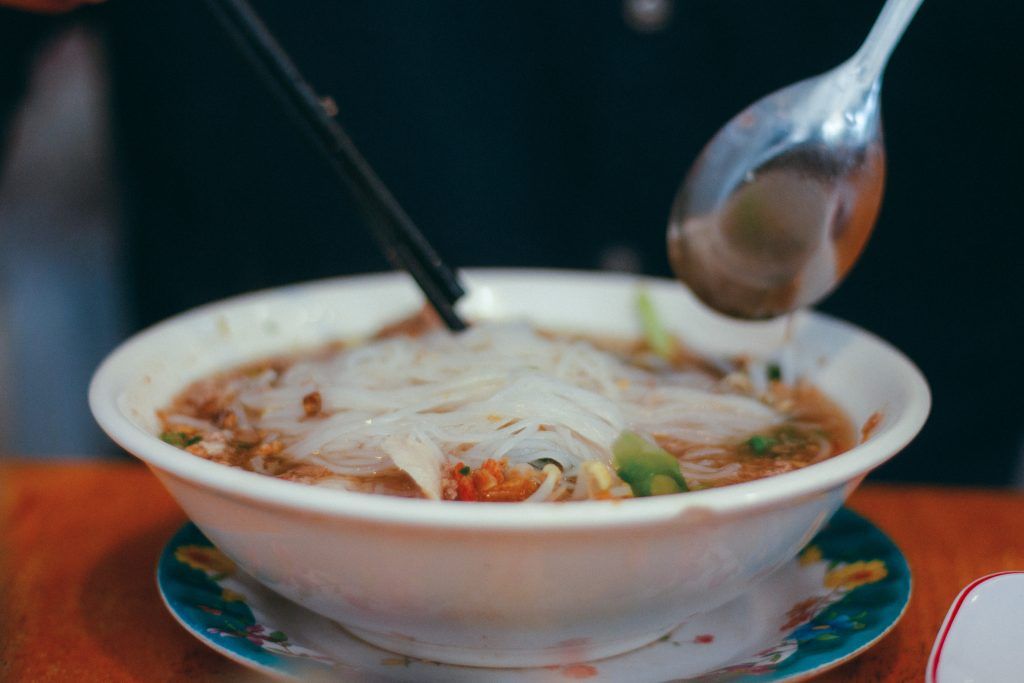 Most would imagine that it would only make a good breakfast on chilly mornings (quite rare for the tropical Cambodian climate). Don't be mistaken, however: this flavorful noodle soup is also well-loved cooled down and consumed in warm weather, even in the mid-afternoon. Not even stifling heat would detract locals from the trove of flavors in kuy teav, which is comparable to Vietnamese phở found in the Kingdom's eastern neighbor.
Like bai sa chrouk, kuy teav is fairly easy to find in streetside restaurants and smaller vendors, and falls within the same price range. It is also on the menus of upscale places like Uy Kuyteav (found in both Aeon Mall 1 and 2, Phnom Penh) and Amok Restaurant in Siem Reap's Pub Street, but it is highly recommended that you grab a bowl from hole-in-the-wall spots as well.
Bobor (classic, comforting rice porridge)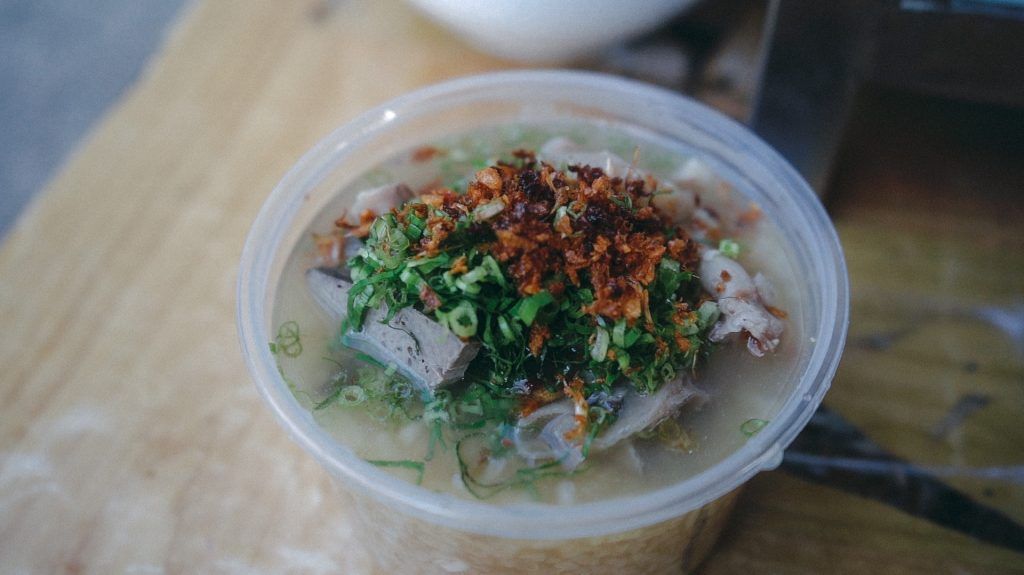 Bobor is a Cambodian rice porridge which has been a staple breakfast meal, and even a midnight snack. Traditionally, a warm bowl of bobor is considered a perfect comfort food for those who are feeling under the weather due to the fact that it doesn't require much chewing.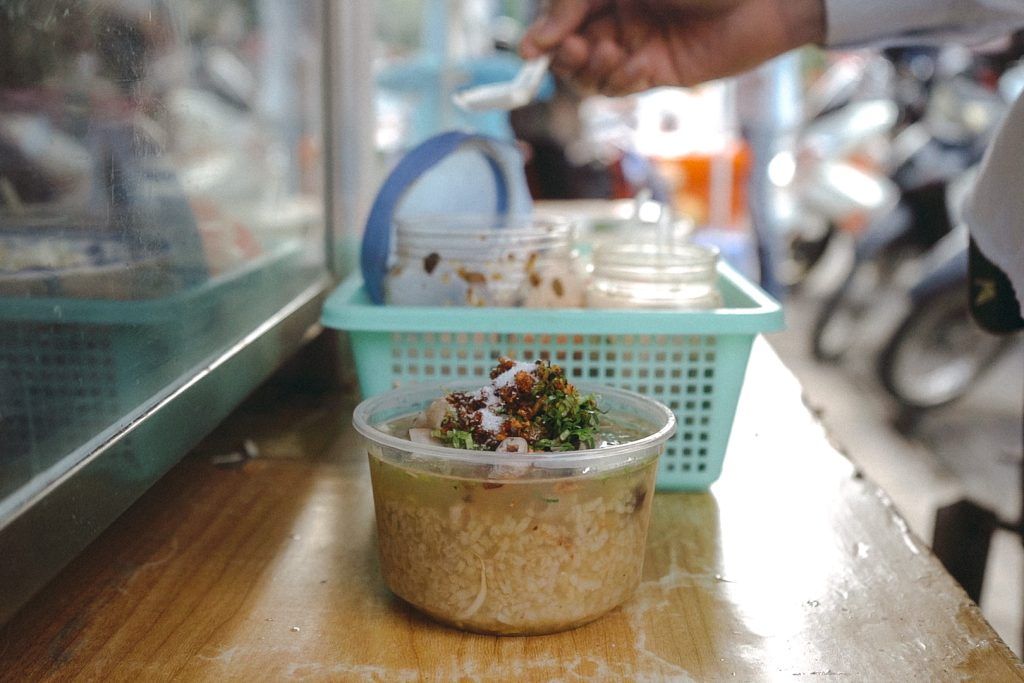 Made from rice stew, which comes warm and mushy, this dish acts as a base for any type of meat and seasonings, but Cambodians like to top it with chicken, scallions, fried garlic, fish sauce, pepper, lime, and chilis.

Without any toppings or seasonings, bobor can also be an ideal dish for those who are on a diet or fasting. Since this dish is typically consumed during breakfasts, you'd find it in the streets every morning or late at night. Meanwhile, you can have it anytime of the day when you visit any local restaurant in the cities of Cambodia.
Mi cha (everyone's favorite stir-fried noodles)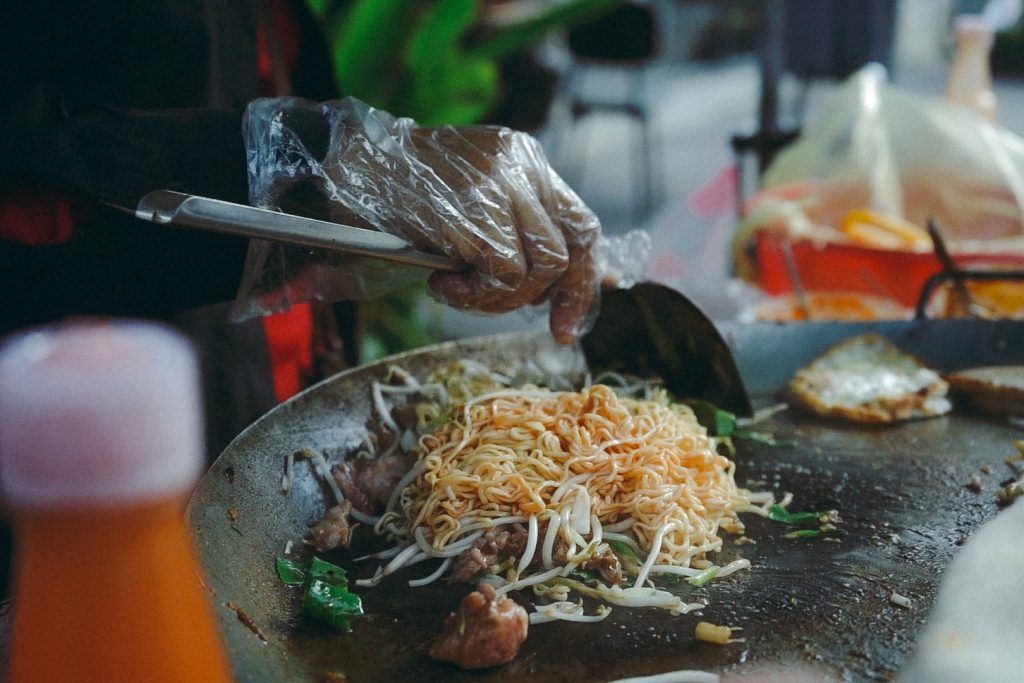 Instead of preparing instant noodles by yourself at home, which takes three to five minutes, you can easily buy it in the streets of Cambodia and also wait for atleast five minutes but having it done by someone else for you.
Traditional recipes of mi cha are packs of regular instant noodles with sachets of seasoning and dried garnish, however, vendors would incorporate their own sauce, beef, fried egg, stir-fried vegetables, and other ingredients which add flavor and texture to this dish.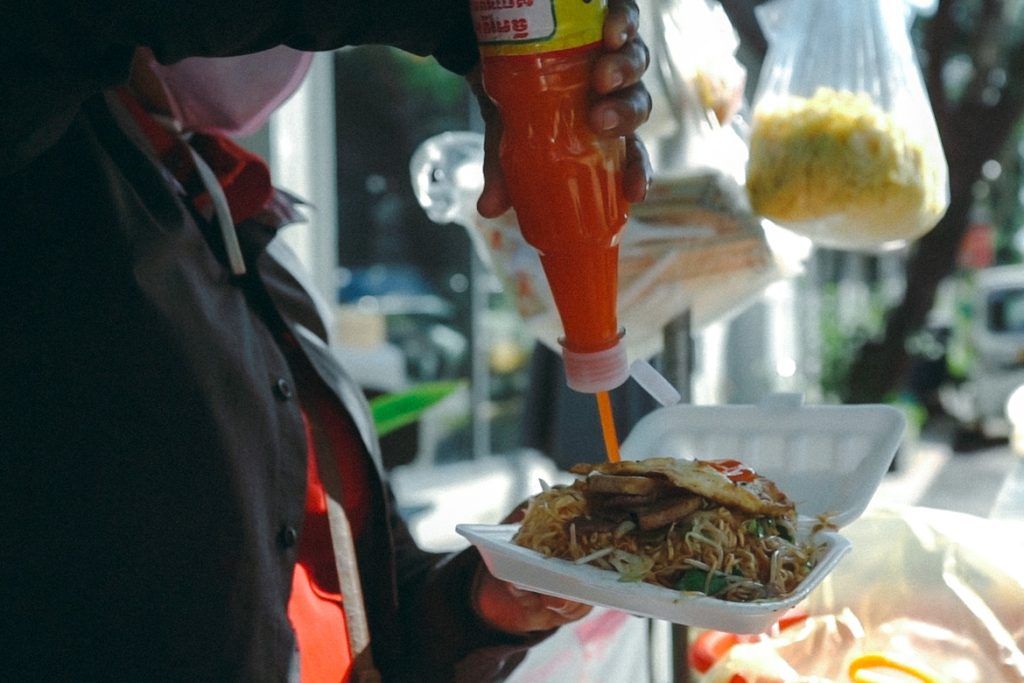 A quick meal perfect for fast-paced mornings, this makes it a favorite particularly among students on a tight budget, or city go-getters with a long day ahead and little time to spare. You may find this for as low as 2,000 KHR or $0.50 USD from street vendors, like those along the Siem Reap riverside, while a local eatery at the end of Street 178 in Phnom Penh is a favorite of many.
While egg noodle mi cha is the most popular fried noodle variety in Cambodia, you'll also spot lort chas និង mi kork in the same or nearby food stalls. Lort chas uses rice pin noodles, with meat usually marinated and tenderized in corn starch. As for mi kork, it is simply an enhanced local version of the Indonesian mi goreng, using thin yellow noodles, brimming with vegetables, and often topped with your choice of prahat.
Mi soup (satisfying wonton noodle soup)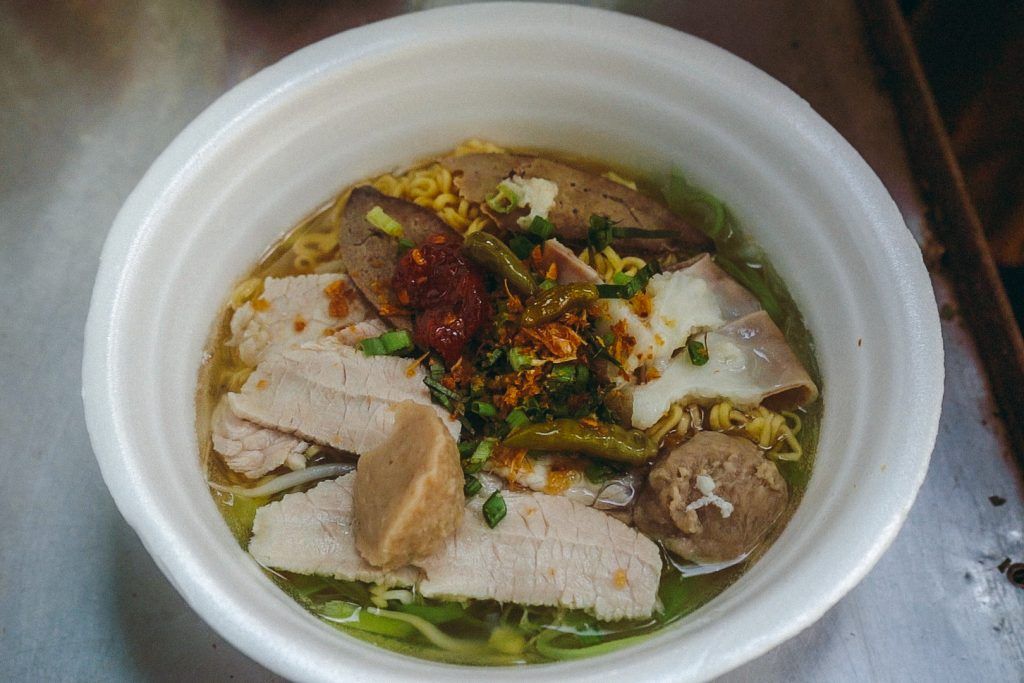 Similar to Mi cha, Mi soup's main ingredient is wonton egg noodles but this time in bowl of pork broth. In streets, vendors would have ready pre-cooked noodles and meats, a big container of hot, boiling broth, and segregated condiments, toppings, and seasonings.
The main serving is composed of wonton noodles, pork broth, thin slices of pork and pork liver, meatballs, scallions, and spring onions. Customers have an option to add other toppings or condiments like chilis, fried garlic, fish sauce, etc.
Bai cha kneiy (flavor-packed ginger rice)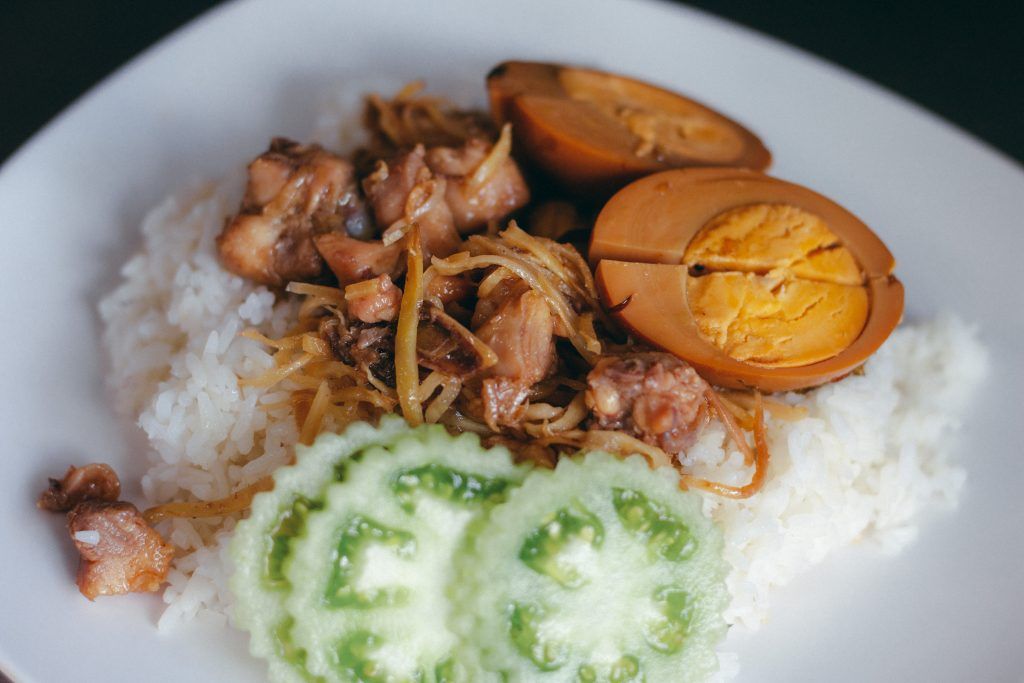 Literally "ginger fried rice," bai chai kneiy is another common Khmer breakfast option. A recipe of Chinese origin, it features plenty of fresh ginger, garlic, and onion that will liven up your taste buds!
Khmer cooks would first stir-fry the ginger and garlic in pre-heated oil, then add the chicken slices until the meat is no longer pink. Other condiments that make a great sauce for this dish is the oyster sauce, soy sauce, and sugar, garnished with spring onions and serve over rice.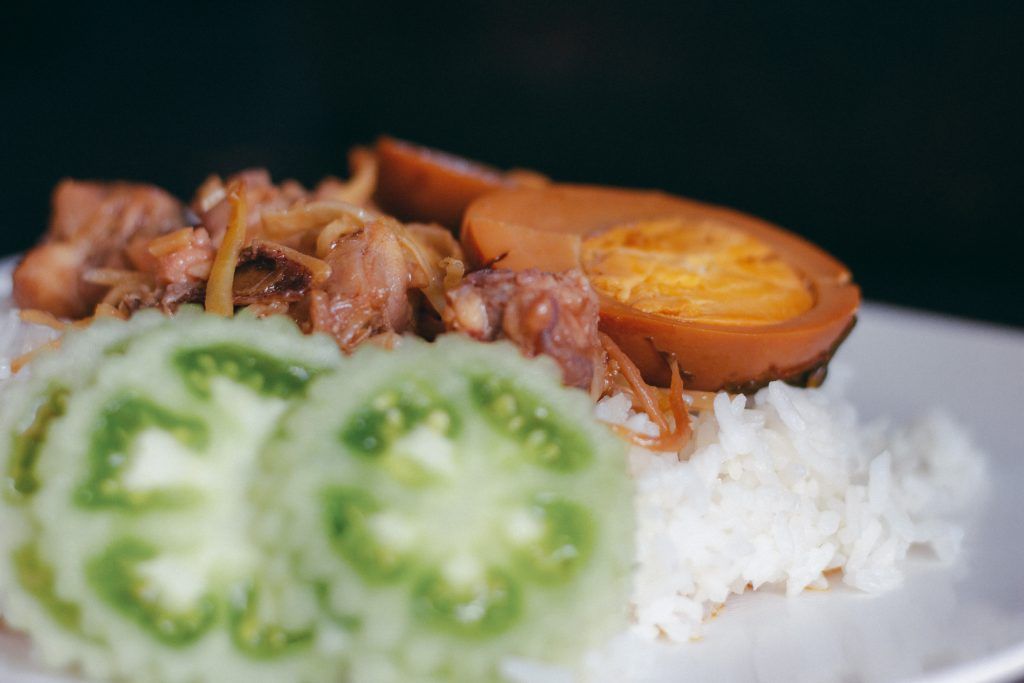 You may have this delightful dish somewhere close to the market, where streets are often littered with push vendors selling this meal for around $1.60 or so. It's also available at local cafés like Park Café, the price ranging from $3.00 to $5.00.
Packed with explosive flavor, this stir-fried, fragrant dish is high in nutritional value, protein, and energy, making it the perfect meal to start your day with. Like mi cha, it takes little time to cook compared to bai sa chrouk និង kuy teav but is just as satisfying as a breakfast dish.
Breakfast cuisine and caffeine
Everyone has their own food and flavor preferences, and not all of the above may be your cup of tea. Still, it won't hurt to dive into the local breakfast scene while visiting or living in Cambodia.
Another, perhaps universal distinction of Khmer breakfasts is their pairing with iced coffee. Instilled into modern culture by the Kingdom's history with the French, the Khmer people love a good cup of coffee. A dark roast, high in caffeine with a bitter aftertaste, is blended with sweetened condensed milk and served over ice for a drink that would impress even the most seasoned coffee connoisseur.
It's no wonder that locals and veteran expats prefer coffee from small stalls (e.g. Smile Coffee in Siem Reap) over commercialized cafés. Cambodian coffee is a jewel in itself, sufficing as a morning pick-me-up even if the meals on this list don't fit your breakfast appetite.