In Cambodia, finding the right location for a business is very important. If a business is in a good location, it will be easier for people to see it and buy things from it.
One of the best places for a business in Cambodia is along the big roads, where many cars and people go by. This is because there are many potential customers who might be interested in the products or services that the business is offering.
The purpose of this article is to help business owners in Cambodia identify the kinds of commercial real estate that are best for these big road locations. By understanding the different opportunities that are available, business owners can make good decisions on what kind of business to set up on commercial spaces available for rent. 
Exploring Cambodia's Major Roadways
Important roads in Cambodia, such as National Road 1, National Road 2, and National Road 6, are busy routes connecting cities and towns. Minister of National Defense Tea Banh has called the construction of roads like these "critically important to improving infrastructure, reducing congestion, attracting investors, and attracting tourists."
During the day, traffic on these major roads can vary, but they are often crowded, especially when people travel to work or school in the mornings and evenings. Locals, tourists, and business travelers all use these roads, providing a diverse range of potential customers for businesses along these routes.
Ideal Businesses to Set Up on Major Roadways
Setting up a business on Cambodia's main roads offers benefits like high visibility and easy access for customers. Catering to the mixed demographics increases the customer base, and the constant traffic flow creates a steady stream of potential customers, boosting the chances of attracting new clients and raising sales.
In this part, we explore some of the ideal businesses to set up on commercial spaces along major roadways in Cambodia, ranging from showrooms and drive-thru coffee shops to lodging and banking services.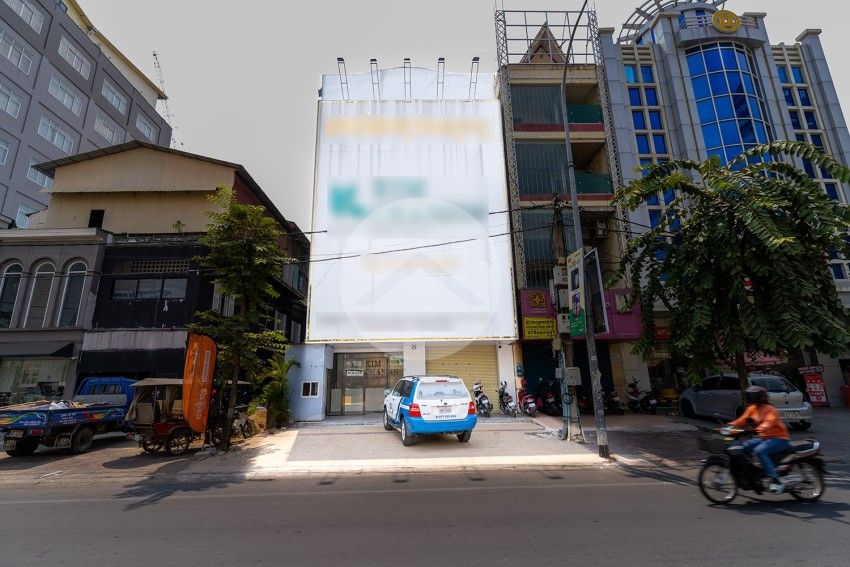 Showroom
A showroom is an excellent business option for those looking to showcase their products to a wider audience. With the growth of the country's middle class, consumers are increasingly interested in exploring new products and brands.
A strategically placed showroom on a major roadway can easily catch the attention of potential customers who may not have otherwise discovered your business, ultimately increasing sales and brand awareness. Now, they can just pull over right away!
Drive-thru Coffee Shop/Fast Food
As the popularity of Western-style fast food and coffee shops continues to rise in Cambodia, setting up a drive-thru location along a major roadway can be a lucrative venture.
Busy travelers and locals alike appreciate the convenience and familiarity these establishments offer, making them an appealing option for on-the-go consumers.
Gas Station
Gas stations are essential for motorists and can be a profitable business to set up on major Cambodian roadways.
In addition to providing fuel, gas stations can offer amenities such as restrooms, snacks, and even local products, attracting more customers and increasing overall revenue. Partnering with well-known franchises can also enhance the appeal of your gas station, drawing in loyal customers.
Auto Repair
In Cambodia, setting up a mechanic shop along a major roadway is a smart business move. The high traffic volume guarantees a steady stream of customers, providing ample opportunities to showcase your services and build a loyal customer base.
Offering additional services, such as car washing and tire changes, can increase revenue and attract more customers to your shop. With Cambodia's growing economy and the increasing number of vehicles on the road, establishing a mechanic shop along a primary road can be a profitable endeavor for those who have a love for repairing cars.
Lodging
Tourism has become a major industry in Cambodia, so if you're thinking about starting up a business related to hospitality, setting up shop along one of the main roads is an excellent idea.
In addition to the obvious benefits of being near customers who are passing through and need accommodations, you can also partner with local attractions and businesses for additional revenue streams. For example:
Partnering with restaurants or food trucks that cater to travelers passing through town
Offering conference rooms for meetings between clients or employees of other companies that have offices nearby
Mall or Supermarket
Establishing a mall or supermarket along major roadways in Cambodia can help attract customers from a wider area. This creates a convenient one-stop shopping experience for travelers who would otherwise need to visit multiple shops at various locations.
Malls are an excellent choice because they provide a variety of options under one roof, ensuring that customers from different areas will find what they're looking for without having to visit multiple stores. By offering diverse products and services, you can cater to a broader audience and increase the chances of success for your Cambodian shopping destination.
Bank
A bank is a great business to set up on a major Cambodian roadway. Banks are convenient, accessible, and have a captive audience of road users who will be interested in their services. Banks can also offer drive-thru options for quick transactions that don't require customers to leave their cars or trucks.
Maximizing Exposure for Your Business
Boosting your business' exposure on Cambodia's main roads is key to gaining customers. By implementing eye-catching signage and branding, you can create a memorable first impression that draws in potential clients.
Establishing local partnerships and engaging in cross-promotions with other businesses in the area can also help create a strong community presence and expand your customer base.
Furthermore, embracing digital marketing strategies such as social media and targeted advertising will ensure your business remains visible and accessible to a wider audience.
Finally, catering to the needs of travelers by offering roadside assistance or exclusive discounts can set you apart from competitors, foster customer loyalty, and increase the likelihood of repeat business.
Assessing the Success of Your Major Roadway Business
If you want to see your major roadway business in Cambodia succeed, it's important to stay on top of its performance.
This means taking a look at foot traffic and sales data to understand what customers are looking for and where you can improve. It also means paying attention to what people are saying about your business online and responding to feedback to create a stronger foundation for your business.
To keep your business thriving in Cambodia's unique market, it's important to be flexible and adapt to changes in the industry. This means analyzing your marketing efforts, partnerships, and promotions to see what's working and what's not. By keeping an open mind and being willing to make changes, you can put your business in a strong position to succeed in the long term.
Conclusion
The key to success for businesses along major roadways in Cambodia is to cater to customer needs, understand the market landscape, and offer unique value propositions.
This can be achieved through the continuous analysis of foot traffic, sales data, and customer feedback and the adaptation of marketing efforts, partnerships, and promotions accordingly. With a dynamic and adaptable approach, businesses can achieve sustained success in the competitive Cambodian market.
Therefore, we encourage entrepreneurs and investors to pursue opportunities along major roadways in Cambodia. With strategic planning and execution, businesses can unlock the vast potential for success that exists along major roadways in Cambodia and achieve long-term growth and profitability.
ក្រុមហ៊ុនអចលនទ្រព្យ IPS Cambodia
Average rating:
0 reviews