Real estate remains to be the most attractive investment among any other forms of investment. By purchasing a house, land, or condominium units, it guarantees a profit as the value of these properties is expected to increase in the long run.
If you are about to buy a property, the first question in your mind must be "which type to purchase?" There are actually two types of unit that you can choose from, the pre-selling units and ready-for-occupancy or rfo units.
In this article, you will know about the nitty gritty of buying properties while they are still in its pre-selling stage.
What is Off-plan Stage?
In real estate, the off-plan or pre-selling stage is when a property is offered in the market before they are even built completely. During this stage, developers sell during the construction period, or as early as owning the land where the property will rise. This means that the actual property does not exist physically yet, because it is either in the process of planning or is still under construction. 
Essentially, you are buying not the physical property but the project or the plans for the unit in that complex that is going to be built in three to five years. Interested buyers are then presented with brochures, a blueprint of the layout plans, a virtual tour, or a showroom of model units, which is why pre-selling is also called as "off-the-plan" properties. These properties are usually in the form of townhouses, condominium units, and houses and lots.
Off-plan Property VS Completed Property
In deciding on which property to buy, there's little or no room for mistakes because once you bought the property, there's no turning back. As a buyer or investor, it is important to understand your options based on your desired purpose.
While off-plan properties are those currently under construction and not readily available, completed properties are those that are already built and ready to be occupied right away. To know which property fits you the best, other differences between off-plan and completed properties are listed below.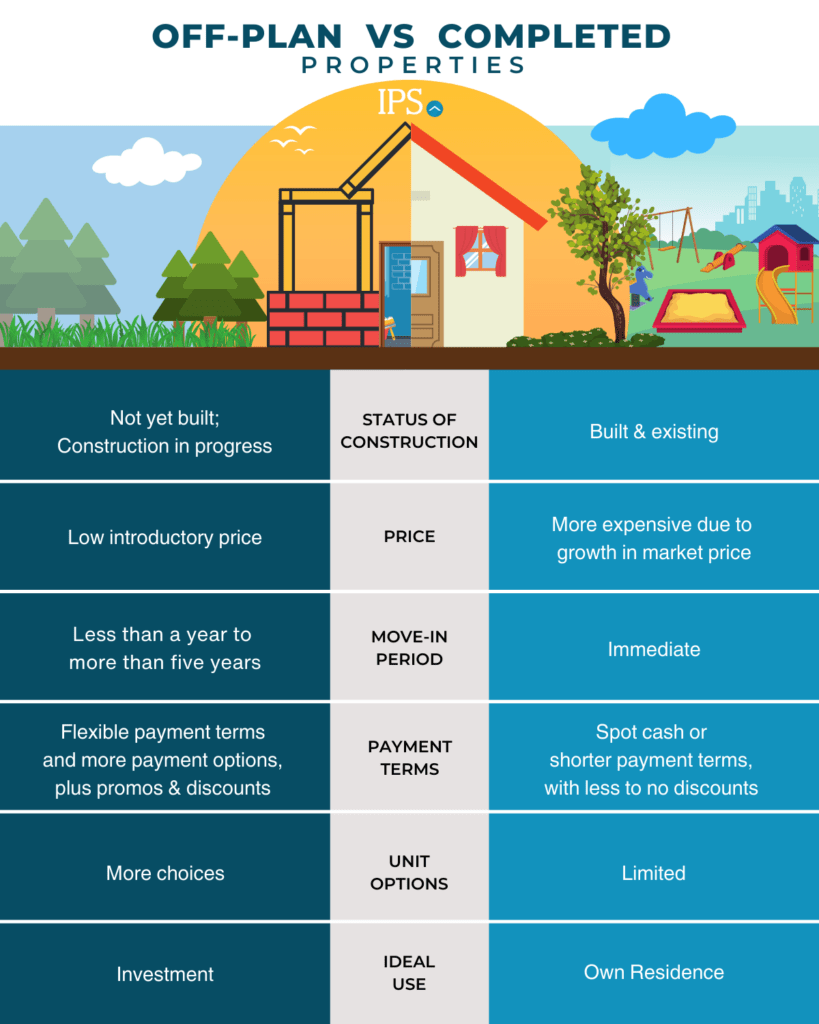 What is Off-plan Property
When condominium units are currently being developed, the developer or property management already starts marketing the building to sell units.
Perks of Buying Off-plan properties
More than the amenities in the brochure given to you, here are some of the perks of buying off-plan properties:
Lower value – Most condominiums that sell properties that are currently being developed, the units are always cheaper compared to what their market price will be once it's ready for turnover to the investors. This means if you're looking to invest for less, then pre-selling units are the option for you.
Great investment – Pre-selling units are great choices as an investment since you can get a head-start on a valuable real estate property before its prices follow the market value—which is usually higher than the pre-selling price. This means your ROI will be higher especially once you decide to lease it.
Drawbacks of Buying Off-plan properties
Off-plan units have numerous selling points but it does have its own drawbacks. Here are some the possible inconveniences you can experience with buying a off-plan unit:
Scammers – Since there is no visible condominium building for pre-selling units, there are scammers who take advantage of this by putting up their own listings amid legitimate listings. However, you can avoid falling prey to these scammers by doing your due diligence in researching the property listed and checking for the legibility of the real estate representative you're talking to.
Liability – Not all condominium buildings under construction push through with finishing the building. Sometimes the project simply stops because of bankruptcy or other reasons. If you already invested in a pre-selling unit when this happens, it's a financial liability. While you can sue the property developer, it might take a while for you to get your money back since legal cases can be slow in their process.
What are Completed properties
Unlike pre-selling units, completed properties are units you can already use or lease once you buy it. It has numerous advantages for investors like you so continue reading below.
Perks of Buying Completed properties
Besides the convenience of getting an already built property that you can use immediately, there are other perks to it. Some of the advantages are listed below:
Quick move-in period – Since the RFO unit is already built, there is little to no waiting time for you to move-in. If you want to lease it, then you can immediately post the listing of the property or have a real estate broker help. 
សេវាកម្មផ្សេងៗ – With RFO units,  you can directly see the amenities that the condominium building offers. This is not possible with pre-selling units since the amenities they offer can simply be a marketing tactic or it's changed while construction is ongoing. Buying ready for occupancy units in Cambodia ensures you get exactly what's listed and everything that accompanies it.
Drawbacks of Buying Completed properties
RFO has a couple of drawbacks that it offers as listed below:
Price value hike – Buying an RFO unit tends to have a higher price compared to a pre-selling unit since the developers have already raised its value according to the market price. 
Limited options – There are limited choices when you're in the market to buy an RFO unit because some of them have already been bought during the pre-selling stage and more. However, there are great choices available so always make sure to check various listings.
Reasons why developers do pre-selling
There are many reasons why developers do pre-selling. One is to help developers finance the actual construction, while the other is to ensure that all units or the entire property becomes sold out once it is completed. This practice is legal and acceptable but has certain underlying terms and conditions.
It's kind of similar to a business proposal where a businessman says, "this is what I am planning, it will result in something kind of like this, if you want to achieve this give me a budget and I'll execute it."
Payment Scheme of buying properties in off-plan stage
When a buyer decides to move forward to buying a pre-constructed property, it comes with a payment scheme that typically follows this method:
Less than five percent, for instance two percent, of a certain (x) amount of price is usually paid upon the offer to buy the property.
The remaining balance left to complete the five percent is due to be paid within 30 days. In this example, the remaining balance is three percent. (Total = 5%)
Another five percent is due in 90 days which is a total of three months and a total of ten percent paid. (Total = 10%)
Then, another five percent should be paid in six months or 180 days. Once paid, the buyer by this time is at a total of fifteen percent. (Total = 15%)
The last five percent is due at occupancy or after the property is completely built. This is when the buyer finally gets the keys and is at twenty percent which is roughly the down payment. (Total = 20%)
This process is applied so that the developer of the project can use the initial payment collected to finance the entire project such as construction and carrying costs while the units are being built.
Note that occupancy is different from possession of property. Occupancy refers to a stage where an individual can finally move into the unit, either for the purpose of renting or owning it. Possession, on the other hand, is the stage where one legally owns the property. This means that they're now in title for the property and when they can start paying the mortgage, and this begins after paying the complete down payment of the pre-sold property.
Pre-selling properties in Cambodia
Off-plan properties are gaining popularity in Cambodia and this is attributed to the several construction projects being approved every year. A report stated that the Ministry of Land Management, Urban Planning and Construction or MLMUPC approved 4,446 construction projects in August 2019. These projects are mostly high-rise, mid-range to luxury condominiums built in Phnom Penh and Sihanoukville. 
Launching development of boreys or gated communities is also becoming a new trend—aimed at local buyers—it is a cheaper alternative to expensive high-rise units. Boreys are highly-anticipated by the wealthy Cambodians in Siem Reap and Phnom Penh, as indicated in Knight Frank's 2018 half-year report.
As a result of high demand for premium residences and the increasing land values, construction activities in Cambodia have been continuous and do not appear to be slowing down. In previous reports, it was stated that 43 condominium projects with a total of 16,939 units were completed in 2019. It was a great jump from the 20 completed projects with 5,000 units in 2018.
There are numerous commercial and residential projects in Cambodia that are under construction or near completion. Despite the Covid-19 outbreak, there are still major construction projects proceeding, however the government projects were postponed.
Some buyers and investors, especially the first-timers, may be quite dubious about the idea of buying an expensive property that is totally not existing. There may be some risks, but so are the benefits from buying a pre-constructed property. So before jumping into the venture, it's best to delve further on the advantages and disadvantages of investing in pre-selling properties, so as to arrive at a wise decision.
Check out the latest development project in Siem Reap. Offering Strata title, this is the city's very first condominium project in a community square – Rose Apple Square.