Retirees want a comfortable way of life with a limited income or meager pension. They try to find an affordable haven for a low-budget yet comfortable lifestyle. The answer to the question 'where' is easy—Cambodia. What makes Cambodia the best place to retire?
Cost of Living
Cambodia actually topped the list of Five Best Places for Americans to retire. It took the lead followed by Nicaragua, Peru, Colombia, and Vietnam.
Even more so, in 2019, this Kingdom of Wonder took the top spot in the 'Cost of Living' category for the International Living's Annual Global Retirement Index, scoring a full 100. Cambodia has occupied this position for four years in a row. Now, it is a hotspot for retired expats.
The cost of living in Cambodia allows retirees to live a comfortable and luxurious life. Real estate is very cheap that single-person unit costs as low as $300. The more lavish ones could go up to $1000.
Food is also cheap. There is a wide variation of local and international cuisines. In fact, two people can get a quality restaurant meal for about $10 to $20. Moving around is easy and cheap too. One only needs about $1 for a short ride on a tuk-tuk. Overall, some expats claim they can live on a $1,500 monthly budget comfortably already.
Healthcare
Meanwhile, health is also a major concern for retirees. Luckily, the Cambodian government is prioritizing the improvement of healthcare with aids from international organizations like the World Health Organization.
Now, major cities like Phnom Penh have numerous pharmacies, so retirees could buy their maintenance medicine. There are more specialists as well. To top that, healthcare is inexpensive, so retirees need not worry about their health.
Lifestyle
Nevertheless, the cost of living is not the only consideration for expats when choosing to retire in Cambodia. This kingdom offers much more: a laid-back lifestyle far different from the stressful daily work routine of having no time for a proper meal at all. Life here is stress-free. This is according to some retirees. Indeed, retiring in Cambodia equals a better quality of life.
Culture
Cambodia is called the Kingdom of Wonder for a very good reason. It has a rich local culture with a tad of French influence, and it offers wonderful places to visit—ancient temples, amazing architectures in colonial cities, local markets, greens and mountains, preserved coastlines, and unspoiled islands.
Where to settle in Cambodia?
Phom Penh
The capital of Cambodia is where most expats decide to settle. Almost everything a retiree needs is available in this city. It has a mix of old and new. In fact, more modern property developments and shopping centers are rising in this city. For retirees who want various places to tour and countless choices in accommodation, not to mention a lively nightlife, Phnom Penh is the place to settle. Those who prefer an active social life would love this city too.
សៀមរាប
Other expats, who love historical sites, prefer Siem Reap, home to the Angkor Wat Complex. It houses countless temples, hence its name 'temple town'. This city has a smaller setting, so it is easy to go around town. Other than temples, this city also offers a scenic river, local markets, French colonial quarter, and of course the famous 'Pub Street', which makes it offer an even livelier nightlife than in Phnom Penh. Still, Siem Reap has a relaxed and friendly environment with lighter traffic.
Battambang
Another laidback colonial city, Battambang is the second largest city in Cambodia. It now has a small but growing expat population. Like the other cities, there is an array of restaurants, bars, and hotels here, so life is also convenient and comfortable.
Kampot
Life is slow-paced and leisurely in this riverside town. It prides itself of the known Kampot Pepper, said to be the world's best pepper. Kampot is also the stopover for those visiting Damrei and Bokor mountains. Consequently, this town has a decent number of quality restaurants and hotels to accommodate the influx of tourists. This is the best place for retirees who love the greens and mountains.
Kep
Kep is just down the road from Kampot. It is famous for 'Saint Tropez of Southeast Asia", which features ruins of what once was an array of 'New Khmer Architecture'. This 1960s' Modern Architecture Movement, infused with a Cambodian flair, made Kep a design location. The ruins, a result of the spill-over of the Vietnam War into Cambodia, is reclaimed or redeveloped.
However, other ruins are not so fortunate as some are expected to continue deterioration. Still, Kep remains to be a peaceful place for retirees to settle. Apart from the architecture, other features of this place would be the beach and the fresh crab market.
Clearly, each town is unique with its own charms. Whatever kind of lifestyle a retiree wants, Cambodia has it covered. In fact, retirees who love to travel can even go to Vietnam, Laos, or Thailand, which share borders with Cambodia.
How to retire in Cambodia?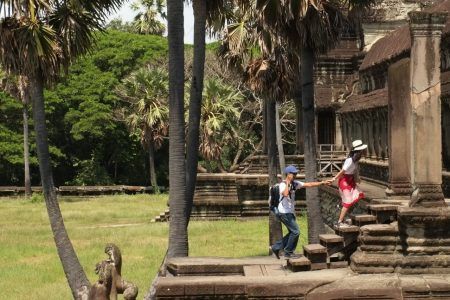 Those who wish to retire in Cambodia must apply for a Cambodian E-class visa at the airport upon arrival at Phnom Penh, Siem Reap, or Sihanoukville airports.
Requirements include a passport valid for at least six months and have at least one blank page, and a passport-size photo. If a photo is not available, the immigration could scan the photo from the passport for a $2 cost. This visa is good for 30-days and costs $35.
However, this is applicable to retirees from non-ASEAN countries. Those from countries that are members of the ASEAN can visit Cambodia visa-free for 21 days.
To get an ER visa extension for retirees, applicants, from an ASEAN or a non-ASEAN country, must show documentation of retirement from their home country and proof of funds to support their stay. People aged 55 and up can get this visa. There have been such visas issued to younger applicants, but this requires more paperwork.
Remember that ER Visa cannot be issued to someone who is employed; still, ER visa holders do not need work permits. 1, 3, 6, or 12 months ER visa is available. The 6 and 12 months' ER Visa allows multiple entries.
Indeed, comfortable retirement is what every person hopes to have, and this is made possible by Cambodia, the best place on Earth to retire.