What if we tell you that you can go to more than ten countries around the world in Cambodia? Yes! It's for real. Here's a list of Cambodia's top destinations and their famous international counterparts that can give you the same feeling of visiting some of the world renowned sites!
Besides, who wouldn't want to save more money, time and resources on traveling to every popular destination at one place rather than country hopping. There's a whole world that awaits you here in the Kingdom of Wonder!
1. This isn't Paris, France – This is The Élysée, Koh Pich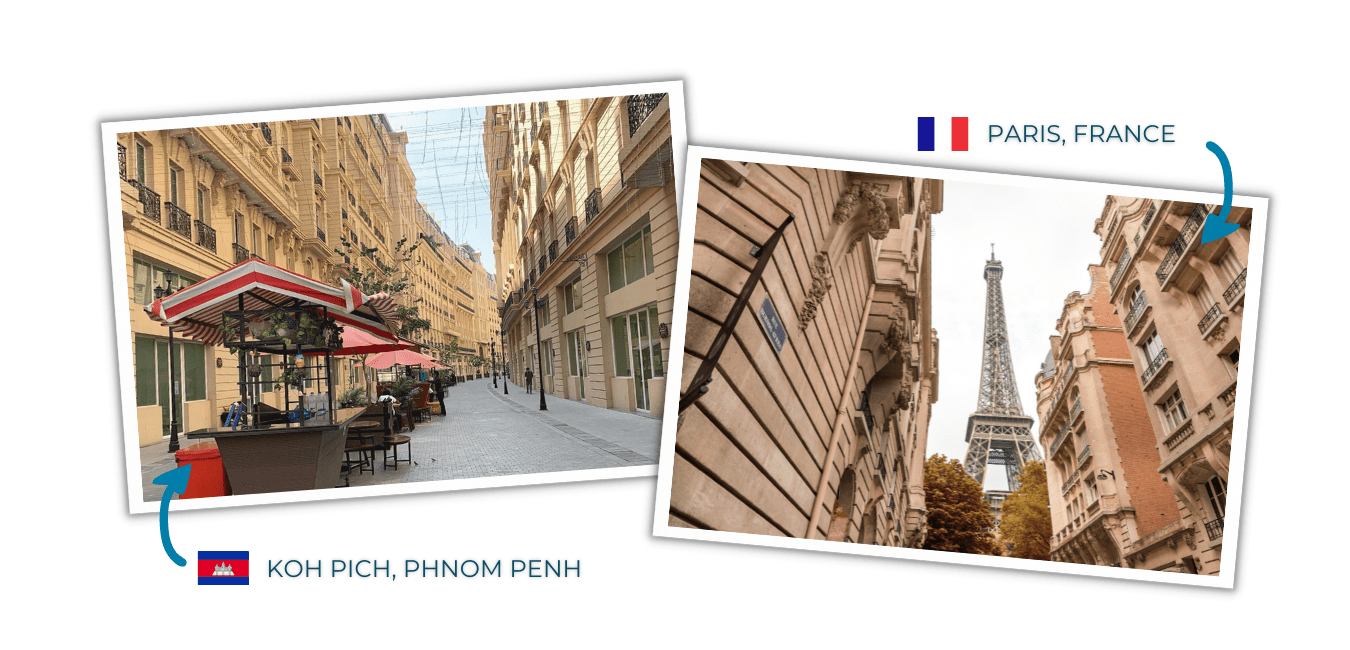 Popularly known as the world's romantic city, Paris in France is one of the most popular tourist destinations because of its stunning century-old architecture, fashion designer shops, arts & culture museums, exquisite gastronomy, and of course the Eiffel Tower.
But you no longer need to book a flight to experience a romantic place like Paris. All you need is a tuktuk ride within Phnom Penh to head on to The Élysée in Koh Pich. This place is actually a luxury service apartment, but because the façade of the building is designed in Parisian-style, many people visit here just to take instagrammable pictures, or stroll around and relax since it's also along the shore of the Mekong River.
2. This isn't Europe – This is Euro Park, Borey Peng Houth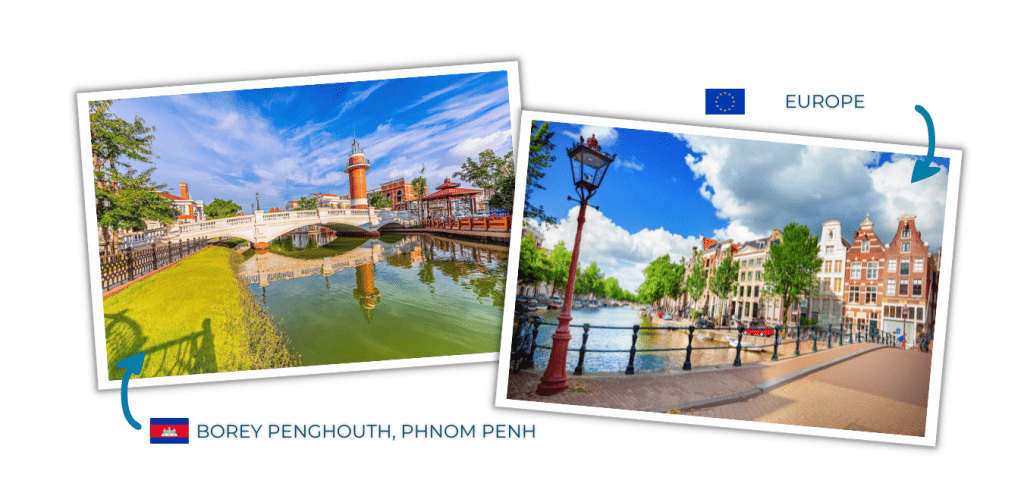 The Eiffel Tower, Big Ben, the canals of Venice and Amsterdam — there are many famous places in Europe that makes some spectacular photographs and experiences.
But you can scratch that out from your bucket list when you visit "Euro Park" in Borey Penghouth, also known as the little Europe in Cambodia. Entrance is for free; and it will only take you twenty (20) minutes from Phnom Penh town centre to experience a close-to-Europe tour. You'll get to see Big Ben of UK, Eiffel Tower of Paris, Magere Brug bridge of Amsterdam, Arc de Triomphe of France, European-style ranch houses, and a watermill and windmill similar to those found in Netherlands—all in one park!
3. This isn't Maldives – This is Song Saa Private Island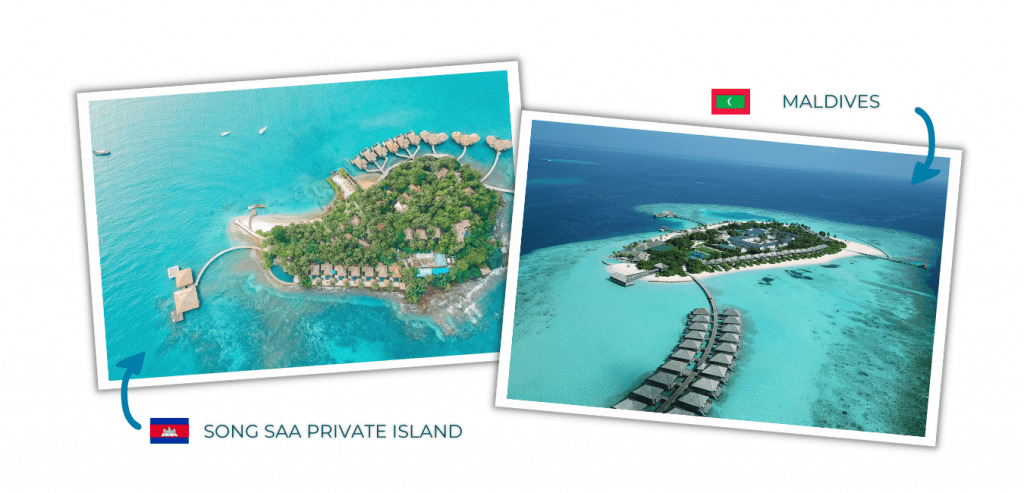 For ultimate beach getaways, Maldives has always been the top choice of many, because of its crystalline waters, swaying palm trees, and fine white sand under the limitless blue skies.
The good news is, you can have a taste of Maldives – complete with pristine waters, long stretches of white sand beaches, and luxurious bungalows floating above the water. Whether you visit with a family or as couple; for adventure or meditation; Song Saa Private Island offers a range of activities from water tours to wellbeing & celebration curation.
4. This isn't Las Vegas – This is NagaWorld Hotel & Casino, Phnom Penh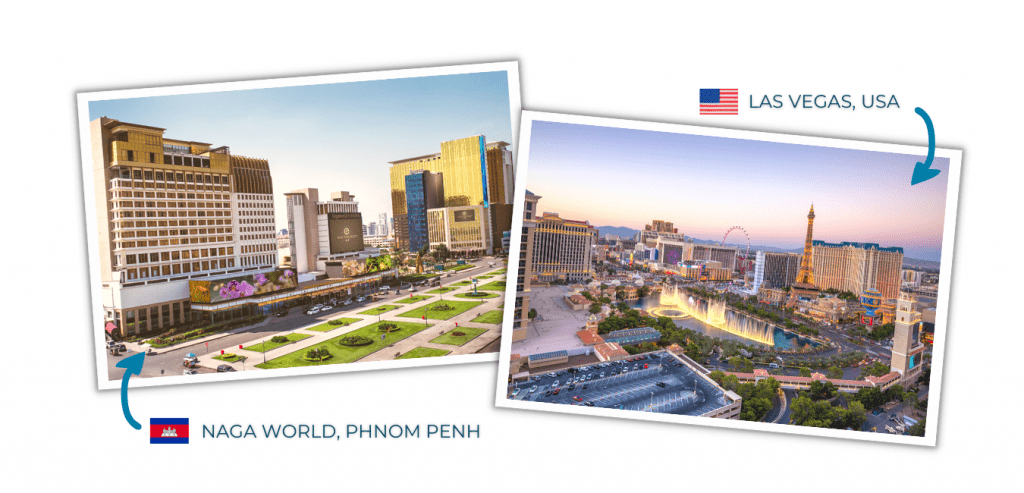 NagaWorld is said to be the "Las Vegas" of Cambodia because it is one of the largest 5-star hotels and the only luxury premium casino in Cambodia.
Situated in front of Samdech Techno Hun Sen Park in Daun Penh, only two minutes from the Independence Monument, this hotel & casino complex is the number one choice for world-class gaming experience with an assortment of table games from baccarat to roulette, as well as gaming machines. You'll surely have a Las Vegas-like experience here!
5. This isn't South Africa – This is Memang Gold Mines Area, Mondulkiri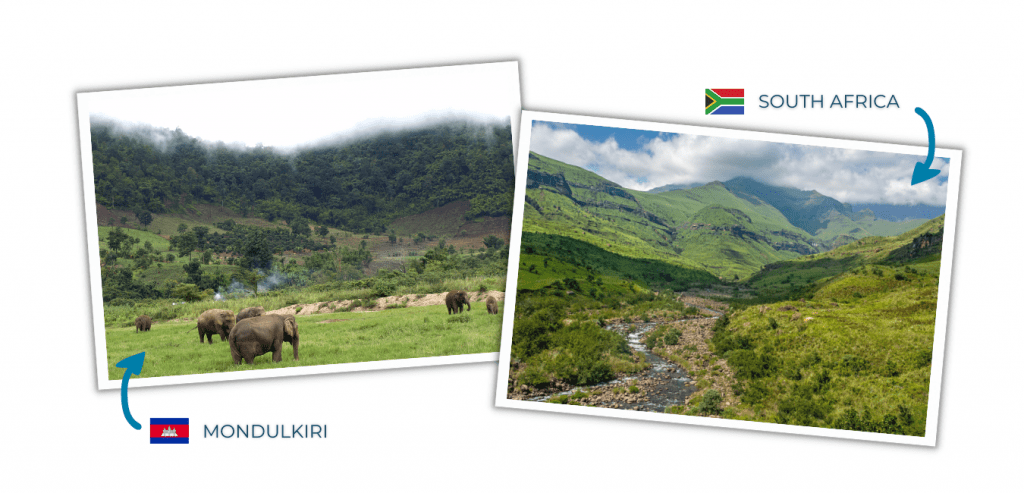 Renowned for its varied topography, large population of wild animals, lush nature, and cultural diversity, of which made South Africa a favoured destination for travelers.
Found in the northeastern Cambodia is the country's own version of South Africa, an area called Memang Gold Mines in Mondulkiri. This wildlife reserve is home to wide variety of flora and fauna, as well as free-roaming elephants. It is located in O'Clor Village, about 45km from the main town center Sen Monorom.
Generally, Mondulkiri is a popular place for nature tours and eco-tourism activities. In fact, it is one of the largest yet relatively low populated provinces in Cambodia. Other activities you can do here are camping, elephant riding, elephant bathing, trekking and hiking.
6. This isn't Shanghai, China – This is Sihanoukville City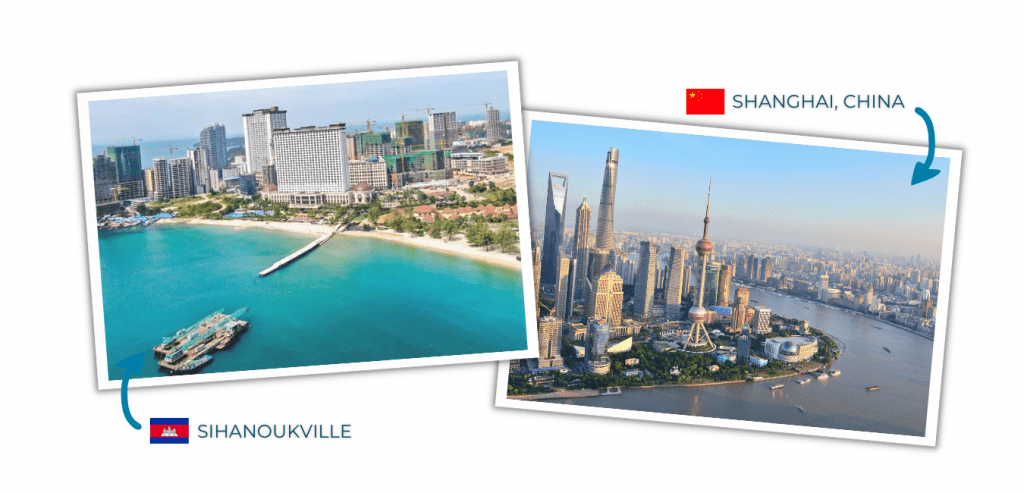 Poised to be the next Shenzhen of Cambodia, Sihanoukville city, at present, has more than ninety (90) casinos, numerous condominiums, a host of hotels, commercial & retail establishments, and industrial parks. It also has a railway access to Phnom Penh, an international airport, and is the Kingdom's only deep-sea port. More infrastructure projects are also under way, with the involvement of Chinese project planners from Shenzen.
Four decades ago, Shenzhen was just a small fishing port in Mainland China. Because of its rapid growth in development, the city has now become a huge high-tech industrial area. The same firm who helped craft the 1991 Shenzhen Master Plan, the Urban Planning and Design Institute of Shenzhen, was employed by the Cambodian government to master plan Sihanouk province.
7. This isn't Lombard Street, San Francisco – This is 1500 Mountains, Veal Veng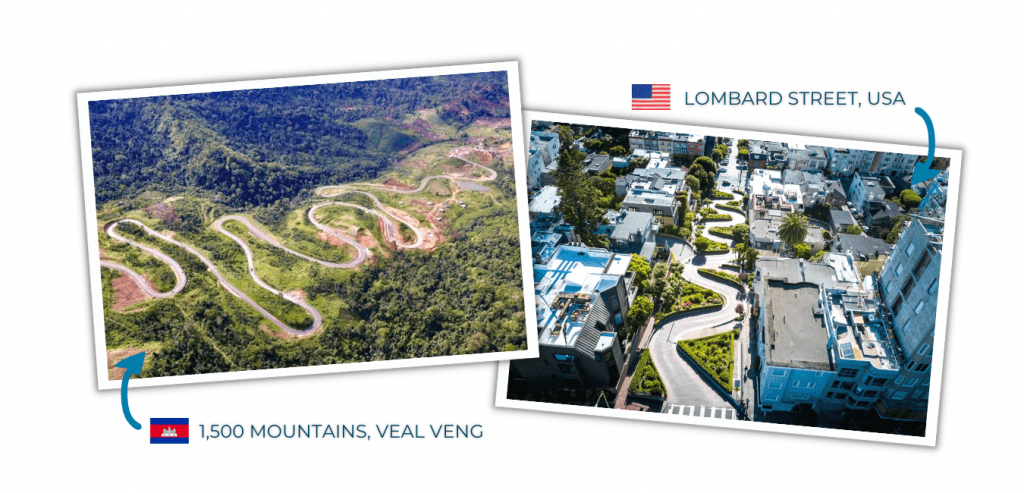 A specific road in Cambodia can probably steal the title of "the most crooked road in the world," which belongs to the Lombard Street in San Francisco, USA.
That's National Road 55 in Veal Veng, which snakes its way up to the famous Cardamom Mountains or 1,500 Mountains. Locally called as "grilled eel" road, the reason behind this name is so compelling, as locals believe that this road is similar to how the eels swim. You'll come across a marvelous view throughout your trip; a lush green environment and cool breeze of air.
After traveling for few minutes, you'll find yourself at high altitude in Cardamom mountains whereas according to experts, it's one of Southeast Asia's last great rainforests.
8. This isn't Spain – This is Battambang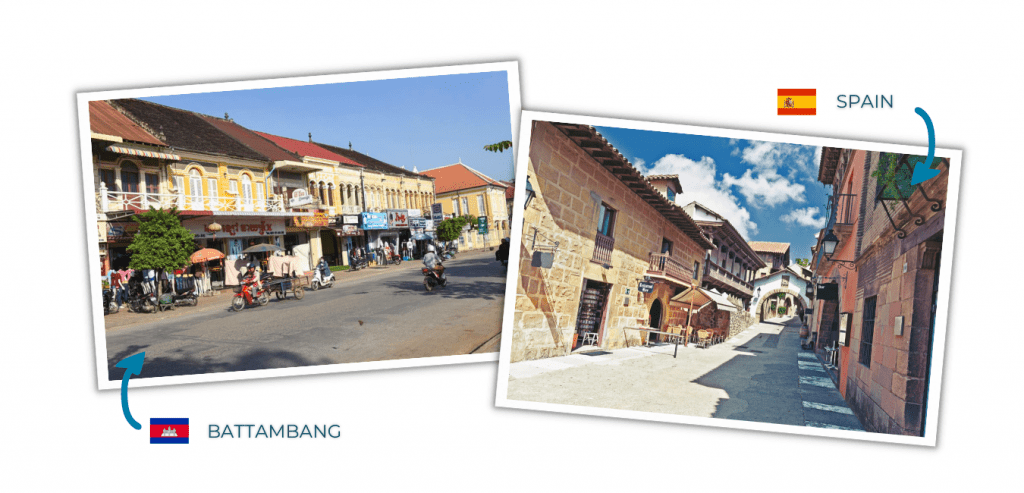 You don't need to travel back in time or travel to Spain to see colonial buildings. You just need to visit Battambang, a city in northwestern Cambodia known for its charming old French shop houses including the Sala Khaet or the former Governor's Residence.
There are also some underrated hilltop temples here; a small museum with a collection of Angkorian-era artifacts which can only be seen in Battambang; and a large fresh lake and the infamous killing caves.
9. This isn't Bahamas – This is Koh Rong Island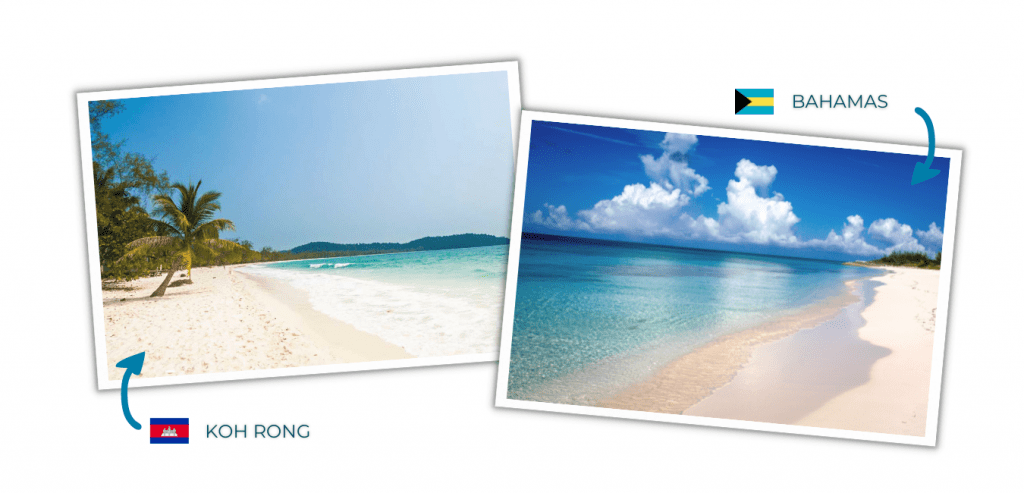 Are you planning to go to Bahamas for a beach staycation? Don't you know it will cost you approximately $1,000 for a flight ticket, more than $800 for a hotel room per day, and about 26 hours to reach the island.

You don't really have to take this route…
Located near the coast of Sihanoukville, is Koh Rong, often described as "'island paradise" because of its plethora of white sandy beaches, pristine ocean waters, and a perfect warm tropical climate. There are vibrant beaches perfect for party-goers, with bars, restaurants and night clubs. Meanwhile, for those who just want to meditate or relax, there are less-busier beaches that offer serene ambiance and scenic views.
10. This isn't Parthenon, Greece – This is Bokor Hill Station, Kampot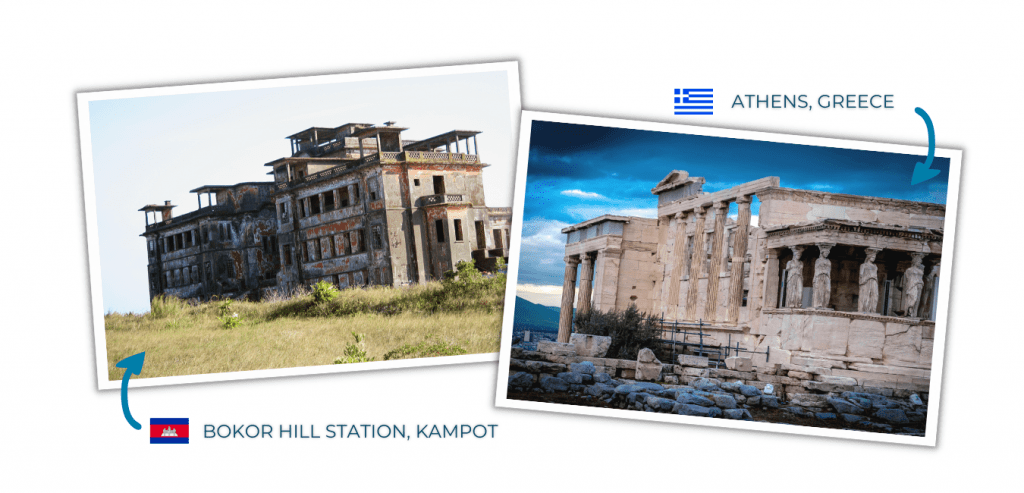 In Athens, Greece, the scarred Parthenon is very rich in awe-inspiring stories, especially because it was dedicated to goddess Athena, whom the people of Athens considered as patroness—indeed a representation of power & wealth today.
Down in the Southern part of Phnom Penh, Kampot's Bokor Hill Station was also once a symbol of opulence. Built in 1920s, Le Bokor Palace was a summer retreat place for French social elites who needed an escape from the humidity and heat of Phnom Penh as it is situated at a height of 3,438 feet, where temperature is around 15 to 25 degrees. One of the palaces here was also 'said to be' the royal residence of King Sihanouk…until the Khmer Rouge reigned and took over the place.
The rise of Kampot, along with Bokor Hill Station, just began after the fall of Khmer Rouge.
11. This isn't Shwedagon, Myanmar – This is Royal Palace, Phnom Penh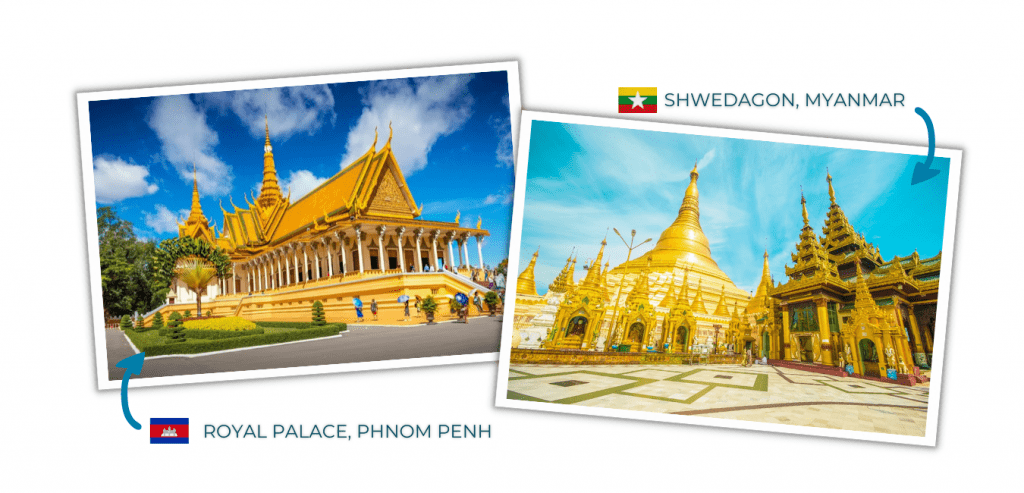 Shwedagon Pagoda or The Golden Place in Myanmar bear a resemblance to The Royal Palace in Phnom Penh.

A Khmer-style Throne Hall, built in 1866, now serves as the residence of the King of Cambodia and his family. Although it is dedicate to the royal family, large parts of the sprawling grounds and formal garden are open to the public.
12. This isn't Borobudur Temple, Indonesia – This is Angkor Wat, Siem Reap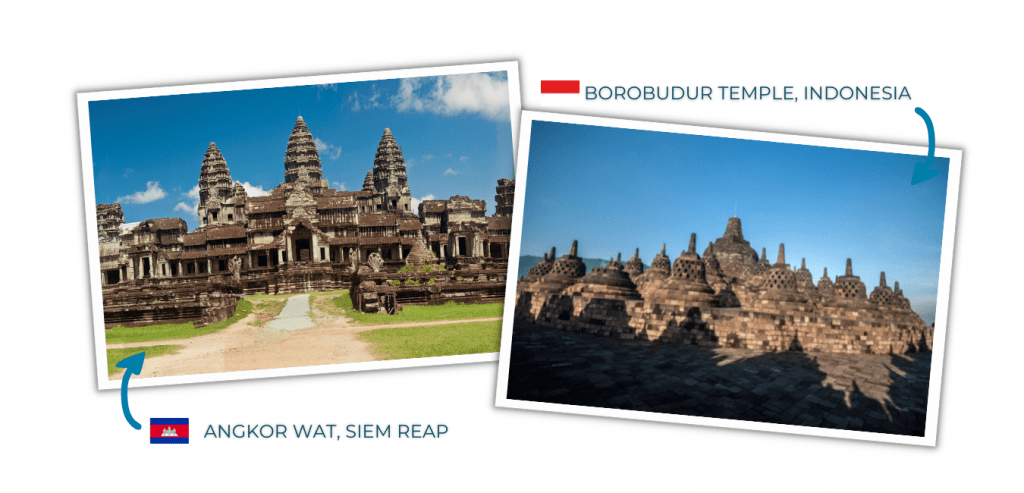 You'll get the same feeling of visiting Borobudur Temple (the world's largest Buddhist temple), when you visit the Angkor Wat in Siem Reap, a UNESCO Heritage and the largest religious monument in the world.
Comprising over a thousand temples, a day wouldn't be enough to explore the entire complex.
This stunning temple city (comes from word "Angkor" meaning "capital city" and Wat" means "temple" in Khmer) covers some 160 hectares, with an enormous system of artificial canals, dikes, and reservoirs, which have been the source of life of the former settlers until a long drought took place. You'll hear more awe-inspiring stories from the local tour guides here!

13. This isn't Floating Market, Thailand – This is Floating Village, Siem Reap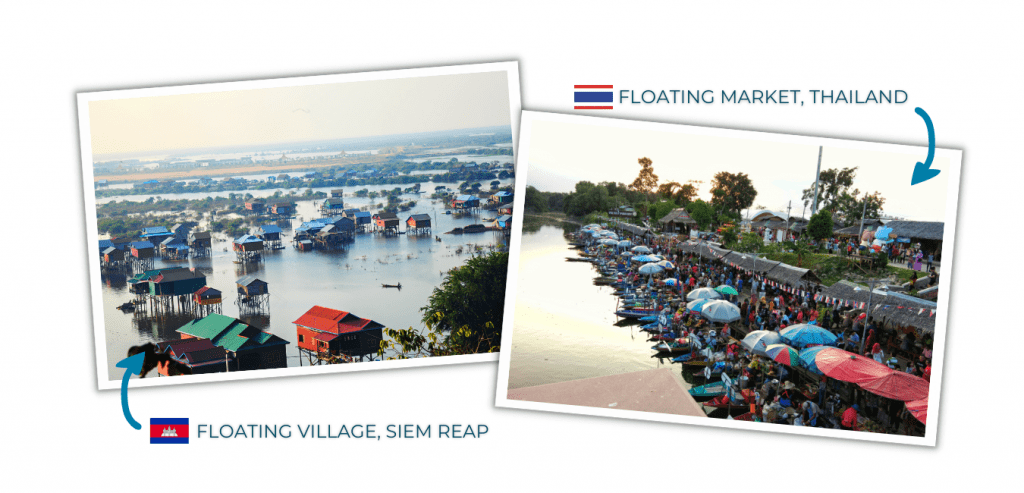 Are you also longing to buy fresh goods from the floating market of Bangkok? Well, you can do that when you visit the floating villages or boat communities at Tonle Sap Lake, located in Kompong Khleang, Siem Reap.
Here, you'll see communities connected by footbridges and stilt houses that are standing afloat the water. While it has a huge resemblance with the Floating Market in Bangkok, it is actually not your typical tourist attraction as locals live their day-to-day lives here.
But because this specific community is situated at Tonle Sap Lake, which is Southeast Asia's largest freshwater lake and the only bodies of water that naturally reverses its flow at various times of the year, alongside the locals' unique way of living – right above the water in floating villages – the village gained national attention and has become one of Siem Reap's top tourist destination.
Unlike Bangkok, there are very few floating markets here that serve both residents and visitors.
14. This isn't Kawasan Falls, Philippines – This is Kulen Waterfalls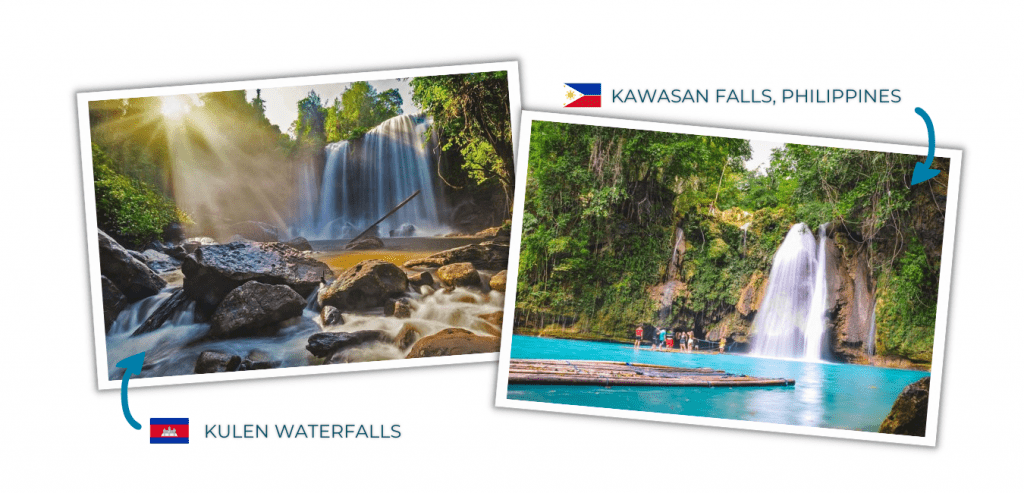 Head to Kulen Waterfalls in Siem Reap and it's going to remind you of the famous Kawasan Falls in the Philippines.
Not as turquoise and as tall as Kawasan but Kulen Waterfalls certainly has fresh pristine water. Besides swimming, there are a lot of activities to do here: trekking by the thick jungle and trails, hiking up to the peak of Kulen Mountain, and visiting the reclining Buddha statue and the River of a Thousand Lingas. Perfect for adventure seeker!
15. This isn't Keukenhof, Netherlands – This is Amleang Flower Farm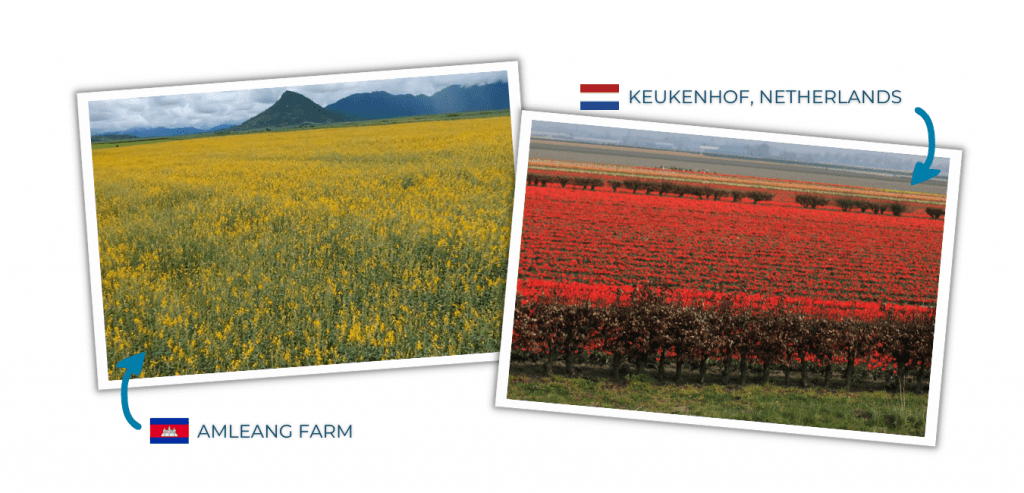 Have you long dreamt of taking a photo with a backdrop of the Keukenhof Garden in Netherlands? Well, you can actually live your dreams by visiting the Amleang Flower Farm in Kampong Speu.
Visiting here won't require you a European visa to get a lovely view and photo of the beautiful flower farm, plus you only have to pay KHR 2,000 riel for entrance fee. The Amleang Flower Farm features golden rapeseeds that give the entire place a huge resemblance with the flower fields in the Netherlands.
Now that you have your list, get ready to pack your things for an around-the-world trip within Cambodia!