Working with the Ministry of the Interior (MOI), the Khmer Home Charity Association (KHCA) has launched "Cambodia My 2nd Home" or CM2H, a program designed to attract foreign investment in the Kingdom.
The agreement signing ceremony was held yesterday (July 7, 2022), between CM2H and GC Property, to start promoting the said program.
This will officially take its effectivity on July 22, 2022, which about 10,000 golden visas of 10-year validity will be issued to eligible foreign investors.
The official website of 'Cambodia My Second Home' (CM2H) programme outlines six (6) basic requirements to apply for membership: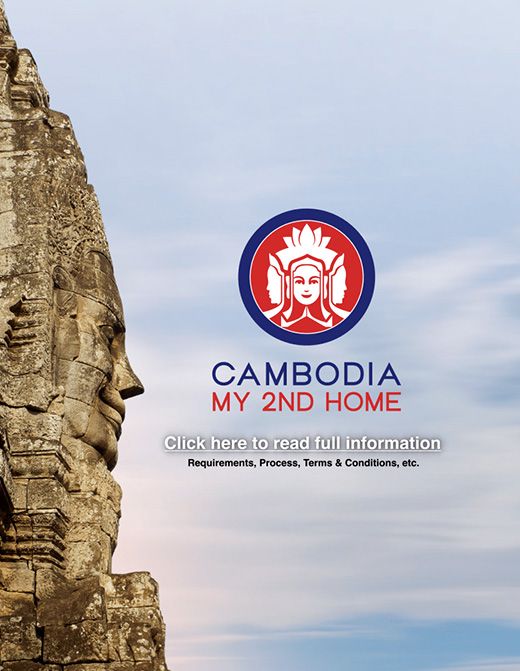 Requirements
Be a citizen of any country or region recognized by the Cambodian government, regardless of race, religion, or gender;
Obtain approval from the Ministry of Interior;
Be at least 18 years of age;
Have an investment capital of not less than $100,000.00 in Cambodia; 
Own a real estate project approved by the Cambodian government;
Be eligible to apply for a personal bank account and a trust account.
Successful applicants will gain access to several business-friendly measures, including, but not limited to:
Benefits:
10-year Golden Cambodian Visa (Eligible for Cambodian Passport after 5 years)
10-year membership on Khmer Home Charity Association (KHCA)
Receive professional (free) assistance on Company Registration, Opening Bank (ABA) Account, Obtaining Cambodian Driver's License, Opening Trust Account
1 Shophouse/Shoplot Investment Asset (GC Oruseey market)
1-year (free) Medical Insurance with VIP Medical Treatments
Cambodia International Airport (free) VIP Access
CM2H beneficiaries will not be required to achieve certain proficiency in the Khmer language nor present any academic qualifications.
The Memorandum of Understanding for the program was officially signed at the General Department of Immigration last June 16 by KHCA Chairman, H.E. Nov Sokpheap, as "My Second Home CM2H (Cambodia) Co. Ltd."
KHCA works closely with the Cambodian government to combine resources from the private and public sector and stimulate the country's economic growth, particularly through increasing international investment.
You might like: The Foreigner's Guide to Getting Home Loan in Cambodia
---
Note: IPS Cambodia is not affiliated in or partnered with 'Cambodia My 2nd Home' in anyway, this article was meant to inform foreign investors that such program is applicable in Cambodia.

For more information:
Website: www.cm2h.com
Phone / Telegram: 066 590 168 (Ch/Kh), 069 590 168 (En/Kh)
Facebook page: www.facebook​.com​/CambodiaMy​SecondHome
IPS Cambodia Real Estate
Average rating:
0 reviews