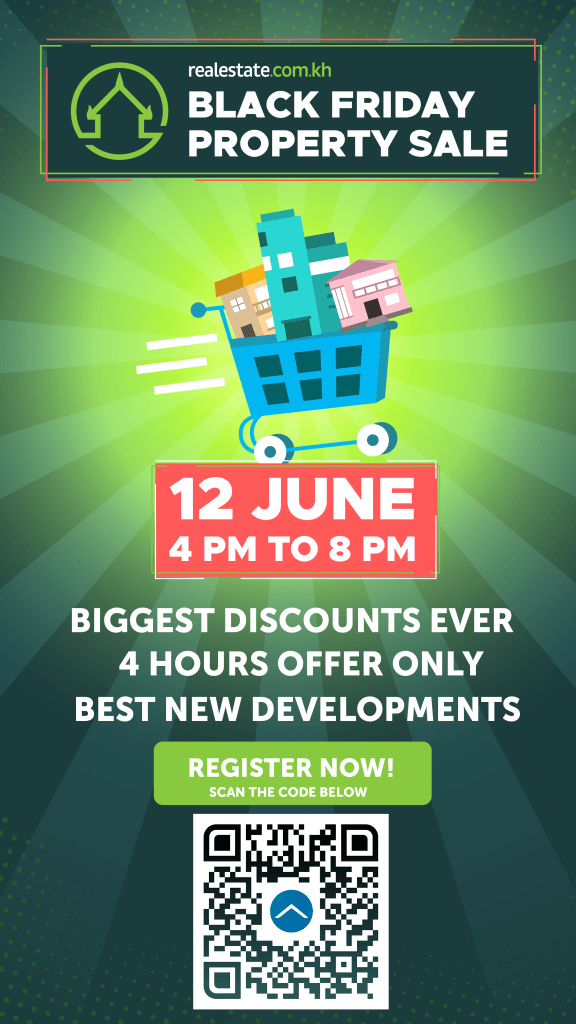 Lining up plans in Cambodia yet don't know where to start?
Whether you're looking for a new home to stay or a new investment to weigh, you'll surely find the right property that piques your interest on the upcoming Black Friday Property Sale.
Realestate.com.kh is launching its first ever Black Friday Property Sale on June 12, 2020 which will run from 4:00 pm to 8:00 pm (Cambodian time). It is the biggest gathering of properties in the country where developers will offer the best selection of properties with exclusive discounts.
Skipping all the hassle from huddling into a large number of people, Black Friday Property Sale will be held virtually to help buyers select properties without breaking a sweat.
HOW TO PARTICIPATE?
Interested buyers must first register and fill up the necessary information online.

At the start of the event (on June 12 at 4 pm), an extensive spectrum of properties and discounts will be revealed, and property hunters can then begin selecting their desired properties.
In a span of four hours, from 4 pm to 8 pm, property hunters who turned out to be buyers must secure their selected property for an amount of $500 USD deposit using their debit or credit card.
After the event, in order to fully acquire the property, buyers must be able to complete the process from (1) choosing the actual unit with the developer, (2) discussing the terms and conditions, (3) and signing the sales and purchase agreement within a limited period of 14 days.
In completing the purchase, you will be entitled as the new owner of the property. Otherwise, the $500 deposit will be refunded to those who are not able to follow through with their property purchase.
WHY SHOULD YOU PARTICIPATE?
Registration is free and it's a refundable reservation fee.
It's not only the largest property sale event, but also a significant marketplace for real estate-related businesses.
With interested property buyers participating in the event, it's a chance to directly sell your property to the market.
Due to economic slowdown brought by the pandemic, properties are offered at significantly more attractive prices.
An opportunity to meet serious buyers and investors, and sellers and developers—meeting halfway to deal with a discount favorable to both parties.
Properties presented by developers, real estate agencies, and property sellers are all verified by Reakh
Participants will be presented with all top-rated properties, and the latest developments in the country.
WHO ARE THE PARTICIPANTS?
| | |
| --- | --- |
| Local Buyers and Investors | Property Developers |
| Business Owners and Entrepreneurs | Real Estate Agencies |
| Interested Foreign Investors | Banks and Financial Companies |
| Brokers | Media Platforms |
New locations, great deals, and latest development trends in home and living—this event was organized to provide growth, opportunities, and new experiences, despite the drastic changes in the environment, expressed more strongly through connecting buyers, developers, and sellers in one big event.
Don't miss the chance to witness a plethora of great properties and acquire it in just one click.