Updated on May 25, 2023
Toul Kork, situated in northwest Phnom Penh, is a fast-growing district renowned for its mix of residential and commercial spaces. This sought-after neighborhood boasts a variety of properties, from traditional Khmer homes to modern condos and offices, and a bright community with numerous international schools, government offices, and recreational facilities.
Known as the Ground Hill of Phnom Penh, Toul Kork's elevated terrain offers residents tranquility and an escape from the busy city. This unique feature enhances its appeal for both local and expat residents, making it a prime location for investment and development in Phnom Penh.
Toul Kork borders the communes of Russey Keo, Daun Penh, Chamkarmon, Meanchey, and Sen Sok. The district is a popular choice for expats and one of most popular residential areas besides Chamkarmon. It transformed itself into an actual BKK1 as a commercial district in the last few years.
Location in the city of Phnom Penh
What Toul Kork is Known For
Toul Kork is known for holding the largest and most elegant villas in Phnom Penh. Since the houses in this district cost thousands and even millions of dollars, it is where most rich local families reside. It is also a popular place for weddings and banquets.
Emerging Business Location
Toul Kork has experienced significant growth in recent years, with a surge of new businesses setting up shop in the district.
This growth can be attributed to the area's strategic location, modern infrastructure, and accessibility to other parts of Phnom Penh. The influx of businesses, ranging from local startups to multinational corporations, has transformed Toul Kork into a thriving commercial hub.
The economic development in Toul Kork has led to increased job opportunities, attracting professionals from various industries. This, in turn, has contributed to the growth of the local economy, as residents and businesses alike benefit from the area's expanding commercial landscape.
As Toul Kork continues to evolve, it is expected to solidify its position as a premier business location in Phnom Penh.
Toul Kork and Boeung Kak Lake
Toul Kork shares a close relationship with the nearby Boeung Kak Lake, an urban oasis that adds to the district's charm and appeal.
The lake, once a popular spot for locals and tourists alike, has undergone significant development in recent years, transforming the surrounding area into a bustling and vibrant part of the city.
The lake's presence greatly enhances Toul Kork's attractiveness as a residential and commercial area. The serene waterfront setting offers a calming escape from the city's hustle and bustle, providing a perfect backdrop for leisure activities and relaxation.
Additionally, the lake contributes to the overall quality of life for Toul Kork residents, making it an essential feature of the district's landscape.
Where to Go
TK Avenue is a mixed-use development in Toul Kork, offering retail, dining, and entertainment options. The complex features international brands, local boutiques, various restaurants, and a cinema.
The development of TK Avenue has contributed to Toul Kork's transformation into a modern district. It has become a popular destination for locals and expats, providing a convenient space for leisure activities and showcasing the district's progress and potential.
The Commune is also a recently completed mixed-use development with retail spaces and offices. Since its opening, this place has quickly gained popularity among locals and expats alike because of its vast courtyard surrounded by greens and big premises. The open space with plenty of seats has created a cozy spot and sweet escape for people to breathe and work at peace in the city.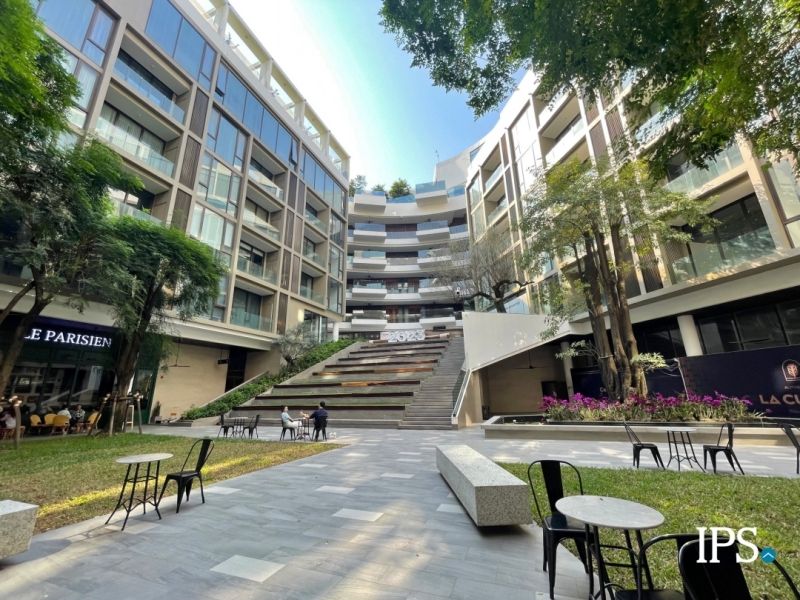 How Nights are Spent
If you're looking for a good night out, Toul Kork will not be your first choice. This district has its fair share of bars and bistros, but the night life here for expats is not as jam-packed as it is in BKK1, Tonle Bassac and Daun Penh.
That said, the area has a pretty good selection of restaurants which are mostly concentrated in the northern Toul Kork. There are also plenty of places to get coffee or other drinks if you're looking for something quick and easy before heading home from work.
Meanwhile, the southern of Toul Kork are most likely for locals since it has many Khmer restaurants and street food stalls. It is also where local residents mostly live, particularly in Boeng Salang and Phsar Daeum Kor.
What Homes Be Like
The district is home to traditional Khmer-style houses, classic villas, modern condominiums, and commercial buildings. This variety caters to a wide array of residents, from families to young professionals and expatriates.
Investment opportunities in Toul Kork's property market are abundant as the district continues to develop and attract more businesses and residents. With the ongoing growth of the local economy and the increasing demand for quality properties, Toul Kork presents a promising outlook for both short-term and long-term
| | |
| --- | --- |
| Studio | US$550 – $750 |
| 1 Bedroom | US$600 – $1,300 |
| 2 Bedroom | US$700 – $2,000++ |
| 3 Bedroom | US$900 – $3,000++ |
| 4 – 5 Bedroom | US$2,500 – $7,500 |
*Note that rental prices may vary depending on the property type, quality, size, and location. Browse listings on residential for rent in Toul Kork.
Why Should you Live in Toul Kork
Living in Toul Kork offers a slice of everything you need. It's close to major shopping centers and the airport, but it's also close to nature and great schools. Although there's tons of fun stuff nearby, like malls, parks, and restaurants, the area is more quiet compared to other commercial districts.
Toul Kork has completely transformed itself in convenience and accessibility. The property market is still low compared to other areas in Phnom Penh. But it is wise to check out the increasing property value and improvements here.
Many commercial and residential spaces are now available. The district's economy is thriving. That is seen in the increase of open business establishments. In a few years, prices will inevitably soar as well. Now is the best time to invest.
International Schools and Government Offices in Toul Kork
Toul Kork is home to a number of prominent international schools, catering to the educational needs of the diverse community residing in the district. Some well-known international schools in the area include:
Western International School: Offering an American-based curriculum, this school provides quality education for students from kindergarten to high school.
Northbridge International School: A prestigious institution offering the International Baccalaureate program for students aged 3 to 18 years old.
Zaman International School: Known for its strong emphasis on academics and extracurricular activities, this school follows the Cambridge International Curriculum from primary to high school levels.
In addition to the international schools, Toul Kork also hosts several key government offices, contributing to the district's importance in the city's administrative landscape. Some of these offices include:
The Ministry of Land Management, Urban Planning, and Construction: This government body is responsible for overseeing land use, urban planning, and construction projects in Cambodia.
The Ministry of Environment: Tasked with the protection and conservation of Cambodia's natural resources, this office plays a vital role in the country's sustainable development efforts.
The General Department of Taxation: As part of the Ministry of Economy and Finance, this department manages the collection of taxes and the implementation of tax policies in Cambodia.
Looking to move to Toul Kork in Phnom Penh? We can help you find a home! Contact us via Telegram or Live Webchat at the bottom left-hand corner or drop us a message through our contact page.