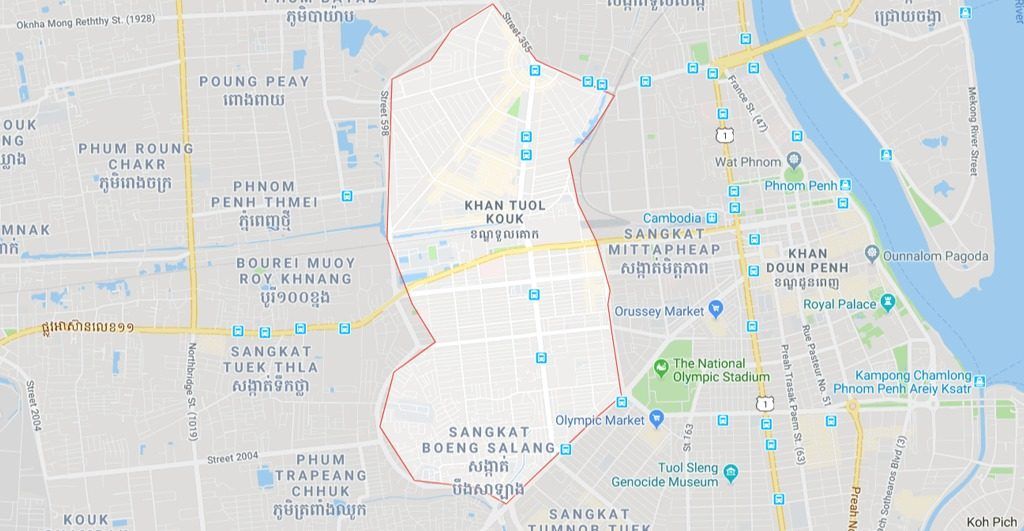 Toul Kork translates to "ground hill" in Khmer. It is located in the north and northeast of central Phnom Penh. Boeung Kak comprises the areas around Boeung Kak Lake and the developed areas to the west.
Boeung Kak 1 & 2 are on the main roads of Russian Confederation Blvd, and Monivong Boulevard. The small district has 7.99 km land area. It is a fast-developing district with growth similar to Chamkarmon. It is about 20 minutes away from BKK.
Toul Kork borders the communes of Russey Keo, Daun Penh, Chamkarmon, Meanchey, and Sen Sok. The district is the 2nd most popular residential area after Chamkarmon. It transformed itself into an actual BKK1 as a commercial district in the last few years.
Emerging Business Location
The beauty of Toul Kork lies in the big houses, villas, improved infrastructure, and large plots of land. They are there just waiting for development.
Mixed-use spaces like The Commune are very popular in this district. They are self-sufficient commercial and housing developments. There has been considerable development in the Toul Kork area. Boeung Kak Lake and the Camco City developments feature housing and commercial spaces.
Toul Kork is generally a quiet residential district. Now it is home to many NGO and government offices. It is now becoming a commercial district. Toul Kork is joining the ranks of Tonle Bassac, Daun Penh, and BKK districts. It has an increased number of commercial activities and is ideal as a housing location.
Aside from TK Avenue, more development is underway in the surrounding areas. This is due to the completion of the 30-meter wide road between
Toul Kork and Boeung Kak Lake
Many business outlets are built, including those on the popular TK Avenue. It meets the demand of the expanding expat population in the area. Much of the growth is not only attributed to middle-class locals but also many expat families. Both classes work in the city and commute daily. Although the commute is not a long one, there can be delays because of the high traffic heading into the city.
Property Market in Toul Kork
There are many serviced apartment options in Toul Kork. There are large and well-established DeCastle buildings. Morodok Khmer Apartments, Chey Phumin, Nobeless, and the ISL Modern Apartment complex.
The ISL building is a standout product offering in Toul Kork. Two-bedroom apartments in these complexes range between US$800 to US$1,500 per month. Villas in the area are common and of varied quality and size. Rentals are between US$1,800 to $3,500. Some of the villas resemble modern concrete castles. They are complete with maid quarters and separate kitchens.
However, there are some smaller villas that are more appealing to western tastes. Compared to other parts of the city, land prices in Toul Kork is generally stable. Large scale commercial land along the major roads No 289, 315 and 377 range from $3,000-$4,000. Smaller roads range from $1,500-$2,500.
International Schools and Government Offices in Toul Kork
Toul Kork is not as big as populated as BKK areas. However, it is home to many government and non-government offices. Among them are:
Cambodian Federation of Employers and Business Association
Cambodia-Korea Cooperation Center
National Institute of Public Health
Ministry of Health
General Department of Taxation
National Social Security Fund
National Employment Agency
Australian Center for Education
The Hun Sen Library
Ministry of Labour and Vocational Training.
A considerable number of international schools is available in this quiet neighborhood. They cater to the increasing expat population residing in this district. International schools include:
ELT International School
Beijing International Academy
World International School
American Intercon School
Pannasastra University of Cambodia
Singapore International School
Western International School
New York International School
Royal University of Phnom Penh
Don Bosco Vocational Training Center
Cambodia Development Resource Institute
Zaman International School
University of Economics and Finance
Institute of Technology Cambodia
National Tax School
Stanford American School
Liberty International School
Institute of Foreign Languages
TK Avenue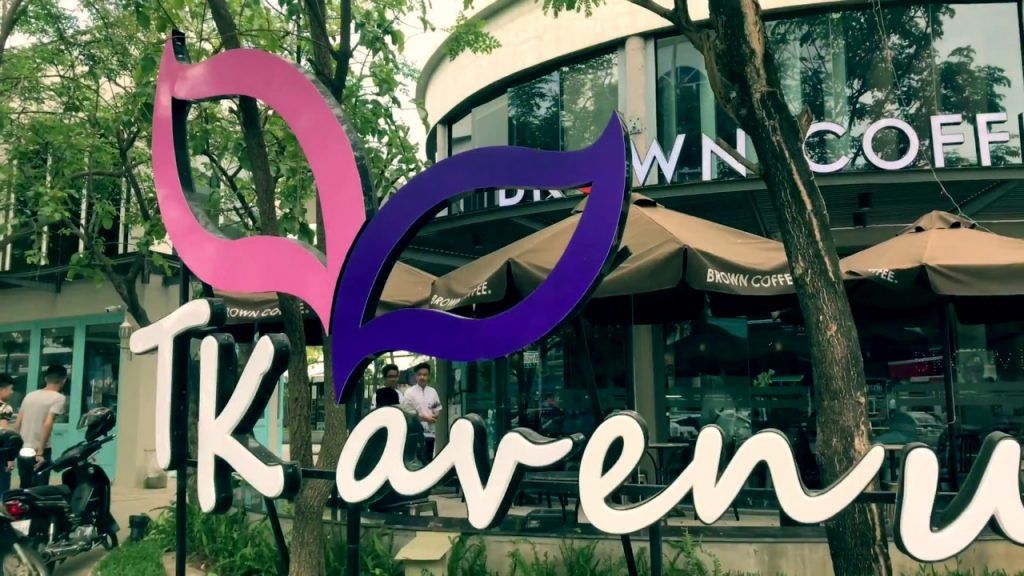 Located in the corner of Sts 315 and 516, TK Avenue is the most popular destination in Toul Kork. The once quiet district has become the haven of elite shoppers when the mall first opened its doors.
In the mall, you can find famous brands such as Adidas and Pedro Shoes. There are coffee shops like Brown, Starbucks, F&B brands, and retail outlets. Legend Cinema, where you can watch the latest movies, is also the main attraction.
Aside from TK Avenue, the nearby streets are teeming with other retail shops. These shops avoid the high rental fee in the mall. There is no shortage of supplies, choices and anything you might need when you live in Toul Kork.
Toul Kork has completely transformed itself in convenience and accessibility. The property market is still low compared to other areas in Phnom Penh. But it is wise to check out the increasing property value and improvements here.
Many commercial and residential spaces are now available. The district's economy is thriving. That is seen in the increase of open business establishments. In a few years, prices will inevitably soar as well. Now is the best time to invest.