Siem Reap, Cambodia | Angkor Grace Residence and Wellness Resort is the most luxurious residence rising in Siem Reap and also brings with it the unique promise of providing holistic well-being and a balanced lifestyle for all its residents and guests.

If health and wellness is what you want in life, see the following benefits that come with living in this up-and-coming green residence in Siem Reap City: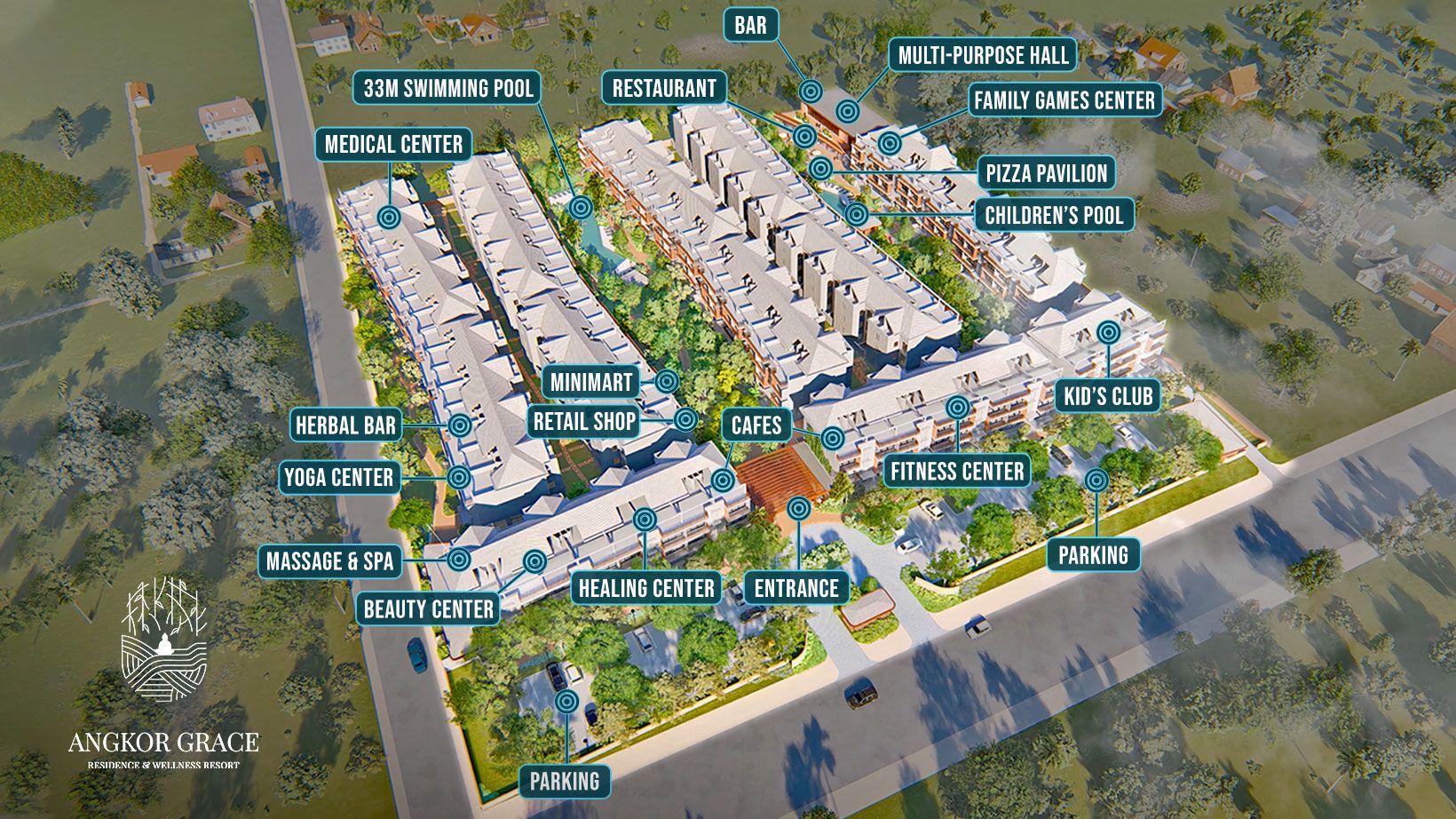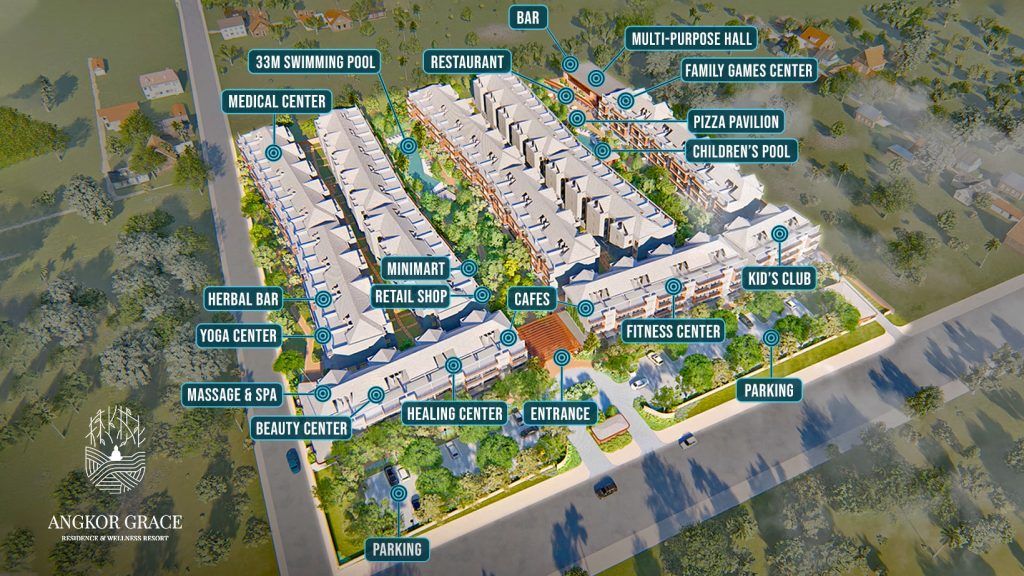 1.Numerous options, expert coaching in SE Asia's largest wellness center
Plenty of holistic healing alternatives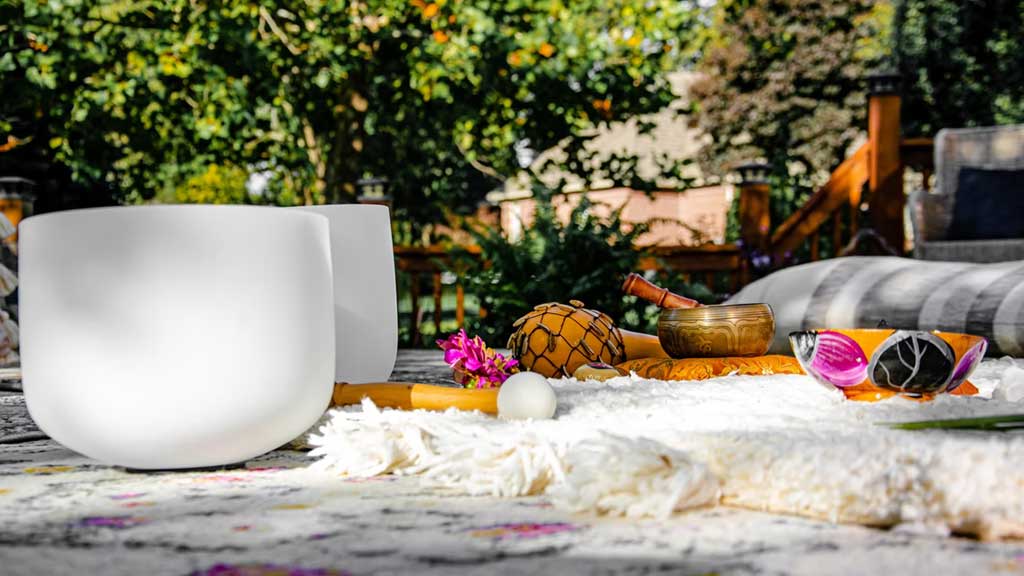 Known establishments like Enso Healing and Bliss Spa are already pegged to join the Angkor Grace community, bringing you personalized wellness sessions incorporating yoga, sound immersion, shiatsu, and pain management, as well as spa packages like body wraps, scrubs, massages, and skin treatments.
Services and exercises to aid in mindfulness and boost your mental health will also be made available, including counseling, hypnotherapy, aromatherapy, and meditation.
As more spots are still up for grabs, expect an even wider range of natural therapies to open up, as well as tai chi, qigong, and dance sessions.
Overall, the facility will be a center of various forms of traditional and complementary medicine under the careful eye of dieticians and other wellness experts.
1500㎡ high-tech gym, competition-standard pool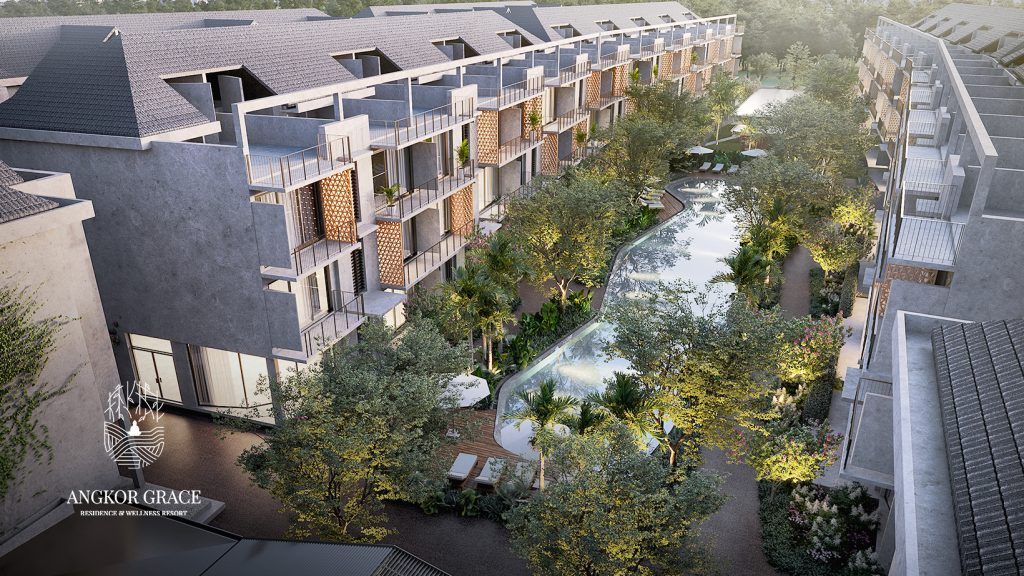 Accompanying the wellness center will be a modern gym equipped with the latest in fitness equipment—go intense on the elliptical, hit your running speed PR, or go for gainz right from the comfort of a premium residential compound.
There will also be a 33m pool that's fit for water yoga and other aqua fitness activities for swimmers of all ages.
The facility is set to be the most expansive one in Siem Reap. Coupled with the exclusivity of Angkor Grace Residences, it's also sure to be the most conducive workout spot available.
2. Following a strict diet? No problem!
They say fitness is 90% diet and 10% exercise, and the environment here wouldn't dare hold you back as you pursue better health.
Food outlets are currently being curated to offer only the most cleanly-sourced and healthful palate options, while also delivering full flavor in every meal.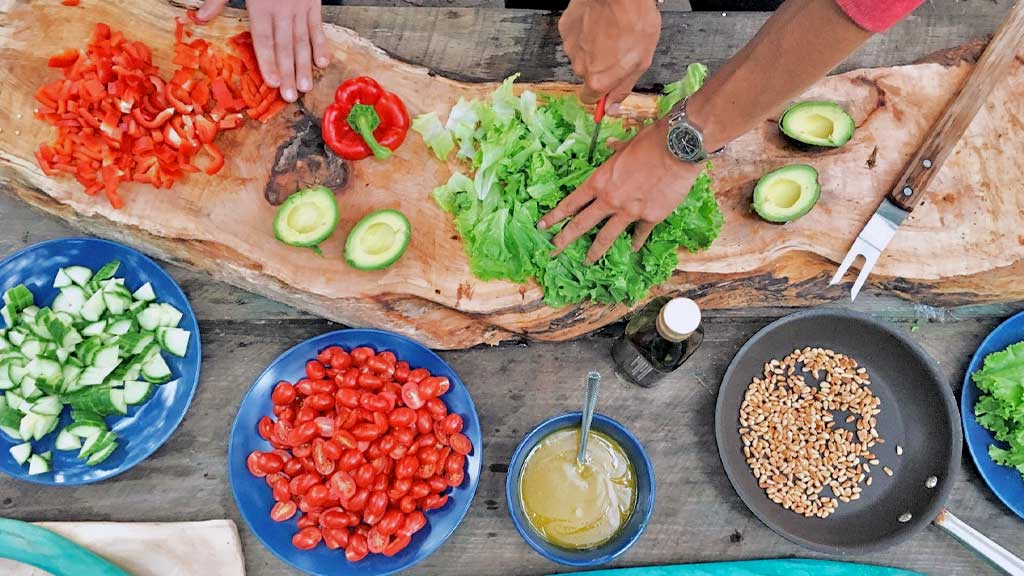 Asian fusion resto Mama Wong's and Enso Café, which offers vegan snacks, nut butters, and pressed juices, are on the line. Find foods and beverages to fit your nutritional needs, diet lifestyle, or calorie allowance whether you're aiming to go paleo, or following a gluten-free meal plan.
Of course, the units at Angkor Grace also come with fully equipped kitchens, you'll also have all you need for efficient meal preparation at home.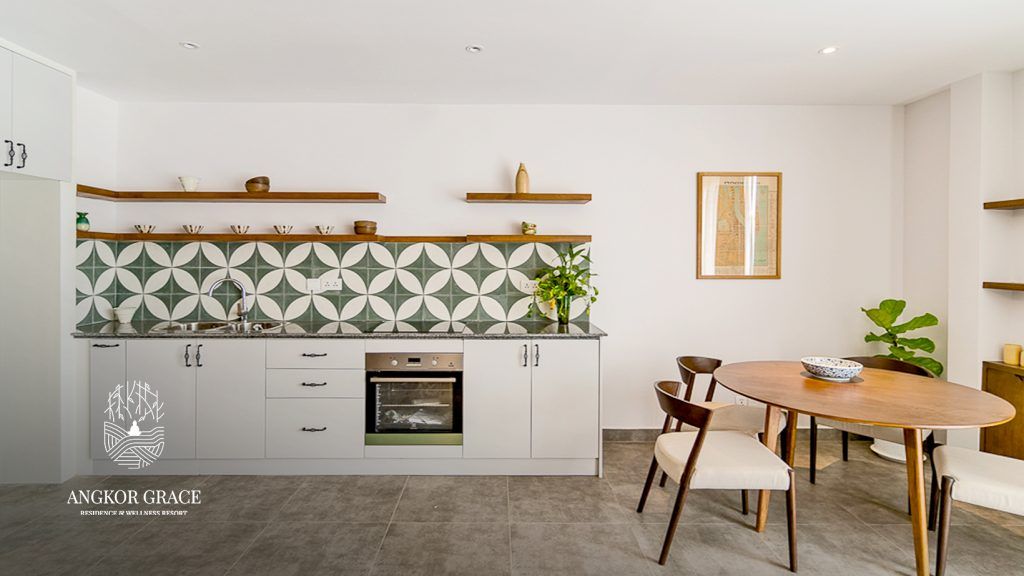 3. A balanced lifestyle for all generations
Kiddie pool with pavilion
A truly livable space can benefit people of all ages, and even the youngest in your family or household won't be exempt from enjoying the balanced lifestyle that Angkor Grace has to offer.
Pool time is a great way to introduce kids to outdoor play and encourage an active lifestyle, and the facility here ensures utmost safety for youngsters.
Aside from the obvious physical benefits, swimming can improve mood and sleep quality, and build confidence and character among children.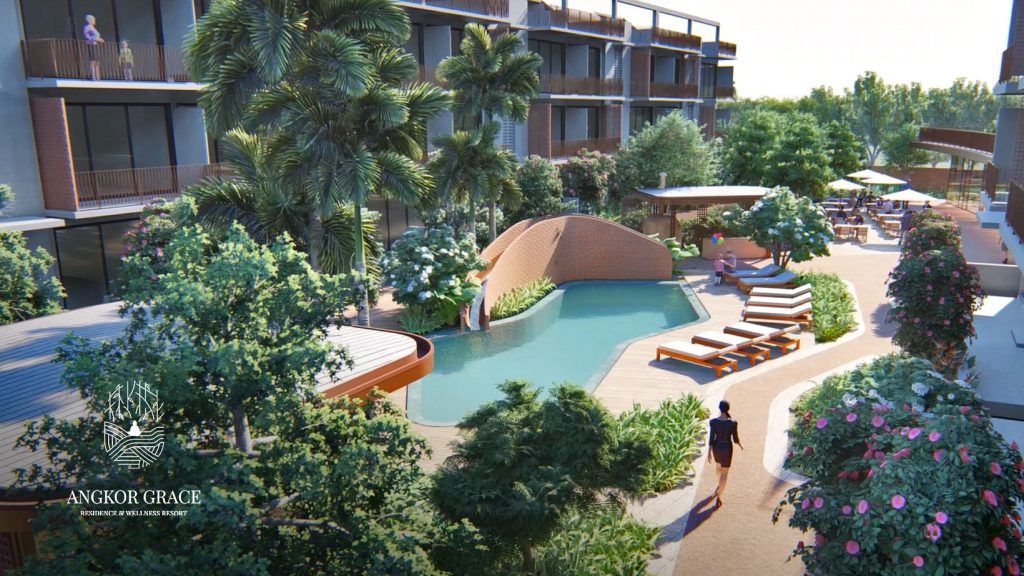 Children's recreational center
There will be a special entertainment center for children and family. It will offer both educational and recreational activities to ignite their creativity and develop different skills. They'll also be able to enjoy the latest movies and other forms of media entertainment in a highly comfortable, totally safe, and child-friendly environment.
Medical facilities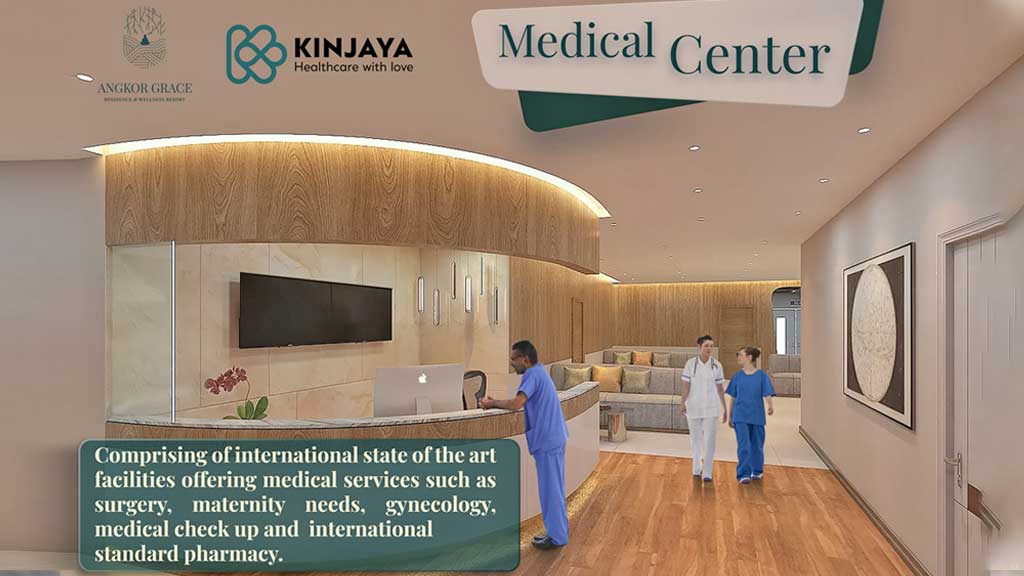 Living up to its promise of dynamic lifestyle, the Kinjaya Medical Centre brings western medical facilities equipped with the latest in cutting-edge diagnostic medical equipment and medical professionals, all found within the project's grounds. Everything from surgeries and special checkups to diagnostic equipment will be ready at this global-standard facility.
This is in addition to other expat-friendly health institutions in Siem Reap, assuring you that whether young or old, and whether in the prime of life or prone to poor health, your well-being is of top priority at Angkor Grace Residences.
4. Live within a grand naturescape open for all types of activities
Garden landscape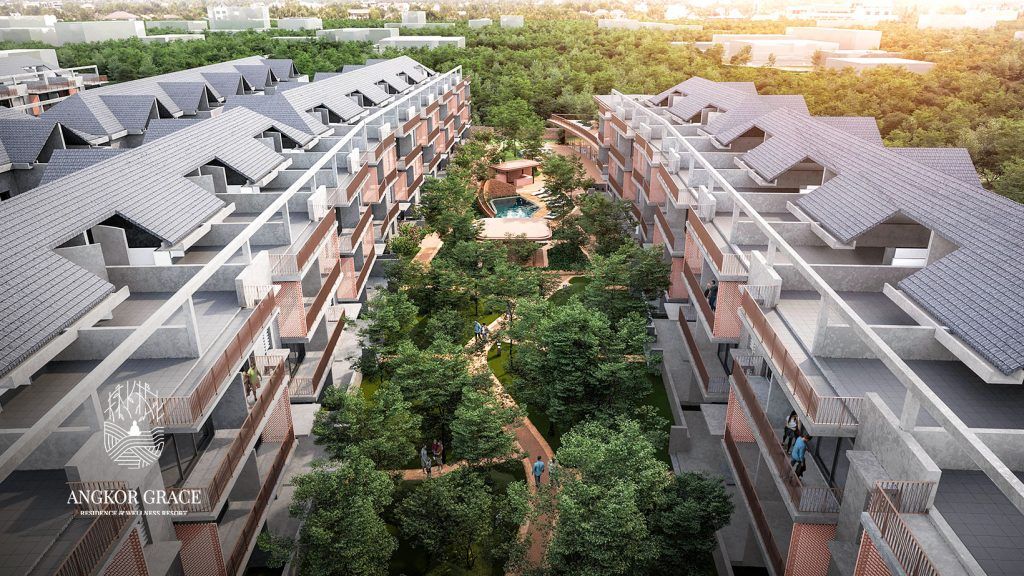 Not every moment is made for yoga classes, gym sessions, or work. Whatever your main activity for the day, a stroll around the geometric tropical gardens will do you some good. Gardens easily define the ambience of Angkor Grace. It is set to be a modern, premium getaway destination that will bring you closer to nature and one's best self.
Walking outdoors is a hassle-free way to regulate your mood. Get your creative juices flowing and pump up your vitamin D levels to combat illness or muscle pain after crushing it in the gym.
As a pet-friendly community, the compound also provides the perfect environment for walking your dog. We certainly mean it when we say this is a residence ideal for all!
Multipurpose clubhouse
There will be a multipurpose recreational hall available for unique workshops, seminars, to accommodate any planned gatherings among residents.
Aside from being an extra activity venue, this facility will encourage collaboration and networking among guests and residents who all share the goal of pursuing health and mindfulness.
Staying at Angkor Grace will in no way limit your Siem Reap experience within the wellness resort. This sanctuary is truly meant to improve your quality of living.
It takes less than 20 minutes to reach if you're arriving from the Siem Reap International Airport. You'll find yourself 10 minutes away from areas like Pub Street, the Angkor Archaeological Park, and the Phare (Cambodian Circus).
If it's convenience, privacy, and comfort you're after, there's no need to look any further. It's a wellspring of vitality welcome for all, a gateway to luxurious country living.
Ready to live a healthier lifestyle in Siem Reap?
Click here to view project update and learn more about Angkor Grace Residence & Wellness Resort