Finding your dream home or the next real estate property you want to buy is easier if you know the ins and outs of the market. While there are a surmount of factors to consider and learn about the industry, using IPS can make your property search fast and easy, especially when you follow these tips.
Make use of our user-friendly website
Before diving into research and understanding how the real estate industry works, you first need to determine what type of property you need. Whether you want to rent or buy a home for you to live in or use it as a means to get a monthly passive income, our property search filter can show you the properties you can consider viewing before finally buying or renting.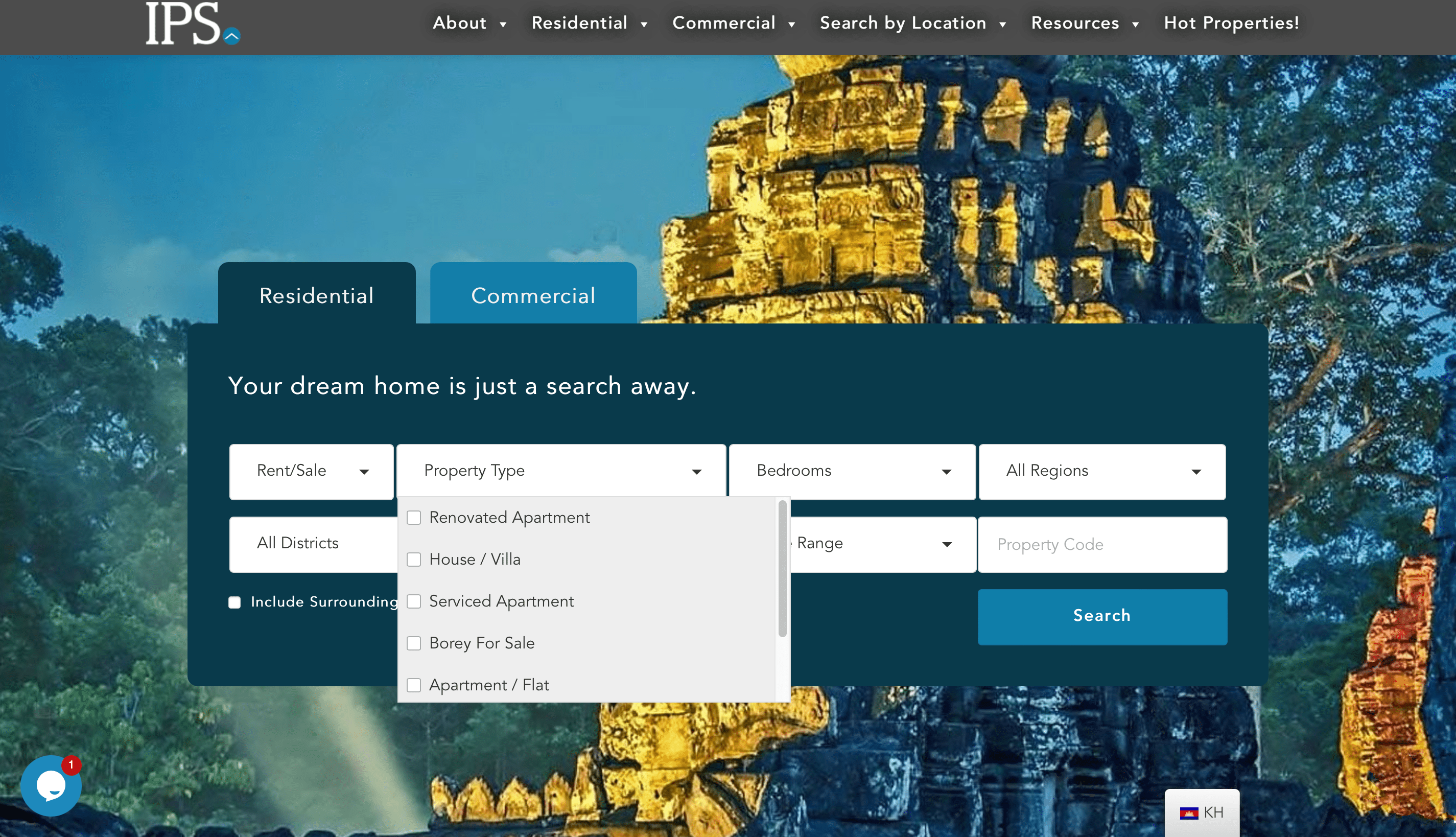 There are numerous properties out there in the market so if you are looking to rent or buy a home for your own use, these are the properties you can choose from:
Condo
Apartment
House
Villa
On the other hand, if you want to rent or buy a real estate property to make a profit, then these are the commercial property types you can choose from:
Office
Retail properties like shops
Industrial properties like warehouses
Leisure properties like restaurants and more
Provide your property requirements
If you want to skip the property search, you can proceed to directly providing your specific requirements to our property agents by visiting our offices in Phnom Penh and Siem Reap, or submitting it to our booking page. After that, you'll receive a list of property options that match your preferences.
For example, if you are looking for residential real estate properties to buy or rent from in IPS Cambodia, here are the things you need to consider in the listing:
Location → The first thing to consider is the location. Is it close to your workplace, business, and other conveniences like grocery stores? Moreover, are your friends and family close by?
Budget → The second thing to consider is how much you can spend monthly, whether for rent or mortgage, on a home.
Floor area → It's important you have enough space to live a comfortable and convenient life so determining the floor area is necessary.
Bedroom → Based on how much space you and your family needs and your current lifestyle, you can determine how many bedrooms you need.
Bathroom → Determining the amount of bathrooms you and your family needs to have is a necessity.
Parking → Consider if you need a parking space and how much space you need when you're looking for a property.
Lease term → Determining if you want to have a short or long term lease is important if you're renting.
Pet-friendly → If you have a pet, whether you're looking to rent or buy a property, you need to consider this factor.
If you're looking for commercial properties, then you only need to consider the budget, location, floor area, and lease term. Once you know these details, you can check our property listings to see which properties are currently available.
Connect on our hotlines
If you want to connect virtually using your mobile, you can contact us via Telegram, email at inquiry@ips-cambodia.com, or call at +855 77 959 861. By connecting with us via mobile number, our customer support can easily connect you with an agent who will get in touch with you regarding your inquiry as soon as possible. At this time, the details you've prepared regarding the property will help make it easier for the agent to find the property you're looking for.
On the other hand, if you already searched the listings and found a property that you want to see, then you can directly input the specific property code and book a viewing here. Just indicate what you need along with your personal information like name, contact details, and preferred schedule so that an agent can reach out to you quickly regarding the viewing.
Subscribe, Like and Follow our social media pages
Whether you're actively looking for real estate properties or not, you can get prompt updates on the properties in the market and their prices once you follow us in different social media platforms as seen below:
Use a trusted real estate agency and property platform
Looking for the property you want doesn't have to be a grueling task. After all, conducting your own research in the real estate market can be time consuming as well as tedious since there are numerous things you have to consider. Additionally, navigating the legalities of the real estate industry as well as ensuring you are getting a fair market price on the properties you are checking can be difficult, especially if you're not familiar with it.
To find the property you want to buy or rent, the first thing you need to look for is a trusted real estate agency like IPS Cambodia. The task of finding your next home will be easier since these companies will help in determining the appropriate properties based on what you're looking for.
Additionally, they will thoroughly guide you through the process, from ensuring the listings fit everything that you need up to making it easier for you to buy or rent it. Transparency is the key with these real estate management companies so that clients like you know what the next step of the process is and more.
IPS Cambodia Real Estate
Average rating:
0 reviews