Our lifestyle has been adapting to the change of time, and so as architecture. Earliest construction of homes provide the necessary security and shelter. But today, people expect more from their homes – from features to location – families want a home that's modern, comfortable, and sustainable.
After years of building townships and quality homes for Cambodian families, The Eco Residence Sen Sok now leads the movement of integrating these three aspects (modernity, comfort, and sustainability) to its house-and-lot developments.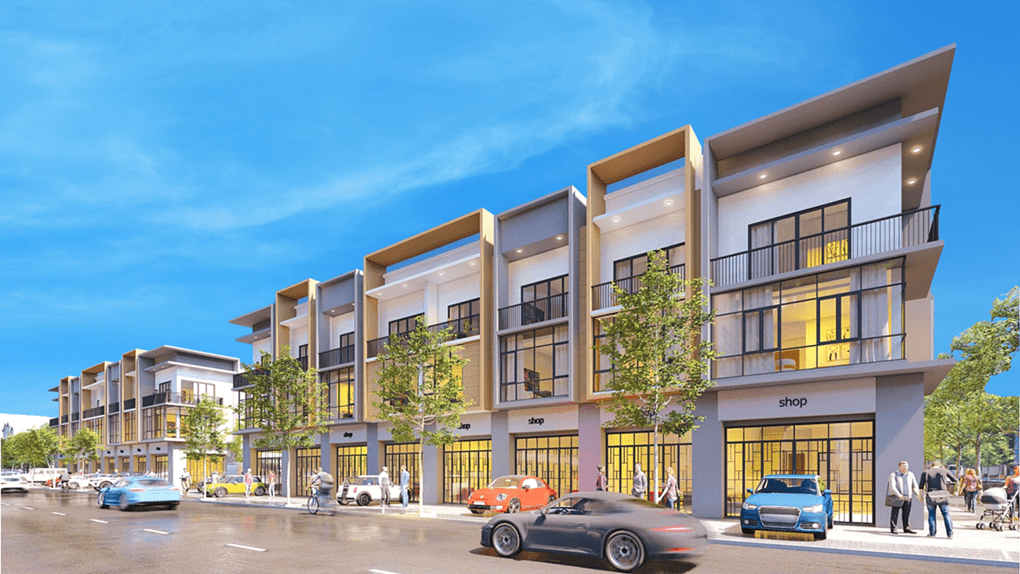 The Eco Residence Sen Sok upgrades a regular home into a sustainable space that enables nature to improve the families' lifestyle. To promote a healthier living, the architectural designs of this development are focused on reducing energy costs and lowering carbon footprints by better insulation, improved ventilation, and environmentally-friendly layout.
Grandeur Ceiling
Classic shophouses before are built with a mezzanine floor which is why ceilings are quite low.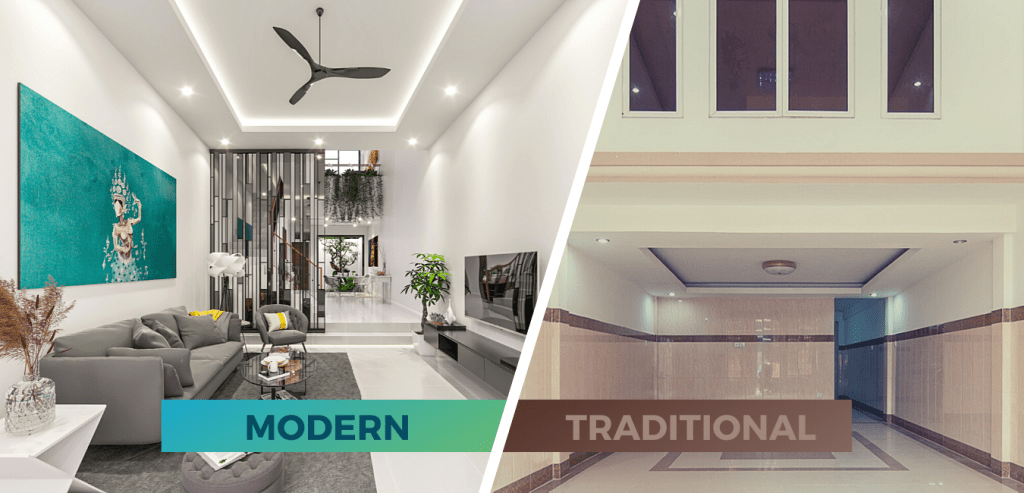 Upon entering The Eco Residence Sen Sok home, a double-height ceiling within the main living area provides a sense of elegance and luxury of space.
Possibilities are endless since the walls are built in a grand height. You'll have plenty of design choices to play with which can help your home stand out. For instance, you can install ornate light fixtures without interrupting the space, or add color and life by putting up a nice art painting on the wall.
Seamless Integration of Living Spaces
Multiple, enclosed living spaces are found in old shophouses. By having this type of layout, expect your costs to get high for you'll be needing to provide separate air conditioning units or fans, as well as lighting in each enclosed area.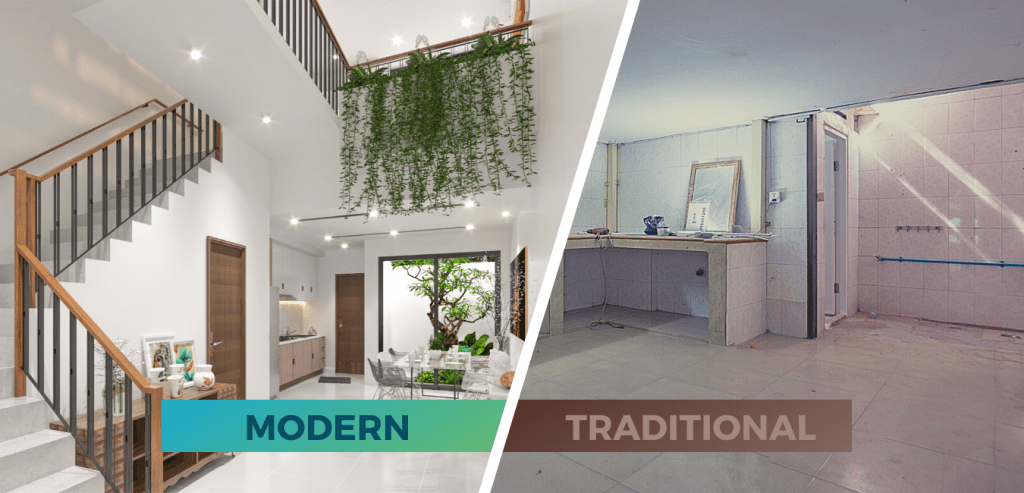 In the effort to reduce the consumption of energy, The Eco Residence Sen Sok chose to eliminate extra interior walls to open up the space. With no barriers, the breeze of air and diffusion of sunlight can flow through the house uninterruptedly.
The interior is open layout; you can see the living room, dining room, and kitchen in one space. A small room under the stairs is also a good idea for storage. The dining is connected to a backyard which can be accessed through a glass sliding door providing a nice garden view.
Your homes here are brighter, airy and well ventilated, which will undoubtedly be beneficial with Cambodia's tropical climate. It would make you consume less electricity by using natural light and air everyday.
Vertical Open Space
Once you step on the first floor, you'd be left clueless on what's happening on the ground floor. This is the usual old setting for most shophouses in Cambodia.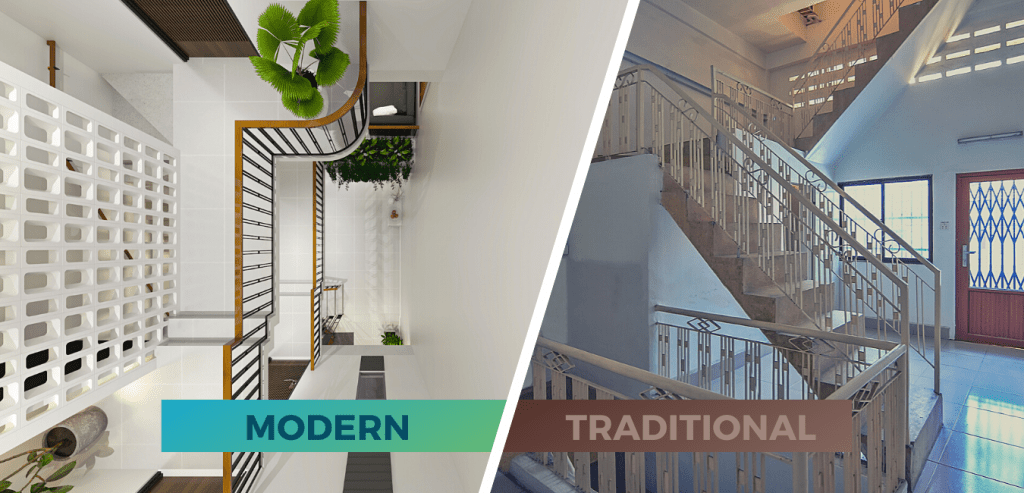 The Eco Residence Sen Sok homes make it easier for you to get a glimpse of all areas of the house. With the vertical open space as the focal point, you can stay on the ground floor and still get a clear sight of the uppermost floor.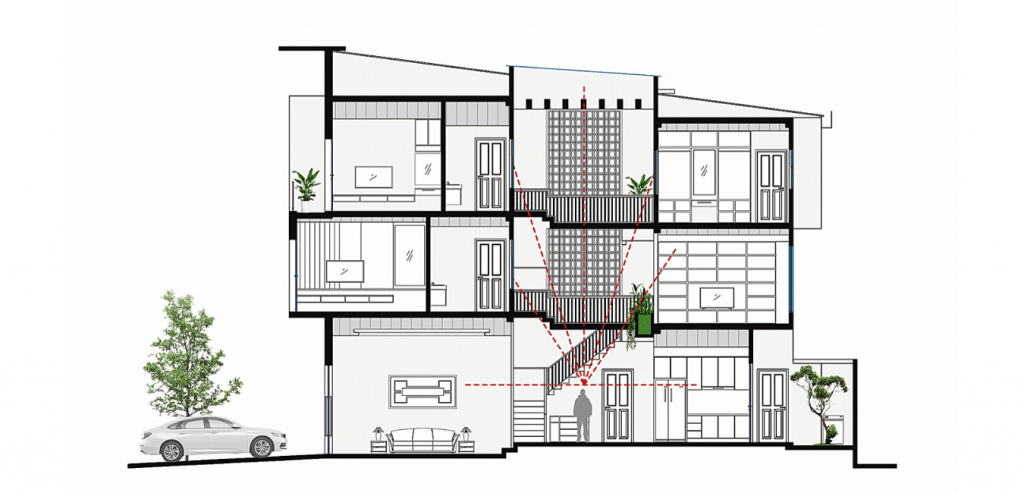 The height of the ceiling, from ground floor to rooftop, provides a great space for hot air to rise allowing more air circulation and making the home easier to cool in warmer weather.
Skylight Roof
True enough, every family deserves a home that is enclosed by walls and protected by a roof. But, that doesn't mean that you need a house that's fully covered.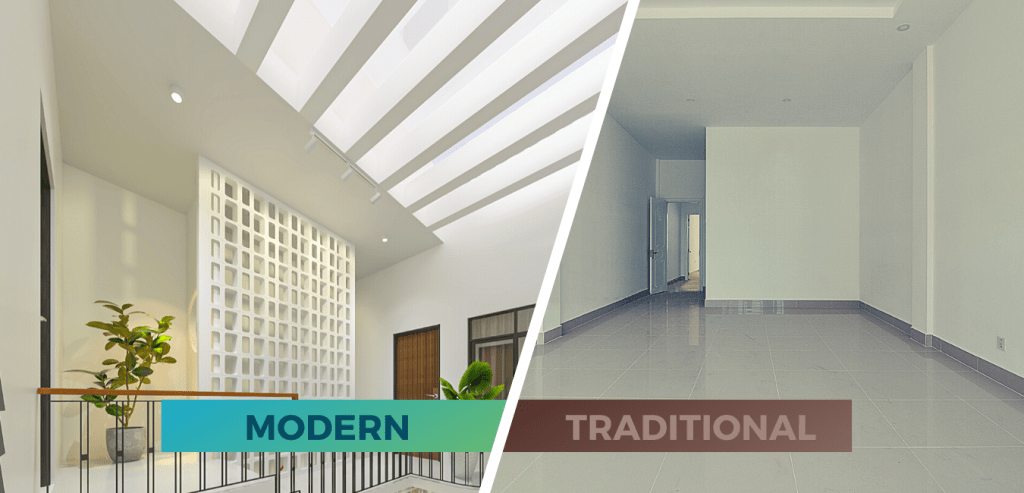 Ever found a home that allows you to stay indoors while staying connected to the outdoor environment? With The Eco Residence Sen Sok skylight feature, you can do precisely that through its glass ceiling.
The skylight pleasantly cast sunlight over the glass ceiling all the way to the shadowy end of the ground floor. It allows you to see the sky or gaze at the stars so you can still be part of the outdoor environment.
Indoor Windows and Decorative Dividers
Generally, ordinary houses are installed with windows to provide essential amount of light and sense of airiness.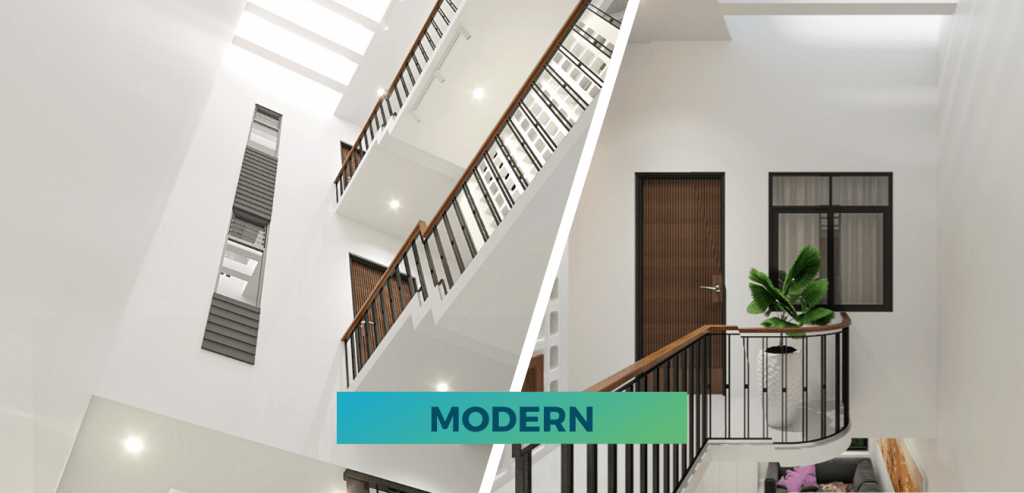 All the more can be said for The Eco Residence Sen Sok. With interior wall cutouts or windows inside the house, their homes offer more light and air, alongside glimpses of home areas which will make you feel a little less boxed while you're inside the room.
Typically, living spaces are separated using closed concrete walls but The Eco Residence Sen Sok found a better way to break up the spaces. Adding decorative masonry walls, along the staircase, creates a feeling of division without closing off the spaces entirely. Plus, the divider adds a lovely view to the interior and still somewhat recedes into the space.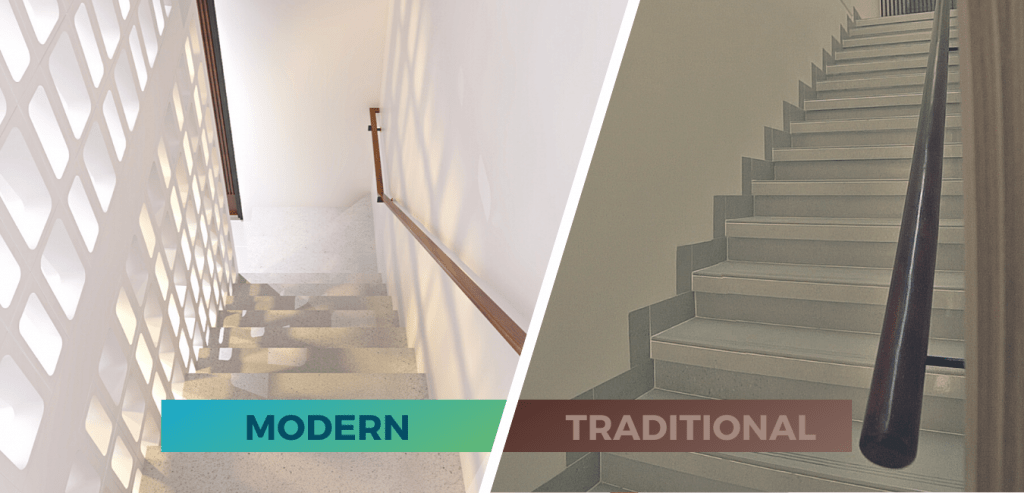 Nature-friendly Home
Families nowadays look forward to the comfort and warmth of coming home with lush greeneries.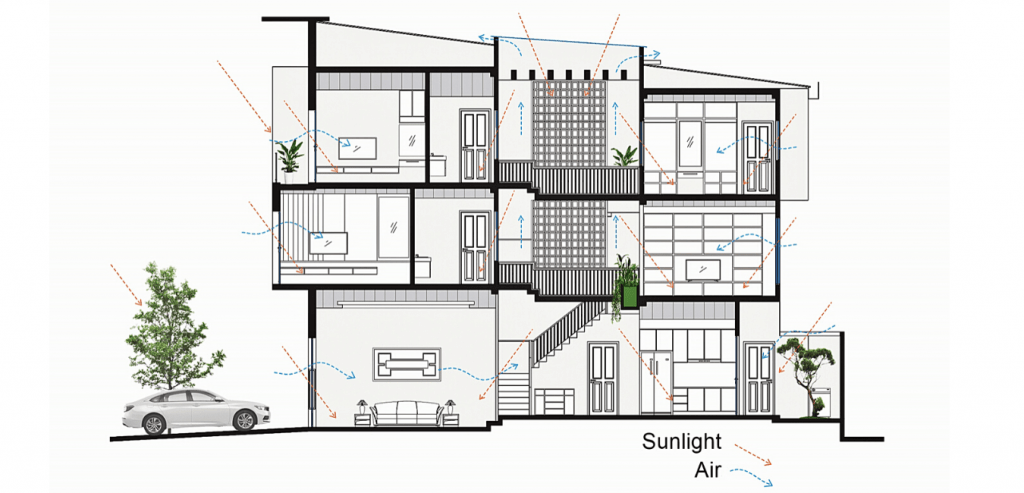 That said, The Eco Residence Sen Sok designed its Borey with structures and elements that can make plants flourish even inside the house. You and your family can live the way you deserve, along with your plants thriving in the abundance sunlight and air passing through the sunroof, windows, and open spaces.
Each house has a planter box on the first floor facing the foyer. This feature makes the house stands out as it adds a touch of nature to the interior architecture.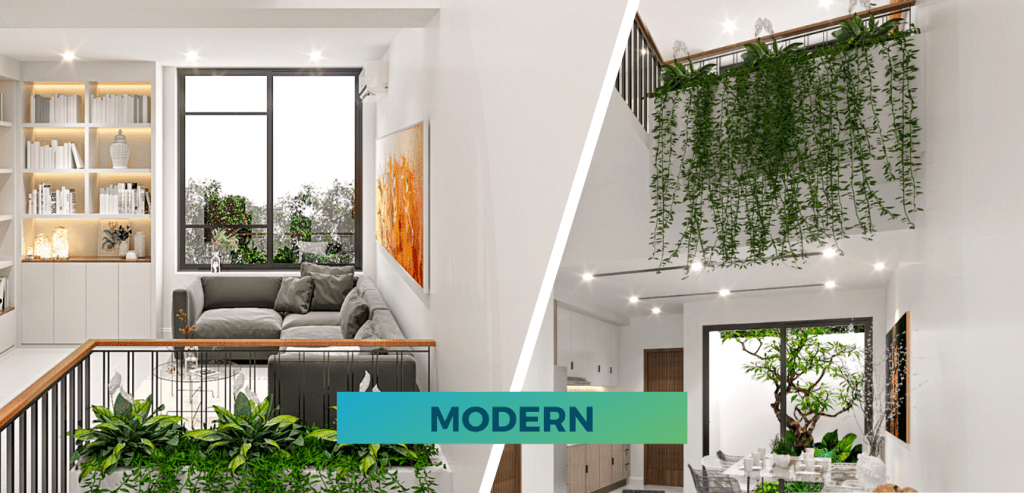 Over the years, Cambodia's resilient developments have been trying to remain relevant by adapting to modern, smart technology. This may now be evident to Phnom city center condominiums and apartments, however, being modern doesn't necessarily mean being advanced.
Besides having smart technology, it's also necessary for us to have communities that promote sustainability for the future of emerging Cambodia. From energy-saving to organic environment, The Eco Residence Sen Sok is a township that has become a shining example of what Borey developments can do when it comes to promoting a better tomorrow.
Lead into the comfort of living you truly deserve! Bring your family a new home at The Eco Residence Sen Sok.