PHNOM PENH, CAMBODIA—The Ministry of Public Works and Transport aims to complete the National Road 3 Rehabilitation project by September 2021, which started in May 2018.
The improvement of the 135-kilometer road hit 98% in May (2021), originally scheduled to be completely finished by 2022. It will start from Phnom Penh, passing through other provinces including Kandal, Kampong Speu, and Takeo.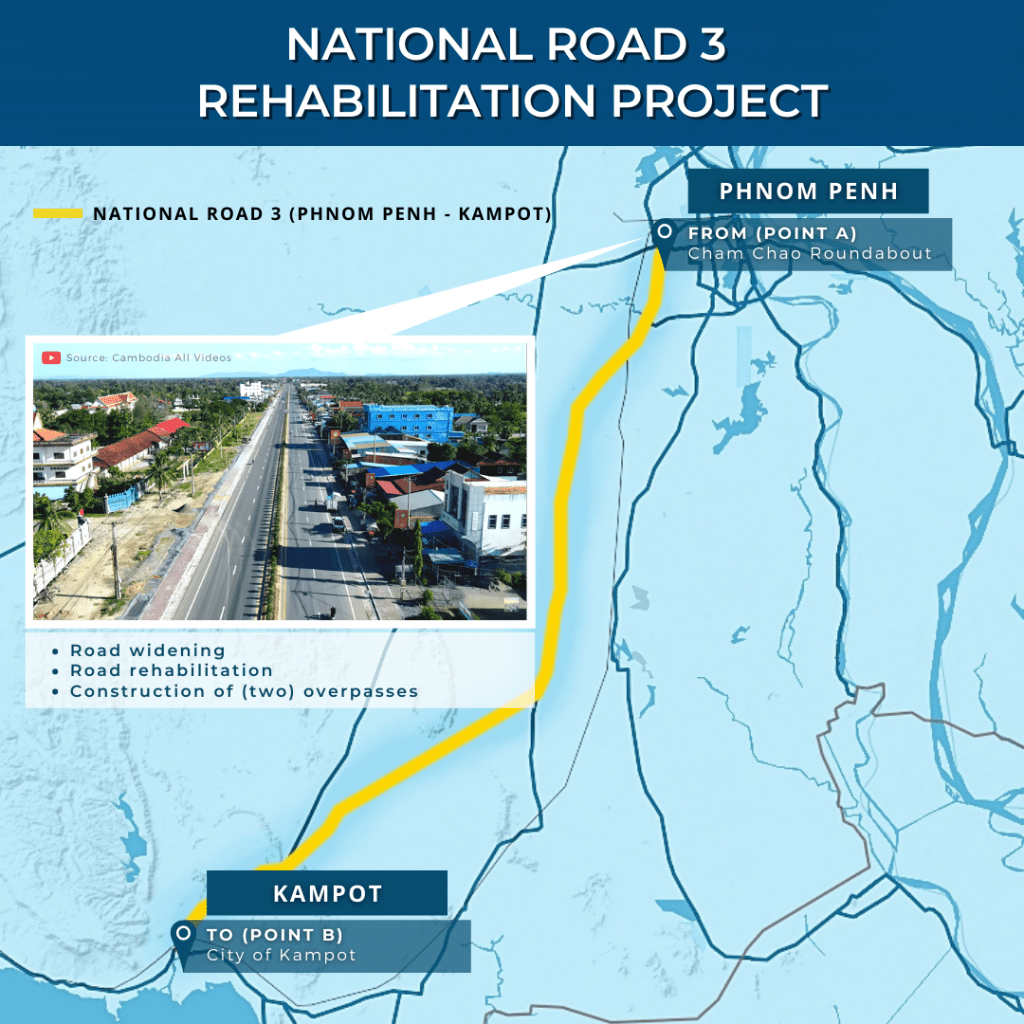 The road works in NR3 is divided into two sections of road widening: one is expanding the road from Chaom Chao Roundabout, Phnom Penh to Bek Kous, Takeo province to 24.5 metres (4 lanes), and 12 metres (2 lanes) from Bek Kous to Kampot city—all built in asphalt concrete.
Two overpasses are also nearing completion, improving trade and commerce for factories and businesses situated along the road.
Key remaining works include the decoration, installation of traffic lights, and integration of speed-checking cameras to monitor the transportation activities and ensure that drivers respect the traffic laws.
With a funding of $220 million by the People's Republic of China and the Royal Government of Cambodia, the National Road 3 rehabilitation is being constructed by China Road and Bridge Corporation (CRBC), and technically monitored by Guangzhou Wanan Construction Supervision Co., Ltd.
Just recently, the road was opened for temporary use, and the official ceremony that will launch the improved road will be held soon under the auspices of Cambodian Prime Minister Hun Sen, in the condition that there's no threat of COVID-19.
WHAT ARE THE BENEFITS OF THIS PROJECT?
While airports and seaports play a critical role in import & export of goods, it's these road networks which Cambodians rely heavily upon for key tasks, such as supplying materials to factories, transporting finished goods to international trade terminals, moving goods to and from distribution centres, and transporting agricultural goods from farms to markets.
As such, expanding and maintaining National roads 3 & 4, hailed as "industrial corridors to the south" due to the number of industries and factories here, will be a huge contributor in regaining Cambodia's consistent economic growth, which it has enjoyed in recent years.