Cambodia is undergoing a not so quiet emergence on the global property scene. Fueled by a combination of ambitious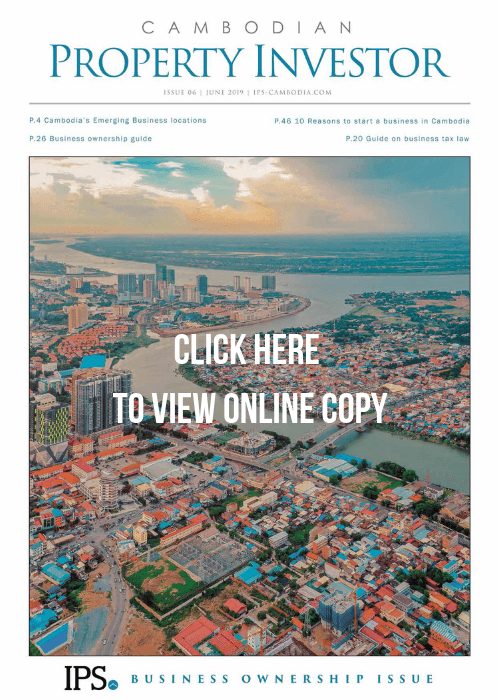 projects backed by Foreign Direct Investment (FDI), with the full support of the Cambodian Government. Coupled with an insatiable appetite for property investment by the Kingdom's residents, the Property scene is thriving.
In our sixth issue, we focus on the rising commercial and business sector, and the opportunities within it.
We break down the key steps on how to start your own business here, including the relatively straightforward tax requirements. We present the best business opportunities currently within Phnom Penh and Siem Reap, together with identifying up and coming areas with the greatest business potential.
This magazine features the Song Saa Reserve – the first ethically integrated tourism hub. We give a glimpse of Villa Asaliah and Saramani, two of Siem Reap's best vacation rentals. They are beautiful places to rest after a long day walking around Angkor Archaeological Park and a night of drinking at Pub Street.
For the Education sector, we checked out the Australian International School of Phnom Penh. It is a prestigious institution that empowers students to be 21st-century learners through quality curriculum, teaching, and learning experiences.
On a lighter note, we also looked at Cambodia's Art Scene. We found that as the country rose from the ashes of its dark past, so did its art. Meta House, a German Cultural Center is showcased, as well as NoWhere Art Studio, DinArt Gallery, BongTheGallery, and SaSa Art Projects.
Additionally, we found activities close to your heart. There's Fly Phnom Penh – The Happiest Place in the Kingdom, Phnom Climb – A place that pushes your limit, and Fantastic Water Park – the perfect place to cool down on hot summer days.
If you are looking for a business opportunity, then this is the issue for you. Welcome to the 6th Edition of the Cambodian Property Investor Magazine.