Government imposes two-week lockdown in Phnom Penh and Takhmao in Kandal province
The government imposed a lockdown in Phnom Penh by two weeks starting April 14 midnight to April 28 due to the alarming spike of Covid-19 infections which continues to surge and started to overwhelm many hospitals in the capital, as well as in the outlying regions.
People in Phnom Penh – the national capital city – and in Ta Khmao city of Kandal province will have to stay at home for two weeks unless they are essential workers or the purpose of leaving their homes is essential, according to a directive signed by Prime Minister Hun.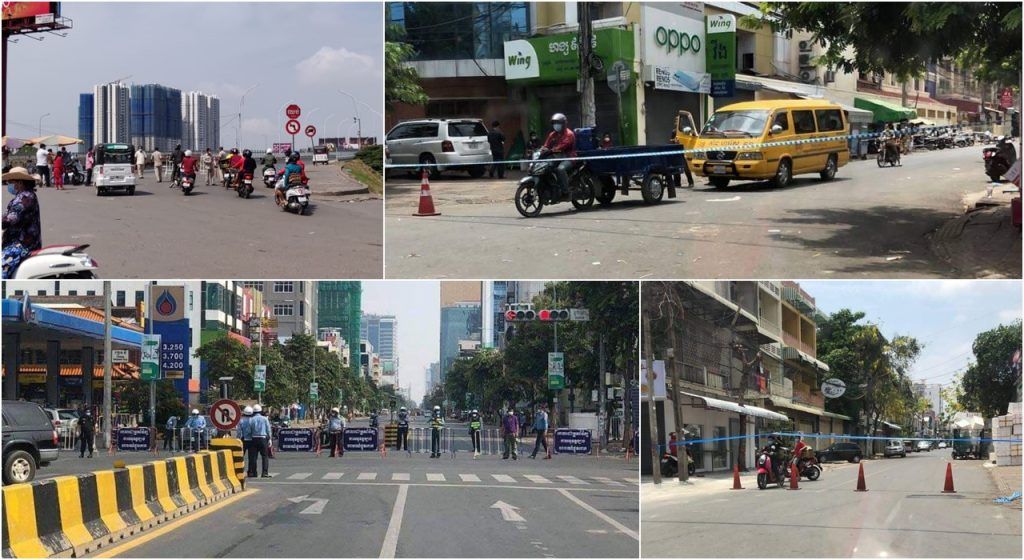 WHAT ARE CONSIDERED ESSENTIAL REASONS/PURPOSES?
Workers under essential businesses traveling to work, in the condition that workers are able to present proof of employment such as employment certificate issued by their company or the nearest local authority.
Residents leaving their homes to buy food and other necessities, accomplished by only two members of the household not more than three (3) times per week.
Residents leaving their homes for medical reasons or other emergencies, with no more than four (4) people in each case.
Residents leaving their homes for Covid-19 test or vaccination.
Residents leaving their homes for outdoor exercise or outdoor sport activities within their respective residential areas, of no more than two (2) people together.
WHO ARE CONSIDERED ESSENTIAL WORKERS?
Workers that serve the public interests, public services, and other necessary purposes particularly:
Workers under the government agencies
Workers under news media networks such as journalists and news reporters
Diplomats, staff of foreign representatives, and staff of United Nations, International financial Organization, International Organizations, International Non-governmental Organizations.
Workers under armed forces of Cambodia
Workers under necessary services such as firefighter services, electricity, water supply, and waste collection.
Workers under under essential services including ambulance, health and medical service, telecommunication, banking and finance, and other necessary services not mentioned that provide essential services.
Workers that serve or supply daily necessities such as:
Workers that produce and distribute daily necessities in factories, enterprises, or food production including livestock slaughterhouse.
Workers that serve daily necessities including retail stores, wholesale markets, food markets (that are arranged orderly), food marts, restaurants (for packaging and delivery service only), gas stations, and other businesses not mentioned that provide the daily necessity and are allowed to be opened by the authority.
Workers that transport or deliver necessary orders to serve the needs of the residents within lockdown areas, as well as to transport goods in and out the lockdown areas to serve the social and economic sector of the country.
Under the restrictions of lockdown affecting Phnom Penh and other neighboring provinces, all gatherings are banned except:
Gathering of family members living in the same residence
Organizing funeral/s according to the regulations set forth by the authorities
Meeting of the medical staff to collect samples for COVID-19 testing on direct and indirect contacts of COVD-19 patients, or to collect COVID-19 patients or to perform other emergencies
Meeting of the authority to maintain security and social order
During the implementation of the lockdown measures, all nonessential businesses or activities are prohibited.
WHAT ARE CONSIDERED NONESSENTIAL?
Nonessential, whether in terms of business or daily activities, are generally recreational in nature. This applies to businesses or activities that do not serve our daily necessities such as food, health, basic utilities or financial support. To name some, these are movie theaters, gyms and recreation centers, salons and spas, museums, shopping malls, etc.
Note: For all of the exemptions mentioned above, businesses and individuals that are permitted to leave their homes must follow the curfew protocol (from 8 PM to 5 AM) and health measures including wearing face masks, keeping social distance, taking care of personal hygiene, and checking temperature to combat the spread of COVID-19.
CLICK HERE TO VIEW: English Translation of the lockdown implementation in Phnom Penh
Sources: