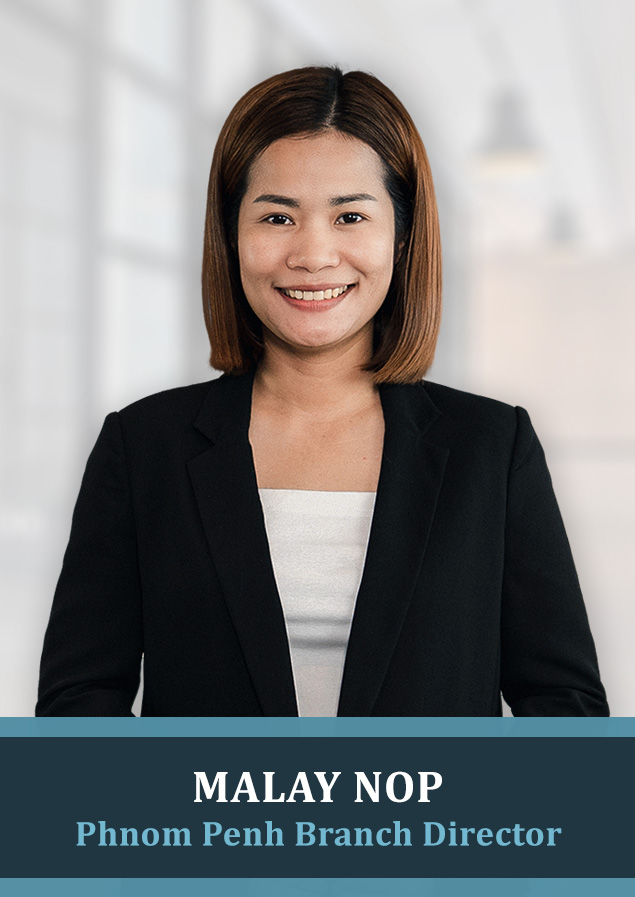 Malay Nop
Phnom Penh Branch Manager
Malay Nop moved to Phnom Penh from Siem Reap in 2007 to pursue her Bachelor Degree in Accounting. She was a scholar at the Royal University of Law & Economics. In 2011, Malay joined a global real estate company, focusing on residential leasing and sales. She rose to become the manager of the leasing and sales team. She joined IPS as the Phnom Penh Branch Manager in early 2017.
Malay is passionate about Phnom Penh real estate and imparts with investors and clients her detailed understanding of the leasing and sales processes in Cambodia with professionalism, integrity and a genuine desire to see the best outcomes for her clients. She has been awarded as one of the top real estate professionals in Phnom Penh and provides expert advice to investors who want to enter the property market.
Feedback from our Clients for Malay Nop
I would like to sincerely thank Malay from IPS Cambodia for her display of professionalism and persistence throughout the sale of my property in Cambodia.

When all other agents have given up on selling my property due to time limitations (2 weeks notice), Malay stood ground and was able to connect me with a buyer within the FIRST day of me contacting her.

She independently manages everything within the sales process, from liaising with the developer, buyer, buyer's nominated escrow lawyer and notary without me having to put in additional efforts other than providing and couriering the necessary documents.

Upon stumbling with any difficulties, she was always able to reassure me that everything will turn out alright. True enough, everything went well and we were able to close the sales timely and smoothly.

I would definitely recommend Malay from IPS Cambodia to anyone looking to buy or sell properties in Cambodia! – David H.
As Cambodia's foremost real estate company, IPS has grown quickly in its eight years of operation. It now has two strategically placed offices in Cambodia's strongest business districts of Phnom Penh and Siem Reap.
Find out why IPS is a force in the Cambodia real estate market. Contact Malay Nop today at +855 77 959 861 or inquiry@ips-cambodia.com for a free consultation or continue browsing over 5,000 residential or commercial properties here.
Stay connected! Follow our official Facebook Page and our dedicated Siem Reap page.
Ask Malay a question: