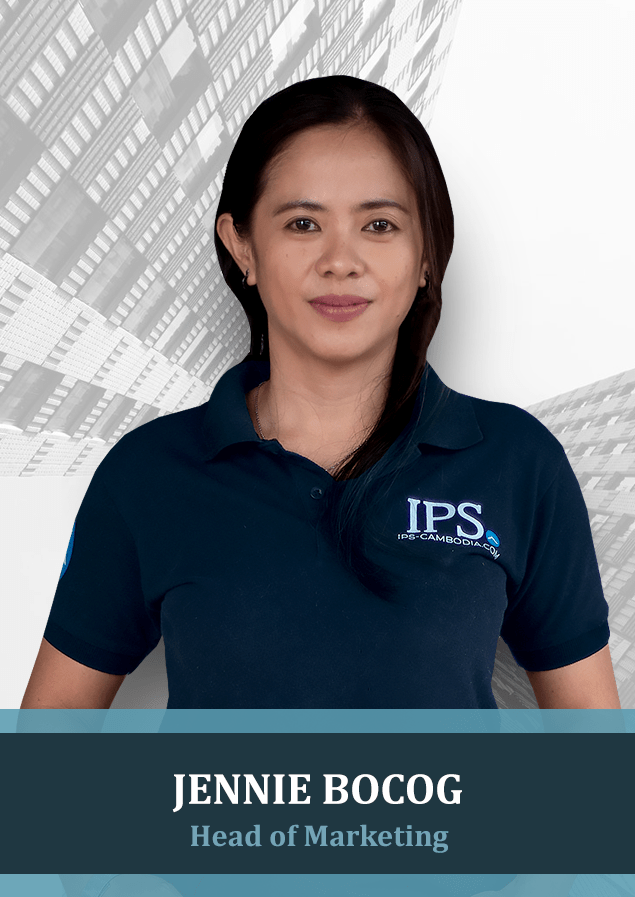 Jennie B
Head of Marketing & Communication
Jennie has been in the Marketing and Real Estate industry for over 10 years before she joined IPS in 2019. She enjoys the dynamic nature of her job and loves being a part of such an amazing team. Her primary role is to support the team with marketing initiatives in driving sales and providing real estate services to the highest standards.
As the head of the marketing team, she is responsible in providing the best marketing techniques and assure the successful execution of the IPS business mission through its marketing efforts. She is involved in cultivating ideas and devising digital strategies to integrate on online synergy appropriate for unique demographics. Her continuous development of digital platforms has contributed to the increase of leads to the sales team; thereby maintaining IPS as the leading real estate company in Cambodia.
She brings various professional experiences in Digital Management within the fields of Graphic Design, Web Development, SEO and Digital Marketing. She earned a degree in BSBA Major in Marketing from Far Eastern University-Manila in the Philippines.
Contact Jennie today for advertising opportunities at IPS!
Ask Jennie a question: