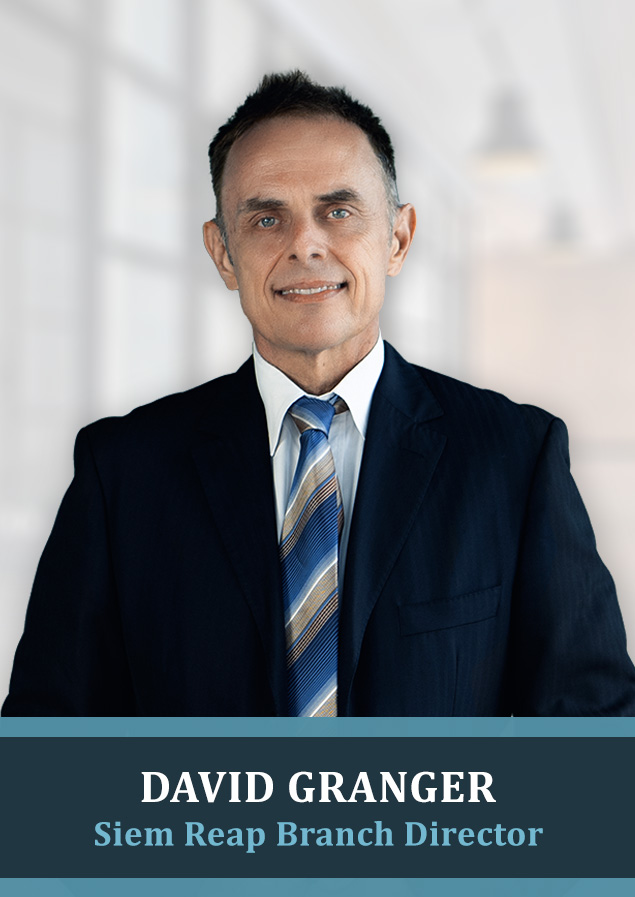 David Granger
Siem Reap Branch Manager
David Granger brings with him decades of experience in management and sales as IPS Cambodia's Branch Manager for it's Siem Reap office. David's background includes development and providing services for large-scale plantations in Southeast Asia. This helped him earn invaluable experience from farming operations to the commercial estate.
Since joining IPS in 2017, David Granger focused on residential sales, property management, and business development. He has guided the development and advancement of the IPS Siem Reap team. David had always prided himself on his passionate drive to grow Siem Reap's real estate scene. He is dedicated to providing helpful property ownership advisory to foreign and local investors alike.
David holds an Advanced Certification of Commerce from Albury College and several Certifications in Business Communication in Australia. In his free time, he loves spending time with his family and playing golf. David aims to continue servicing the property and business needs within the Siem Reap community, to be a good dad to his twins, and to shoot a 70 round of golf!
Feedback from our Client for David Granger
Amazing service. David was super helpful and fun. If you're looking for an apartment or house in Siem Reap go to IPS first. – James Erickson

Working with David Granger has been a pure delight. We contacted him months before arriving. He then began a swift and spontaneous dialogue. Once we arrived we found a perfect home on the first day of looking at properties. We will continue to work with him for future commercial interest, knowing that his vast knowledge and connections in Siem Reap are trustworthy. David Granger freely assist with information, social awareness, and has impeccable skills. His 18 years in Cambodia serves him well. He also makes us laugh with his stories and humor. We recommend him, hands down. – Jinx Davis
As Cambodia's foremost real estate company, IPS has grown quickly in its eight years of operation. It now has two strategically placed offices in Cambodia's strongest business districts of Phnom Penh and Siem Reap.
Find out why IPS is a force in the Cambodia real estate market. Contact David Granger today at +855 17 843 423 or inquiry@ips-cambodia.com for a free consultation. You may also continue browsing thousands of residential, lands or businesses in Siem Reap.
Stay connected! Follow our official Facebook Page and our dedicated Siem Reap page.
Ask David a question: