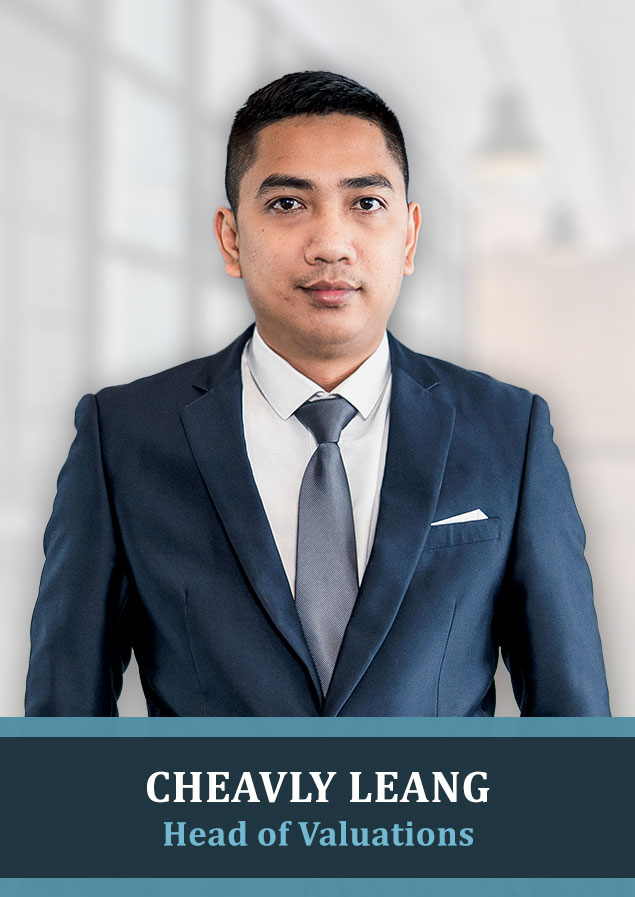 Cheavly Leang
Head of Valuations
Cheavly Leang is the Head of Valuations for IPS-Cambodia and brings to the business over 5 years experience in property valuation working for both private industry and the Cambodian banking sector. He is a fully qualified and licensed valuer from the Cambodian Ministry of Economics and Finance and has completed a Bachelor degree in Law from Royal University of Law and Economics, and is currently pursuing his MBA at the same university. Cheavly is responsible for managing IPS' valuation teams in Phnom Penh and Siem Reap and provides valuation services for local and international banks, feasibility studies for investors and research and analysis for IPS' key clients.
At IPS-Cambodia, we believe that valuation can be a strategic asset for investors and owners alike. Our valuation & advisory services include valuation review/management, single asset valuation, portfolio valuation, investment analysis, insurance valuation, least and cost analysis, arbitration and consulting, and feasibility studies.
Find out why real estate valuation is the heart of professional services at IPS-Cambodia. Contact Cheavly Leang today at valuations@ips-cambodia.com for a consultation or visit our Valuations page for more information.
Stay connected! Follow our official Facebook Page and our dedicated Siem Reap page.
Ask Cheavly a question: